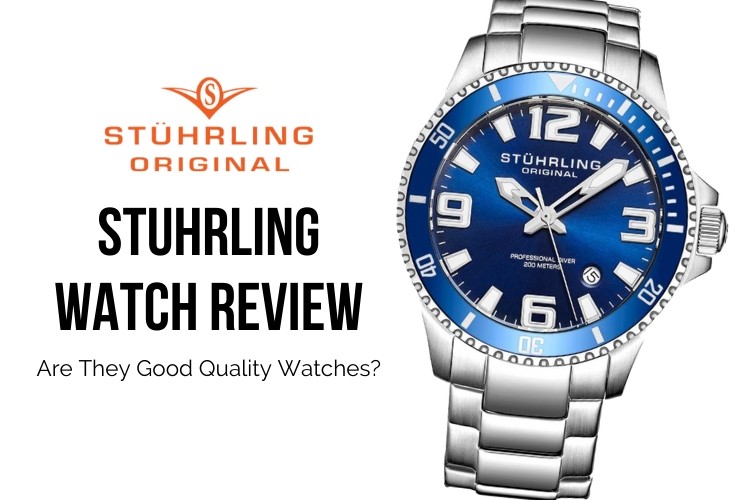 A watch does more than just tell time. It's a work of art that deserves to be admired. In the past, watches were a symbol of wealth and socioeconomic status. Today's watches are, well, a little different. Almost anyone can buy a watch. And most do so not because of its ability to tell time (they have a smartphone that can do that, plus more), but because they consider it as a piece of jewelry or fashion accessory.
Stuhrling is all about creative, beautiful designs, and affordable prices. This makes the brand well-positioned in the mid-range market segment. They want to stand out, but at the same time be more accessible to the general public. Thanks to technology, innovative assembly methods, and product outsourcing, that becomes possible. Is Stuhrling the right watch for you? Read our Stuhrling watch review to find out.
History of Stuhrling Watches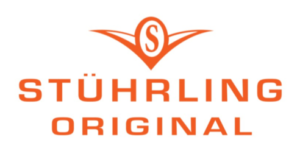 Stuhrling is an American watch company that designs and sells watches. Stuhrling is a relatively new watch brand with an old tradition, forged in the early years of Swiss horology. There is little information available on how Stuhrling watches came about. What we do know is that the brand got its name from Max Stuhrling, a master watchmaker in the late 1800s who lived in Switzerland.
In 1999, Stuhrling the company was founded in New York by Chaim Fischer. Meanwhile, Stuhrling's great-grandson, Max Stuhrling IV, together with George J von Burg, took the brand online in 2002. Adhering to Swiss standards of watchmaking, the company designed and developed various watch models that bear the mark of its horological history.
Where Are Stuhrling Watches Made?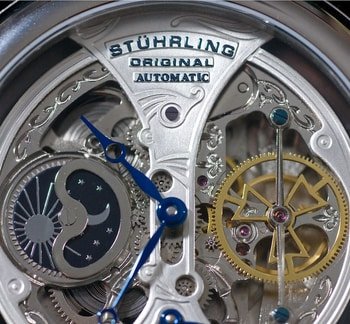 While the Stuhrling brand markets "old world" Swiss watchmaking practices, their timepieces are mostly assembled and manufactured in Hong Kong. Some Stuhrling watches feature Chinese movements. More expensive watches feature Swiss movements while others have Japanese quartz movements.
Because you won't find any indication that the watch is Swiss made, it may be safe to assume that only the movement is Swiss. Other components of the watch, assembly, and manufacturing process are done in Hong Kong.
If you want to invest in a watch that looks nice and has good build quality relative to price, then the brand is a good option.
Are Stuhrling Watches Good Quality?
Stuhrling watches feature a unique and beautiful design. When you buy a Stuhrling watch, you're purchasing a work of art. They look good, fit comfortably on the wrist, and will likely receive compliments when seen by others. A majority of Stuhrling watches are priced reasonably priced and fashionable.
The case that comes with Stuhrling watches is usually made from surgical-grade stainless steel. The bands are made of either stainless steel, top-grain leather, or rubber straps from custom-molded silicone. Stuhrling is not afraid to offer something extra with their watches. For example, some use alligator or crocodile straps. Premiere or limited edition watches may have ceramic cases instead of stainless steel.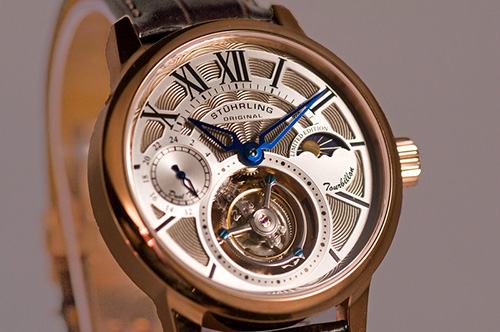 Additionally, you can buy a Stuhrling Tourbillon watch at an affordable price, whether you want a watch to wear daily or something that is more luxurious like a skeletonized design.
Stuhrling has a line of tourbillon watches starting in the $1,500 range while the average price of an authentic Swiss-made watch with a tourbillon mechanism ranges from $50,000 – $100,000 and up.
So for a beginner collector, it is a way to add a tourbillion watch to their collection at a fraction of the price of most although there is some disagreement among watch aficionados if it even makes sense to buy an "inexpensive" tourbillon.
Lastly, the straps on a Stuhrling are fairly easy to replace. If you are familiar with watches, then it's relatively easy to swap out bands if the existing one wears out. Just take the old one out, then place the pins for the new one. That's it. Of course, you can also have it replaced at the nearest watch store.
When it comes to the cons of owning a Stuhrling watch, there are concerns about its quality and durability. Some watch collectors have difficulty embracing the Stuhrling brand because it is manufactured in Hong Kong. As far as design goes, Stuhrling is comparable to Invicta or Fossil.
When it comes to quality and accuracy, other brands like Seiko or Timex may be superior due to their long watchmaking history although their designs may seem somewhat conventional compared to more trendy brands like Stuhrling.
International customers may not benefit at all from the warranty. If you're from the US, you have to pay $20; if you live outside the US, you have to pay $40 to have the watch shipped back to you. If you buy a $50 Stuhrling watch, is it worth it to make a warranty claim? The warranty isn't as beneficial as it could be, especially when international consumers are concerned.
Some Stuhrling models have cases that are on the thick side. Although they have attractive designs, some models can be too thick for some occasions. For automatic watches, there can be a variation of several seconds within the day. This is not exclusive to Stuhrling, other brands have such issues too. Some models may require frequent resetting so they can provide accurate time.
Stuhrling Watch Reputation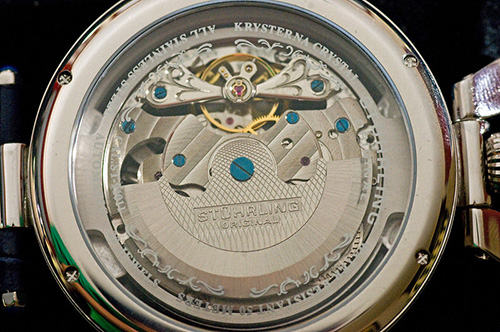 Stuhrling Original watches are exclusively sold online, a strategy that is not that common in the timepiece industry. Overall, the designs are attractive and the quality is pretty good, considering where they are manufactured.
Even their watches priced at $100 or less look attractive enough to catch your attention. When you work your way up to the higher-priced models, then a greater consideration for the brand reputation should be considered.
Stuhrling watches are not in the same league as high-end brands. They are not meant to be a poor man's Rolex either. A Sturhling can be categorized as a fashion watch. What's great about this brand is that their designs stand out in their own right and their watches could be an excellent everyday watch. Stuhrling watch reviews tend to be extremely positive because of the beautiful designs or extremely negative because they are assembled and manufactured in Hong Kong.
Although it still needs to be verified, it is believed that this brand uses Chinese manufacturing methods and watch movements. But on Amazon, it is indicated that Stuhrling watches either use Swiss movements or Japanese quartz movements. So maybe you can assume that in general, only the movement is made from Switzerland.
So is a Stuhrling the ideal watch for a high-end collector? No. Will you enjoy wearing a Stuhrling watch every day if you find a design that you love? Yes. That's the bottom line.
Stuhrling Watch Models
The following are some of the bestselling Stuhrling Original watch models available on the market. Read the review for each one so you'll be well informed before making a purchasing decision.
Stuhrling Original Men's Swiss Quartz Dive Watch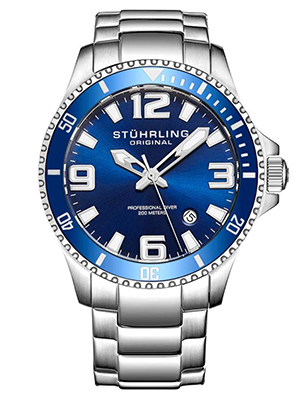 From Stuhrling's Aquadiver Collection comes the Stuhrling Original Men's Swiss Quartz Dive Watch. One of Stuhrling's bestselling watches, it is water-resistant up to 200 meters. It features a screw-down crown found in professional diver's watches. When screwed down, it forms a water-tight seal, preventing water from entering the case. This watch can accompany you wherever your adventures take you, even underwater.
This men's watch features a stainless steel case (42 mm diameter), adjustable bracelet with removable links, and Swiss quartz Ronda 515 movement. It is ideal for anyone who wants to buy a high-end looking watch for a reasonable price.
Click here to see our top picks for best dive watches under $500.
Stuhrling Original Men's Automatic Self-Wind Skeleton Wristwatch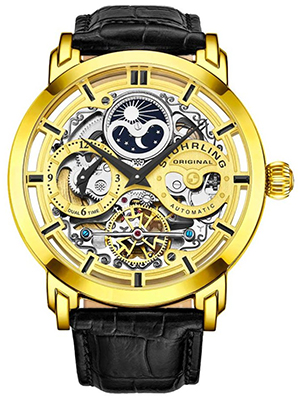 With its see-through skeletonized dial and exhibition case back, you can watch as the mechanism inside marks the passage of time. It has an automatic self-winding mechanical movement that utilizes your natural movements to keep the watch running. No batteries needed.
It's a unique, nice-looking watch that is sure to attract other people's attention. One drawback is that it may not be as accurate, durable, and long-lasting as a quartz watch. The price is also not as budget-friendly as you may like.
This watch by Stuhrling made our list of best skeleton watches.
Stuhrling Original Men's Watch Dress + Casual Design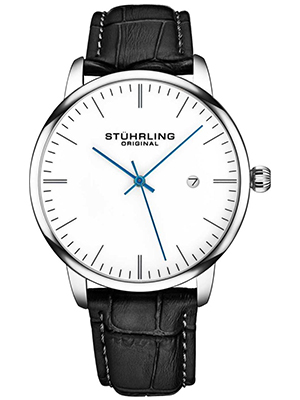 If you're looking for an affordable Stuhrling watch, this one may be your best option. This watch features a minimalist design that brings a sleek elegance to any individual. Because of its classic style, it complements both casual and professional attire, making it a watch for all occasions.
Lightweight, it has an ultra-slim profile and a genuine leather band that will feel comfortable on your wrist. Also, it has a quick set date window for added functionality. This watch finds the perfect balance between sleek and striking.
Check out these other top dress watch picks all under $500.
Stuhrling Original Men's Tourbillon Limited Edition Mechanical Ceramic Watch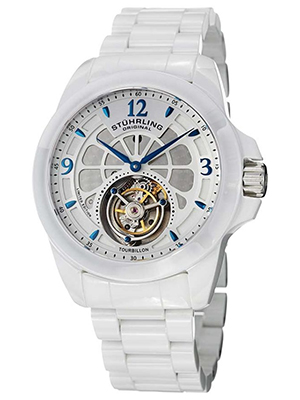 For the watch collectors out there, this is a good option if you want to purchase a tourbillon watch. Tourbillons are included in some expensive watches as a demonstration of watchmaking virtuosity. Although there's a debate whether it actually improves accuracy, a tourbillon is still valued for its engineering and design principles.
This black polished ceramic watch is water-resistant up to 165 feet (50 meters). Mechanical watches such as this one are usually purchased by those who value aesthetics and craftsmanship. And since a tourbillon is one of the most challenging watch mechanisms to make, the higher price is therefore justified.
Stuhrling Original Women's Swarovski Crystal Bezel Leather Watch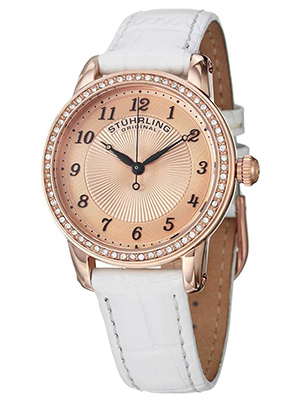 Our Stuhrking watch review wouldn't be complete if we don't include a women's watch to the list. This particular watch has a gold-tone and features Swarovski crystal-accented bezel and textured dial.
It has a 34 mm- stainless steel case and a leather calfskin band with buckle closure. Water-resistant up to 165 feet (50 meters), this watch can withstand handwashing or short periods of swimming, but not diving or snorkeling. Classic and beautiful, this watch would make a perfect gift for your wife or girlfriend.
At the time of writing this article, this one was just slightly over budget for our list of best women's watches under $100 but would also be worth considering.
Where to Buy Stuhrling Watches
There are three ways you can buy a Stuhrling watch.
The first is to shop directly on the brand's website. You'll see a wide variety of watches there, but the price may be higher.
The second method is to buy on Amazon. You'll be able to read product features as well as customer reviews. Click here to see all Men's Stuhrling watches on Amazon — Women's watches are here.
The third option is to buy on eBay.
You can also check out our watch deals page for the latest deals on a long list of watch retailers.
Stuhrling Warranty Policy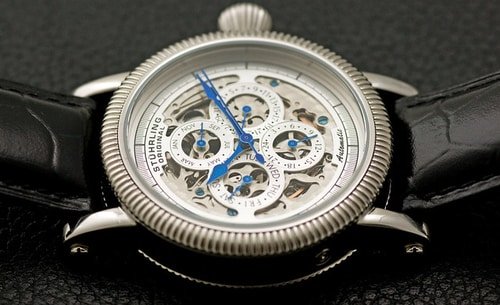 Every Stuhrling watch is backed by an international warranty. The warranty information card is included in the box. Typically, there's a 2-year limited warranty from the date of purchase that covers the repair or replacement of the movement. Also, quartz watches manufactured by Stuhrling have a 1-year warranty that covers the battery used for the watch.
The international warranty doesn't cover the bracelet, straps, case, or crystals of the watch. Normal wear and tear are also excluded. Watches that aren't labeled as water-resistant have no moisture damage coverage.
All qualified warranty repairs or replacements will be done for free. However, if the watch requires warranty service, a copy of the original bill plus a check for $20 (US customers) or $40 (international customers) is required.
To learn more about the warranty terms and conditions for Stuhrling watches, you can contact their customer service at (718) 840-5760 or email them at customerservice@stuhrling.com.
Conclusion
If you're looking for a nice looking watch that you can wear daily, then Stuhrling has several models that you can choose from. But if you're looking for a watch that could maintain or grow its value in the future, only the limited edition timepieces qualify. Simply put, the Stuhrling is not a high-end collector's piece, it is a mid-range, stylish, daily wear watch.