Timex is one of the biggest watch companies in the world, and one of the oldest American watch brands.
With over 165 years of experience, there are certainly a lot of excellent models to choose from.
Whether you're buying your first Timex, or looking for something to add to your Timex collection, this article aims to provide you with some of the brand's best old, reissued, and latest models.
We've included lots of different styles including Timex dress watches as well dive and field watches so you can hopefully find something on this list that matches your style and personality.
So without further ado, here is our current list of best Timex watches for men.
Quick Picks

Best Timex Watches
The brand has been making watches for more than a century, so it has a wide range of collections. We won't be able to cover all—instead, we'll feature the bestsellers, classics and newly released watches and reissues.
Timex Weekender (T2N651)

No list of top Timex watches would be complete without the inclusion of the classic Timex Weekender. 
This versatile unisex 38mm watch comes with a 20mm nylon slip-thru strap that comes in a wide variety of colors and styles, making it easy to find one that fits your style and personality – and easily swap them out to change your look. The dial also comes in many styles from cream, white, grey, blue, and most recently  Pac-Man watches celebrating the 40th anniversary of the retro video game.
The Weekender offers 30 meters (100 feet), Indiglo illuminated dial, an easy-to-read dial, numerals and indices.
Q Timex 1979 Reissue
Read Amazon Reviews | See on Timex.com
The Q Timex 1979 Reissue watch is a recreation of the Timex Q Diver, which was released at a time when quartz watches dominated the market. During this time (which was called the "quartz crisis), Timex was one of the brands that kept up with the trend, designing "approachable, highly accurate watches
This 38mm is a watch that has the same elements and details as the original, such as the quartz technology, stainless steel bracelet, a rotating top ring. Water-resistant to 50m, this timepiece has a domed acrylic crystal, luminous markers, and the case back that has a battery hatch (you simply need a coin to open it when it's time to replace the battery).
Timex Waterbury Automatic Watch (TW2T70000)
Read Amazon Reviews | See on Timex.com
The Waterbury collection is composed of analog watches that's excellent for daily wear and special occasions. These watches are big and legible, a no-frills watch that's accurate and long-lasting.
The Waterbury Traditional 42mm Stainless Steel Bracelet model is powered by the wearer's movements—the watch can store up to 40 hours of energy. This automatic timepiece has a date window at 3 o'clock, a polished case, a mineral glass crystal, and a water resistance to 50m.
This one has a stainless steel bracelet, but there are also Waterbury models with a leather band, such as this Classic Automatic 40mm watch, where you can also have an option of a black or white dial.
Timex Men's Expedition Scout 40mm Watch

Another classic that we couldn't leave off the list is the Timex Expedition Scout 40 mm field watch.
This military-inspired watch is most often sold with a green canvas 20mm strap but it also comes in a wide variety of different colored nylon and leather strap options. The luminous hands, indices, and numerals make it visible in low and Indiglo light-up dial for night use. The Indiglo light-up watch Expedition Scout has water resistance to 50 meters (165 feet). This rugged and affordable is often voted as one of the best budget field watches on the market. 
Timex Standard Chronograph
Read Amazon Reviews | See on Timex.com
One of the brand's bestsellers, the Timex Standard Chronograph is a big watch packed with features. This 41mm timepiece is a sleek chronograph with a date window at 3 o'clock and an Indiglo Night-Light with night mode. The polished case is made of low lead brass, and the gray dial makes the Arabic numerals, leather strap, and gold-tone case stand out.
The Standard line is made using American hide or resilient woven fabric, making sure that the wearer will enjoy not just a great design, but durability as well. This model also has a more casual fabric option—check it out here.
Timex Navi XL Automatic 41mm 
Read Amazon Reviews | See on Timex.com
This watch is for those looking for a vintage-looking watch with modern features.
The Navi XL Automatic takes inspiration from the brand's early diver-style watches.
This 41mm watch has a rugged-looking leather strap and a polished stainless steel case. There are luminous round hour markers, legible hands, as well as 24-hour markers (which are encircled by the short hour hand). This model has received a lot of excellent reviews, with experts praising not just the relatively affordable price tag, but the quality and handsome looks as well.
It's worth noting that the leather strap is designed by the S.B Foot Tanning Co., which is the same company that produces the famous Red Wing shoes.
Timex T80 Digital Watch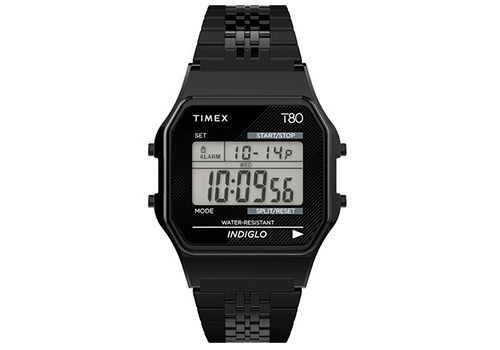 The Timex T80 watch was first released in the 1980s, which means that this would fall under the "retro" category.
This one is a simple digital watch that pays homage to the simple, straightforward, yet full of character watch that has the necessary elements: a digital screen, alarm, date, stopwatch, and countdown timer. This one is a black resin polished case (other colors include silver, gold, and rose gold) that's water-resistant to 30m and has an Indiglo Light-up watch dial.
As another tribute to another 80s icon, there is also a Pac-Man version available in gold and silver, and black colors.
Timex X Todd Snyder Beekman 40mm
 Read Amazon Reviews |  See on Timex.com
Timex is popular for its collaborations with different companies like clothing brands, artists, and even space agencies (more on this later).
This brand collaboration includes the bestselling Timex x Todd Snyder Beekman 40mm leather watch, a partnership with the fashion brand. This vintage-looking watch has an attractive cream dial with a tachymeter, a stainless steel case, and big Arabic/index markers. This one also has an Indiglo Night-Light feature for easy reading.
This is not the only collaboration that Timex has with Todd Snyder. There are also military, mod, and Ironman watches.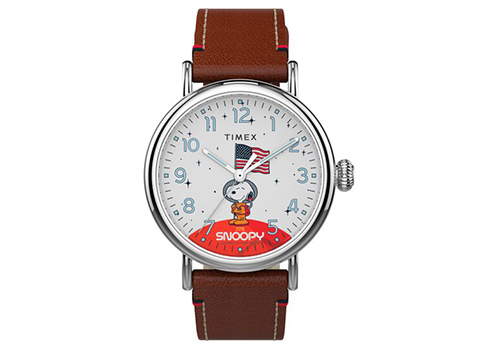 This is another hit collaboration—a line of playfully designed watches that pays homage to the beloved beagle by Charles M. Schulz.
The Timex x Space Snoopy is a charming 40mm watch with a leather strap and a design that celebrates the 50th anniversary of the lunar landing. On the white dial is an astronaut Snoopy with an American flag. This quartz analog watch has a silver-tone case, Arabic numeral markers, and Indiglo Night-Light.
Aside from the fun design, it's also easy to read, which makes it an excellent everyday watch.
There are other Snoopy collaborations with Timex. There's also the Timex x Peanuts Exclusively for Todd Snyder collection such as this one, which features a dial with Charlie Brown. Other Todd Snyder models feature characters like Snoopy and Linus.
This watch is perfect for Snoopy and Peanuts fans.
Timex Expedition Ranger Solar 43mm
Read Amazon Reviews | See on Timex.com
This one is a solar-powered watch. It can be charged with any type of light and has a power reserve of four months, which is why this is perfect for those who need a watch for the outdoors and adventures.
The Expedition Ranger 43mm has a sleek silver-tone case and a blue dial that make the orange minute markers more striking. Another notable feature is the water-resistant leather strap—which means that it can take minor splashes and not get damaged (the water resistance is 50m).
Another expedition model that has similar sporty features is the Expedition Gallatin Solar, a 44mm leather watch inspired by the U.S. Rockies. Like the Expedition Ranger, this one is also water-resistant to 50m and has a four-month power reserve.
Timex Allied® Coastline 43mm
Read Amazon Reviews | See on Timex.com
Another Timex watch inspired by adventure, the Allied® Coastline 43mm is a military watch with a durable fabric strap, a water resistance to 100m, and a matte case made from low lead brass. This large watch has legible markers against an orange dial and is powered by Indiglo Night-Light.
Other color options include blue (with splashes of yellow on the bezel and hands) and black (with splashes of red on the bezel and hands).
Q Timex Reissue Falcon Eye 38mm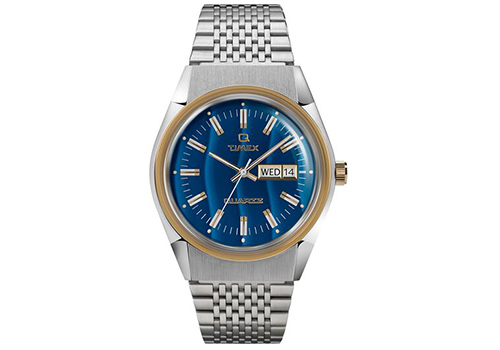 The Q Timex Reissue Falcon Eye is one of the new releases by the brand. This 38mm stainless steel bracelet watch is another model inspired by older Timex watches. Like the Q Timex we talked about earlier, the brand did a similar process of recreating all details of the old model: the battery hatch, a two-tone case, and a woven and adjustable stainless steel bracelet (which makes it a great dress watch).
This one's the watch to consider if you're looking for a throwback: a classic 70s vintage design with a modern twist. This is smaller than most men's watches, so it's a great unisex watch. The shiny dial with hour markers stand out, and there are day and date windows at 3 o'clock.
Timex Fairfield Chronograph 41mm
Read Amazon Reviews | See on Timex.com
The Fairfield Chronograph is another great option for those looking for a Timex dress watch.
The Fairfield 41mm has a stylish mesh band with Bauhaus influences, making it stylish yet subtle. Some of the best features of this watch include a tasteful cream dial, an Indiglo Nightlight, and a date feature at 3 o'clock. The chronograph measures to 1/20th second, and the water resistance is up to 30m. The color options include a white dial with a gold-tone or silver-tone case. or a black dial with a black case.
Timex Ironman Classic 30 (T5E901)
The Ironman Classic 30 is a 38mm watch with a modern design and the classic Ironman features are perfect for those using this for training, sports, and workouts. This one has a silicone strap, a large digital screen for easy reading, a countdown timer (countdown stop and countdown repeat, and an Indiglo Night-Light with a Night Mode feature.
Other features include two-time zone settings, a 99-lap counter, a 100-hour chronograph, a water resistance to 100m, and a 30-lap memory recall. This model, which also has a gray tone case option, also allows you to set reminders and customize alarms.
Timex Expedition Pioneer Combo 41mm
Read Amazon Reviews | See on Timex.com
Can't decide whether you need an analog or a digital watch?
This ana-digital watch is something that you can consider.
The Expedition Pioneer is the watch for those who need both formats; a rugged timepiece that's an excellent outdoor companion.
This is the model for adventurers; those who spend a lot of time doing activities outdoors like camping and sports. This watch has a combination of an analog and digital display. Having a durable silicone rubber strap and a silver case, this watch has features such as a chronograph, timer, and alarm functions. It also has an Indiglo All Day with a night mode feature, and a mineral glass crystal.
Customized Timex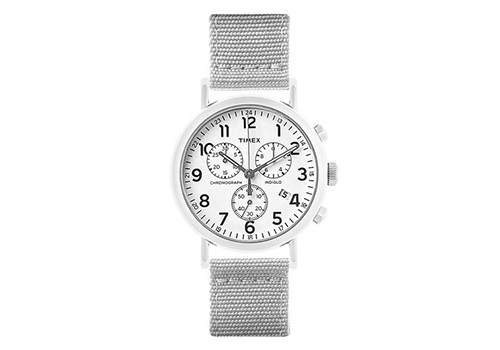 Last but not least is something for those who would like to get creative with their Timex. The brand has an exciting page on its website that allows customers to make their own Timex.
These customized designs start with a blank watch. Simply follow the instructions and pick your preferred style and materials, and you'll be on your way to having a watch that you designed yourself. Timex will do the assembly for you.
Explore the many options for customization here.
Brand History



Timex was founded in 1854 in Waterbury, Connecticut. The company initially produced affordable pocket watches, which made it gain popularity. At around 1901, the brand declared that they have sold over six million of these, and in 1914, they started venturing into making watches with straps.
In the years that followed, the company produced watches that have become iconic over the next decades. Some of its most popular concepts and technologies include the Timex Indiglo and the Ironman sports watch.
To learn more about the company's beginnings, as well as information on where Timex watches are made and its reputation around the world, you can check out this article that we previously wrote. Here, we delved into the brand's beginnings, talked about some of its most popular technologies, and featured watches from some of its best collections.
To learn more about the brand, you can also check out this Timex review that we wrote.
Timex is often compared with brands like Seiko, Casio, and Fossil. To see them side by side, simply click on the links highlighted on each brand name.
---
Featured Image by Allan Rodrigues