In the watch industry, it is common knowledge that Swiss watch brands are more popular than American brands. However, such was not always the case. Before the rise of Swiss watchmaking (and other European players), the U.S. was already leading in watchmaking. In particular, Waltham Watch Company (A.K.A. the American Watch Co) was already producing its timepieces and their components in-house by the end of the 19th century.
U.S. domination in the watch industry continued until the first half of the 20th century. American watchmakers continued to grow until the U.S. entered World War II, when watch factories were forced to shift their focus to producing artillery shells and military equipment, causing the American watch industry to essentially collapse.
This U.S. collapse paved the way for Swiss watch brands to take the lead on watchmaking. Innovations and developments surged, and they could export Swiss-made watches freely.
But then, that was a long time ago. Now, the American watch brands are slowly making their way back to watchmaking. Here are some of the top American brands you should know about.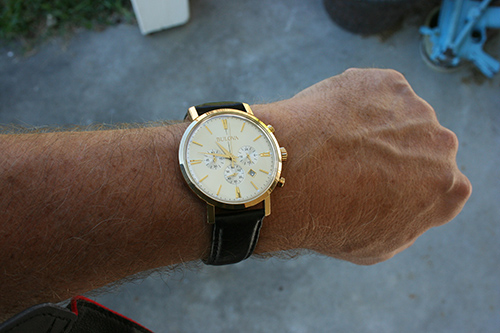 Top American Watch Brands (A-Z)
Autodromo
The brand Autodromo specializes in motorsports-themed timepieces that are very much similar to most European brands. Their designs are inspired by dashboard gauges from the 1960s and 70s w, making them popular watches for car enthusiasts.
Visit this page to see the Autodromo watch collections.
Brew Watch Co.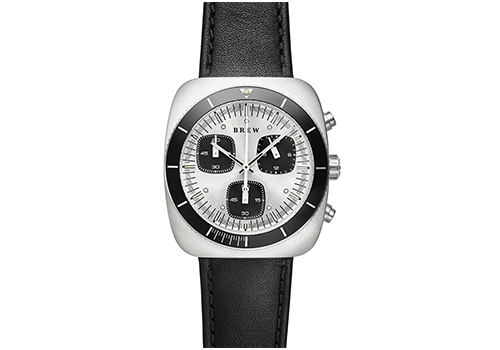 As the brand name implies, spiration from espresso machines and coffee breaks. This micro-brand was jus as the brand name impliest recently (2015) started by Jonathan Ferrer on Kickstarter. With the success of its crowdfunding campaign, Brew Watch Co. was able to release its first batch of timepieces by 2017.
Yet, what brought popularity to the brand was its Retrograph collection. This collection features a rectangular watch model equipped with the Seiko quartz movement. The collection was personally assembled by its founder in a humble Brooklyn studio.
See more of Brew Watch Co. watches on this link.
Bulova
Unlike most other American watch brands that were founded just quite recently, Bulova traces its roots back to 1875. It is indeed one of the oldest watch brands, especially in America.
However, throughout its long history, the ownership of the company has been transferred from one to another and the Citizen Watch Co. from Japan now owns it. Despite this, the brand continues to adhere to American craftsmanship and innovation.
Should you want to know more about Bulova, you may read our separate review about this brand here.
Caravelle

It is sometimes referred to as Caravelle NY because of its primary and most famous product line and because the parent company is Bulova is also referred to as "Caravelle Designed by Bulova."
Caravelle was founded in 1962. The brand's slogan reads "Great Watch, Great Price," which is very fitting for this list of affordable watch brands.
Detroit Watch Company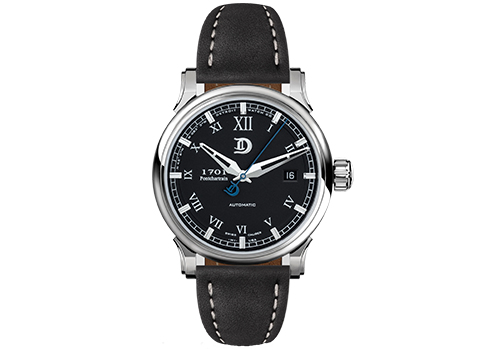 Known for its modern style watches, Detroit Watch Company was founded in 2013 by a husband-and-wife tandem (Amy, the wife, came from Detroit). Considering its brand name, it is not surprising that every collection launched showcases a particular aspect of Detroit.
Timepieces from the Detroit Watch Company are designed and hand-assembled in Detroit. Further, their accuracy is also individually tested in-house. However, the brand utilizes Swiss and Japanese mechanical movements that are imported.
Visit the Detroit Watch Company shop through this link.
Devon
At the onset, it is worth mentioning that Devon is a luxury watch brand currently headquartered in Los Angeles, California, and is led by Scott Devon. He also serves as the creative director, designer, and conceptual artist of the brand. Devon brand proudly designs, develops and manufactures its watches entirely within the U.S.
Devon watches are distinguishable with their interwoven time belts. It is a system called Tread 1 that's patented solely for Devon. The watch's interwoven time belts serve to display the hours and minutes. Such a functional yet stylish system is why Devon Tread 1 was nominated for the Gran Prix d'Horlogerie de Geneve in the Design and Concept Watch category, making it the first American watch named for such coveted recognition.
Learn more about Devon by visiting its website here.
Hager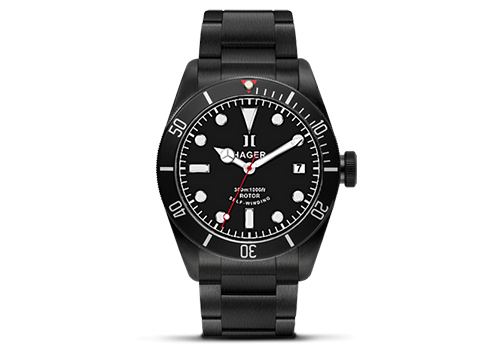 The brand Hager was introduced back in 2009 with the vision of producing premium quality automatic watches that will be offered in the market at an affordable price point. It established partnerships with different suppliers from Switzerland, China, and Japan. To ensure the reliability and durability of its products, Hager particularly opts for Seiko, E.T.A., Miyota, and Superluminova components. The watches are then designed and assembled in Hager's headquarters in Maryland.
Hager has established its reputation for creating classic-looking tool watches that are reliable and tough. Among the favorites of the watch enthusiasts are dive watches, pilot watches, and GMT watches.
Shop for your own Hager watch here.
Keaton Myrick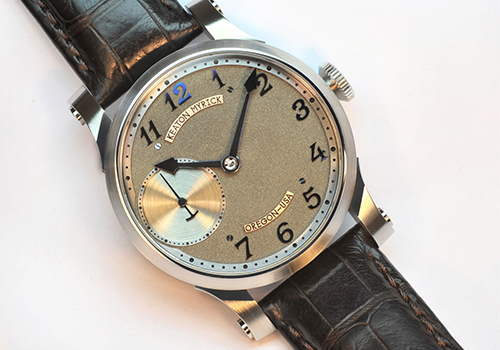 If you wish to have an American custom-made timepiece, Keaton Myrick is the watch brand for you. Located in Sisters, Oregon, this brand specializes in designing and creating genuinely unique timepieces. Keaton Myrick produces even the smallest watches components in-house, including the hands, dials, bridges, and screws. Myrick timepieces are also notable because they are hand-finished. Since the production of each watch is being meticulously done, Keaton Myrick can only produce around ten to 12 watches annually to ensure that each one is of high quality and reliability.
Myrick also accepts restoration projects, but they are carefully handpicked and limited only for these particularly interesting watches.
Explore this website to learn more about Keaton Myrick and the type of timepieces he creates.
Kobold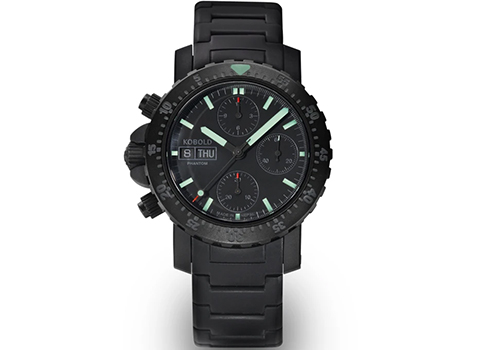 Interestingly, the watch brand Kobold was founded by Mike Kobold as part of his class project at Carnegie Mellon University back in 1998. The brand was particularly designed for adventures, so its timepieces were purposely built with the durability to withstand various elements that may be encountered outdoors. The brand's slogan, "Embrace Adventure" clearly communicates this and even the products' outer appearance conveys classic toughness.
Despite being established in America, Kobold's first US-assembled model was only launched in 2006 and it was named the Spirit of America. However, the majority of its parts were still Swiss. Two years after, the Spirit of American Automatic was launched. This model is the first serially-produced American watch and 89% of its parts were produced in the U.S. More so, its case is proudly 100% American-made.
Learn more about Kobold and its watches through the brand's website.
Lüm-Tec
Lüm-Tec particularly specializes in using surgical-grade stainless steel for its watch cases. Inside is a durable mechanism to ensure reliability, while the outside showcases luminous dials. Each timepiece is carefully handcrafted from its headquarters in Ohio. The brand is known for making tactical and affordable field watches. 
This American watch brand passed on from generation to generation is now a subsidiary of Wiegand Custom Watch, L.L.C.
Check out Lüm-Tec watch collections here.
Martenero
From the globally known U.S. city, New York, comes the Martenero watch brand. It was established only in 2014 by an independent watch designer named John Tarantino. Martenero is known for its modern design watches that have a timeless and versatile style.
They are also designed, assembled, and produced in New York. The brand also offers watch customization wherein customers may choose their preferred dial, hand, and strap colors. These will then be assembled also in New York. Although the production process is done in the U.S., most of the parts are imported from China and Japan. These include the case, dial, crystal, and movement. On the other hand, the straps are made locally in the U.S.
To see what Martenero has to offer, visit this page.
Mercer Watch Co.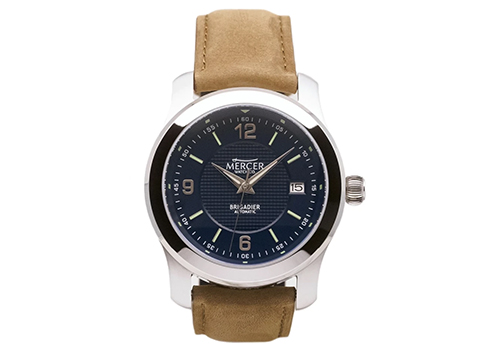 Mercer Watch Co. comes from a place rich with history and natural beauty and a globally recognized prestigious university – Princeton, New Jersey. In line with this, Mercer Watch Co. is another brand name that the place can be proud of.
This watch company is known for offering timepieces of balanced aesthetic, made of premium materials, and retail at reasonable prices. Check out Mercer online shop here.
Niall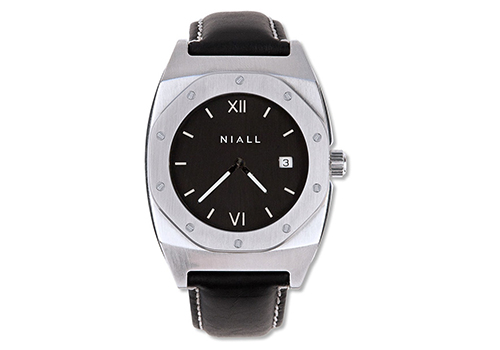 If you're into luxury watches, another brand that you may consider is Niall. It was started in 2012 by Michael Wilson and its headquarters are currently located in Kansas City, Missouri.
The Swiss automatic movements being used for Niall watches are imported from Eterna. Other components such as the cases, dials, crowns, hands, glass, even screws, straps, and buckles are all made within the U.S. Because of this, Niall is a brand not only for producing durable and classic-styled timepieces but also for manufacturing straps, clocks, and accessories.
Discover more about this luxury brand here.
Oak & Oscar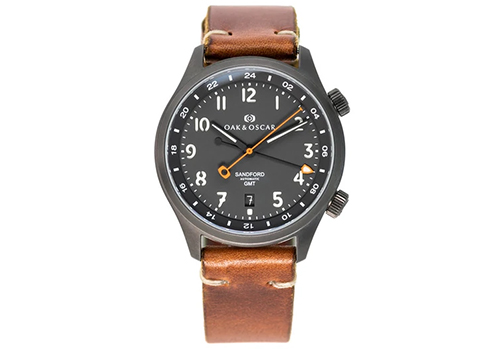 Oak & Oscar was established in 2015 by Chase Francher who courageously quit being an employee and left the corporate world to pursue his vision of starting his own business. No wonder that the watch company he established was built upon the values of taking control and doing things you're passionate about.
As his own company, he decided to name it after his own passions – oak barrel-aged spirits and Oscar, his dog. The brand uses Swiss-made movements yet the style is remarkably American-inspired.
Check out Oak & Oscar timepieces here.
R.G.M. Watches
Currently based in Mount Joy, Pennsylvania, R.G.M. was established by an American watchmaker Roland G. Murphy back in 1992. The brand proudly produces in movements in-house and 90% of the materials used in manufacturing its watches are American-made. More so, R.G.M. adheres to the American watchmaking tradition so it uses vintage, even hand-operated machinery for its production processes.
Such a traditional watchmaking process, therefore, results in sophisticated and classic-looking watches. They are also of premium quality, and among others, the brand's dive watches and chronographs are particularly remarkable. 
Visit the R.G.M. Watches website here.
Shinola
Another popular American brand that's worth mentioning here is the Shinola. Along with timepieces, Shinola is also known for other baseball gloves, denim, leather, and even bicycles. This company, which was founded only in 2011, is located in Detroit and is well-known for providing a continuously increasing number of jobs in the U.S. manufacturing industry.
Shinola watches are assembled with European and Asian parts and Swiss-made Ronda movements as a watch brand. Despite being built with imported components and movements, Shinola watches are designed and assembled in the U.S. They are still notably American-styled and reasonably priced.
If you want to know more about Shinola, check out its website here.
Smith & Bradley
This watch brand is named after its founders, Jerommie Smith and Ryan Bradley. The company was established to produce affordable timepieces that are styled with timelessness and built with durability that can transcend generations. They envision Smith & Bradley watches passed on from one generation to the next.
To this goal, the components for Smith & Bradley's timepieces were carefully picked and imported from across the globe. Yet, the design and assembly of the watches are being done in the company's headquarters in Illinois.
Visit this link to know more about the brand.
Throne
From Brooklyn, New York is Throne watches. This particular watch brand specializes in restoring vintage watches. Throne utilizes old watches faces, restores them, then pairs them with new hand-made leather straps.
Yet, of course, the brand also moved to produce its own timepiece. This goal materialized in 2014 when Throne introduced its first fully American-assembled timepiece. Such success led to the continuous Brooklyn-based production of more hand-made watches that are gender-neutral and versatile for any style.
Although you can't visit any physical store yet, you may purchase directly from the Throne online shop.
Timex
One of the most popular among American watch brands is Timex. It was founded in 1854 and since then, it has been known for producing simple and affordable timepieces. The brand started in Waterbury, Connecticut; however, it is now keeping its headquarters in the Netherlands. Yet, among its biggest global companies, one is located in the U.S.
Timex watches are among the first and popular choices in terms of affordability and durability. There's also a wide variety for you to choose from and most of them would make a great everyday watch.
Learn more about Timex by reading our separate review about this brand here.
Vortic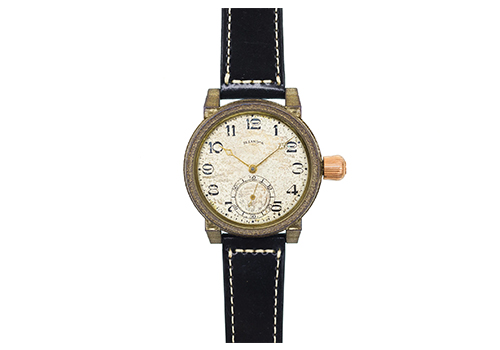 Vortic is a particularly unique American watch brand as it adapts pocket watches from the mid-1900s and transforms them into present-day wristwatches.
This results in watches with 3D printed cases made of stainless steel. Other components such as the movement, dial, and hands of the watch came from original packet watches. Vortic, as a watch company, repairs and restores these components before fusing them into wristwatches.
Explore this page to discover more about Vortic watches.
Weiss Watch Company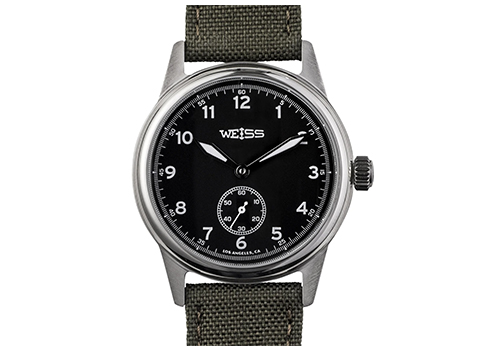 The Weiss Watch Company was established in 2013 by the master watchmaker Cameron Weiss. As an expert in watchmaking, Weiss can manufacture its own mechanical movements within the U.S. In addition to that, most of the watch parts being used for Weiss Watch Company products are made in America – the cases, dials, spring bar tools, and even the packaging. The brand intends to continue producing more fully American-made timepieces.
Because it adhered to American watchmaking tradition, Weiss Watch Company has become known for its masterfully crafted watches built with premium quality materials. 
Click this link to visit the Weiss Watch Company website.
Closing Words
Understandably, most of the watch brands listed here are not yet as popular as the big players in the watch industry. Yet, they are still worthy of being considered and watched out for. It may not be a comeback yet for American watchmaking, but these brands are certainly making a great start.
Featured Image: PeakPX