As watch brands pursue innovation and modern designs to manufacture a watch, we are seeing a rise in brands dipping their hands in the art of making in-house metals. In doing so, it gives the brands an edge over the others. And, a promise of better performance and durability for generations.
While it is true that gold alloys used in watches have good reliability and a classic look; watch manufactures are engineering new alloy combinations to build the ultimate watch. If you have been an avid follower of watch industry updates, you may have heard some popular in-house metals such as Rolesium by Rolex and Sedna Gold by Omega.
It is not surprising that there continues to be a greater preference in developing in-house metals that are largely exclusive to these brands. We will take a closer look at these brands, in-house metals developed, along with details of watches hosting these metals.
A. Lange & Söhne – Honey Gold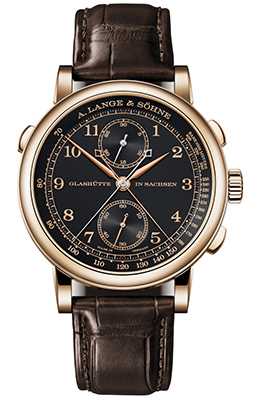 Originally founded in 1945 in Glashütte, Germany, and re-instituted again in the '90s, A. Lange & Söhne remains a world-renowned watchmaker even today. Keeping alive the German quality with a sleek design, A. Lange & Söhne swiftly rose to the top for high-performance turbillion watches.
This watch brand introduced their in-house developed, Honey Gold, in 2010. Although they have kept the mysterious formula a secret for years, we can tell you this – Honey Gold is unlike other gold alloys. Harder than all others, the alloy feels and looks as smooth as honey.
Reserved exclusively for special timepieces, you can find the Honey Gold in a handful of A. Lange & Söhne watches. One such is the 1815 Rattrapante, introduced in 2020 to mark the 175th year of the brand's watchmaking journey in Glasshütte. In a striking black and solid silver dial with a Honey Gold case, this timepiece proudly displays the finesses of luxury watchmaking.
The other timepiece worth noting with the honey gold dial is the Langematik Perpetual. Limited to just 100 pieces, the case and hands use Honey Gold, whereas the dial features embossed solid silver. Featuring a perpetual calendar, moon phase, and day-date sub-dials, this timepiece embodies the ethos of A. Lange & Söhne.
Alloy Linde Werdelin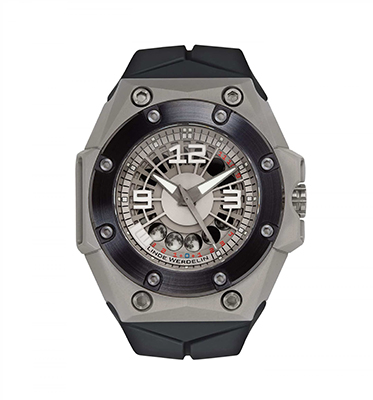 Linde Werdelin set up the watch brand to push boundaries and explore new terrains, all while ensuring reliance on powerful technology. The brand, born as a result of a life-threatening event of the founders in the Swiss Alps, opened the doors to innovate and skillfully craft watches to redefine how the industry perceives sports horology.
In this vein, Linde Werdelin developed an alloy called the Alloy Linde Werdelin or ALW. This is a unique combination of metals, originally used in aerospace and Formula 1. However, repurposed and improved for designing high-quality watches. To this extent, the ALW has double the strength of steel and half the weight of titanium. Additionally, the alloy composed of protective layers and carbon composite makes it durable in extreme conditions.
Oktopus Moonlight is one such timepiece hosting the ALW. Considered the ultimate diver's watch, this timepiece works best even for nighttime diving. Additionally, the watch comes designed in a five-layered skeleton dial, and a photorealistic moon-phase, also developed in-house. This stands as a testament to the brand's promise to challenge and evolve for the better.
Chanel – Beige Gold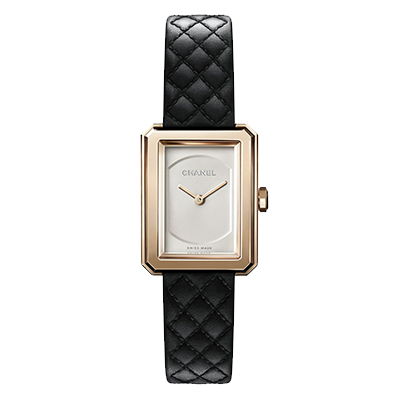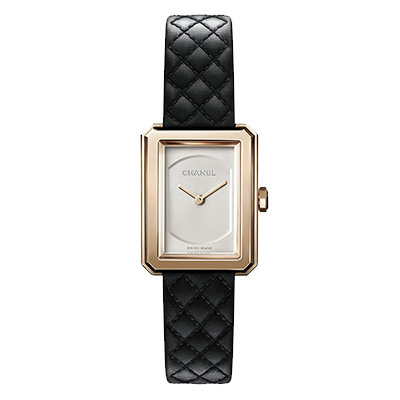 This French luxury fashion brand needs no introduction. Founded in 1910, Chanel goes on to become one of the biggest household names in the fashion industry. Black and white are at the center of the brand's essence, closely followed by beige. So when Chanel launched their metal for watches, they formulated an alloy closely resembling rose gold, but with a twist.
Named, Beige Gold, this alloy combines yellow gold with titanium ceramic. As we noted in this post, rose gold needs regular polish. As it contains copper, which sometimes forms a green filament called patina. But, by regularly polishing it, it is easy to prevent this from ever happening. For many, having to regularly care for this does not make it a suitable investment. To address this challenge, Chanel's watchmakers have found a way to combine gold with titanium ceramic. Resultantly, this gives the metal a honey-like color and a finish that is smoother and durable for many years.
The recently launched BOY-FRIEND watch comes with the Beige Gold case in a clean and crisp design. The rectangular case with a guilloché dial and black leather bracelet gives it a timeless elegance, seaming the modern metal into a historic piece. This edition comes in different variants. Small, medium, and large dial options with or without studded diamonds on the bezel. If you are not fond of the leather strap, Chanel also offers a Beige Gold bracelet with a tweed motif.
Harry Winston – Zalium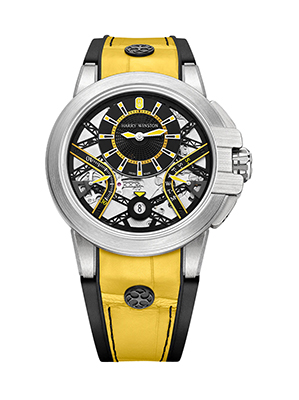 An American luxury jewelry brand, also famous for making high-quality Swiss watches, is topping the industry news for its in-house metal called Zalium. Before we understand the metal, it is noteworthy to highlight that the brand derives its name after its founder, who was once referred to as the 'King of diamonds'. While the watchmaking division functions as a wholly-owned subsidiary of the Swatch Group, the brand keeps alive its grandeur and skillful craftsmanship when it comes to watchmaking.
Inspired by aeronautical engineering, the brand Harry Winston introduced Zalium, an alloy combining aluminum and zirconium. The result, an ultralight metal known for extreme durability and clean finishing. Harry Winston Ocean Collection and Project Z come equipped with Zalium.
The Zalium Variation of the Ocean Collection uses a Zalium case in bright-colored leather with a rubber base strap. This gives the watch a rugged and sporty look. But, most of all, this makes it a perfect companion for deep-sea exploration. The open dial displays the exemplary skills of the brand, in addition to a promise of utmost endurance. Alternatively, you can also look at Project Z, also part of the Ocean Collection, hosting a Zalium case. Different in essence and style from the former variation, the Project Z watches merges architectural elements with horological innovations in a partially skeletonized dial.
Hublot – Magic Gold, King Gold, and Hublonium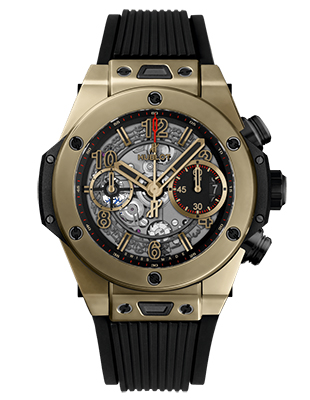 A Swiss watch brand, founded in 1980, now functions under the LVMH Group. Mastering the art of fusion technology, Hublot holds many names for groundbreaking discoveries in horological research. In this spirit, this watch brand has not one, but four in-house developed metals over the years.
The newest addition – Magic Gold. By combining 18-karat liquid gold with ceramic, Hublot invented this scratch-resistant Magic Gold. We know gold, by nature, is soft and even when combined with other alloys gets prone to some level of scratches and damage. To address this, the art of fusion technology brings together the minute ceramic pores with hot liquid yellow gold, making an all-new metal.
The Big Bang watch is one such with this contemporary metal. Revolutionizing the way watch brands use gold, Hublot has gone an extra mile to achieve what most brands couldn't.
King Gold derives its combination from 18-karat yellow gold with platinum. The intention was to craft a softer tone gold, compared to the flashy yellow gold ones. With the right elements of satin-finish, King Gold gives a unique polished look. You can find this metal as part of the Spirit of Big Bang King Gold Diamond watch.
Combining magnesium and aluminum, Hublot previously introduced the Hublonium. Launched as part of the limited edition Big Bang Mag Bang series, watches with Hublonium are extremely lightweight despite looking chunky. The alloy also makes the watch very durable and corrosion-resistant for many years with extreme human wear and tear.
The other in-house metal developed by Hublot is the Cermet, an alloy of ceramic with other metals. Also, previously developed by Hublot, this metal is no longer in use by the brand. Rather, this stands as a pinnacle for the brand's journey toward developing in-house metals.
IWC – Ceratanium and Armor Gold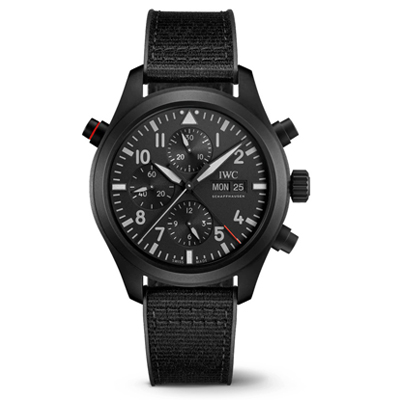 A Swiss watch brand, set up in Schaffhausen, is currently one of the leading global watchmakers. Given their partnership with brands like Mercedes-AMG and Airspeeder, IWC pushes the boundaries of traditional watchmaking. Naturally, innovation stands at the heart of IWC, where the brand is always seeking aesthetic and highly functional watches. To ensure they meet their expectation, IWC engineers in-house metals to give their watches an edge in terms of performance and reliability.
Ceratanium is one example of the brand's in-house metal. Boasting lightweight and scratch-proof properties containing titanium mixed with zirconium oxide, IWC took over five years to perfect this metal. In an attempt to craft a black finish watch without any coating, IWC uses heating methods to develop Ceratanium. The result is a matte finish metal, resistant to any damage and color chip-offs. Featured in the Pilot's Watch Top Gun Double Chronograph piece, the Ceratanium provides a sophisticated look.
Armor Gold, another in-house metal engineered by IWC, combines 18-karat gold with other undisclosed materials, giving a significantly stronger gold that is also scratch-resistant. The Armor Gold bears a close resemblance to rose gold. However, given IWC ingenuity, this metal withstands the extreme pressures of a pilot watch. Originally featured as part of their 2019 Le Petit Prince edition, the Armor Gold's visually striking feature elevates the overall design of the watch.
Maurice Lacroix – Powerlite®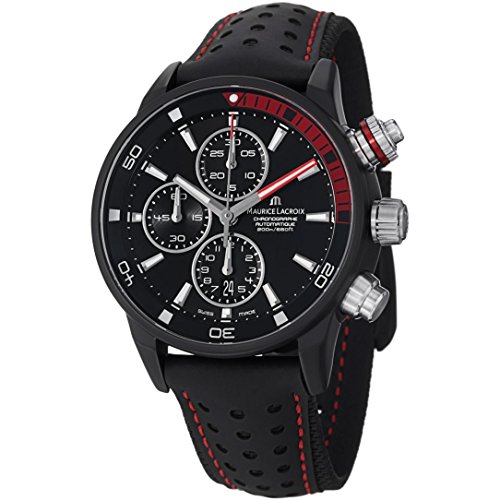 Headquarters based in Zurich, and based out of the Jura region, Maurice Lacroix epitomizes Swiss watchmaking standards and quality. Consequently, by using the age-old knowledge of watchmaking techniques, Maurice Lacroix produces watches with utmost accuracy and perfection. To keep this alive, the brand develops in-house metals to supplement their in-house movements and other parts.
Named Powerlite, this metal uses a combination of magnesium, aluminum, ceramics, zirconium, and titanium. Consequently, this metal is twice the strength of steel but just half its weight. Predominantly, found as part of cases and bezels, Powerlite is versatile to suit a diverse color palette. Launched in 2014, you can find Maurice Lacroix watches with Powerlite as part of their Pontos S Extreme Watch edition, powered by ETA Valjoux movement.
Omega – Ceragold and Sedna Gold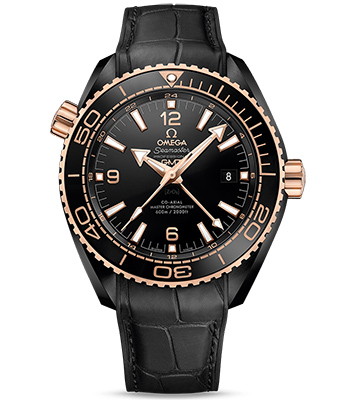 Famously regarded as rivals of Rolex for their ultimate watching-making excellence, Omega continues to transcend typical watchmaking techniques by mastering new technologies. With over 170 years of expertise in this industry, Omega holds incredible records such as accompanying astronauts on the moon landing, being the official timekeepers of the Olympics, and featuring in games like Need for Speed II. For the brand to break the definition of success and reach new heights, they engineer in-house metals such as Ceragold and Sedna Gold.
Ceragold brings together 18-karat gold with a zirconium-based ceramic bezel to give Omega's legacy, the Planet Ocean collection, the finishing touch as the perfect diving watch. Specifically used with a ceramic for smooth diving scales on the bezel and the hour hands on the dial, the Ceragold defines the brand's ethos. This alloy refines the underwater experience of using highly functional techniques.
On the other hand, we have a fiery rose gold alloy – Sedna Gold – featured across some editions since 2012. The name takes inspiration from Sedna, the planetoid, known for its red color. 18-karat yellow gold combined with palladium and copper ensures resistance to fading and maintains its sheen for many many years. You can check out the Seamaster Aqua Terra or the Diver Chronograph for watches with the Sedna Gold case.
Panerai – Goldtech™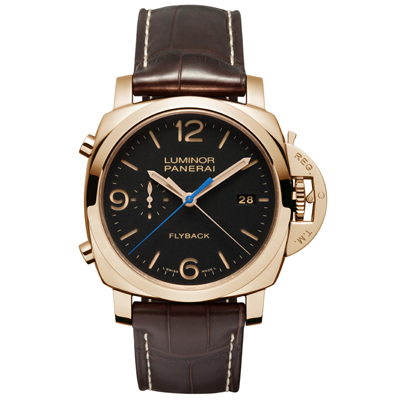 This Italian luxury brand now functionals as a subsidiary to the Richemont group. Based in Geneva, Panerai exemplifies over 160 years of watchmaking expertise. Inventiveness and style are the cornerstones of Panerai. And, for this reason, this brand remains a hidden gem among many other globally famous watch brands. Goldtech is the name of the in-house metal by Panerai. Using copper and platinum with pure gold, Goldtech gives out a serious red hue while also ensuring prevention from oxidization.
The Luminor and Submersible Collections use Goldtech cases as part of some of their watches. The Luminor is a functional heavy watch, and when paired with a Goldtech case and bezel, brings together style and form in this Panerai signature watch. The Submersible has a similar appeal to the former, however, this edition focuses on the underwater needs of the user. This timepiece stands as evidence that a gold watch does not limit one's use in the deep sea, but can boost its usage given that the platinum in it prevents it from tarnishing.
Rolex – Rolesium and Everose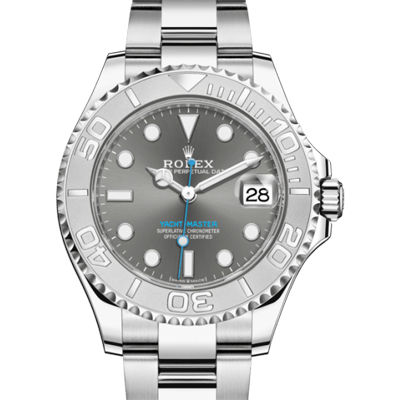 Rolex is another brand that needs no introduction. A household name across the world for the exquisite luxury watches, Rolex sets high standards for all the brands to aim up to. Right from the time of its inception, the brand goes above and beyond in ensuring the watches receive unprecedented quality.
It is only a recent phenomenon for many luxury brands to engineer their in-house metals. But, for Rolex, this is an age-old practice. Rolesium, a combination of 904L stainless steel with platinum, provides an elegant and luxurious look. Exclusively launched as part of the Yacht-Master collection, Rolesium meets the high standards for top nautical watches.
Many may get confused between Rolesium and Rolesor. The former, as described here, is an alloy by Rolex. Rolesor, on the flip side, is not an alloy but a term to denote the dual-metal watch. For instance, the Datejust in dual-tone is a classic example of Rolex's Rolesor.
Everose is the other in-house metal for which Rolex holds a patent since 2005. This metal is seen across all Rolex Oyster pieces available in pink gold. This metal combines with copper for the red hue and platinum to ensure longevity. Resultantly, the name Everose felt like the perfect fit. Contrary to popular opinion that rose gold watches are for women, Rolex breaks this belief with a variety of Everose men's watches such as the Daytona and GMT Master II. You can also find Rolesor watches with Oystersteel and Everose, adding substance to style and luxury.
Seiko – Spron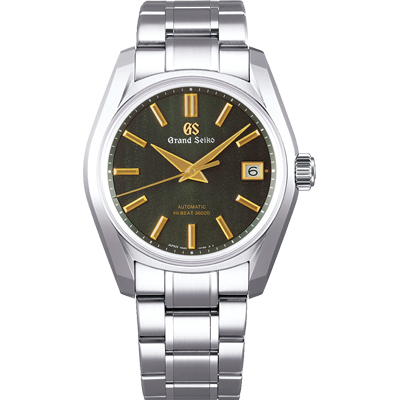 Seiko, a Japanese electrical brand, has always stayed at the forefront of innovation right from the time of its inception. To this length, Siko holds a name for introducing the first-ever quartz wristwatch and quartz chronograph. Set up in 1881, this brand has come a long way in providing the world with functional electronics and watches at an affordable cost.
Despite the resounding success, Seiko continues to produce mechanical watches. Subsequently, the brand developed an alloy called Spron used as balance springs, dating back to 1964. Although many brands today develop in-house metals predominantly used as cases or bezels, Seiko took a different route. Driven by the desire to develop shock-free watches, Seiko's alloys find their place within the in-house movements by the brand.
By combining nickel, cobalt, chromium, molybdenum, Seiko introduced the Spron 510, getting its name from Spring Micron. The alloy guarantees heat and corrosion resistance, and durability. The anti-magnetism and high elasticity ensure torque on high-frequency movements with 55 hours of power reserve.  Particularly, Seiko 6R20 movements host the Spron alloys. This can be found in the brand's automatic watches.
Ulysse Nardin – Diamonsil

Highly regarded for marine chronometers, Ulysse Nardin holds astonishing records for its engineering and inventions. With 4324 certifications and 18 gold medals, this brand focuses on taking inspiration from nautical instruments for precision seafaring.
Interestingly, Ulysse Nardin invented Diamonsil, an alloy combining silicium and synthetic diamonds. Similar to Seiko, this in-house metal finds its home within the movement as an escapement. Subsequently, the brand unveiled the Freak Diamonsil, a limited edition to just 28 pieces.