Sailing requires precision, so a watch that's designed to have accurate timing is one of the most important things in a yachtsman's outfit.
While watchmakers have focused on this art for centuries many of them are luxury timepieces that most of us cannot afford.
Take Swiss luxury brand Breguet, for instance, which has been specializing in nautical watches for over 200 years, making chronometers for the French Royal Navy. The brand's Marine Équation Marchante 5887, is currently priced at over $200,000.
More brands soon followed and evolved, maintaining craftsmanship, precision, and hefty price tags. Some of the first brands that stand out include Aquastar, Breitling, Tag Heuer, Omega, and Rolex.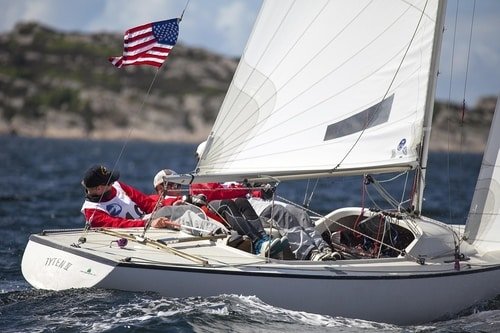 One of the most important things to look for in a sailing watch is a countdown timer. It is extremely important for a skipper to measure the interval that leads to the start of the race/regatta, which can be extremely challenging due to the wind conditions and current.
Ideally, you want a countdown timer that automatically converts to a racing chronograph when it hits zero, like the one on the Tissot Sailing Touch Watch. 
2022 Update: If you're looking for the ultimate full-featured boating smartwatch look at the new Garmin Quatix® 6X Solar, part of the brand's new solar-powered smartwatch line that adds potentially unlimited battery power and more marine-specific features to the previous Quatix models that were already highly-regarded in the sailing community.
This article will feature both old and new brands, as well as different price points, from affordable ones to luxury options. Below, we've rounded up some of the most efficient models on the market today.
Best Sailing Watches
Optimum Time Sailing Watch: Simple Budget Pick
If you are looking for an affordable yet functional sailing watch, one of your best bets is the Optimum Time Series Sailing Watch.
This watch has a silicone strap (which can be personalized with different highlight colors), a stainless steel buckle, and a large display. You have the option to use its three-row display for easy viewing of the time and the timer at the same time.
The shock resistance OS Series 1231R has new and improved features like a clearer display/contrast and high contrast dot matrix display. Its USB-powered charging is convenient too. This one has a more casual, laid-back design, and is water-resistant up to 5ATM. It also has the Sync Button which allows you to get back to the race if you miss the gun. It's not the most durable watch on the market, but it is priced as a budget watch.
Tissot Men's Sailing Touch Watch – Value Pick
One of the most important features of the Tissot Sailing Touch is a countdown function, which turns into a racing chronograph once it reaches zero. The watch also has a compass, barometer, and a tide feature (informs you of the time of high tides and low tides, and if they are coming in or going out).
This watch can assist you when competing in regattas, as it has a regatta timer that will let you position yourself on the starting line.
Some of the other design highlights include luminous markers and hands, a sapphire crystal interface, a backlight, and two time zones. The time is analog, which can also be displayed on the LCD. It also has a perpetual calendar. You can choose from a number of bezel colors too (red, blue, and silver). See the different Sailing Touch models here.
Garmin Quatix 6 Multisport – Premium Marine Smartwatch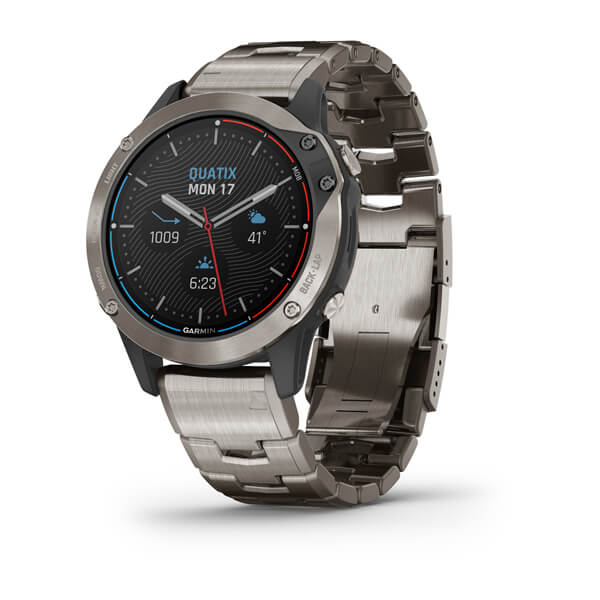 Read Amazon Reviews | See on Garmin
With this model in the line-up, Garmin has built upon the solid performance and features of the Quatix 5 mentioned above and added a solar-powered battery along with new features, some of which are unique on the market. 
As we reported in mid-2020, Garmin launched its solar watch line which included an upgraded version of the Instinct, Fenix, Tactix, and the Quantix. The most obvious new feature is the solar-powered battery which out of the box offers up to 21 days of power. By tweaking the settings (i.e. reducing your GPS usage) you can increase that by using one of the multiple modes.  The UltraTrac™ battery saver mode will give you 60 hours of GPS and Expedition GPS Activity mode will give you a very impressive 46 days (plus 10 days with solar charging). While most users won't need this type of battery duration, it could be a very valuable safety tool if you are doing long sailing trips or got in a situation where you needed to rely solely on your wearable for GPS.
As far as sailing goes, the 6 includes Garmin SailAssist™ with an improved sail racing profile that includes distance to start line, virtual starting line, tack assist, and race countdown timer.  Tide data can easily be downloaded and synced to your smartphone, anchor alarm and boat data streaming are all included.
When it comes to health and fitness tracking, the Quatix 6 introduces a plethora of features including- abnormal heart rate alerts, respiration rate, and Blood Oxygen (Pulse Ox) as well as stress and relaxation reminders.
For everyday use, the new model includes the ability to play music with onboard storage for up to 2,000 songs as well as Garmin pay.
For athletes looking for a full-featured sports watch the Quantix 6 has tracking for almost everything you can think of – from yoga to standup paddleboarding and the new underwater wrist-based heart rate tracker is great for water sports.
There really are too many features to name here. If you want a closer look at what's changed,  check out this comparison of the Quatix 5 and 6 on Garmin.
It probably doesn't come as a huge surprise that all of these features do come at a cost as this new model is priced well above the previous generation.
Garmin Quatix 5 – Full-featured Sailing Smartwatch
If you're looking for a watch that has multisport functions, this should be at the top of your list. Garmin is a trusted brand when it comes to smartwatches for sports, so you're sure that you'll have some of today's best technology.
The Garmin Quatix 5 is built on the powerful Fenix 5 platform, a smartwatch designed for use in the water.
See the quatix® 5 on Garmin.com | Read Amazon Reviews that mention "Sailing".
This powerful GPS marine smartwatch has a heart rate monitor (it's wrist-based, so you don't need to use a chest strap). Aside from the boat features, this model also has functions for a wide array of sports (ie. running, hiking, biking, swimming, etc.)
Garmin has dozens of models for different sports and fitness activities, but the reason why the Quantix model made our list is that it has Garmin SailAssist™ Capabilities that allow the user to have a virtual starting line. There is also a tack assist and a race countdown timer.
This one is excellent on water, but it's equally efficient on dry land too. Its simple design is also excellent for daily wear.
Suunto Ambit – All around value
Another powerful multisport watch, the Suunto Ambit3.
Suunto is another brand that you can count on for use both on water and dry land. If you'd like a brand new Suunto for sailing, this multi-sport watch is compatible with sailing-specific apps available on Movescount, a web community that helps Suunto users to customize their watches.
A Suunto model that is excellent for these apps is the which relatively more affordable than the previously-discussed Garmin Quatix.
The Ambit 3, an outdoor and adventure watch, has ABC features (altimeter, barometer, compass), GPS, route navigation, heart rate feature, and weather information. It is also known for its excellent battery life, with 200 hours and 1-minute accuracy. Design-wise, the all-black design is much more subdued than some of the bright, luxury sports watches on this list.
The brand's sailor-specific watch, the Suunto Elementum Ventus was one of our top picks in the past but this one is actually not being produced anymore, but you may still find second-hand models on the market today.
Occasionally one will pop up on eBay.
The Suunto Elementum Ventus is a smartwatch with a sleek and sophisticated design, sapphire crystal glass, stainless steel case, and leather strap. Some of the sailing features include a sailing timer, chronograph, compass, and weather predictions.
---
Now that we've got the more affordable models covered, it's time to focus on the luxury brands.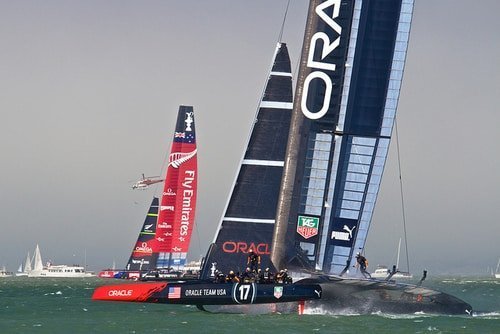 ---
Corum Admiral AC One 45 Tides
This brand also has a rich history. Swiss brand Corum has been around since the 1950s. It's a prolific company, regularly producing new, limited-edition models. One of its most popular releases is the Admiral's Cup line of watches, which started production in the 1960s.
The Admiral AC One 45 Tides, the updated model. has gone through a number of updates but stays true to its original design.
Its CO 277 caliber movement, which was meticulously developed for years with the Astronomic Observatory of Geneva and the Hydrographic and Oceanographic Services of the French National Navy. This CO 277 caliber is a unique movement that is specialized for tide indicator is what sets this watch model apart from the competition.
This one has a distinct 45mm dodecagonal titanium case, a brushed titanium bezel, an anti-reflective sapphire crystal case, and a vulcanized rubber strap.
What makes this model special is the tides indicator: tide time and strength, lunar cycle, and strength of the currents/ height of the tides. 
Rolex Oyster Perpetual Yacht-Master II
The Rolex Oyster Perpetual Yacht-Master, a regatta watch, is one of the most popular luxury yacht watches out there.
The brand boasts of being "the only chronograph in the world with a mechanical memory," a watch for water sports and sailing.
The TheYacht-Master caliber 4161, is a "self-winding mechanical chronograph movement" developed by the company. The first-ever model of this Rolex was released in 2010. The movement, which comprises 360 parts, took approximately 35,000 hours to create.
The Yacht-Master II is made of Oystersteel (developed by Rolex), which is powerfully resistant superalloys used in high-technology industries, which makes it exceptional in harsh environments. Users can program the countdown for a duration of between 1 and 10 minutes that returns to its previous setting at reset.
It's waterproof up to 330 feet or 100 meters, is scratch-resistant, and has a power reserve of approximately 72 hours.
If you're looking for a 100% Certified Authentic pre-owned Rolex, see the Yacht-Master models currently available on bobswatches.com
Ulysse Nardin Marine Regatta
Another popular name in luxury regatta watches, the Swiss Ulysse Nardin Marine watch. This regatta chronograph has meticulously designed kinematics to ensure that it's extremely precise.
One of the highlights of this Ulysse Nardin watch is the way that the chronograph starts. In most watches, the sailor activates the countdown, stops the countdown at the start of the crossing line, and then starts the chronograph.
The UN Marine Regatta is designed to automatically switch from countdown to chronograph at the start at the end of the countdown. The company also assures an extended five-year warranty (which started in 2017) for anyone who buys a brand-new model.
Ulysse Nardin has been making precision marine chronometers since 1846, pioneering innovative products that continue to stay relevant today.
or Click here to search eBay for new and used Ulysse Nardin Marine Regatta
Panerai Luminor 1950 Regatta
Panerai has an interesting history. It is an old brand that entered the civilian market in the 90s, but prior to this, it created dive watches for the Royal Italian Navy's underwater missions during World War II.
This history, and of course its precision, utilitarian features, and beauty has gained the brand passionate fans and collectors to this day.
Made especially for sailing, this classic dive watch has a professional regatta countdown.
The Panerai Luminor 1950 Regatta features a  47mm brushed titanium case with a rubber bracelet, the bezel is polished titanium, and the dial is black with luminous Arabic numerals and hour markers.
Search eBay for available Panerai Luminor 1950 Regatta watches here.
Bremont Regatta AC
[instagram url=https://www.instagram.com/p/BDRRISat_Ld/ hidecaption=true width=320]
The Bremont Regatta AC (America's Cup) is a limited edition model (the company only produced 235 pieces) and is no longer in production.
You can still, however, try your luck searching for sellers on eBay.
Priced at around $6,800 when it was still available, this is relatively more affordable than the two luxury brands above. This series, along with a partnership with Oracle Team USA (OTUSA), were released in Baselworld 2016 with much acclaim. A Blog to Watch quoted Oracle Team USA Skipper Jimmy Spithill as saying (about both AC and OTUSA):
"Naturally, we have a central digital clock on the boat but every sailor still likes to have the time on his wrist, and before a race the countdown to the start is critical. It's a really tough sport both mentally and physically, and not only does the team need to make decisions under immense pressure but we need to have equipment that allows us to do so," Spithill said. "With the countdown function being so crucial when racing out on the water, we are really delighted that Bremont has invested in this for us and it's incredibly special for me that the watches also incorporate some of our winning AC72 which I skippered in 2013."
Some of the main features of the AC include a titanium case material, automatic movement, sapphire glass, and a rubber bracelet. The sleek, classic design of this chronograph timepiece exudes elegance without being flashy.
TNG Classic Tornado Sailing Chronograph
[instagram url=https://www.instagram.com/p/BawT_EdnDPX/ hidecaption=true width=320]
This is one of the relatively newer brands on this list, but you can count on the company to produce a competitive product. One of TNG's founders is Olympic sailor Herbert Dercksen, who has won multiple times at the World Tornado Championships. Co-founder Frans Dingerdis is also a sailor and marketing specialist.
The TNG (Tack & Gybe) Classic Tornado Sailing Chronograph has a full automatic sailing time that's ready for a five and ten-minute countdown. This Swiss-made model has a simple, classic look that will look good in the water and for daily use.  Click to search eBay for this watch.
Some of the other features of this Swiss-made/Dutch-designed chronograph are sapphire scratch-resistant crystal, a power reserve of 42 hours, automatic winding, 28.800 vibrations per hour, and superluminous indexes/hands. The design is a sapphire scratch-resistant crystal, a stainless steel case, and a screw-in crown and case back.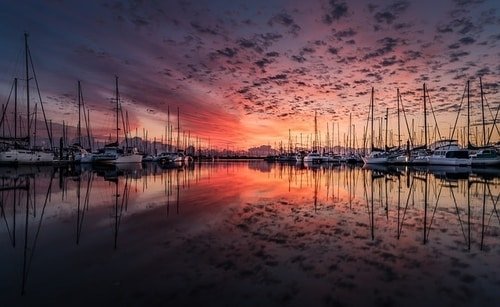 Timex Intelligent Quartz Yacht Racer Watch
2021 Update: This was previously one of our top affordable picks but Timex has since discontinued the watch. However, we've decided to leave this here for reference since there still are some available online – Check availability on eBay here. 
The analog Timex Intelligent Quartz Yacht Racer boasts of a pre-programmed date feature that only needs to be set once—you don't need to adjust it for decades thereafter. This one was built especially for the sport, timing the race from start to finish.
This watch is water-resistant up to 330 ft, so it can also be used for swimming and snorkeling, and the newer models also have the Indiglo feature.
One of the things that a number of users have pointed out is the size of the watch. It's 46 millimeters in diameter and is 14 millimeters thick, so it is usually preferred by users with bigger wrists. The price tag is very reasonable, making it an excellent entry-level watch for a first regatta.
Sailing watches are clearly not cheap, but considering the time and workmanship that goes into every device, they deserve the investment.
Good luck with your search, whether you're looking for a watch for your first regatta, or looking for a more high-end watch to add to your collection.