One of the biggest companies on wearable technology today, Garmin International Inc., announced very recently its latest innovation on some of its smartwatches – the addition of solar charging capability. This means that the new solar line of Garmin watches now has extended battery life since it can utilize the sun's energy to recharge. More so, these new solar watches have been upgraded to include technologically advanced sensors and more activity-specific profiles to better monitor the wearer and his training progress.
As Dan Bartel, Garmin Vice President of Global Consumer Sales stated, "Garmin's multisport GPS watches are the choice for athletes and adventurers willing to push themselves through the next mile or over the next mountain. Using our solar capabilities, the new Instinct, fēnix 6 and 6S, and tactix Delta solar watches provide extraordinary battery life and give customers the ability to follow their passion to the sunset and further,…these editions are full of updated and unique features. From new camouflage design patterns to surfing activity profiles, there is something for everyone with the new members of Garmin's solar family."
Garmin Solar Watches
Garmin Instinct®Solar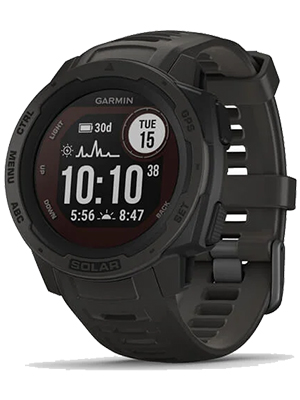 The Garmin Instinct is one of the smartwatches we named in the Toughest Watches On The Planet and also one of the Best Watches for Hunting. Quite evidently, its build quality was proven to be very reliable even through various abuses in different environments – whether the city, the mountains, etc. As a GPS Smartwatch, its GPS, GLONASS, and Galileo capability are also found to be much help because of its impressive accuracy.
The Garmin Instinct Solar, however, takes the smartwatch on a whole new different level. Still having that military-grade toughness, it now also boasts of extended battery life, bolder designs, high-contrast displays, and even new activity-specific editions: the Instinct Solar – Surf Edition and the Instinct Solar – Tactical Edition. With these editions, you can train smarter and record your activities more accurately. Another significant addition is the Pulse Ox2 sensor that can determine the wearer's oxygen absorption and body battery.
Garmin Fēnix® 6 Solar
The Garmin Fenix 6 is a particularly impressive and versatile smartwatch which is why it was included in many of our previous posts such as: Best Surf Watches, Best Triathlon Watches, Best Survival Watches, and Best Hiking Watches among others.
Yet, it was still made better with the Garmin Fenix 6 Solar. This solar edition is built with the Garmin Power Glass solar charging lens and comes with a customizable Power Manager mode. As such, the wearer can truly enjoy whatever activity he's into even for more days (not just hours)! It promises to last at least nine days in smartwatch mode indoors and up to 16 days when exposed to the sun. Its activity profile was also updated to provide more choices, specifically surf, mountain bike, and indoor climb.
Additional upgrades on the Fenix 6 Solar are the Advanced Sleep Monitoring capability and the Pulse Ox sensor. It also now has a specialized widget that shows the wearer's stress score and sleeps insights. The new Fēnix® 6 Solar also comes in a special edition women's version called the Solar Women of Adventure edition
Garmin Quatix® 6X Solar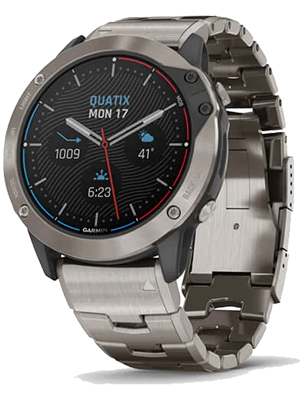 Another smartwatch that received an upgrade is Garmin's marine-centric GPS smartwatch: the Quatix 6X. It is packed with advanced features for fishing, sailing, boating, cruising, and other activities on the water. Its activity profiles even include canoeing, kayaking, skiing, and paddleboarding. Because of these, the Garmin Quatix 6X has been listed in top Nautical Watches For Sailing and Best Watches for Fishing.
To make the Garmin Quatix 6X a lot better, Garmin Vice President of Global Consumer Sales announced that: "We're excited to introduce solar charging into the new Quatix 6 series, giving users everything they've come to know and love from this sophisticated and connected marine smartwatch series, now with even longer battery life performance… Because of its unique power-replenishing technology, the Quatix 6X Solar gives mariners more on-wrist time to enjoy their favorite activities both on the water and on land."
As such, the Garmin Quatix 6X Solar is built with a transparent Power Glass solar charging lens over its 1.4″ sunlight-readable display. In one quick glance, the wearer will be able to see real-time solar input on the smartwatch. Similar to the above solar products, it also has a Power Manager for you to check the battery consumption of each sensor and setting of your watch and adjust them accordingly to extend the watch's battery life.
When it comes to water capability, the Garmin Quatix 6X solar is water-resistant up to 100 meters. It is also compatible with various Garmin chart plotters and other marine electronics. Moreover, the Garmin Quatix 6X Solar is also compatible with various marine products including GPSMAP® 7×2/9×2/12×2 Plus, GPSMAP 10×2/12×2, GPSMAP 74/7600, GPSMAP 84/8600, GHC™ 20, GNX™ Wind and the GNT 10.
Garmin Tactix® Delta Solar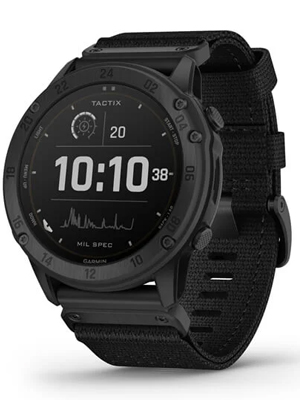 From the Garmin family that was built based on military standards (MIL-STD-810), the Garmin Tactix Delta Solar is equipped with special tactical features such as mapping, advanced training, music, and others that are needed both for every day and field use. It is easily a "mission-ready" wearable with a stealth mode that disables location sharing and wireless connectivity and instantly wipes all memory data. Of course, its physical build is also exceptional with the rugged design yet sophisticated features including a large 1.4″ digital display, scratch-resistant sapphire lens, a black DLC-coated steel bezel, a black PVD-coated steel rear cover along with a black tactical nylon QuickFit band and exposed black metal hardware.
As if that's not enough, the Garmin Tactix Delta Solar that is now equipped with solar technology to extend battery life can last up to 21 days indoors and even up to 24 days when exposed to sun sufficiently. That's three whole weeks of continuous use in a single recharge!
Conclusion
Garmin has indeed stayed committed to its mission to "[create] superior products for automotive, aviation, marine, outdoor, and sports that are an essential part of our customers' lives." With its wearables and other products, the brand has revolutionized lives and helps athletes, adventurers, outdoor enthusiasts maximize their trainings and activities. For more information, visit Garmin's virtual pressroom at garmin.com/newsroom, contact the Media Relations department at 913-397-8200, or follow facebook.com/garmin, twitter.com/garminnews, instagram.com/garminoutdoor or youtube.com/garmin.