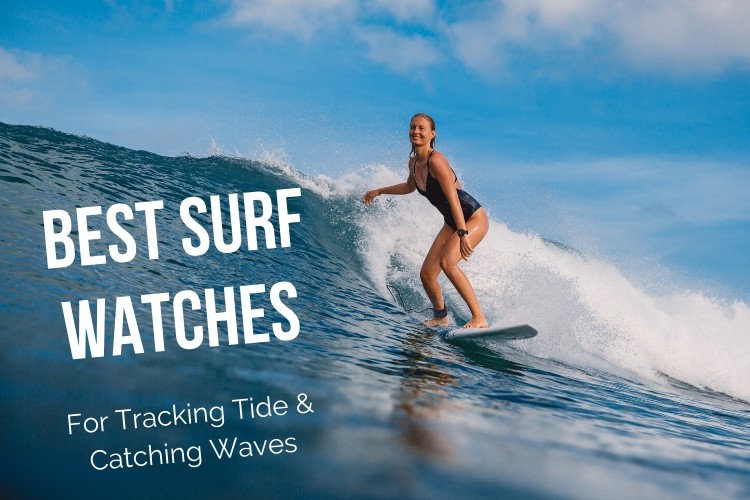 Surfing is partly about losing track of time and being in the present moment. In the not so distant past, it would be rare to see a surfer with a watch and if they were wearing a watch it might have been a simple waterproof digital or something similar just to tell time. However, the rise of smartwatches has changed that.
The development of wearable technology, GPS and integrated surf-specific apps (such as Garmin's Surf Tracker 2 or Dawn Patrol for Apple Watch) have changed the entire game. You now have the ability to track your surf sessions including wave and water time, top speed and total distance surfed. The most advanced GPS watches that integrate with these apps also let you save your favorite beaches and view your waves on a satellite map.
The apps also give you a way to challenge yourself and track your personal surfing performance while some more high-end watches also measure your heart rate and calories burned.
Whether you're into kitesurfing, windsurfing or traditional longboards and looking for a good surf watch, here are the best ones we found.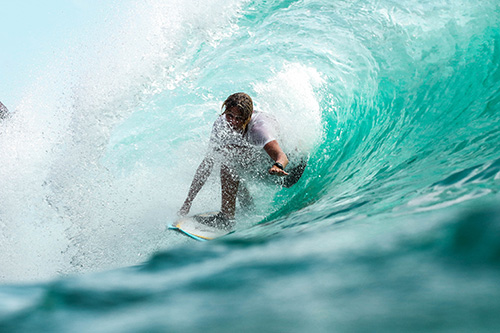 Best Watches For Surfing
Garmin Vivoactive HR
See Amazon Reviews | See on Garmin.com
First on the list is the Garmin Vivoactive HR. This GPS smartwatch is perfect not just for surfers but for other athletes as well. It has a built-in sports app that automatically tracks and records your activity – from running, biking, swimming, skiing, etc. It also monitors your heart rate and provides you with pertinent data such as calories burned. It is also built with a barometric altimeter, thermometer, and compass among others.
More so, to gather more information about tides and waves, the Garmin Vivoactive HR is compatible with the Garmin Surf Tracker2 app. With this, you can instantly use your Garmin smartwatch as a surf watch.
Check out the Garmin Vivoactive HR on Amazon.
Garmin Forerunner® 935
See Amazon Reviews | See on Garmin.com
Another Garmin timepiece where you may use the Surf Tracker2 app is the Garmin Forerunner 935. It is a mid-level Garmin watch that's also dedicated to sports and fitness. Not only does it tracks your surfing (and other sports) sessions, it also monitors your training status so you can know if you are improving your ability or already overreaching.
It also has a wide variety of built-in activity profiles that include running, cycling, swimming, strength training, triathlon, etc. The Forerunner 935 also has a built-in altimeter, barometer, and electronic compass. It also uses multi-navigational sensors – GPS, GLONASS, and Galileo so you'll never lose track of your location.
The downside, however, is that its water resistance is rated only 5 ATM.
Garmin Forerunner 935 is also available on Amazon.
Garmin Fēnix® 6 – Pro and Sapphire Editions
See Amazon Reviews | See on Garmin.com
If you want one of the best from Garmin, then the Fenix 6 Pro and Sapphire Editions could be the one you're looking for.
Its design is sophisticated yet it was also built with premium materials to ensure utmost durability. It was tested and proven to pass US military standards for thermal, shock and water resistance. Similar to the previous Garmin models presented, the Fenix 6 Pro and Sapphire Editions also have built-in activity profiles. And, should you want to do some workouts first, this watch also contains preloaded animated workouts that are easy to follow. They range from cardio to strength, even yoga, and Pilates.
Moreover, aside from the heart rate sensor that's also installed in the previous Garmin models, the Fenix 6 has a body battery energy monitor. It integrates your heart rate, stress, sleep, and other pertinent data to let you know whether it's wise to continue being active or if you already need to rest.
It also has access to various GPS, GLONASS, and Galileo satellite systems to track your whereabouts even in most challenging environments. Best of all, it has improved battery life that can last up to 14 days when in smartwatch mode only.
Yet, of course, help you better with your surfing sessions, better install the Garmin Surf Tracker2 app.
Know more about the Fenix 6 Pro and Sapphire Editions on its Garmin page or you may also check it out on Amazon.
Apple Watch Series 5
See Amazon Reviews | See on eBay
If you're an avid Apple consumer, then you'd surely be delighted to know that the Apple Watch Series 5 (also available on Amazon) can also be used for when you're surfing. As you might already know, it packs a lot of useful features for you. Simply said, it's not just a surf watch; it's a smartwatch that you may also use every day and for all your other indoor or outdoor activities.
Yet, what will make this a particularly great surf watch is the app that you may install in it: the Dawn Patrol app. With the Dawn Patrol, your Apple Watch 5 can track your surf activity, count, and measure your waves and water time.
It also records your speed, analyzes your surf sessions, and helps you challenge yourself. It also records your vitals such as heart rate and calories burned during the activity. Dawn Patrol uploads all information about your surfing activity in the cloud so you can revisit them in any of your Apple gadgets.
The Dawn Patrol app even allows you to monitor the tide of your favorite beach! You can view the waves both on a map or satellite view.
Casio GW-7900-1ER G-Shock Tide Graph Solar
See Amazon Reviews | See on eBay
The Casio G-Shock GW-7900-1ER, as part of the 7900 G-Shock series, comes with various features that are particularly useful for marine leisure enthusiasts like the tide graph tracking and moon phase. It also has a multiband six-radio controlled functionality for more accurate timekeeping, alarm, and stopwatch functions. And, don't worry about all these functions draining your watch's battery because it is solar-powered with the battery reserve of eight months.
The timepiece is also water-resistant for 200 meters and built with the G-Shock standard of durability. Despite being bulky (as most Casio G-Shock watches are), the Casio GW-7900-1ER weighs only 2.33 ounces so it won't tire your wrist or be a hindrance while you are surfing.
Casio Men's GWX-5600-1JF G-Shock G-Lide Tough Solar Radio Controlled Watch
See Amazon Reviews | See on eBay
Another tough timepiece from Casio that you may consider for your surfing sessions is the Casio G-Shock GWX-5600-1JF. As with most other G-Shock models, this one is also shock-resistant, solar-powered, and uses multi-band radio-controlled timekeeping for accuracy. Its water-resistance goes as deep as 200 meters.
For your surfing needs, the G-Shock GWX-5600-1JF has a tide graph and has 100 preset tide sites from around the world. It can also show the moon data, including a moon phase graph on its easy-to-read digital display.
It also comes with a solar rechargeable battery with 10 months power reserve. This allows the timepiece to support all its other functions such as alarms, stopwatch, countdown timer, world time from 31 different time zones, and calendar.
Lastly, compared to the previous G-Shock timepiece presented, this one's less bulky and quite light, weighing only 1.98 ounces.
Nixon Men's 'October Tide' Stainless Steel Watch
See Amazon Reviews | See on Nixon
At the onset, we must note that Nixon October Tide is quite different from the other Nixon timepieces that you'll see on this list. The most evident aspects are: 1) it comes with analog display, and 2) the primary material used is stainless steel. It is also because of these reasons that the Nixon October Tide is a great choice if you prefer a timepiece that's also stylish even on ordinary days or even business events. Yet, it is also water-resistant for 200 meters making it suitable for marine leisure activities and water sports, except for diving.
The analog display is easy-to-read with large white hour markers on the blue dial, with numerals at 2, 4, 6, 8 and 10 o'clock. Then there's the tide subdial at 4 o'clock simply showing if it's a high or low tide. At 8 o'clock, on the other hand, is a seconds subdial. These are equipped with Japanese quartz movement.
Nixon

Base Tide

,

38

MM
See Amazon Reviews | See on Nixon
Simplicity and durability; are what the Nixon Base Tide gives you. It comes it a notable retro design with an easy-to-read LCD digital display. Aside from the time and calendar, it can show you the basic and future tide information. It also features a chronograph, a countdown timer, and EL backlight. Along with the current time, its home screen may display either the tide or the date.
In terms of durability, the watch case is made of custom injection molded TR90, with custom-molded polycarbonate gasketed pushers. The band, on the other hand, is a custom injection molded ultra-soft silicone band with the Nixon's patented locking looper. The watch's water resistance is rated 10 ATM and it is covered by a two-year limited warranty.
Click here to view this watch on Amazon.
Nixon

Base Tide Pro A1212
See Amazon Reviews | See on Nixon
The Nixon Base Tide Pro is very much like the previous Nixon Base Tide but with some upgrades. Its interface is still pretty simple but it helps present only pertinent information. Among its special features are the tide information for 550 pre-programmed beaches from across the globe, the time and height for high and low tide, wave timer, and the sunrise/sunset. It also has a chronograph timer, dual time, alarms, and backlight features.
You may toggle its digital display to show either the tide graph or the date. In relation to this, it is noteworthy that even the buttons of the watch are water-resistant so you can easily access them even on water. The whole watch is also durable with the TR90 case with a hardened mineral crystal dial window and a silicone band with a double locking looper. It is rated 10 ATM so you can take it as deep as 100 meters.
Check out this watch on Amazon check price and read reviews.
Nixon Siren
See Amazon Reviews | See on Nixon
Another timepiece that's great for surfers is the Nixon Siren. Aside from its functionality, Nixon boasts of its design that would make you look fashionable whether in or out of the water.
Compared to other surf watches that are mostly black, Amazon offers the Nixon Siren in various color combinations, such as black/gold/white, black/rose gold, black/fatigue, light gold/gray, and rose gold/white. There's also pale pink, aqua, light tangerine, lilac, citrus, white, and black if you purchase directly from Nixon's website.
In terms of functionality, of course, Nixon Siren also offers the features and functions you would look for in a surf watch. Its digital LCD display shows the time and date, basic tide, future tide, chronograph, and a customizable countdown timer. Similar to the Nixon Base Tide Pro, its home screen can be set to either date and time, or tide and time.
Nixon Siren is also rated 10 ATM, meaning it's water-resistant for 100 meters. It is also covered by Nixon's limited warranty for two years from the day it was purchased.
Learn more about Nixon Siren here.
Vestal Men's The Brig Watch
See Amazon Reviews | See on eBay
Vestal The Brig Watch is another retro-looking timepiece that's perfect for catching waves. Despite its simple appearance, it was personally designed by Jordy Smith, a top professional surfer. As such, you can expect that it contains features and functions that are most helpful for surfers. First, of course, is the tide tracker for the most popular beaches in the world. It also has a tide graph that shows the tide height. It also has a Suffer and Recover training mode with an interval timer, and a Heat Mode, which is a countdown timer that's useful for surfing contests.
The Brig Watch is rated 10 ATM for water resistance and is made with a heavy-duty stainless steel case back, polyurethane-wrapped ABS plastic for the case, hardened polycarbonate for the crystal dial window, and polyurethane for the band.
Freestyle Unisex 103001 Mariner
The Freestyle Unisex 103001 Mariner is another sports watch option for your surfing sessions. It packs 150 pre-loaded beaches along with its tide, sunrise, and sunset data for 10 years. To ensure readability, it has a positive (dark-on-light) digital display and the electroluminescent night vision backlight. Even its buttons or pushers are designed to be functional even in water.
Its other functions also include a chronograph, countdown timer, alarm, dual time, and heat timer. The case is made of durable polycarbonate plastic while the strap is of silicone with stainless steel buckle. The Freestyle Unisex 103001 Mariner is rated 10 ATM in terms of its water-resistance.
Rip Curl Men's Rifles Digital Tide Surf Watch
See Amazon Reviews | See on Ripcurl
The Rip Curl Rifles Tide Watch comes with 500 pre-programmed tide locations for you to choose from. You can also quickly access a tide graph as well as a detailed tide view. You can even see future tide to help you plan your surf sessions. It also has other functions that you might need such as alarm, stopwatch, countdown timer, and light.
Aside from being truly functional, it was also designed with durability and comfort in mind. For one, the material used was polyurethane and the case was made of ABS hardened plastic with a stainless steel case. The band is made of rubber with a marine-grade stainless steel forged buckle. Of course, it's also waterproof up to 100 meters deep so it may also be used for swimming and snorkeling, but not for diving.
Casio Frogman G-Shock Tough Solar GF-1000-1DR
See Amazon Reviews | See on eBay
Casio G-Shock Frogman GF-1000-1DR comes with a moon phase indicator and a 7-segment tide graph. It also uses the multi-band six radio signal calibration for accurate timekeeping. Also similar to the other Casio G-Shock timepieces mentioned above, this one comes with a solar rechargeable battery, with 10 months power reserve.
It also has all the other basic features of a Casio G-Shock such as the auto calendar, world time, alarms, hourly time signal, stopwatch, and countdown timer. It also has the backlight that may be set in a hands-free mode so the backlight automatically activates when you flick the watch vertically.
This watch uses Japanese quartz movement and is water-resistant up to 200 meters. The case is made of plastic while the strap is made of resin. All in all, the watch weighs 4.06 ounces.
Palada Men's Digital Sports Watch Waterproof Tactical Watch with LED Backlight Watch for Men
See Amazon Reviews | See on eBay
The Palada Digital Sports Watch is also a tactical watch with military-style outlook (to check out other tactical watches here). It is great not only for surfers but for fitness enthusiasts and adventurers as well. This watch comes with multi-sports functions that you'd surely appreciate whether you're doing indoor or outdoor sports. It also comes with chronograph, auto calendar, and alarm clock functions. Its digital display shows large numbers on its dial with LED backlight making it easily readable. The timepiece is also water-resistant up to 50 meters but its buttons are not designed to be used underwater.
Surf Watch Buying Guide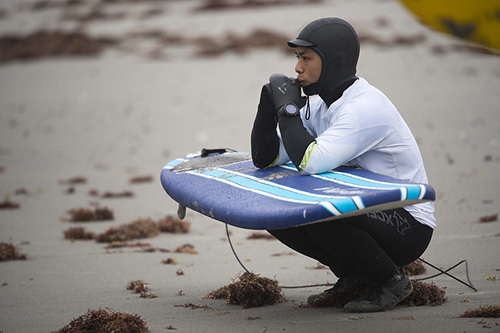 Before you finalize on which surf watch you'd purchase, here are the aspects of the watch that you may want to double-check to ensure that you'll have a great surf watch.
Water Resistance
When taking a watch in any water activity, whether that may be leisure or sports, you must first take note of its water resistance to make sure that it will still be functional when you're in the water and as you come out (especially if it's a smartwatch!)
As such, for your surfing sessions, the recommended water resistance is 10 ATM. Meaning, it can go as deep as 100 meters.
It is also the recommended rating for swimming, snorkeling, sailing, and water sports. A 5 ATM rating, on the other hand, may also be good enough as it is already suitable for everyday use, showering, bathing, shallow-water swimming, snorkeling, water-related work, fishing. You just have to be conscious enough and remember not to go deeper than necessary while wearing your watch.
Tide Functions
You would also want to check the tide functions that the watch presents. Does it only show high or low tide? Or does it also measure tides and shows you a graph? Can it also show future tides of the beach you visited or just the present tide? These are only some of the questions that may guide you in checking the watch's tide functions.
Pre-loaded Beaches
Most surf watches also have pre-loaded beaches; when it comes to this aspect, the more, the better. In just a few pushes of the button, you can easily check out the surfing beaches nearest you. This is especially great if you are the type who prefers to visit beaches in other countries because the pre-loaded beaches are usually located around the globe. With this function, you don't have to waste time visiting a beach only to realize that it's not a good surfing spot.
Surf Dial
The surf dial may seem a minor aspect of the watch. However, such is not the case. When you're under the sun and waiting for your wave, you would want a watch with easily readable surf dial. One wherein you will still be able to see the data you need even under direct sunlight.
For our Garmin smartwatches above, for example, once you install and access the Garmin Surf Tracker2 app, the dial instantly changes from being a smartwatch into a dedicated surf watch.
Brand
Some would also want to consider the brand and would prefer those that have already established a good reputation in surfing. If you're particularly looking into this aspect, you'd be glad to know that Rip Curl and Nixon are listed among the best surf brands. In fact, Rip Curl is considered one of the big three in the surf industry along with Billabong and Quiksilver.
Closing Words
As this tech trend continues to develop in the surf industry we continually update this article. Surfers and wave riders have now included surf watches as part of their gear mainly because of the useful information that they can easily access even on water.
We've presented the best surf watches for you to choose from. While all of these are useful and durable for your surfing sessions we've tried to include enough options so you can pick one that best suits your requirements, style, and budget. Some are still stylish even for everyday wear, others are also useful for other sports activities while there are some that focus on tides and surfing alone.