Smartwatches have long had many health-tracking features, but there's a growing trend in the market for smartwatches with blood oxygen monitors (pulse oximeter) to track the oxygen saturation in your blood.
I primarily use a smartwatch for its health and fitness tracking, so I see the appeal of a smartwatch that monitors your blood oxygen. So I've been researching the market to find the best devices with pulse oximeters and have shared everything I found in this guide.
My top pick is the Samsung Galaxy Watch 3 because it's a great all-around watch that you can wear for any occasion. It has an accurate SpO2 monitor and other health trackings such as heart rate and ECG. The rotating bezel makes it a breeze to navigate, plus you can store music on it, use it to make calls, and respond to notifications directly on the watch.
Quick Picks:

Please keep reading for my complete breakdown of the best smartwatches that measure your blood oxygen, including an FDA-approved model, budget picks, and one with two-week battery life.
What You Need to Know About Blood Oxygen Monitors in Smartwatches
A blood oxygen monitor (also known as a SpO2 monitor or a pulse oximeter) measures the oxygen saturation of your blood.
You can use this to measure how well the heart is pumping oxygen through your body and detect conditions such as chronic obstructive pulmonary disease (COPD), asthma, and congenital heart defects.
A pulse oximeter must be approved as a Class II medical device by the FDA to be used for medical diagnosis. However, most pulse oximeters in smartwatches (except for Fitbit) have not received approval from the FDA as they have been positioned as informative rather than for medical purposes. This means you shouldn't rely on them to diagnose or monitor health conditions.
So what else can an SPO2 monitor be used for? Well, they are particularly useful for endurance training, especially at altitude, where you can assess how well your body is coping with the atmosphere. They are also helpful in monitoring your sleep quality and can help detect sleeping disorders such as sleep apnea.
Best Smartwatches that Measure Blood Oxygen Levels
Best Overall: Samsung Galaxy Watch 3
Pros/Cons:

Accuracy rivals medical grade devices (although not FDA certified)

8GB of offline music storage

The rotating bezel makes it fast and easy to navigate

Battery life will only make 2 days
Samsung's Galaxy Watch 3 is their latest flagship smartwatch and the only one in their range to offer bloody oxygen monitoring via an SPO2 sensor.
The blood oxygen data is integrated into the Samsung Health app, one of the better health apps on a smartphone. You'll find your SpO2 readings under the Stress tab, where you can also take a spot reading.
Although the watch has not gone through FDA approval for its SpO2 monitor, a report by Medrxiv found that the same monitor found in Samsung's S9 flagship smartphone did meet the accuracy required for such approval.
The Galaxy Watch 3 runs Tizen, Samsung's open-source smartwatch operating system used in their wearables and other smart home gadgets. Even with third-party apps installed, the platform is speedy to navigate, aided further by the watch's 1GB of RAM.
Thanks to 8GB of offline storage, you can store offline music and connect your headphones directly to it for tether-free use. It also has GPS, NFC for making contactless payments via Samsung Pay, and the ability to install third-party apps (although a more limited selection of apps than Google's WearOS or Apple's watchOS).
The best feature of this watch is Samsung's signature rotating bezel used to navigate the user interface. With so many features and the ability to add third-party apps, you have to scroll through a fair amount of menus, however, the rotating bezel makes light work of this, and the feedback makes it easy to choose the right option.
Runner Up: Ticwatch Pro 3
Pros/Cons:

The dual-screen display gives a battery life of 3-5 days

Dedicated TicOxygen app for monitoring SpO2

Make and receive calls
Next up is the Ticwatch Pro 3 from Mobvoi. This is one of the best WearOS smartwatches on the market and the only one that currently has a pulse oximeter. As Google's own software doesn't yet have blood oxygen monitoring built-in, they have created a TicOxygen app that comes pre-installed to take readings.
This is in addition to the broad range of other apps that come bundled with the watch from Mobvoi, including TicZen for stress monitoring, TicBreathe for guided breathing exercises, and TicHearing, which measures environmental noise.
The pulse oximeter isn't the only area that the Ticwatch Pro 3 outperforms the other WearOS watches on the market. It also features their signature dual screen with an overlaid LCD screen on top of the smartwatch screen.
The LCD screen shows the watch face similar to the display you'd find on a traditional digital watch. The underlying smartwatch screen will turn on instead when you use the smartwatch functions.
This is beneficial for the battery life as the LCD screen uses far less power. For this reason, the Ticwatch Pro 3 has a battery life of 3 days with regular usage or up to 5 days with light usage. This is almost double the battery life of any other smartwatch running WearOS.
Best for iPhone Users: Apple Watch Series 6
Pros/Cons:

New always-on display

Integrates with Apple Music, Apple Pay, and Siri

Large range of third-party apps

Only works with iPhones

Battery life of 18 hours
If you're an iPhone user, then the Series 6 Apple Watch is a great choice. It's the latest generation of the Apple Watch with the new blood oxygen app.
Whilst most blood oxygen monitors found in smartphones use a green light to measure oxygen saturation, the Apple Watch has green, red, and infrared LEDs that work together to compensate for natural variations in skin color (source).
The watch can either take a spot check of your blood oxygen or, with 'background measurements' turned on, it can periodically take a reading to provide readings across the day. It will attempt to take readings when you aren't moving. Both spot readings and background readings can be seen in the Health app on your iPhone.
That's not all that's changed in the latest Series 6 device, it's much faster than before, thanks to a new S6 SiP processor, which Apple claims improves app launch speed by 20%. It also introduces an always-on display and brings the digital crown with haptic feedback that Apple launched in the Series 5.
The biggest downside to the Apple Watch is that you can only use it with an iPhone, so it's best avoided if you have an Android phone. However, if you have an iPhone, the watch integrates seamlessly with the rest of Apple's Ecosystem, making it easy to access Apple Music, Apple Pay, and Siri.
As always with Apple, design plays a huge role, and the watch looks seamless and is comfortable to wear. The Series 6 comes in a choice of aluminum, stainless steel, and titanium with several band color choices.
Best for Battery Life: Amazfit GTR 2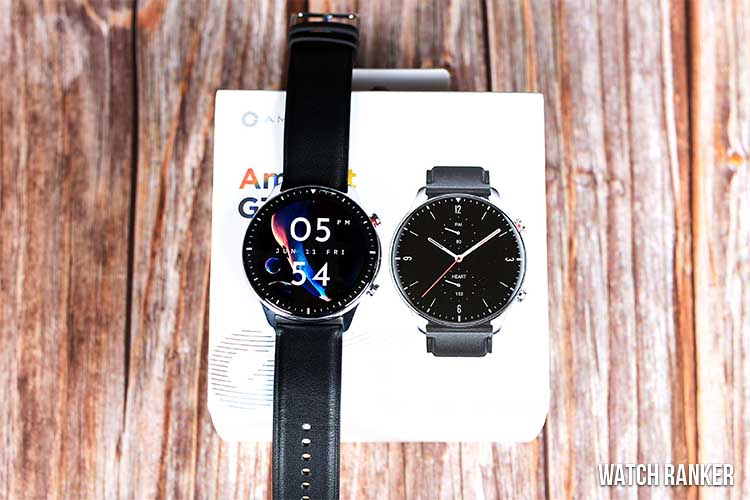 Read our full Amazfit GTR 2 Review
Pros/Cons:

Premium looking design at an affordable price

Realistic 10-day battery life

Make calls from the device via the built-in microphone and speaker

Lift-to-wake can take a couple of seconds to wake the screen
The final watch on this list is the Amazfit GTR 2. This is the second Amazfit that I've included in these recommendations, however, the GTR 2 is a premium device from the up-and-coming smartwatch brand.
Unlike the Bip U, this device has a circular display and has upgraded from a plastic design to a stainless steel body, giving it a more luxury feel. The AMOLED screen is bright and works well when outside.
It has an always-on display, 3GB of onboard music storage, and a built-in microphone and speaker that allow you to take calls from your phone directly on your watch. However, you will still need your phone in range, as the watch doesn't support a cellular connection.
The design is ideal for everyday use, but there are also a ton of fitness features too. For example, there is GPS for tracking your runs, 12 different sports tracking modes, and the blood oxygen monitor.
Battery life is where this smartwatch excels over the others shared here with a claimed 14 days from the manufacturer, although it is closer to a week when using multiple features on the watch in our tests.
As the watch does not have an always-on display, you'll need to rely on the lift-to-wake action, although there is a slight delay of around 2 seconds for this to work.
FDA Approved: Fitbit Versa 3
Pros/Cons:

Pulse Oximeter approved by the FDA

Industry-leading sleep score

Alexa and Google Assistant built-in

Some advanced reports require Fitbit Premium subscription
Fitbit is the only smartwatch manufacturer that currently has its pulse oximeter approved by the FDA (Source) This means that they have proven the accuracy of the device compared to other medical-grade pulse oximeters that would usually clip onto your finger when being used by a medical professional.
Despite this approval that gives them a clear advantage over the competition, Fitbit still advises that their watches are intended for general wellness and discourage their use for managing any health conditions.
Fitbit is known for its industry-leading sleep score, which takes lots of data sources to provide a score and suggestions to improve. It uses time awake/asleep, how much REM sleep you got, and your heart rate. Fitbit has not yet added blood oxygen levels to be a factor in this score.
However, the watch will still track your blood oxygen levels while you're sleeping and display average and SpO2 ranges on your watch face when you wake up. This is important because significant fluctuations in your blood oxygen at night can be indicative of asthma or sleep apnea.
Fitbit even has a dedicated SpO2 Signature clock face, this allows you to cycle through blood oxygen stats, among other vital measures easily.
Aside from these key health and fitness features, the Versa 3 has many apps that will come in handy for everyday wearing. For example, it has both Alexa and Google Assistant for issuing voice commands, Fitbit Pay for contactless payments, and a limited selection of third-party apps such as Uber.
Budget: Amazfit BIP U
Pros/Cons:

Very affordable smartwatch

5-7 day battery life

Detailed health and fitness tracking via Zepp app

Cannot make contactless payments

No GPS for tracking your running routes
If you're on a tight budget but still want to get a smartwatch with a blood oxygen monitor, you're in luck, thanks to the new Amazfit Bip U.
This watch was crowned our favorite budget smartwatch because it packs in many features while still keeping a sub-$100 price tag. It excels at health and fitness tracking, in addition to the blood oxygen monitor, there's also a heart rate monitor, sleep tracking, and sports modes for tracking your workouts.
Amazfit is known for having a great battery life in their products due to their lightweight proprietary operating system. Being at the budget end of their range, this one has a reduced battery capacity compared to the others in the range but still manages to last 7 days with light usage or 5 days with regular use.
There are some drawbacks to the device, for example, there is no GPS for tracking your running routes, nor is there an NFC chip, so you can't make contactless payments with the device. But, if you're just looking for some great fitness tracking and your daily fitness goals presented neatly in an intuitive app, the Bip U is ideal.
Best for Fitness: Garmin Vivoactive 4
Pros/Cons:

The pulse oximeter can monitor blood oxygen through the night

Training plans that adapt based on your performance

Onboard music storage and NFC
Garmin's background in fitness trackers is evident from the features in their smartwatches. Their Vivoactive range sits nicely in-between fitness tracker and smartwatch with lots of handy features to monitor your health and fitness. Their latest flagship, the Vivoactive 4, also adds a pulse oximeter into the mix.
The pulse oximeter was first introduced in the earlier Vivoactive 3, but Garmin has continued to improve upon the usability in the Vivoactive 4, it can now monitor your blood oxygen throughout the night too. The watch can then alert you if it detects large changes in your blood oxygen throughout the night, this is a symptom of sleep apnea, although the watch will not specifically tell you this as it does not have FDA approval.
The pulse oximeter on the Vivoactive 4 will show your blood oxygen percentage alongside your current altitude, this is helpful for endurance exercise to see how your body reacts to the changing environment.
The Vivoactive 4 gets my pick as the best fitness watch with a pulse oximeter, this is thanks to advanced fitness tracking, animated onscreen workouts, over 20 preloaded sports to track, and the Garmin Coach app. The latter is particularly great as it provides personalized training plans that dynamically adjust based on your performance as recorded by the watch.
There is also a large selection of third-party apps you can install, most of which are fitness-related. Unlike the previous generation, the new Vivoactive 4 has onboard music storage so you can download tracks and listen to them tether-free during your workout.
Best for Outdoor Sports: Coros Vertix
Pros/Cons:

Tough watch suitable for extreme conditions

Quick access to blood oxygen readings

Great battery life of 60 hours with full GPS

SpO2 recordings not saved in the app for tracking

No music storage
I mentioned in the introduction that bloody oxygen monitors are very useful for monitoring training at high altitudes. If that's your reason for purchasing a smartwatch with a blood oxygen monitor, then the Coros Vertix is an excellent pick.
Coros will be a familiar brand to any elite runner or endurance athlete as their performance sports technology has played a role for many years.
This watch is suitable for almost any environment you can think of. It has a Sapphire screen that makes it very scratch resistant, it has an operating temperature of -4°F to 140°F, and it's 15ATM rated, which means you can use it up to 150m underwater.
The watch runs its own proprietary operating system which is very much geared towards adventure sports tracking. This means it is missing some of the everyday features you might like from a smartwatch, such as music storage or NFC for contactless payments.
As for the SpO2 monitor, this can be quickly accessed by long-pressing the lower right button. When you're at high altitudes, a gauge will appear to advise whether the reading is of concern or not.
The downside to the SpO2 monitor is that it's only a spot check, and the readings are not saved within the app as with other models here. This means you cannot look at your blood oxygen over time, which the watch would benefit from in the future.
One final thing worth mentioning about this watch is the battery life which can last an incredible 45 days with regular usage or 60 hours with GPS on. If you're an outdoor fanatic, this is well worth investing in.
Tips to Get a Good Blood Oxygen Reading on Your Smartwatch
Here are some key tips to ensure you are getting blood oxygen reading on your smartwatch that is as accurate as possible:
Rest your arm on a surface with your palm facing downwards while you take a reading.
Make sure the watch is not loose on your wrist.
Ensure the watch is sitting flat on your wrist and ensure your wrist bone isn't obstructing the pulse oximeter.
If your hands are cold, you'll get a better reading if you rub them together beforehand to get a bit of warmth. This is helpful if taking a reading at higher altitudes.
If you have a tattoo on your wrist, try to ensure this is not directly under the pulse oximeter, as the saturation of the ink can make it difficult to get an accurate reading.