For most products, durability (or quality in general) is directly proportional to the price. This is often true even for watches since the shock-resistant cases, lightweight metals such as titanium, and durable watch components all add to the price.
If you search online for the toughest watches, you'll often land on lists of luxury watches. While these amazing timepieces are nice to admire, most of our readers are not looking to spend thousands on their next watch. The good news is that there are actually lots of tough watches that are also affordable!
For this list of best watches, we compiled tough yet reasonably priced recommendations. Towards the end, we do work our way up in price range and finish the list with a few very tempting watches, but focused mostly on relatively affordable picks.
Best Tough Watches on the Planet
Citizen Promaster Tough BN0217-02E
From one of the pioneers in watchmaking in Japan, Citizen, we have listed the Promaster Tough BN0217-02E. As one of the models from the Promaster Tough series, it was designed and built with durability in mind. For one, it comes with a monocoque case, a two-piece construction design that foregoes the need for a case back. It's extremely durable, shock- and magnet-resistant.
More so, its stainless steel case is coated with Super Titanium, making the component anti-rust, scratch-resistant, hypoallergenic and five times harder than the ordinary stainless steel. The dial window, moreover, is made of anti-reflective sapphire crystal; while the black strap uses Cordura ballistic fabric.
On the dial, you would find super LumiNova hands and markers that are not only luminous in the dark but can also function even in extreme temperatures. It also has a date window at 3 o'clock position. More so, this model uses Eco-Drive technology so it can be powered by any kind of light and doesn't need any battery. For the movement, it uses Caliber E168. This timepiece is water-resistant for 666 feet, so it's suitable for swimming, showering, and snorkeling.
Luminox LeatherBack Sea Turtle Giant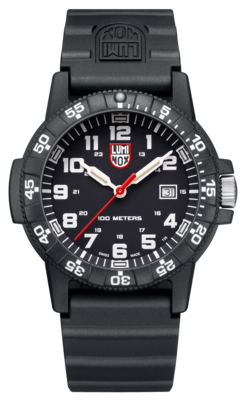 Going back to analog watches, we have the Luminox LeatherBack Sea Turtle Giant.
The timepiece comes in black with green accents. Its dial shows large Arabic numerals for hour markers, while on the bezel are smaller Arabic numerals for 5-minute marks. It also has a date window at 3 o'clock position.
For enhanced durability, it boasts of the combination of a Carbonox and white fiberglass compound with crown protection, along with the leatherback for its watch case. Then for a long-lasting dial window, it uses tempered scratch-resistant mineral crystal. It also comes with a black webbing strap with a brushed stainless steel signature buckle.
This timepiece is proudly Swiss-made and uses Ronda 515 HH6 movement. It is also equipped with Luminox self-powered illumination and is rated 10 ATM for water resistance.
Hamilton Khaki Field Titanium Watch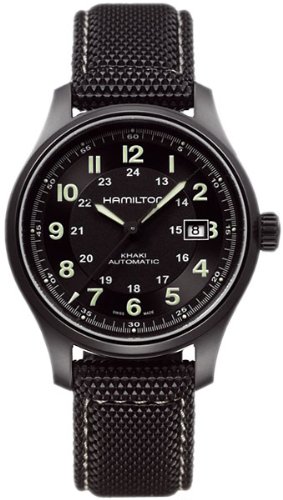 Next is an automatic watch from Hamilton – the Khaki Field Titanium Watch. It may seem simple and straightforward, yet it offers absolute functionality and durability. As such, the case is made of titanium with a sapphire crystal dial window. It is water-resistant up to 100 meters. The black strap, on the other hand, is made of synthetic cow leather with a 20mm lug width.
The black dial features a luminous three-hand analog display with Arabic numeral hour markers and a date window at 3 o'clock. These are powered by caliber H-10 automatic movement that's equipped with intricate snail and pearled patterns.
Luminox Master Carbon Seal Limited Edition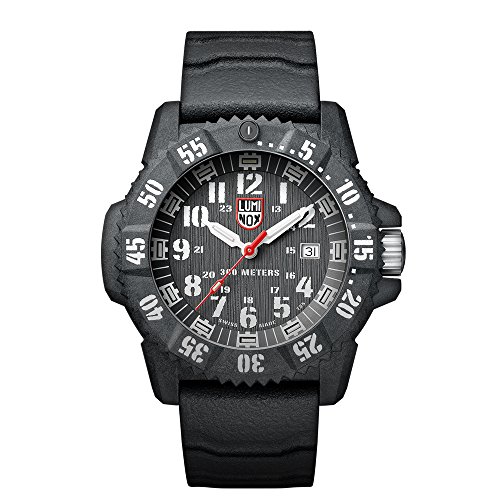 The Luminox Master Carbon Seal 3803 C Limited Edition Watch also features the Carbonox case, making it lighter, more durable, hypoallergenic, and more scratch-resistant and heat-resistant. On the blue carbon fiber dial, you'll find Tritium hands and luminous dots. The bezel also indicates a 60-minute scale in white/orange. Its analog display uses a Swiss quartz Ronda 715 Hh6 movement. It is also ideal for water sports and activities as it is rated 30 ATM so it can still be used up to 300 meters deep.
Casio G-Shock DW5600E-1 
Read Amazon Reviews | See on eBay
Worthy to be listed first on this list is the Guinness World Record holder for the toughest watch, the Casio G-Shock DW5600E-1. The world record was earned last October 30, 2017, when the said timepiece was driven over by a 24.97-ton truck. Proving its toughness, Casio G-Shock DW5600E-1 was not broken and was still functional even after the challenge.
Aside from the proven shock resistance, Casio G-Shock DW5600E-1 is also water-resistant for 200 meters. It is great both for your outdoor and water activities. It has a 45mm black rectangular watch case and black resin strap.
It also uses EL backlight with afterglow so you can read the display under any light. It's also built with a multi-function alarm, countdown timer, stopwatch with elapsed and split time modes, an auto-repeat function, an hourly time signal, and an auto-calendar that's been pre-programmed until 2039.
Timex Men's Expedition Acadia Full Size Watch
Read Amazon Reviews | See on Timex
From another well-known brand that offers quality yet affordable watches, we've listed the Timex Expedition Acadia. It comes with a 40mm black resin case covered with a scratch-resistant acrylic crystal dial window. The dial is black showcasing large print Arabic numerals with smaller digits to represent 24-hour military time. It also has minute indices and a date window at the 3 o'clock position. It is also built with the brand's signature Indiglo light-up and the hands are luminous to enable you to tell time even in the dark.
More so, it comes with a 20mm leather and fabric strap and tack buckle clasp. It has been tested against and made to withstand various elements that you may encounter in various adventures. And of course, it is water-resistant up to 100 meters.
Casio Men's G-Shock Stainless Steel GST-S110-1ACR
Read Amazon Reviews | See on eBay
Casio G-Shock Stainless Steel GST-S110-1ACR boasts of a watch case and bezel made of stainless steel along with a black band made of resin for reinforced toughness. It has a built-in solar battery so you don't have to worry about replacing or recharging.
Th ani-digital dial displays an easy-to-read using large silver hour markers and two luminous hands. The digital display shows world time, stopwatch, countdown timer, and five daily alarms. This G-shock also has a full-auto calendar, daylight saving time feature, hourly signal, and a battery level indicator.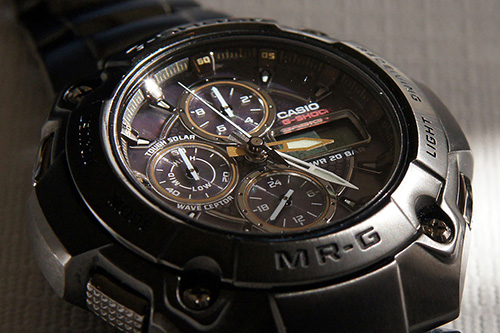 Victorinox Swiss Army Men's I.N.O.X. Watch
Read Amazon Reviews | See on Victorinox
Boasting titanium toughness is the Victorinox Swiss Army Men's I.N.O.X. Watch. The watch case is made of sandblasted titanium with a smooth, matte finish. Along with the durability, such material is also lightweight and hypoallergenic. Its dial window is made of scratch-resistant, triple-coated, anti-reflective sapphire crystal. It also has a removable translucent protection bumper. The strap uses rubber with a chain-link appearance to provide comfort and a flexible look suitable for an everyday watch.
The dial presents an analog display with embossed markers, hour and minute hands. The blue second-hand matches the rubber strap. It also has a date window located between the 4 and 5-hour markers. Although using a quartz movement, the timepiece is Swiss-made and put through 130 extreme endurance tests. It is also rated 20 ATM for water resistance, so it is safe up to 200 meters deep. It is also covered by a 3-year limited warranty.
Casio G-Shock Master of G (GG-1000-1A3JF)
Read Amazon Reviews | See on eBay
Casio G-Shock Master of G Mudmaster GG-1000-1A3JF is a bulky option from Casio G-Shock that has both digital and analog displays so you can easily tell time. The Master of G Mudmaster series is also shock-resistant, mud-resistant, and water-resistant for 200 meters.
It has a built-in compass and thermometer.  It also features world time for 48 cities, a stopwatch with elapsed and split time mode, a countdown timer, and five daily alarms. It also uses an auto LED backlight with an afterglow so you can still read the display even in the dark.
Marathon Swiss Made Military Field Army Watch
From the last bulky timepiece, we move on to the more sleek design of the Marathon Military Field Army Watch. It is a field watch built specifically to meet military specifications. It is designed for general infantry, so it comes with a notably lightweight yet high-impact fiber shell case and sapphire crystal glass. It is proudly Swiss-Made, from La Chaux de Fonds, Switzerland.
On the dial, you'll find Margalo-painted markers and hands. This particular paint is characterized as photoluminescent, meaning it charges under a light source to glow in the dark. The timepiece also uses a high-torque quartz movement, specifically an ETA F06 3-jewel with an end-of-life indicator. This timepiece is rated 3 ATMs in terms of water resistance.
German Military Titanium Watch GPW Day-Date
Next on the list is the German Military Titanium Watch. It is built with durability suitable for the Infantryman of the Future and German KRK (Crisis Reaction Forces) Soldier. It uses sandblasted grade 2 titanium for its watch case, making it lightweight and comfortable to wear as well. More so, it features an anti-reflective sapphire crystal for its dial window.
The dial uses German Utilitarian Design, with luminescent hands and hour markers. At the 3 o'clock position, you'll also see a day and date window. The timepiece is equipped with a reliable Swiss quartz movement and is water-resistant for 200 meters.
Garmin Instinct
Read Amazon Reviews | See on Garmin
Next on the list is Garmin Instinct. This entry on the list may seem like a bit of a surprise since the brand is more known for releasing sport-specific watches and GPS; this model definitely makes the cut as a tough watch. The Garmin Instinct is a GPS watch specifically built to survive the abuses of harsh environments.
It meets the US military standard 810G, ensuring its toughness for thermal, shock, and water resistance.
In addition, it packs a 3-axis compass and barometric altimeter. It can also access navigation satellite systems – GPS, GLONASS, and Galileo for better tracking functions.
The Garmin Instinct can also serve as a fitness watch to monitor your heart rate, activity, and even stress. You may also connect it with your smartphone for notifications and to connect with the Garmin fitness community online.
Garmin has since developed a Solar powered version of the Instinct, Fenix 6, adding up to two weeks of battery life, making these rugged and durable watches even more appealing.
You read more about the solar collection on the Garmin website.
Suunto Traverse Alpha
Read Amazon Reviews | See on eBay
Another tough smartwatch is the Suunto Traverse Alpha. You can immediately infer that it is built for the outdoors with its rugged look. This Finland-made timepiece comes with a knurled stainless steel bezel, a glass fiber reinforced composite with a stainless steel-coated case, a water-repellent nylon strap, and scratch-resistant sapphire crystal glass.
It also has various navigation features as it accesses GPS and GLONASS satellite systems. It has shot detection technology and an automatic breadcrumb trail.
Suunto Traverse Alpha uses rechargeable lithium-ion, lasting 14 days when in watch mode only.
Casio Pro Trek PRG-270-1 Tough Solar 
Read Amazon Reviews | See on eBay
Here's a more advanced model from Casio – the Pro Trek PRG-270-1 Tough Solar. It is a digital sports watch that's been packed with a load of features and functions.
First, it has a triple sensor – the altimeter, barometer, and compass. It also comes with an auto-calendar that has been pre-programmed until 2099, five daily alarms, world time for 31 time zones, and a countdown timer. It also has a daylight saving feature, an LED backlight with afterglow.
Pro Trek PRG-270-1 Tough Solar is water-resistant for 100 meters, resistant to low temperature, and solar-powered, and it can last up to 9 months even without exposure to light.
Marathon Watch Swiss Made Military Watch with Tritium 
Read Amazon Reviews | See on eBay
As its heading indicates, the Marathon Military Issue WW194027, this Swiss-made military standard watch is built to meet the US  military standards making it exceptionally durable for search and rescue missions.
This is a professional-level dive watch with 300-meter water resistance and highly luminous Tritium for visibility in low-light or underwater use.
The 35mm watch case is made with 316L surgical-grade stainless steel, and the dial window is 3mm thick and made of scratch-resistant sapphire crystal. The black strap is vulcanized rubber with a tang buckle clasp. It is also equipped with Tritium gas tubes for self-illumination of the timepiece for up to 25 years.
This diver's watch uses ETA F06 high-torque 3-jewel quartz movement with an end-of-life indicator.
Suunto 9 Baro Titanium
Read Amazon Reviews | See on eBay
For the active ones, you might prefer the Suunto 9 Baro. It is a durable smartwatch designed specifically for athletes who go through arduous training and love extreme adventures.
This smartwatch offers three intelligent battery modes – performance, endurance, and ultra. With this feature, the Suunto 9 Baro can last up to 120 hours even if GPS is turned on. This watch also features a barometer and heart rate tracker, and it can also record all your activities to see your progress every time. More so, it has a storm alarm, weather trend, and sunset/sunrise times so you can wisely plan your activities.
Garmin MARQ® Adventurer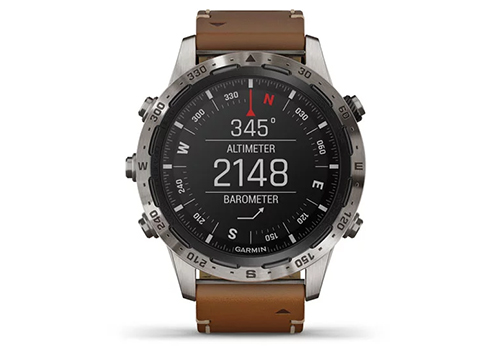 Last on the list may be quite a bit more expensive than the others, but it is still worth mentioning. We're talking about the Garmin MARQ Adventurer.
It is a modern tool watch built to be as tough as you are in every adventure that you'll take. It's also packed with loads of smart features to guide you through every activity and record pertinent statistics.
Among others, it has access to various navigation satellite systems – GPS, GLONASS, and Galileo – to keep you on the right path. It's also preloaded with topographical maps to help you locate new places. It has an oxygen level sensor, heart rate, hydration, and respiration trackers to monitor your health during activities. It even keeps a stress score based on your heart rate.
Of course, it is also preloaded with various sports profiles to track and record your sports activities accurately. It even has advanced performance metrics that could be your guide during training.
It is not just smart, it is also certainly tough. Built with a titanium case and bezel with a domed sapphire crystal window. The strap is durable Italian leather, and it has a 10 ATM (100 meters) water resistance rating.
Closing Words
We hope that this post shows that you don't have to spend too much to have a reliable, tough watch. With the wide variety available in the watch industry, you can indeed find the best watch for you that will also fit within your budget. With that, if you've also noticed, the list we have here shows you different types of watches.
We have tactical watches, diver's watches, field watches, and smartwatches even. If you're still looking for a watch after going through the list, you might be interested in our reviews on Tactical Watches, or maybe OCR Watches or Survival Watches, which are also rugged and tough.
Featured Image: PxFuel