The Hunt for a Great Watch  – As hunters, we know that it's easy to get lost in the moment. For many of us, part of the appeal of hunting is getting out in nature and not having to be anywhere on time. 
Anyone who has stood in a tree stand for hours waiting for a buck to appear or sat in a duck blind at dawn knows how the day can go by and how easy it is to lose track of time. But it's also relatively common to get actually get physically lost in the woods, which is why GPS watches are becoming more popular among active outdoorsmen, including fishermen, hikers, and backcountry skiers.
While it may be tempting to leave your watch at home and rely on your basic instinct and the angle of the sun to guess the time, modern watches do have a lot of features that go above and beyond just telling time. These options are not only convenient but could also help keep you safe. 
Apart from the time, watch data can now give you current temp and other weather conditions, exact GPS location, and path-tracking with detailed topo maps (the Garmin Fenix 6X Pro is the best we've seen so far when it comes to the map display) and sunrise/sunset data.
The most advanced watch we've seen to date (the Suunto Traverse Alpha) actually detects gunshots to track the time and location of your shots.
Apart from the special features, all of these watches we've reviewed are ruggedly built and designed for outdoor conditions. Other features we considered were solar batteries (to avoid your watch ever going dead out in the woods), water resistance, and vibration settings (to avoid making noise while out in the bush).
2022 Update: If you're looking for the latest and greatest Garmin watches -check out the new Garmin Solar edition watches, including the tactix® Delta – Solar Edition with Applied Ballistics Calculator for precise long-range elevation and windage solutions.
In January 2022,  Garmin launched the new  fēnix® 7 – Pro Solar Edition. This premium solar watch is feature-packed and gives you 28 days of battery life and up to 37 days when solar charging – making it a very reliable companion when you're in the woods.
With all the options on the market today, hunting for your next watch can take a lot of time and effort. Hopefully, this article will make it easier for you to hunt down the best watches to wear in the wild.
Below you'll find our list of recommended watches for hunting.
Best Hunting Watches
Suunto Traverse Alpha: Our Top Hunting Pick 


Made with glass fiber reinforced composite for the case; stainless steel knurled bezel and pushers; scratch-resistant sapphire crystal; water-resistant nylon textile strap; and water resistance of 100 meters, the ruggedly constructed Suunto Traverse Alpha really belongs to the great outdoors. It even meets the MIL-STD-810G military standard.

But the best thing about this Android and iOS compatible smartwatch is that it has all the functions a hunter will need for hunting. This watch was actually designed for fishing and hunting. But we're going to focus more on the features perfect for hunting.
The "Automatic Shot Detection" actually keeps track of when and where you shoot! This cutting-edge technology uses the watch's accelerometer to analyze your movement patterns and the gun recoil movement. The feature is most accurate when worn on your trigger hand (which could be a slight problem since most people pull the trigger with the dominant hand but wear their watch on their non-dominant) but can still be worn on either wrist.
Other features include:
ABC: Altimeter, Barometer & Compass
Sunrise and Sunset times and alerts
GPS/GLONASS route navigation
Route preview and route altitude profile
Breadcrumb view for path tracking
Hunting point of interest
Night vision goggle compatible.
And as timing is also a very important factor in hunting, its vibrating alarm will have you up before dawn for an early morning start.
In addition, with this watch, you can have access to Suunto Movescount app, where you can keep a diary of your hunting trips and discover new routes with heatmaps and plan your routes with topographic maps. Apart from hunting, it has great features for any outdoorsman. 
If you want a closer look, here is a hands-on review by the Team Backcountry

GoHunt and other online hunting forums also agree this is the ultimate hunting watch that every hunter must have with all those aforementioned features and more.
Garmin Fenix 5X Plus

Designed specifically for sporty and outdoorsy persons, the Garmin Fenix 5X Plus has a lot of convenient features hunters will surely like. While it doesn't have all of the features of the newer Fenix 6, it's good value for money – as with most smartwatches, the previous model drops quite a bit in price so you get the built quality and useful features of the Fenix line without spending top dollar on the latest and greatest. 

It's ruggedly constructed with its stainless steel or diamond-like carbon (DLC) titanium bezel; fiber-reinforced polymer case with a metal rear; scratch-resistant domed sapphire crystal lens; and silicone strap.

Along with rugged construction that will allow it to withstand tough hunting conditions are features that will aid in hunting, such as its:
Altimeter
Barometer
Compass
GPS
TOPO maps
Or click here to see the newer 6X Fenix Pro if you think it's worth upgrading to the latest model.
One feature worth highlighting in this smartwatch is its Trendline popularity routing that can give you an idea of which routes.  Although it excels as an outdoor watch, overall this is a feature-packed smartwatch. If you're a music lover, its storage of up to 500 songs is perfect for you. Either an Android 4.4 or later with Bluetooth 4.0 or later, or an iOS 10.0 or later would work well with this smartwatch.
Casio G-Shock Camo Sport Watch


For most hunters, camouflage clothing is their attire of choice to keep themselves hidden. If you're one of those hunters who prefer sporting camouflage, perhaps, you may also want to add the Casio G-Shock Camo Sport Watch to your hunting gear.

As any G-Shock watch, this digital watch is packed with a lot of useful features, but specifically for hunting, it has some great features to offer. And it's one of the more affordable watches in the market.

To add to its hunting-appropriate design is G-Shock's signature shock resistance that makes it extra durable along with its rugged construction composed of a resin case, a mineral crystal dial window, a silicone strap, as well as a water-resistance of 200 meters.

And to wake up early to get an early head start in your hunting, it has an alarm that will help keep you on time.
Casio Pathfinder (PAG240T-7CR)

Much like the G-Shock watch from Casio, the Casio Pathfinder PAG240T-7CR comes with a lot of great features. But this one has more hunting-specific features in store.

This durable digital watch is guaranteed to last with its stainless steel case, mineral crystal dial window, titanium strap, water-resistance of 100 meters, and Tough Solar Power feature that allows it to generate power from any light source, not just sunlight.

Apart from the features that make it durable and long-lasting for hunting, it has other useful features that will actually aid in hunting.
A hunter can trust this watch with its alarm, altimeter, barometer, thermometer, compass, and sunrise and sunset time data.
Casio G-Shock Master Of G Rangeman (Model: GW9400-3CR)

You can get your timekeeping, as well as your hunting on point with the Casio G-Shock GW9400-3CR Master of G Rangeman.

Apart from efficiently providing time with utmost accuracy through the time calibration radio signals it receives made possible by its multi-band 6 atomic timekeeping, this digital watch would also be effective in providing important information for hunting with its altimeter; barometer; thermometer; compass; and sunrise and sunset data.

Let's not forget the resilience every G-Shock is known to have. This digital watch comes with a resin case and strap, as well as a mineral crystal dial window. As we would expect from any G-Shock, it's shock resistant and has 200-meter water resistance and is mud resistant.

In addition to its toughness that will sure make it last long is its feature that makes it capable of sourcing power from any light source, the Tough Solar feature.

And for that effective early morning catch, you can count on its alarm to wake up before dawn.

Luminox Navy Seal (3051.BO)

If you want a simple yet durable analog watch, you might like the Luminox 3051 Navy Seal.

This 200-meter water-resistant watch is made with a PC carbon reinforced case, a mineral crystal dial window, and a rubber strap.
This watch also comes with a polymer unidirectional rotating bezel. This 3051 is the original Navy Seal Watch, click here if you're interested in seeing what other watches the SEALS wear.
While they are not designed for hunting, Luminox makes some of the best tactical watches on the market with rugged features and build quality that many outdoors enthusiasts are looking for that want a durable watch without all the modern apps and features.
The Luminox 3051 B.O (Black Out) pictured here is a perfect choice for a hunter since the stealth all-black design you'd expect in a tactical watch.
This model fits in with camo, compared to some of the bright yellow or orange faces that Luminox offers in its lineup.
If these watches are made for special ops, they should be good enough for a weekend in the woods. 

LBJ Outdoor Compass Watch: Affordable Budget Pick


If you are an outdoorsman on a budget, the LBJ Outdoor Compass Watch is one of the most affordable compass watches in the market that could satisfy the frugal hunter. 
If you just want a simple watch at a reasonable price that also comes with useful features for hunting this is definitely worth a closer look.

Its PU silicone strap, Hardlex dial window, and plastic case along with its water-resistance of 50 meters make this digital watch durable enough.
Its barometer, thermometer, compass, and altimeter would be helpful in hunting. Its alarm would also come in handy, too, for making it on time for an early AM start.

It's affordable yet very useful with its hunting-specific features and more.
Other Options To Check Out

So we've already covered the top hunting watch and affordable budget hunting watches but if you still have something else in mind, you may also look at the other watches below.
Garmin Instinct

With its fiber-reinforced polymer bezel and case; chemically strengthened, scratch-resistant display; and silicone strap, the Garmin Instinct is one rugged smartwatch. Not only that, it's constructed to U. S. Military standard 810G for thermal; shock; and water resistance (rated to 100 meters).

Without a doubt, this smartwatch is definitely ready for tough hunting conditions. The sunrise and sunset functions will have you ready for some early morning hunting before dawn.

Apart from the aforementioned rugged construction and trusty alarm, it has several other useful features. But focusing more on hunting, its other relevant features include:
3-axis compass
Barometric altimeter
GPS/GLONASS/Galileo
TracBack feature
High-contrast display for readability under sunlight
In addition, with this smartwatch, you can access Garmin Explore for planning your trips in advance.

This smartwatch is compatible with both Android and iOS.

Garmin Tactix Bravo

Once again, another Garmin smartwatch made it on our list with the Garmin Tactix Bravo.  It's ruggedly constructed, hunter-friendly, Android and iOS compatible.

How durable is it exactly? It comes with a knurled stainless steel bezel with diamond-like carbon (DLC) coating, PVD-coated stainless steel buttons, a fiber-reinforced polymer case, a scratch-resistant domed sapphire crystal lens, and a ballistic nylon strap. It also comes with 100-meter water resistance.

You can count on its durability amidst the tough hunting conditions. Another thing you can count on this smartwatch is getting you up before dawn to be prepared for the perfect morning hunt.

And for further evaluation on how well this watch will work in hunting, let us delve more into its hunting-specific features. These are the other features it has in store for hunting:
Altimeter
Barometer
3-axis compass
Omni-directional stainless steel EXO antenna
GPS/GLONASS
Real-time breadcrumb trail
TrackBack feature
Night vision goggle compatible
Garmin's trademark Garmin Chroma Display for sunlight-readability
The package includes an olive drab-colored nylon strap that you can interchange with the black one.

Casio Pro Trek WSD-F20-RGBAU
Complying with the Military standard MIL-STD-810G along with its case and strap made of resin; dial window made of mineral crystal; and water resistance of  50 meters, the Casio Pro Trek WSD-F20-RGBAU is a remarkably durable smartwatch that can take tough hunting conditions for sure.
Apart from its durability, it has more features perfect for hunting. Like its:
Altimeter
Barometer
Compass
GPS
Full-color map display & Location Memory
This smartwatch is compatible with Android versions 4.3 and later. It is also compatible with iPhones 5 and beyond with iOS 8.2 or above but with limited functionality.

What to Consider When Buying a Hunting Watch: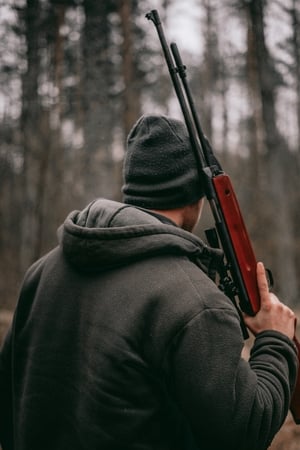 Here are the main features and criteria that we used to select these watches for hunting.
 A built-in barometer is key for predicting weather and avoiding severe weather conditions on a hunt.
A compass and an altimeter will help prevent you from getting lost in the woods. A GPS feature can provide even more advanced navigation, and even more so if it features GLONASS and Galileo. This is an important safety feature to consider for any outdoor or backwoods activities where the weather conditions can change quickly. 
Water resistance and rugged construction make these watches durable enough to withstand tough hunting conditions.
Sunrise and sunset time data are useful features for hunting, this information is easily accessed online but it's a time-saving feature to have on your phone out in the bush to know the optimal time to start hunting and maximize your time hunting.
An alarm comes in handy for a hunter to wake up before dawn to have an early start on his hunt. Choose a vibrating rather than a loud audible alarm that will scare off wild game or give away your position in a blind or stand. 
Solar-powered is another desirable feature for hunting, you won't have to worry about your watch running out of battery while out in the woods. The new Garmin line really stands out on this list because of the solar technology. 

Based on these features, we picked the Suunto Traverse Alpha as our top pick but multiple Garmin models also have great features and build quality. If price is the primary consideration, the more basic LBJ Outdoor Compass Watch is our basic affordable budget pick.
Smartwatches For Smarter Hunting

Not that long ago, hunters would have set out with a simple tool watch or field watch. The main benefit these watches offer is the simplicity in reading the dial, while many also have a compass they don't offer the advanced features of a smartwatch which is now the go-to choice. Since smartwatches have come into the market, it has been continuously evolving with more and more features being added, as they are being developed to cater to different kinds of people and to suit different kinds of activities apart from timekeeping. There are also now hybrid smartwatches that blend the analog watch with the modern features of a smartwatch. 

Usually, smartwatches also come with cellular functions that allow you to keep in touch with important people in your life while keeping up an active life. 
---
Photographer credits: