If you are going to use your watch while fishing, there are a couple of obvious features that you'll want to consider. Whether you're surf casing from the beach, wading hip-deep in a river, or inside a boat, the proximity to water makes water resistance a key feature to consider – preferable 100M or better so you don't have to worry about getting it wet.
If you are fishing in the ocean a tide graph on your watch can be one of the most useful features, so you know when high and low tide is that day. This feature is available on several Casio watches and some premium multi-sport smartwatches
GPS is a game-changer for fishing. Some wrist-based GPS can sync with your boat-mounted locator. This is great for saving waypoints to save your honey holes, mark reefs or underwater hazards, or follow your previous trolling routes right on your wrist without interrupting your fishing.
Lastly is a minor but useful feature, a backlit dial which is useful for pre-dawn and dusk fishing. Most of these watches are digital and come with this feature.
Below you'll find a list of top fishing watches that are currently on the market. Much of the decision is personal and comes down to budget – just how much are premium features worth to you?
Quick Recommendations:

Whether it's a full-time passion or a job, fishing requires equipment. In addition to the rods, nets, hooks, bait, and other necessary fishing tools, fishing is an activity that comes with certain expectations. Fishing gear needs to be comfortable, but also durable and water-resistant.
Those same qualities extend to another useful tool of the fisherman: the wristwatch.
Best Fishing Watches
Garmin Quatix 6 Solar Marine Watch (Premium Watch with Boating Connectivity)

2021 Update: If you're looking for the ultimate full-featured smartwatch that is specific to boating, look at the new Garmin Quatix® 6X Solar, from the brand's new solar-powered smartwatch line. This feature adds potentially unlimited battery power and more marine-specific features to the previous Quatix models that were already highly regarded among serious boating fans, including deep-sea fishermen or anyone who user sonar or locators that connect to GPS. Whether you are fishing for Salmon in Lake Superior or Mahi-Mahi off the coast of FL, the new Quantix is a premium wrist-based fishing companion.
Suunto Traverse Alpha (Best For Fishermen + Hunters)

Another smartwatch designed with the angler in mind is the Suunto Traverse Alpha.
This black and gray digital timepiece is equipped with both GPS and GLONASS navigation.
More relevantly, the watch includes features specifically added for fishing and hunting, like a moon phase calendar, sunrise alert, and red backlight for use at night.
It will even allow you to keep a journal of your activity. You can also download tidal maps to the watch. If you are an outdoorsman that likes also likes to hunt, this is likely to give you the best bang for your buck. Because of its wide range of features, rugged construction, and industry-leading technology (such as "Automatic Shot Detection") it landed on the top of our list of best hunting watches.
Lad Weather Fishing Watch (Budget Pick)

The Lad Weather Fishing Watch is a good entry-level watch with some useful features including the six fishing location reminders.
If you're not hitting up the rough fishing lanes of Alaska, it's likely you're just looking for a simple, affordable watch for your weekend fishing jaunts this watch is reasonably priced for all your basic fishing needs.
It includes a storm warning feature to give you a heads up if bad weather is headed your way. It's water-resistant up to 50 meters which isn't great but does give you some protection from surface contact with water, rain, etc.
These might not be the type of watch you would wear in your daily life, but they would be excellent accessories to keep in your tackle box and pull out when you're headed to the water.
Casio "G-lide" Watch GLX-5600-1J (Great Value)

Notably, Casio has added a tide watch to their G-Shock line. The G-Shock GLX5600 looks like a classic G-Shock watch and includes the external and internal craftsmanship that makes the line both scratch- and shock-resistant.
This particular tide watch is water-resistant up to 200 meters (20 ATM) so you can easily submerge your hand in water (to haul in that lunker) and not have to worry about it getting wet.
The feature-rich watch is great value for money including a tide graph with location-specific tide data as well as moon phase (moon age) if you follow the solunar calendars to try to calculate peak fishing times this is really useful.
• Moon Data show Moon age and Moon phase for a specific location.
Timex Men's Intelligent Quartz Tide Temp Compass (T2N720)

Most tide watches are digital, which helps the Timex Intelligent Quartz Tide Temp Compass Watch stand out from the pack.
This multifunction analog watch has quartz movement and is truly a seafarer's dream watch.
In addition to a tide tracker, the watch includes a compass, a thermometer (capable of measuring both air and water temperature), and a nightlight for illumination in the dark.
G-Shock Frogman GWF1000 (Premium Tactical Watch)

This G-Shock Frogman GWF1000 doesn't have quite as many sea-related features as the Gulfmaster, but it's still an impressive timepiece designed for deep-sea diving. While it is equipped with tide and moon data, what really makes this watch unique is that it utilizes atomic timekeeping.
Atomic watches are calibrated by signals from atomic clocks, making them the most accurate watches on earth, no matter where you are.
These are two of the most powerful (and most expensive watches) in the G-Shock stable, but even a classic $80 G-Shock watch will suffice for most fishermen, no matter how rough the waters.
In fact, among themselves, anglers often say they're happier with their simple G-Shock over any expensive watch.
Garmin Quatix 5 with Fish Calendar

For outdoorsmen or women, one of the most popular smartwatches is still the Garmin Quatix 5 which sells for a much more affordable price than the new and improved sibling.
Garmin is a company that specializes in GPS devices. They designed the Quatix 5 specifically for the water and have made it compatible with on-boat computers so that you can receive data about water depth, speed, and wind right to your wrist. This is the ultimate marine watch, especially if you use other Garmin GPS products (chart plotters, etc)
Even if you don't need all the high-end boating features, the Quantix 5 is a great all-around sports watch. It features Garmin's Elevate™ wrist-based heart rate, sleep monitoring, activity tracking (steps, calories, floors, etc), and a wide variety of sports apps including a fishing calendar (solar/lunar) using Garmin Connect IQ™.
For anyone spending a lot of time on the water, knowing the weather is critical and this is where Garmin excels.
Fishing-specific features on the Quantix include a hunting/fishing calendar, a barometric trend indicator with "Storm Alert" in addition to the features you get in an ABC watch (altimeter, barometer, compass)
Rip Curl Rifles Tide Watch

The Rip Curl Rifles Tide Watch is a digital quartz watch that is water-resistant up to 330 feet (10 ATM).
It is preprogrammed with 500 different locations so that the user can know the exact tide level in feet at any particular beach.
Sure, that function is more immediately featured on a watch for surfers (hence, "surf watches"), but it's still useful information for anyone spending time at the sea.
Rip Curl is a brand that specializes in tide watches, but there are other more traditional watch brands that have expanded into the market.


Fly fishing for rainbow trout.
Other G-Shock watches for fishermen:
In addition to GPS and tide trackers, we've already touched on some of the other features that could benefit any fisherman, whether sitting on the dock of the bay or crossing the open ocean. Functions like compasses and moon phase trackers have their uses for anyone who spends considerable time pursuing outdoor activities.
For those fishermen who spend most of their time out on the open sea, there are a plethora of watches available that include even more functions. If you're looking for something that will hold up under rough conditions at sea, there is no better group to look to for recommendations than the Navy.
Ask most military people, and they'll tell you the brand of watch they trust most is Casio's G-Shock.
In recent years, the brand has been working hard to cement that relationship by releasing three separate lines of watches designed specifically for the three realms of warfare – air, land, and sea – all under the Master of G name.
G-Shock at sea: 
For its sea series, G-Shock has the Gulfmaster and Frogman lines.
Each is quintessentially G-Shock, which means they are built to be practically indestructible. The bodies are stainless steel while the bands are made of resilient resin. G-Shock's patented body structure keeps the internal mechanisms suspended in the air to resist shocks and hard contact. They are also both water-resistant up to 200 meters and solar-powered.
Beyond those basics, the two lines differentiate themselves in features.
G-Shock Gulfmaster GWNQ1000

This G-Shock Gulfmaster GWNQ1000 is positively stacked with useful functions, including (but not limited to) a digital compass, barometer, altimeter, thermometer, depth meter, and tide graph.  This is part of the G-shock Masters of G premium watch collection.
It also includes moon data and can display 31 different world time zones.  Like I said, stacked. Other normal features like alarms and stopwatches are there, as well.
This watch was specifically designed with the tumultuous seas in mind, so even the folks on Deadliest Catch would appreciate it.
Buyers Guide: What To Consider When Buying a Fishing Watch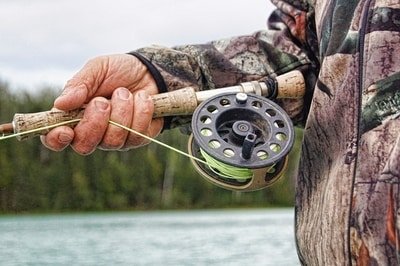 What is a fisherman?
Though "fisherman" is still generally used as a catchall term for anyone who catches (or attempts to catch) fish, it's not the most precise term, and not just because it isn't gender-neutral. Most people's idea of a fisherman would be better defined as an "angler."
An angler is anyone who uses angling fishing techniques. An "angle" in fishing is a hook, so essentially, everyone who uses a rod is an angler, as well as any commercial fisherman who uses a long line or trolling. Essentially, the only commonly deployed method of fishing that is not angling is fishing with a net.
It remains true, though, that the broad term for anyone who fishes, regardless of the method, is a fisherman, so I'll use that term when speaking more broadly, and angler when being more specific.
What watches do fishermen wear?
As befits a profession and hobby that has been around for thousands of years and attracts millions of new fans every year, there is no one style or type of watch that could be called a "fisherman's watch." People who like to fish are as diverse and idiosyncratic in their tastes as any demographic group. No particular watch or brand could hope to claim the whole group.
That said, there are a number of characteristics that make a watch more suited for a day on a boat or by the shore.
Let's take a look at what features and functions can earn a wristwatch a place among a fisherman's must-have equipment.
GPS for the open sea
One of the most useful functions for anyone who's looking to head out on the water, whether that be an ocean, lake, or river, is GPS tracking. Only a few years ago, that would have been a  completely rare and unusual feature to find on a watch, but the recent flood of smartwatches has made GPS a common tool in the fisherman's pocket.
Just as we've seen with other sports, such as watches for skiing and snowboarding that come not only with GPS but also an altimeter, barometer, and compass or waterproof GPS watches that are perfect for kayaking, fishing watches now offer this same technology. This is a great feature to have first of all for safety so you don't get lost and also from a practical perspective of being able to mark your favorite honey holes by saving their exact coordinates.
Although smartwatches are growing in popularity, they still have yet to catch on with the general public. That's largely due to the fact that smartphones are so prevalent, it's hard for most casual users to see the difference. For outdoorsy people, though, a smartwatch has the benefit of being more immediately accessible and not taking up a valuable hand. They can also function in remote places where phones won't always work.
Water-resistant watches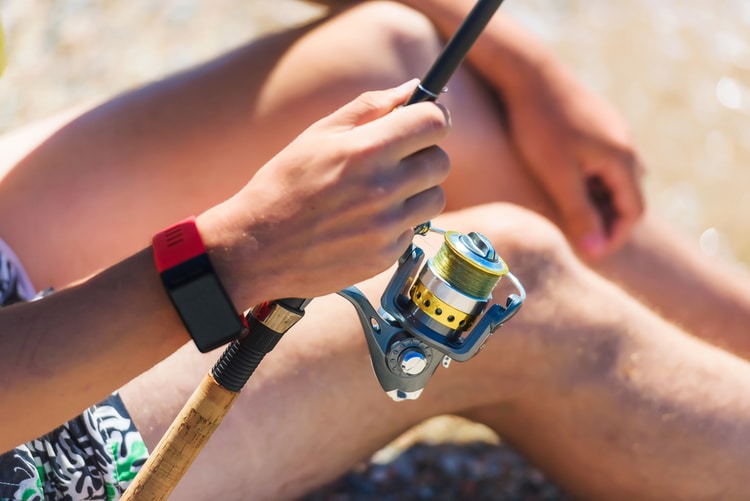 The first consideration that will come to any consumer's mind when looking for a fishing watch is water resistance. It's kind of hard (and frustrating) to try fishing in the middle of a desert.
These days, almost all watches advertise that they are water-resistant up to some depth. Some watches even go so far as to say they're waterproof. Once again, it will help to take a moment to define the terms.
Waterproof watches are the stronger – and rarer – of the two and can be completely submerged in water without being penetrated or harmed. Some watches are misleadingly labeled "waterproof" when what they really are is water-resistant. Even dive watches that are intended to be worn underwater are hardly ever waterproof. For most people, even fishermen, a water-resistant watch will be sufficient.
Water resistance is measured by depth or atmospheres. An atmosphere is a unit of measure for determining atmospheric pressure relative to sea level. If a watch says it can withstand 10 ATMs, that means it can stand 10 times the level of atmospheric pressure as is experienced at sea level. A pressure of 10 ATMs is roughly equivalent to 100 meters (or 330 feet).
Any water-resistant watch rated below 20 ATM should not be used for diving or any other sustained underwater activity.
For anglers, though, it's rare to have one's arm submerged underwater for any amount of time or to any real depth, so any watch that is rated at 5 ATM or higher should be sufficient. Fortunately, these days, that includes most watches of any quality.