There is no better time of year than when it finally gets warm enough to take a break from your job or classes and go out and enjoy sun-drenched nature.
It doesn't matter if it's just a weekend getaway or you're finally taking that trip you've been planning since the first snowflakes fell on your head.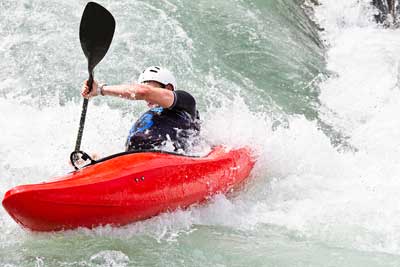 We don't know about you, but for us, when the weather is nice, the only place we want to be is out on the water. It seems like, in recent years, kayaking and canoeing have been growing more and more popular, and with good reason.
They're the perfect water activity, mixing fresh air exercise with the zen-like bliss of boating. There aren't many better ways to spend an afternoon.
It really is fantastic to be out on the water, but it's also very easy to let the day get away from you. That's why we think that every kayaker – or a water sports enthusiast of any kind – should consider taking a watch with them.
Sure, they're practical as timekeepers, but watches also have a lot of extra tools and gadgets that any water sports enthusiast could appreciate.

Best Watches For Kayaking
Garmin Fenix 5 – Premium

The Garmin Fenix 5 is a notable sports smartwatch from Garmin. The Fenix 5 improves upon what its predecessors bring to the table with a more technically advanced heart rate monitor dubbed the "Elevate."
---
2022 Update: We still think the Fenix 5 is a great value, especially now that the Garmin has come out with newer reiterations, the fēnix® 6 and more recently the fēnix® 7. As with most smartwatches, retailers cut the price on the earlier versions so you can get the Fenix 5 at a very reasonable price. However, if you are looking for a premium watch, you may want to consider an upgrade to the Fenix 6. Garmin launched a line of solar watches, including the Garmin Fenix 6 Pro Solar that gives you battery life for up to 40 hours of GPS usage, along with a feature-packed high-end sports watch (with a price to match).
If you really want the latest and greatest – the Garmin Fenix 7  gives you an improved touchscreen, better mapping features, and the best solar battery life.
---
An interesting design choice by Garmin is to have the Fenix 5 utilize actual analog buttons instead of the standard touchscreen controls of smartwatches today. This eliminates any instances of accidentally pressing the wrong control buttons as is the issue with most users with relatively larger fingers.
The Fenix 5 was also designed to be used for kayaking, swimmers, cyclists, and snowboarders. So, expect it to have features that users within those circles will much appreciate. The Fenix 5 has specific functions for specific outdoor sports and uses a different metric to track your stats for particular outdoor sports. Some users prefer using the built-in tracking on the watch or the "Row SUP Kayak" on Connect IQ – Garmin's app store for improved tracking on cadence and other paddling/rowing metrics.
The Fenix 5 is also waterproof and can withstand submerged for up to 50 meters (164-feet) underwater. It also utilizes the Ultratrac GPS mode, which is found in all recently released Garmin smartwatches.
There have been some complaints about slight inaccuracy when it comes to tracking distance traveled and tracking your overall speed during cycling. Expect this to be patched by Garmin soon, though. As for its compatibility with third-party apps, you can expect the Fenix 5 to have no trouble utilizing favorite fitness tracking apps such as Strava Life Segment Support.
Overall, the Garmin Fenix 5 is an excellent choice for kayakers, runners, cyclists, etc. It comes with various features and is one of the more durable sports smartwatches in the market in recent memory. 
See the Fenix options and full specs on Garmin.com
Pros:
Available in silicone and metal band versions.
Great battery life.
Analog controls instead of the touchscreen, which eliminates finicky control experience.
Comes with HRM strap options.
Cons:
The screen resolution is slightly underwhelming.
Reports of connectivity issues when used with the iPhone.
Polar M400 GPS Sports Smartwatch – Value Pick

The Polar M400 is a sleek and lightweight sports watch that feels as comfortable to wear as it looks. While the minimalist approach to its design does make it seem a little bit plain, it will undoubtedly be appreciated by those who prefer practicality and comfort over style.
The 33mm screen has a 128 x 128-pixel display, which is a pretty good ballpark to target for an outdoor fitness smartwatch as it can display information even under the sun. It also comes with a backlight for use in low-light environments.
One of the main features that help separate the Polar M400 from its competition is its "always-on" functionality. It comes with features that are used to track your steps and track the quality of your sleep. This is a fully automatic fitness and activity tracker, making it one of the most convenient and easy to use on this list.
As for its main features, you can expect the M400 to come with a heart rate monitor as well as a GPS. This gives users a sport watch that can also double as a fitness watch. It is pretty flexible and is one of the more reasonably priced sports smartwatches in the market. It certainly has significantly more features when compared to other sports watches in its price bracket.
Pros:
A good quality fitness and activity tracking smartwatch.
It is packed with a variety of features that most of its competitors lack.
Minimalist and lightweight design.
Fully automated functionality.
Cons:
Cannot track heart rate when underwater.
Requires a chest belt accessory for the heart rate feature.
The GPS does not have navigation features.
Suunto Spartan Trainer Wrist HR

One glimpse at the Suunto Spartan Trainer Wrist HR, and you already know that this is sports watch, through and through.
The sleek, lightweight design helps improve comfort when performing physical outdoor activities.
The sleeker appearance of the Suunto Spartan does come with some downsides. One of the most significant downgrades one will notice is that the waterproofing goes down to 50 meters instead of the 100 meters of previous Suunto sports smartwatch models. The Spartan Trainer Wrist HR now also uses analog controls instead of the touchscreen capabilities of its predecessors.
While this might first appear as glaringly lousy decision-making, it does help make the Spartan become a more well-rounded sports watch. For example, its screen now has greater visibility under various conditions. The battery life also managed to get a substantial boost thanks to the design choices made by Suunto with an 8-hour battery life with the GPS on and 12-hours on battery saving mode.
Let us now take a look at the primary features of the Spartan Trainer. The optical heart rate monitor is located at the back of the watch and uses Valencell technology. The apps included in the Spartan manage to cover up to 80 modes, and you will get a comprehensive list of tracking modes for various indoor and outdoor activities.
The Suunto Spartan Trainer is a lightweight sports watch packed with all the features at a more compact design. Big ups to Suunto for managing to fit all the elements in Spartan while managing to stay at a reasonable price.
Pros:
Lightweight and compact design.
Accurate heart rate monitor.
Impressive battery life.
Reasonable price.
Cons:
Touchscreen functionality has been removed.
The phone app leaves much to be desired, especially when compared to the web app version.
Suunto Spartan Ultra HR

If you are a fitness buff that participates not only in water sports like kayaking but also joins Triathlons, then you might want to check out the Suunto Spartan Ultra HR.
Why? It includes a Triathlon mode that covers all of the sports involved in such competitions.
As you would expect from a sports watch designed for Triathlons, the Spartan Ultra HR has an impressively long battery life. It is marketed as offering 50% more battery life when compared to the Spartan Sports. This is a must since Ironman racing competitions usually last for 9 hours. The Spartan Ultra HR is also designed to be as durable as possible with its titanium bezel and sapphire crystal watch face.
As for features, the Spartan Ultra HR features all standard programs like GPS and a heart rate monitor. It also comes with a built-in thermometer and a barometric pressure sensor. The barometric offers an accurate gauge of your location's altitude.
I would also like to point out further the Spartan Ultra's impressive battery life. Using it for only checking the time will push the battery life up to 15 days. GPS sampling will still manage to provide up to 18 hours (High-res GPS) and 26 hours (Battery saving mode with GPS) battery life. More than enough time to assist you through the Triathlon.
The Spartan Ultra HR also comes with 80 sports modes to choose from, with 20 already pre-loaded right out of the box. The Spartan Ultra HR is indeed a massive upgrade from other Suunto Sports Watch. A serious sports watch for serious individuals.
Pros:
It features a Triathlon mode.
Up to 28 hours of battery life with GPS on.
Simple and easy-to-follow GPS navigation.
It is made from durable material and scratch-resistant sapphire glass.
Cons:
Not compatible with all third-party fitness tracking apps.
You will need to update the firmware as its default version comes with several bugs.
Suunto Traverse

The Suunto Traverse is a pretty standard activity sports watch that comes with a highly reliable GPS altimeter.
This feature makes it an ideal watch for hiking as it can deliver highly accurate ascent and descent metrics.
Features include several fitness training modes as well as a barometric profile. As for battery life, the Traverse can operate up to the 8-hour max with the GPS turned on and around two weeks as just a watch. The 8-hour battery life means this is restricted to single-day outdoor activities only.
The Traverse also comes with several additional features like the heart rate monitor, calorie counter, step tracking, alarms, and the ability to answer calls (when paired with your smartphone) via push notification.
The display is where the Traverse shines, and it manages to provide clear information on its screen. You can also adjust the display screen to suit the current lighting level in your surroundings. The Traverse also comes with flashlight functionality which is a pretty welcome addition.
As you can see, the Suunto Traverse features all the basic functionalities you would look for in a fitness and activity watch. It does fall short of expectations if you actively compare it to other well-known brands in this market. If you only want a simple activity tracker without the modern bells and whistles, then Traverse might be right up your alley.
Pros:
Highly accurate tracking of distance, altitude, and speed.
Route planning is easy to accomplish with the Suunto Movescount App.
Waterproof of up to 100 meters or 330 feet underwater.
Utilizes GPS and GLONASS technology for navigation.
Cons:
A little bit bulky.
Some connectivity speed issues from time to time.
The battery can sometimes not last as long as advertised.
Casio Pro Trek WSD-F20

Casio has always been one of the top brands for affordable and functional wristwear, and they bring that special touch with the Pro Trek WSD-F20. Unlike other fitness tracking sports smartwatches in the market, the Pro Trek WSD-F20 is designed to be compatible with a bunch of third-party apps, which allows users more comfortable installation and customization of its functionalities.
The Pro Trek's watch faces can display a variety of information such as distance traveled, air pressure, altitude, etc.
The Pro Trek also switches to idle mode after a minute or two of inactivity to save battery life.
Speaking of battery life, the WSD-F20 operates for a full day with practical usage of features such as GPS and the usual notifications. The WPS-F20 does manage to deliver a substantial time with its battery life.
One design choice that can be seen as an issue is with its charger plug. The plug hooks to the side of the watch allow it to avoid overloading damage easier. However, if you do not adequately lie the WSD-F20 flat on the surface, there is a high chance the charger will accidentally disconnect.
Overall, I would place the Casio WSD-F20 as a smartwatch first and fitness sports watch second. It comes with all the essential features for outdoor activities but nothing that goes above and beyond.
Pros:
Decent features for outdoor activities like hiking.
A good number of sensors are installed and properly utilized.
Military-grade glass.
Cons:
Relatively short battery life.
It uses a dated CPU
Garmin Forerunner 15

The Garmin Forerunner 15 is one of the more affordable sports smartwatches you can get your hands on today. It delivers all the standard features that you would expect from a sports smartwatch, such as the pedometer.
The Forerunner 15 takes similar design cues from the Forerunner 10 model, and it features a highly adjustable band to accommodate all sizes. The screen features a 55 x 32-pixel display and is designed for outdoor use, which means the details on the screen are still legible even under daylight.
The Forerunner is also waterproof for up to 50 meters or 164 feet, and this allows users to wear this when taking a shower, swimming, or kayaking. However, Garmin does refrain users from wearing this during high-speed water sports like jet skiing or water skiing, as the Forerunner 15 does not have the water resistance withstand high impacts.
Installation of the Forerunner 15 requires users to go through the standard process. Thankfully, you don't need to be well-versed in operating new technology to properly set up the device as it is designed to be user-friendly.
You will need to input specific information about yourself like height and weight. Extra features include a heart rate monitor that will notify you to reach your specified max heart rate. It also has a pretty accurate GPS, a must-have for any outdoor enthusiast, and impressive battery life.
It does leave out some features like sleep tracking and the fitness coach app. The fitness coach app is a little nitpick, but not having a regular reminder or achievement tracker makes reaching daily exercise goals dull.
Overall, the Garmin Forerunner 15 is a highly recommended fitness app for kayaking and other outdoor activities. Its simple and no-frills approach does have its old-school charm but might also alienate newer users who prefer having all the convenience on hand.
Pros:
Reasonably priced.
Includes step tracking feature.
It can be used alongside heart rate monitors.
Waterproof.
Impressive battery life.
Cons:
No wireless syncing capabilities.
The design does feel a little bulky.
Only comes with the barebones feature.

Suunto Ambit3 Peak HR

The Suunto Ambit3 Peak HR prides itself on having the most accurate GPS for a fitness and activity tracking smartwatch. The Ambit3 display is also designed to provide all relevant information such as barometric and altitude display clearly on screen.
Additional features include the ability to plan out your route using the Suunto Movescount app and save your path to your watch for offline use. Navigation utilizing the Ambit3 using a compass and GPS to provide users with several points for better route planning.
The Ambit3 Peak's battery life is one of the more impressive in this list as it can operate with GPS for up to 22-hours straight. You can expect it to last for a full month if you primarily use it as a watch before plugging it to recharge.
One of the unique features that Ambit3 has its non-existent sleeves is the FindBack feature; this feature does it to allow users to backtrack to where they started. This is an excellent feature if you are hiking in a location that is new to you.
The Ambit3 primarily uses the Suunto Movescount, but you can also use it with the Suunto Zone and Strava apps as well. The Ambit3 is also an incredibly comfortable watch to wear, which is always a welcome quality when it comes to outdoor accessories that you wear.
Pros:

Highly accurate altimeter and barometer.
Waterproof for up to 100 meters or 164 feet.
Comfortable and ergonomic design.
Multifunctional and flexible.

Cons:

The smart notification has delay issues.
The Storm Alert feature is sometimes inaccurate.
Garmin Fenix GPS Navigator: Reader recommendation
Another watch that some of our readers have recommended is the Fenix Navigator. While this is no longer available on the Garmin website and has since been replaced by the Fenix 5 (reviewed above), you still may be able to find it for less than the Fenix 5 on other websites, including Amazon.
(click here to read Amazon reviews by Kayakers that bought this watch).
On top of having GPS, the Garmin Fenix has a compass, altimeter, and barometer.
You can set up to 10,000 track points with the watch, as well. It would take a miracle to get lost while wearing this thing. It also weighs less than three ounces, has an orange band for higher visibility, and has long battery life.
---
If you love water sports and also row, you'll want to check out these watches for rowing (or indoor erging); while many of the features are the same such as GPS and water resistance, the main difference is that they excel when it comes to tracking rowing data.
Buyers Guide: Watches for kayaking or canoeing?
Practical concerns
These days, most people have a mobile phone and think of a wristwatch as a mere indulgence. If you're the outdoorsy type, though, we're sure you're aware of just how valuable a solid timepiece can be.
For one, smartphones lose their charge, especially if you're using GPS. Also, most phones become practically useless if they are splashed, let alone completely submerged in water. For that reason, it's inadvisable to bring one with you on a boating trip, especially if you're camping for a few days or longer.
It's far more practical to bring a watch with you. The battery isn't going to die on you, you are a lot less likely to accidentally drop it when you're getting in the watercraft, and even if you do fall in the water, most good watches these days are waterproof. Taking a wristwatch on your next kayaking trip is just common sense.
But what's the best type of watch for being out on the water?
Getting a sense of direction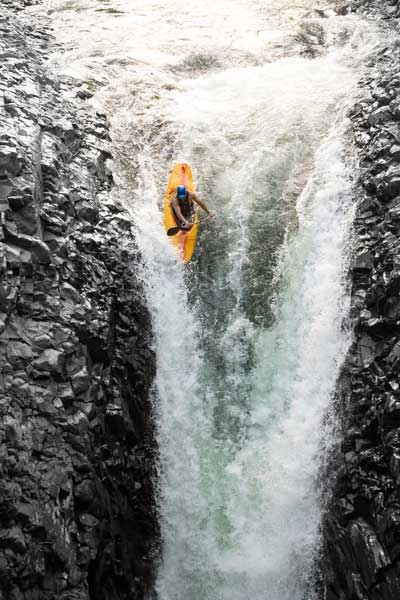 Whether you're just going out for the afternoon or you're camping, some basic tools will make the trip even better, and we don't just mean a Swiss Army knife and a bag of marshmallows.
Many watches include a compass, which is an invaluable tool for the outdoorsy person. Even if you are sure you have the best sense of direction in the world – and we're sure you do – it doesn't hurt to have a little extra help in that department.
Also, watches with compasses are standard enough that you can find reliable and accurate ones for under a hundred bucks.
Some watches include barometers and altimeters, which might not be so crucial for the day-trippers but will likely come in handy if you've been away from civilizations for a few days and you want to keep track of what nature has in store for you.
On forums, many avid kayakers seem to be content with a simple waterproof watch, with a compass being a bonus.
That will probably be enough for the weekend warriors, but what about those who like to spend days by the water?
You're probably going to be looking for something a bit more hi-tech. You're in luck.
GPS watches
Leaping forward to the most modern technology, GPS watches are becoming far more common, and they can be literal lifesavers when you're out in the wild. This is especially true when it comes to snow sports such as skiing and snowboarding, hiking or hunting – where getting lost could quickly get you in trouble.
Having GPS will allow you to set a base camp or make it easier to track exactly how far you've rowed in a day. If the worst-case scenario does happen, and you somehow get completely lost, you'll be grateful you have GPS.
There are plenty of GPS watches on the market these days, but there are two that appear time and time again on the best-of lists: the Polar M400 and the Garmin Fenix GPS Navigator, which is part of the reason they made the top of our list.


Rugged and dependable
Frankly, there is no shortage of watches designed for water sports and activities, some with basic accessories and others with all the latest technology. Almost any of them would work just fine for your needs, depending on your personal tastes and price range.
If, though, you've been eyeing something a bit more rugged and outdoorsy, you're going to keep seeing the same couple names popping up again and again: Seiko and the Casio G-Shock.
Both companies have made a name for producing some of the most durable, destruction-proof watches on the market.
Considering that they're often seen on the wrists of the Special Forces, that reputation is obviously well-deserved.
With the SKX009K1 dive watch and the G-Shock GR8900, Seiko and Casio, respectively, have made watches specifically designed for use in the water.
Additionally, the SKX009K1 is an automatic winding watch, and the G-Shock is solar-powered, so there won't be any dead battery issues.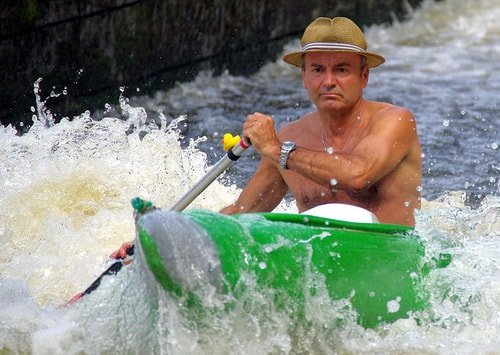 If you're a watercraft enthusiast looking for a watch that's the top of the line in terms of durability and functionality, you're probably going to end up with one of these.
If you're not already familiar with Casio's G-shock, there are models for everyone- from cops to male nurses …, and even trendy teens can find G-shock models to match their tastes.
There is a lot more that you could say about the variety of watches for outdoor activities, but the sun is out, and the boss isn't looking, so we're going to slip out to catch some rays. Happy kayaking!