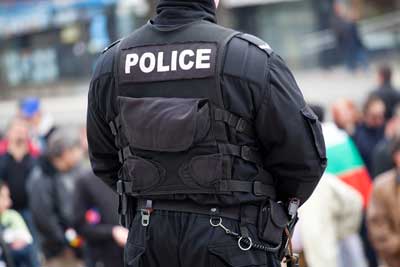 There are a few occupations where you can expect to take a few licks. Your body will be on the receiving end of some hard contact if you're working construction, for one. The same if you're a farmer or any type of outdoorsy worker like a logger. Of course, the servicemen and women in the military are in a full-contact occupation.
Similarly, the men and women in blue have one of the toughest jobs you can ever hope to love. Criminals and belligerent perps rarely go into custody without some sort of a struggle.
Being in the line of duty comes with its fair share of hard hits and violent encounters, which can take a toll on the body. All those knocks and blows will also wreak havoc on a wristwatch.
It might seem like a minor concern, but a watch can be a very useful tool when you're on the beat. Police officers are always on the hunt for a timepiece that can take a beating as well as they can. Fortunately, when you're in the market for a tough wristwatch, there's one name that stands above the rest: G-Shock by Casio and the rugged Mudmaster GWG-1000-1AJF is one of the top picks overall.
If you are looking for something more affordable, the Black Out Series Basic 6900BBis a reliable budget tactical watch.

What type of watches do police officers wear?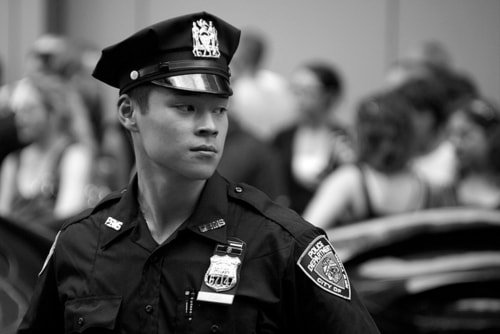 Most people in rough and tumble professions, including police officers, are accustomed to their personal items getting damaged. If you read the forums, you'll see most of the watch recommendations are for something cheap. After all, why spend a lot of money if your watch is just going to get broken in a few months?
Like military personnel, though, officers in the line of duty need a timepiece that they can rely on and that can potentially make their job a little safer.
There are a variety of tactical watches on the market that are designed for everyone from SWAT teams to Navy SEALS. These watches vary in features and functionality, but two things they all have in common are durability and reliable timekeeping.
Best G-Shock Watches For Police:
On any list of the best tactical timepieces, you're guaranteed to find a couple of G-Shock watches. In the three and a half decades since Casio first unleashed their shock-resistant line, the number of models and styles has exploded. There is a G-Shock for everyone from teenagers to members of the Special Forces.
In 2016, Casio launched a new line of tactical G-Shock watches, the Black Out series. This series included four different, all-black designs.
Budget Pick: G-Shock Black Out Basic (DW6900BB)

The Black Out Series Basic 6900BB mixes analog and digital displays and includes standard G-Shock features, including shock- and water-resistant construction, a stopwatch and countdown timer, and the optional 24-hour, military time format.
The digital displays are reverse LCD, which means that they use the white font on a black background, making it easy to read while not giving away the wearer's position during night operations.
Other features that can be found in one or more of the Black Out series watches include a solar power battery, electroluminescent (EL) backlighting, multiple daily alarms, calendars, world clocks, and more. The watches also come in different shaped and sized bodies, depending on the model, to better fit personal style and comfort.
G-Shock Black Out Series (G100BB)

The matte finish and stealth military aesthetic are what draw people into this next model in the series.
The classic look of the G-Shock G100BB comes with 200-meter water resistance and a chronograph countdown timer.
The one complaint we hear most about this model is the size- it's somewhat smaller than the average G-Shock and some consumers complain the band is too short for large wrists.
If you have large hands you may want to skip this one and consider the one above or skip down to the "Masters" series below and look at one like the Mudmaster which is larger.
G-Shock AW-591
This AW591BB model is a slightly more compact profile compared to some of the bulkier G-Shock models.
The one would be a good choice for men with smaller wrists or for female police officers
200-meter water resistance, mineral glass, and the standard shock resistance you'd expect from Casio but in a slightly smaller frame.
The LED back-lighting and afterglow effect are perfect for night duty and low-light situations that police often find themselves in.
G-Shock GX-56BB

Price-wise, the first three models in the Blackout Series are very similar in price, all within close range of each other.
This last model in the series, the GX-56BB retails for just slightly more but the justification is due to its solar power and extra-durable resin case construction, and quartz movement.
If you're looking for something a bit more heavy-duty than the aforementioned tactical watches, take a look at G-Shock's Master of G Series. This series of watches was designed specifically with the military in mind and includes timepieces that have features to assist in air and sea combat. For police officers, however, the "land" lineup will be of most interest. Check out the Mudmaster and Rangeman lines.
Top Pick For Female Police Officers: Ladies' G-Shock GMAS130-1A

While many of the G-Shock models look unisex and it may seem unnecessary to pick out a women's watch, many of the male models can seem clunky and the band too large on smaller wrists.
This sleek and professional look of this all-black S-Series women's G-Shock is a welcome change from some of the "cute" looking pink, white and rose-colored G-Shock models that are marketed to women.
If not convinced by this model and are shopping for women's G-Shock watches check out our full list of recommendations here!
A nice feature that comes with this S Series is that it counts daily steps. While this may not be such an issue for beat cops that get in plenty of walking, for female officers that spend a lot of time at a desk or in a squad car and are trying to stay in shape, this feature can be very useful to make sure you get in your daily steps and another way to keep on track with your fitness goals.
Rangeman GPRB1000-1:

The Rangeman GPRB1000-1 is an absolute beast of a watch. Practically impervious to dust and mud, this is one of the most shock- and water-resistant watches in the entire G-Shock arsenal. Furthermore, this watch is GPS-equipped and capable of linking to a smartphone via Bluetooth.
Other bonuses include a barometer, altimeter, and thermometer, and a whole host of navigation and timekeeping functions that will basically make its wearer a tactical machine in any situation. You'll be relieved to know that this watch will survive pretty much anything you could put it through.
The price of this watch is sure to send some people running but if you take your watch seriously as an important piece of gear this is worth the investment. It would also make a great gift for a cop who got a promotion (i.e. making captain) as a thank you gift or retirement present.
Mudmaster GWG-1000-1AJF

In the Mudmaster line, there is the GWG-1000-1AJF, another nearly indestructible piece of craftsmanship.
Like the GPRB1000-1, this Mudmaster includes a compass and can take atmospheric pressure readings. This watch was designed to withstand the harsh conditions of a desert or a mountain, so it will have no problem hanging tough against whatever you might experience in a city or in a rural environment.
The G-Shock Mudmaster also landed on our list of recommended watches for firefighters for obvious reasons. Like policemen, firemen have a tough and dangerous job and need a watch that can stand up to the wear and tear of their profession.
The designers behind the G-Shock know that when it comes to spending your hard-earned money on a watch, you want something that will keep working as long as you do. Their commitment to durability has resulted in an array of timepieces that would be a welcome addition to any police beat.
What makes the G-Shock so durable?
There are five different ingenious design aspects that help make the G-Shock one of the most reliably tough watches on the market. Externally, the watch has a group of inventive features that give the body strength and help protect the glass and other delicate parts from breaking upon direct contact. The internal features are even more impressive.
The case is designed in such a way that the face's glass and the buttons are prevented from making direct contact with surfaces. Likewise, the band is made of urethane and uses wide gaps to absorb any shocks. Essentially, the G-Shock band is just as much a shield as it is a watch strap.
On the inside, the individual parts are also cushioned with urethane to absorb shocks. The truly exceptional design feature, though, is the "floating" timekeeping module.
The structure of the watch case is hollow, and the mechanical parts are suspended so that if the watch makes contact with a hard surface, the module isn't disrupted. This invention allows the watch to be thinner by minimizing the amount of cushioning that is required inside the case.
Other Police Gear:
If you are searching for watches you may also be interested in the gear the police officers wear.
This short video shows a full setup for a police belt with all the accessories. Whether you are just getting out of the academy or a veteran officer you may like checking this out:
[youtube https://www.youtube.com/watch?v=OyqCPtpI7IA?rel=0]