Casio G-Shock recently celebrated its 35th anniversary, a giant milestone for the watch that some consider the toughest in the world. Designed to be practically unbreakable, the G-Shock name is proudly associated with rough and tumble professions such as firefighters, paramedics, and even Navy SEALS.
The G-Shock line has traditionally been a "male" watch, with its black rubber frame and bulky body. However, Casio has since made specific G-Shocks are for everybody, including youthful watch models for teens and feminine models such as the Baby G or the G-shock S-Series. These watches have smaller case sizes and a more feminine style. 
Below we'll look at some of the G-shock watches specifically designed for women. These watches are built with appropriately sized watch faces and bands and some come in more feminine-looking color combinations compared to many of the more masculine all-black military G-shock watch models that the brand is known for.

Quick Picks

Best G-Shock Watches for Women
When you visit the official G-Shock website, one of the first images you see is American singer/songwriter Bebe Rexha sporting an all-white G-Shock. It sends a clear message that G-Shock considers itself a watch for all people and that it's serious about staking ground as a fashionable but strong timepiece for women of all types and fashion preferences.
G-Shock currently has three series geared towards women: S-Series, G-MS, and BABY-G. These three series all have the classic G-Shock strength but unique stylistic and technological features that set them apart. Read more here about the differences between G-Shock and Baby G watches.
G-shock Women's S Series (GMAS130-7A)

In the G-Shock S-Series, there are 28 different, sporty watches. They come in various solid colors, including purple, orange, teal, gray, and white. Most of the watches in this series have a mixed analog/digital display that includes the day of the week. These watches are shock-resistant and water-resistant up to 200 meters and were designed with active women in mind.
The various watches in the series boast a few different features. Let's take a quick look at a couple of them.
The white GMAS130-7A (check the current price on Amazon) weighs only eight ounces and has a case diameter of 40 millimeters.
In addition to all the standard G-Shock features, this watch includes a daily step counter with the ability to set your own step goals. It's equal parts fashion and fitness accessory.
G-shock Women's GMAS120MF-4A

The dual-screen digital display on the peach GMAS120MF-4A isn't the only thing that sets it apart in the S-Series.
This watch is equipped with a world-time feature and a stopwatch and countdown timer.
Again, the keyword for this series of watches is "sporty," and they very much fit into an active lifestyle.
G-Shock G-MS Series

If you're looking for something a little sleeker and more fashion-forward, then you'll want to check out one of the four watches in the G-MS series. Once again, these watches mix analog and digital displays, but they come in a mix of gold or silver cases, and the faces are generally less busy than the S-Series. They are also a little bit more expensive, retailing at about $170 on the Casio site.
The silver and white MSG200-7A is stainless steel, solar-powered with an LED light, and only 38.4 millimeters in diameter. It includes a full calendar, stopwatch, countdown timer, and a 31-timezone world clock. All of those features will seem secondary to the pure elegance of its style. This is truly one of the most fashionable watches in the G-Shock family for men or women.
The G-Shock BABY-G

If the BABY-G series seems like a bit of a throwback in style and branding, that's because it has been around since 1994. Initially created to be a self-consciously "girly" take on the G-Shock watch, it is still resistant to water and shocks, but with a mix of playful looks and pop culture collaborations aimed at a young female audience.
These days, the BABY-G watch comes in 87 different styles:—> Click here to shop all Baby-G models on Amazon.
The series includes the common dual analog/digital display and even the throwback full digital display of the original DW-5000C. Most of these watches are brightly colored and have been designed to look good as a casual, beachwear timepiece or as a runner's accessory.
Lest you get the impression that all BABY-G watches are brightly colored toy watches, though, check out the black and gold BA110-1.
This is an attention-grabbing, mature timepiece with classic G-Shock features, including the LED light, world time clock, stopwatch, and water resistance up to 100 meters.
If you are looking for something more playful, the BABY-G series is known for some of its branded watches, such as their collaboration with Hello Kitty.
It seamlessly blends the colorful and fun Hello Kitty character with the toughness on which G-Shock has built its reputation.






A women's watch for everyone
I'm always hesitant to label anything a women's or a men's watch. Anybody should wear whatever they want if it fits their style and needs. For that matter, while these G-Shock series are all specifically marketed as women's watches, their style, and functionalities for everyone. Although G-shock does have higher-priced watches, like its limited-edition line, many sell for under a hundred.
Because of this, some of these watches made our list of best picks for women under $100.
If you are looking specifically for a watch geared towards women that can sustain an active, full-contact lifestyle, then the G-Shock line is meant for you.
What is a G-Shock watch?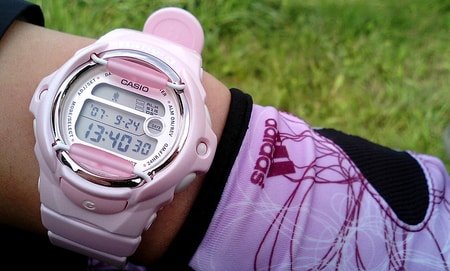 Casio released the first G-Shock in 1981, and Ronald Reagan was president and the nation was collectively wondering what Willis was talking about. Meanwhile, a Japanese electronics manufacturer, Casio, perfected a watch that could survive a 10-meter drop, withstand water pressure at 100 meters (10 atmospheres of pressure), and last 10 years on a single battery.
The DW-5000C was the first G-Shock produced, and it was an immediate sensation.
This digital Japanese quartz timepiece was specially designed so that the internal quartz mechanism floated in the middle to absorb contact better.
It didn't take long for the G-Shock to become one of the 1980s most iconic watches. The DW-5000C is still highly sought after today and can go for as much as $500 online.
Since the original was released, the G-Shock line has expanded dramatically and includes analog and digital watches, with the shock resistance core remaining the brand's trademark feature.