Wristwatches are often regarded as men's accessories. When we think of women's accessories, we usually think of jewelry, handbags, sunglasses, and belts. However, while many brands have paid less attention to women's watches in the past, they seem to be taking notice in 2019.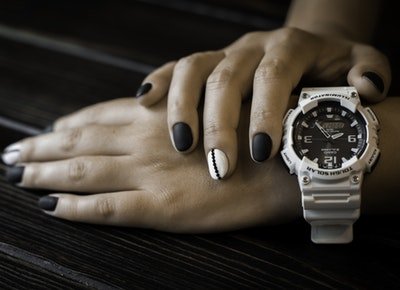 We are seeing more women are wearing timepieces featuring different designs, colors, and functions to expand and enhance their wardrobe and brands are taking notice.
It's not surprising that notable watch companies are now turning to women celebrities to endorse their brand. Serena Williams, one of the best tennis players in the world, has been endorsing Audemars Piguet since 2014. Model and actress Cara Delevingne were chosen by Tag Heuer to become an ambassador for their #DontCrackUnderPressure campaign.
Even Omega could not resist the charm of Korean superstar Song Hye Kyo when they invited the actress and model to the opening of their Hong Kong store this June. But those watches cost thousands of dollars while most of us don't plan to spend more than a hundred or maybe two hundred max on a watch.
So while those are all pretty watches, they are way too expensive for most of us. We wanted to offer much more practical picks with these 15 women's watches under $100.
This classic-looking Silver-Tone Citizen watch is one of our top picks, but we've offered a list below to match your personal style and look.
Here are some other top picks: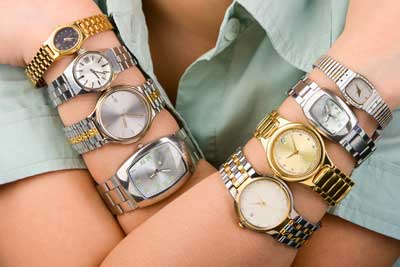 A watch expresses your personal style. This simple accessory can give your style the necessary boost and make you look more put-together whether it's for work, school or social occasions. Since watches come in all kinds of colors, sizes, and styles, you won't have any difficulty finding a suitable one to match your look.
A watch offers more convenience. Compared to fishing out your phone every so often, keeping tabs on the time is definitely classier and easier, especially when checking out your phone is not possible or appropriate. Wearing a watch also helps you multi-task and plan out activities for the day.
A watch reflects your attitude about time and more. Wearing a watch shows that you value your time and the time of other people. It also makes you look more refined, responsible and reliable.
In a nutshell, every lady needs a nice and sturdy wristwatch. Remember that high-quality timepieces do not have to break the bank.
With proper research, you can get a great watch for less than $100 (at the time of publishing these were all under one hundred, although watch prices do fluctuate. We provide links below to check current prices.)
Here are our top suggestions for the ladies who want to buy the best value-for-money watches.
Best Women's Watches Under $100
For the Classic Aficionado: Best Day-to-Night Watches
Seiko Women's 'Ladies Dress' Quartz

Every woman needs a classic watch that can be worn from casual to formal. This quartz watch is from the famous Japanese watch brand known for its style and performance. The Seiko Ladies Dress Watch SUP304 is perfect for ladies who dislike big and bulky watches. The white dial set on a polished gold-toned stainless steel case matched with a black leather strap looks clean and elegant no matter what you're wearing.
It's powered by solar energy and has a year's worth of power if fully charged. You can also check out a similar-looking timepiece from Timex (bonus: it has Indiglo!).
Citizen Women's Quartz Silver-Tone Watch

Citizen is another notable watch company from Japan that has been around since 1918. If you love classic watch designs but not a fan of leather bands, the Citizen EQ0540-57A has a silver stainless steel band and clasp. The watch is simple and stylish as well as water-resistant up to 50 meters.
However, some users complained that the day/date function is not accurate sometimes.
Citizen timepieces are always a good, solid choice especially their Eco-Drive series EM0572-05A or FE1140-86X.
For the Tomboy at Heart: Best Sports Watches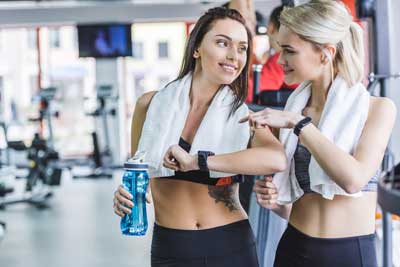 Casio G-Shock Gold and Pink Dial

For ladies with active lifestyles, Casio's G-Shock watches are a great option and this Gold and Pink one is worth a closer look.
You can use it for various outdoor activities and still looking feminine with its pretty light pink hue. It's not only water-resistant up to 100 meters, but it's also shock-proof and antimagnetic. If you like the look and design of the G-shock -check out this list with other top ladies picks from the Casio line.
If you prefer something smaller in size, you should look at Timex's Marathon TW5K84700 – it's a lightweight, digital watch that is suitable for daily activities thanks to its daily alarm, stopwatch and Indiglo function.
Invicta Women's 12508 Pro Diver

Remember when you used to borrow your older brother's watch? Or maybe you love to wear your boyfriend's wristwatch? The great thing about women's watches nowadays is that the options are no longer confined to girly or dainty styles.
Unleash your boyish side by wearing this gold ion-plated stainless steel diver's watch from Invicta.
The gold-toned dial is embellished with flowers and white crystals to balance its features. It's water-resistant up to 200 meters, so yes, you can go swimming and scuba dive with this beauty.
For the Elegant Mademoiselle: Best Jewelry Watches
Armitron Women's 75/5412 Swarovski Crystal

Most girls who love a little bling will like this watch from Armitron, the U.S. watch brand that has been in business since 1956. The rose gold-colored analog watch and bracelet set adorned with Swarovski crystals is the perfect accessory to date, a formal event, or whenever you want to feel feminine and elegant.
The slim design accentuates the wrist and the sparkle can make an ordinary attire look more special. You may also be interested in this Amethyst colored watch from the same watch brand – a stunning timepiece that girly girls will love.
BUREI Women's Elegant Analog Quartz

Many people may not be familiar with the Burei watch brand. The company is based in the U.S. and claim that their watches are more affordable than other commercial watch brands due to their non-traditional way of selling their products.
A good example is this Burei classy diamond bezel wristwatch which features a ceramic bracelet that is comfortable to wear and elegant to look at with a price tag that won't empty your wallet. It uses Japanese-quartz movement and water-resistant up to 30 meters.
The white face of the watch has Swarovski crystals protected by a scratch-resistant crystal cover. You will have a variety of color options to choose from – and since it's very affordable, you can get all the hues to match your wardrobe!
For the Unique and Eccentric: Best Casual Watches
Bewell Bamboo Wooden Watch

Watches are no longer just made of stainless steel and leather, they're now made with plastic, ceramic and even wood. Wooden watches are gaining increased attention and popularity from environment-conscious fashionistas.
Bewell's Handmade Bamboo Wooden Watch is as charming as it is unique. It has a Japanese Quartz movement, scratch-resistant sapphire crystal mirror, and made with natural wood which makes it extra special since no two pieces of wood are alike. Bewell's wooden watch is also suitable for those with sensitive skin and allergies. It's lightweight but durable so you don't have to worry about it ruining it while doing your daily activities.
Akribos XXIV Women's AK761

When you're in the mood to show your eclectic side, the Akribos XXIV AK761 is the perfect adornment to your attire. The watch will surely stand out with its gold dial set on a round metal case and blue calfskin leather strap decorated with gold-toned studs and pyramids. Another plus factor of the AK761 is the Swiss quartz movement, but it is best not to use it outdoors.
For those who prefer metal, Akribos XXIV AK808TTG features a mother of pearl dial that is both unique and elegant. You may often see that Akibos is highly discounted online, we explained why here.
For the Minimalist Maiden: Best Statement Watch
Michael Kors Women's Slim Runway Black Watch MK3221

The Michael Kors MK3221 is a minimalist watch but definitely not boring. The all-black stainless steel features gold-tone hour markers and double-push button safety clasp. Its three-hand design is sure to catch attention so be prepared to receive lots of compliments when wearing it.
Read more about Michael Kors watches here. Although it is water-resistant up to 50 meters, it is best not to use it for swimming and other outdoor activities since the black paint can be damaged easily.
Skagen Women's SKW2138 Gitte Saddle Leather Watch


A very modern yet minimalistic Danish timepiece, the Skagen SKW2138 watch can go with almost anything you wear. People who purchased it are pleased with its quality and design. The rich brown calfskin leather sits comfortably on your wrist so it's suitable for everyday wear.
Vincero Luxury Women's Eros Wrist Watch has a similar look for a little over a hundred dollars. For those who prefer stainless steel instead of leather, Skagen's 'Klassik' Dress Watch is a great alternative.
Read more about Skagen watches here or click here to see watches on sale at Skagen.com
For the Trendy Lady: Best Fashion Watches
Caravelle New York Women's Japanese Quartz Watch

Most people may not know that Bulova is an American watch brand that started making pocket watches and boudoir clocks in 1911.
Bulova's first collection of wristwatches was introduced in 1919. The Caravelle New York 44L142 is a trendy piece that you can wear day or night.
The bangle-type watch is easy to put on and is a guaranteed statement piece when you want some sparkle and style added to your OOTD.
Nixon Time Teller Acetate Women's Watch

Women will love the pop of color that the Nixon Time Teller Watch adds to their outfit.
The eye-catching yellow color and design of this 37 mm watch will get you plenty of compliments whether you're at school, at work or at a casual event.
However, one complaint stated that the watch face can be a little difficult to read because of the face design. If you love the design but hesitant about the bright yellow hue, Nixon's Time Teller collection has a more understated option in black.
If you've never purchased a Nixon watch – see our brand overview here. Click here to see the most recent ladies' collections at Nixon.com.
For the Modern Sophisticate: Best Metal Watches
Fossil Women's Riley – ES3204

Oversized women's watches have become increasingly popular that many watch manufacturers have started to jump on this trend and create wristwatches for women inspired by timepieces for men.
The Fossil ES3204 is a good example, with its 38mm case size, analog display with 3 subdials to track the hour, day and date. But this two-toned wristwatch will not make you look like you raided your husband's closet, thanks to the crystal hour markers and diamond accents.
Although some say that the watch may be too big for small wrists, removing some links solved the issue. Read more about Fossil watches here. or click here to see ladies watches on sale at Fossil.com
Timex Women's T2P059 Chicago Chronograph

Timex is a reputable American watch company that has been making watches since 1954 in Naugatuck Valley, then known as the "Switzerland of America". Timex watches are sold worldwide and known for their quality.
The T2P059 Chronograph Watch is smaller than Fossil ES3204 at 36mm and is a modern take on the classic chronograph watch. It features a date window, subdials (60-minute, 60-second, and 1/10th-second), luminous hands, deployment clasp closure, and Indiglo. If you like watches that are modern and functional, then this is a great choice. Click here to see all women's Chronographs on Timex.com
---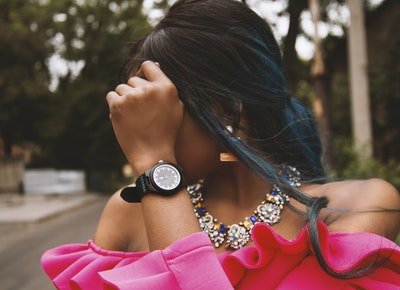 Finding the perfect watch is great, but you will also stumble upon timepieces that were better off not purchased in the first place. Take for example this two-toned watch from U.S. Polo Assn: it may look great, but most who purchased it complained about the durability of the watch (the clasp breaks easily or does not stay shut) and quality (looks cheap, accents fall off or watch dies after a few days. Simply said, getting a watch at a low price does not automatically mean it's a good buy.
There are plenty of watch options for women. If you still haven't found what you like and have a somewhat flexible budget you could also check out these ladies watch under $200, many of them just missed the cut on the price limit for this article.
Your wristwatch says a lot about you. Your choice of timepiece reflects your taste and personality. It also tells others what's important to you (aside from time, of course). Some women are biased over luxury and high-end watches because of the workmanship and quality. However, there are plenty of watch brands that offer high-quality and fashionable wristwatches at less than a hundred dollars.
A watch is a statement. Some women wear watches as a frivolous accessory, while others wear watches as a tool to help them manage their time and daily tasks. But remember that your choice of watch style and design also complements and completes your overall look and appearance, so it's important to choose wisely.
A watch is meant to be worn. Well, if you're not going to wear it, then what purpose does it serve? When choosing the right watch, you should always consider your personal style and budget. If you're going to buy a watch, make sure you love its design and its functions. You should also make sure you can afford it.
The suggestions made above are a minuscule fraction of the choices that the market has to offer but will give you an idea of the possible options that you can have when looking for a watch priced below $100.