Over the years, women's watches have evolved from being simple timekeepers into more of a fashion statement. While accuracy and reliability are always the key elements you should look for in a watch, aesthetics are just as crucial to the wearer. Another high priority for most shoppers is also price. While some readers are willing to spend $500, $1,000, or even more on a watch, we understand that others are limited to a budget and cannot justify spending more.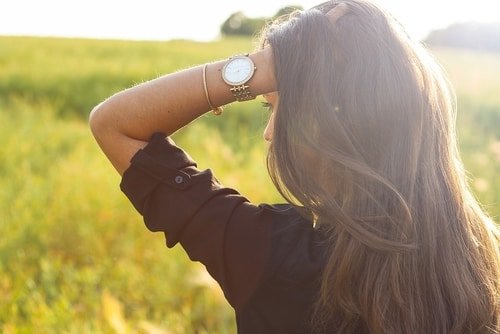 Because of that, we've come up with a series of watch recommendations based on a specific dollar limit. We've already covered women's watches under $100 here with a list of great affordable watches. In this article below, we will double the limit and take a closer look at 15 of the best women's watches under $200. These timepieces are designed to capture the attention of the crowd.
For women who are looking for a quality, eye-catching timepiece, you have come to the right place. Let's begin our rundown of the most beautiful women's watches within the stipulated budget.
(Please note, all prices were checked at the time of publishing and all watches were selling for $200 or less. However, prices may have fluctuated since then, possibly pushing them over the original budget).

Best Watches For Women Under $200
Citizen Women's Silhouette Sport Eco-Drive Watch
Read Amazon Reviews | See on Citizen.com
If you are looking for a subtle, elegant, and practical timepiece, then I highly recommend you check out the Citizen EW1670-59D Sport Eco-Drive® Watch. With a stainless-steel case measuring only 26mm in diameter, the Citizen EW1670-59D is perfect for petite hands.
As with all Citizen watches, this beautiful and elfin-like timepiece uses Japanese quartz movement with a mother-of-pearl-designed analog dial. While quite dainty in appearance, the EW1670-59D model has a decent water resistance for up to 100m. This allows the watch to withstand the occasional water splash.
The stainless-steel bracelet incorporates the push-button clasp making it easy to secure and remove. Since this timepiece uses the Citizen Eco-Drive® technology, it can recharge its battery using natural and artificial lighting.
Seiko Women's Two-Tone Blue Dial Solar Calendar Watch
Read Amazon Reviews | See on eBay
Highly affordable, sleek, and fashionable – these are the words that best describe this Seiko women's timepiece. It features a minimalistic aesthetic that goes quite well with every occasion. The two-toned gold and silver design also exudes an air of elegance that will surely catch the attention of the people around you.
As you would expect from a Seiko watch, this timepiece utilizes quartz movement with an analog display for impeccable timekeeping accuracy. A highlight feature of this particular model is its solar-powered battery which enhances longevity and eliminates the need for battery replacement.
Additional features include a day and date display located over at the three o'clock position. The dial is also protected using Hardlex mineral glass. While durable enough, this glass is not scratch-resistant like sapphire crystal windows. I suggest extra care with the Seiko two-Tone Solar Calendar Watch.
Fossil Women's Original Boyfriend Chronograph Watch
Read Amazon Reviews | See on Fossil.com
The blend of casual and sophisticated styles rarely works, but Fossil Original Boyfriend watch manages to pull it off with relative ease. Not only does this timepiece look good on your wrist, but it is also quite practical and functional as well.
The Fossil Original Boyfriend timepiece incorporates a more traditionally sized case with a diameter of 38mm. The genuine leather navy blue band perfectly fits the rose gold stainless steel case, giving it more pep in its appearance. If you don't like the navy-blue leather or want a change in scenery, the OG Boyfriend timepiece's band is interchangeable with other Fossil bands.
The ever-reliable quartz movement with an analog display within the Fossil OG Boyfriend. This watch comes with a traditional 3-hand design and has three sub-dials that track hours, minutes, and seconds.
The OG Boyfriend also has a date display located over at the 4 o'clock position. It uses mineral crystal glass to shield the dial from the elements and comes with a water resistance of 50m.
Movado Women's Swiss Quartz Stainless Steel
Read Amazon Reviews | See on eBay
Movado is always a fan favorite as I enjoy modern minimalist aesthetics. Movado is definitely at the top of the pack when it comes to minimalist designs. Just a glance at their Museum line of watches will provide you with dozens of excellent, clean, and sleek-looking timepieces.
You see what you get when it comes to Movado watches. The brand doesn't dwell much in intricately woven designs, as they focus more on "to the point" aesthetics and functionality. As you can see, this Movado women's timepiece showcases the brand's strengths in full display.
The Swiss quartz movement within this sleek watch ensures high precision in timekeeping. The timepiece is also well-built and incorporates a durable 36mm diameter stainless steel case. It comes with a water resistance rating of 30m, allowing it to go through the occasional splash of water and rain.
The analog display dial is pretty much as pristine as it can be with only the signature Movado dot to get all the attention. If you are a fan of the Movado aesthetic, you will also like this one.
Skagen Women's Ancher Mesh Dress Watch
Read Amazon Reviews | See on Skagen.com
In this price range, Skagen is one of the few brands out there that can rival the style of Movado. The Skagen Ancher watch features a similar approach to its design: a minimalistic yet stylish appearance, and it does use a mesh bracelet rather than the typical solid stainless steel. The Archer is also available with a leather strap and mesh in other tones (Rose, Gold, Black); see all models here on Skagen.com.
The Ancher delivers a classic feminine flair. Thanks to its elegant gold and silver color, the timepiece can also easily double as a jewelry accessory. This timepiece is not all flash, though—an accurate Japanese quartz movement with an analog display within its petite frame.
Since the watch dial will take most of the attention, it is only natural for Skagen to put all striking visual feats in there. With the Ancher, you get a silky-smooth white dial with gold-coated hands, and it also features crystal markers to highlight its high-end appeal fully.
Seiko Women's Two-Toned Black Dial Solar Dress Watch

Read Amazon Reviews | See on eBay
One of the best women's timepieces for formal and red-carpet occasions, the incredibly sleek and exquisite Seiko SUP274 is a marvelous sight, indeed. Designed with a focus on highlighting a feminine style, you can be forgiven for thinking this is as fragile as its appearance leads it to be. However, that is not the case.
Let's start with the basics; the Seiko SUP274 utilizes the Japanese quartz movement and analog display structure. This guarantees exceptional levels of precision in telling time. Now, it could have stopped there as it already delivers in the aesthetics department. Fortunately, it didn't.
Also, the Japanese quartz movement, the SUP274 packs some serious hardware underneath. For example, it is solar-powered, so there is no need to replace the battery. This timepiece is powered by both natural sunlight and artificial light to be more precise. Once fully charged, the battery can last up to 10 months even without being exposed to any light source.
Timex Ironman Classic 50
Read Amazon Reviews | See on Timex.com
Let us shift over to something that focuses more on functionality than style, shall we? For the adventurous, thrill-seeking, and generally sporty women out there, I have just the watch for you. Simply put, you can never go wrong with a classic sports watch like the Timex Ironman 50. There are many variations of the Ironman, including unisex and women's models. Click here to visit the Timex.com watch finder page to see all women's Ironman models and find the best match for your taste.
This function-rich digital sports watch is packed with helpful features to help you keep track of your progress. The Classic 50 moniker indicates the number of laps you can track with this watch. With the ability to track 50+ laps (99 in total), this timepiece is a perfect companion for marathon runners.
It can also record and save your average lap as well as your best lap time. The watch also allows wearers to review their daily logs to help iron out any kinks in their training regimen. Additional features you can expect with the Ironman Classic 50 includes three-alarm presets, up to 100-hour tracking chronograph, and 99 lap tracking capability.
There is a reason why the Timex Ironman Classic series is always a staple when it comes to lists of the best sports watches, and that reason is that it is one of the best in this category.
Bulova Women's 96L138 Stainless Steel Bangle Watch
Read Amazon Reviews | See on eBay
Another retro rectangular watch, however, incorporates a dash of minimalistic vibe with its appearance. The Bulova 96L138 forgoes curved outlines that are synonymous with feminine watches. This time around, it favors clean angles and a black and silver color for a more professional looking and executive appeal.
The black dial features four markers denoting the 12, 3, 6, and 9 markers. Inside the sleek frame are a Japanese quartz movement and analog display. The bangles are also a nice deviation from the standard watch bracelets. However, this means that it will have somewhat limited adjustability. This Bulova timepiece also comes with a 30m water resistance rating. Overall, the Bulova 96L138 is an excellent dress watch with a minimalist retro look.
Citizen Women's Eco-Drive Silhouette Bangle Watch
Read Amazon Reviews | See on Citizen.com
The Citizen Eco-Drive Silhouette Bangle watch combines tradition with the contemporary in such a practical way that it becomes its own thing. Versatility is probably the main appeal of this timepiece from Citizen, and the stunning 18mm curved case and bracelet bangle enhance its already striking design.
Aesthetically, Citizen has achieved its goal of crafting an attention-grabbing watch. Functionality-wise, they infused this watch with modern watch technology as possible. For one, it features Citizen's Eco-drive technology – giving this watch solar power charging capability, and it can recharge from natural sunlight to artificial light.
Within the timepiece lies a Japanese quartz movement and analog display structure. The dial is encased within a sturdy mineral crystal, and as a bonus, this watch also has a water resistance of 99 feet.
Seiko Women's SUP252 Japanese Quartz Watch
Read Amazon Reviews | See on eBay
The Seiko SUP252 watch is a fantastic petite timepiece for smaller women and those who prefer leather over stainless steel with their watch bracelets/bands. Its diminutive rectangular stainless-steel case also brings that retro look to the table.
The case is made from gold-toned stainless steel which is partnered quite well with the brown calfskin leather band. This timepiece features a Japanese quartz movement with the classic analog display. While the case is relatively small, the dial is still legible.
The dial itself features an elegant aesthetic with its markers and hands coated in a shiny gold finish. The Hardlex mineral glass will provide adequate protection, but keep in mind that it is not as scratch-resistant as sapphire glass windows. This Seiko timepiece also utilizes solar-powered technology. While the charging time needed can be quite long, this is a welcome inclusion overall.
G-Shock Women's GMA-S120MF-7A1CR
Read Amazon Reviews | See on eBay
Let us head on back into the tough sports watch category with this G-Shock model for women. If you are familiar with the G-Shock watch line, you know what to expect. For those who don't, here's a quick rundown of its features.
First off, G-Shock is designed to withstand the most abuse. Thanks to its Triple ten construction design, G-Shock watches can easily brush off falls from heights of up to 10-meters. It is also designed for water use as it comes with 200m water resistance. Additionally, another "10" that G-Shock is known for is its 10-year battery life. If this watch piqued your interest, click here to see other top G-shock ladies' models.
This particular G-Shock model is the largest in this list at 50m diameter. It comes with three sub-dial chronograph functionalities as well. This series is available in various versions to make sure everyone gets the perfect heavy-duty timepiece that fits their needs.
Michael Kors Bradshaw Women's Chronograph Watch
Read Amazon Reviews | See on Michaelkors.com
The MKB Chronograph watch is one of the more robust-looking timepieces on this list. There is nothing feminine about this particular timepiece, a perfect accessory for the modern working woman. A 43mm stainless steel case is large enough to be considered a unisex wristwatch. It utilizes quartz movement and three sub-dials that track hours, minutes, and seconds.
Also, the sturdy construction provides the watch with a water resistance of up to 100m. While some watch snobs would write off MK as a fashion watch brand, it is a fashionable watch for both sexes in this price range.
Fossil Women's Jacqueline Smartwatch
Read Amazon Reviews | See on Fossil.com
Our only smartwatch entry in this list, the Fossil Jacqueline Smartwatch, takes the best of both worlds and blends them perfectly together. First, this smartwatch is designed to be compatible with both Android and iOS smartphones. Secondly, unlike most smartwatches, Jacqueline does not feature a rechargeable battery. While that may give particular customers pause, it uses CR2025 coin batteries which you find at your local supermarket or electronics store. The batteries also last for at least six months before needing replacement.
As with all smartwatches, the Jacqueline excels with its features. You will gain access to activity and sleep tracking features with this watch. It also pairs with smartphones easily and uses vibration functions to notify you of any new messages or incoming calls. The watch is available in lots of different colors, styles and strap materials. See all Jacqueline 15 styles available on Fossil.com.
This is a hybrid smartwatch; it combines traditional analog display with the basic features of a smartwatch. It comes in a sleek 36mm diameter case and a 50m water resistance rating. Click here to see our other top hybrid smartwatches recommendations.
Citizen Women's EW1908-59A Eco-Drive Silhouette Crystal
Read Amazon Reviews | See on Citizen.com
If you are aiming for a timepiece that is designed to impress, you can never go wrong with the elegant gold and silver two-tone design. The Citizen EW1908-59A certainly read the memo with its lovely and beautiful aesthetics. It further pushes the envelope as it incorporates a dazzling crystal-infused bezel to further augment its graceful design. The stainless-steel case measures 28mm in diameter, making it a perfect timepiece for petite hands.
In addition to an already jaw-dropping design, this watch also features Citizen's Eco-Drive technology. Not only that, but it also has a power reserve that will last for 180 days. An additional feature of note is its 100m water resistance. While you obviously won't be wearing this with the intent of swimming, it is a nice inclusion that will help protect this attractive dress wristwatch.
MVMT Women's Nova Chronograph Watch
Read Amazon Reviews | See on mvmtwatches.com
Let's end this list with an entry from one of the industry's relatively newer brands MVMT. One aspect of MVMT is the modern and contemporary design that has made it a popular watch brand among Millenials.
The MVMT Nova has a 38mm stainless steel case and has a 5 ATM (50m water resistance) rating. You get the signature minimalist design of MVMT with the added chronograph feature. Even with three sub-dials, the face of the watch is impressively neat and tidy. You won't have any problem distinguishing the analog display.
A nice feature added here is its dual time zone function. It also incorporates tough mineral crystal windows which are considered durable. Also, this watch comes with a two-year warranty from the manufacturer.
Conclusion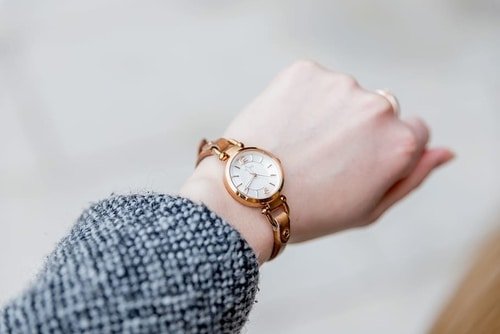 We've done our best to research the highest-rated and best-selling women's watches in the market today that also stayed within the stipulated budget. Not only are these timepieces beautiful and elegant, but they are also well-made, robust, and highly accurate. We included a wide variety of options from dress watches, casual watches, sports watches, including digital, analog, and even a hybrid to offer the best picks for all of our female watch enthusiast readers.