Pronounced as Movement, MVMT, stirred the watch industry when Forbes hailed it as "the fastest-growing watch brand".
Relying heavily on social media and digital advertising, MVMT watches are now available and being sold in over 160 countries worldwide. With more than 1.8 million likes on Facebook and around a million followers on Instagram, it sure has surpassed those of other big watch brands like Nixon, Fossil, and Michael Kors. MVMT was able to build its name on social media with the hashtag, #jointhemvmt.
Now, let's know more about this young yet quickly growing watch company.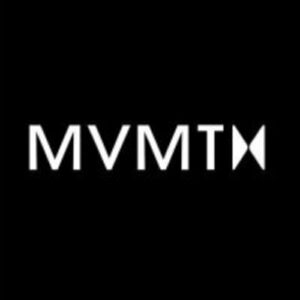 History of MVMT Watches
MVMT's history is particularly interesting because its founders are two millennial college dropouts – Jake Kassan and Kramer LaPlante. Yes, you read that right. Not only were they not able to finish college but they were also still in their teens when they conceptualized and launched the watch brand.
Founders' Background
For Jake Kassan, his father was the primary instrument that taught him to make money even at a young age. He watched his dad hustle as they owned a credit report business. Unfortunately, it was not able to survive the recession in 2008.
By the age of 12, Jake was already earning his own money by selling the lollipops that his father took home. These were supposedly giveaways but Jake sold them at 25 cents each or five pieces for a dollar. Within weeks, he made around $300 to $400.
When he reached the age of 17, he established his first business by selling novelty t-shirts. His items instantly became a favorite in clubs and parties because they lit up every time they sense some noise. To build his inventory of shirts, he made his car as the collateral to get a loan from his father. Then, on summer weekends, he would drive to Santa Monica to sell his shirts there.
Although he was already earning so much, it did not stop him from further expanding his business. He made a website, NiteLifeDesigns.com, to widen the reach of his products. But he did not stop there. He also made Youtube videos that each received more than 500 thousand views. With this marketing strategy, he was able to earn up to $10,000 in a week.
LaPlante, on the other hand, launched a wallet brand known as Articulate Wallets on Kickstarter.
Articulate Wallets are stylish, affordable wallets that are designed to allow users easy access to their cards and cash. The project raised more than $100,000 from almost 3,000 backers.
Kassan's background in e-commerce and LaPlante's crowdfunding experience became the foundation of the MVMT.
It Started with a Problem
Jake and Kramer were college roommates at the University of California Santa Barbara. Jake dropped out of college earlier while Kramer continued to patiently attend his classes and in being a responsible student.
Until in 2013, Kramer recalls that "MVMT started with a simple problem. Jake and I couldn't find a stylish, well-made watch that was affordable for people like us or our friends just getting out of school. Most Millennials can't just drop $500 or $1000 on a watch. So even though Jake and I are not watch nerds, we saw that watches were a great crowd-funding space and we said 'We can do this'"
As such, Jake and Kramer saw this problem as their chance to finally do something together. They wanted to start a cooler watch company that would appeal directly to their own demographic. And would, of course, provide watches at a very affordable price.
How Did They Do It? 
See 40 Series on MVMT | Read Amazon Reviews
From their shared apartment in Santa Barbara, California, LaPlante, and Kassan researched watch suppliers in China using Alibaba. They talked to dozens of potential vendors, researching the quality and pricing of the watches they could each supply.
Realizing that the markup of most watch brands was huge, they made the decision to cut out the middlemen and sell their products directly online.  Doing this, they were able to price watches at less than half what other brands were charging for fashion watches.  They began selling their watches in the $95-$160 range, while other brands were charging around $300 for similar fashion watches.
Three months later, in June 2013, with just an inexpensive camera and half a dozen sample watches (that they designed themselves), the two launched MVMT's first Indiegogo campaign with an initial investment of less than $5K.
Through their successful social media strategy and millennial fan base, MVMT became the second most-funded campaign for a fashion brand in Indiegogo's history at that time.
Their initial fundraising goal was just $15,000 but they exceeded that by more than ten-fold, reaching a total of $219,898. The overwhelming response that they got made that two realized that they "were on to something".
See Voyager on MVMT | Read Amazon Reviews
Through the years, they found that their digital strategy is working. In just around three years, their team of 25 has sold more than 600,000 watches.
Their offerings, which now include watches and sunglasses for both men and women, all retail for around $150 or less and boast of sleek, modern aesthetic that rivals with many high-end competitors. As Kassan and LaPlante say, their designs are "high-quality, minimalist products at revolutionary prices."
MVMT, Now Part of the Movado Group
For years, the watch brand has retained its independence.
However, in 2018, the Movado Group purchased the company for $100 million. MVMT is now added to Movado Group's list of brands that include Lacoste, Tommy Hilfiger, and Hugo Boss. To get a better idea of the brand's style and compare, check out our list of best Movado watches here.
Movado Group's Chairman and Chief Executive Officer, Efraim Grinberg, stated that:
We are pleased to officially welcome MVMT to Movado Group having closed on this strategic acquisition. MVMT provides many benefits to our Company – we add a strong digital brand to our portfolio; broaden our customer reach to millennials, an important consumer segment; and increase the sales and earnings potential of our Company with an acquisition that we expect will be accretive to fiscal 2019 results.
Where are MVMT watches made?
Although the brand is read as "movement", the website doesn't really boast about the movement of their watches. That's quite ironic in a sense.
See Classic on MVMT | Read Amazon Reviews
Truth be told, MVMT uses a Japanese Miyota precision quartz movement. Other well-known brands such as Casio, Seiko, and Citizen use the same movement. (If you want to know more about Seiko and Citizen, and which of these brands is better than the other, read here.)
It's no surprise that these Japanese style watches are using this movement considering that it is homegrown in Japan.
However, the Japanese Miyota quartz movement that is being used by MVMT is produced in China and Hong Kong.
MVMT Watch Reputation
With their digital marketing strategy, MVMT has succeeded in making a name for providing luxurious minimalistic watches at an affordable price – a perfect watch for millennials.
With this type of product and target market, the usual competitors of MVMT are Daniel Wellington, Guess, Diesel, and other fashion brands.
Many also compare them with Skagen, the minimalist Danish watch brand.
Regardless, MVMT stands on its reputation for the affordable price point, aesthetic and simplistic designs, diverse range of products, and free worldwide shipping.
Affordable price point
In the past, finding stylish watches for relatively cheap has not been easy and that is one of the main reasons why MVMT instantly became a hit. Since its inception in 2013, the company has been committed to its core principle of providing quality timepieces at revolutionary prices.
As Kassan stated, "What we have learned: If you don't have to raise, you shouldn't". And that mantra helped the company maintain its low price point as much as they can.
Aesthetic and simplistic designs
Another key factor that LaPlante and Kassan considered for their products is the design. They wanted fashionable watches would shine on social media and appeal to millennials.
See Boulevard on MVMT | Read Amazon Reviews
The duo foregoes watches with intimidating faces and bold numbers. Instead, they focused on producing simple, minimalist watches.
A diverse range of products
See Chrono on MVMT | Read Amazon Reviews
MVMT has various styles to offer for both men and women. It has over a dozen collections for men and many for women as well. Each collection represents a signature style and consists of products that are in line with the style of the collection. You have various colors and sizes to choose from.
Additionally, all MVMT watches come with interchangeable straps. With this feature, you can easily change the look of your watch within a matter of minutes.
Free worldwide shipping
MVMT watches is one among the very few fashion watch brands that offer free worldwide shipping on orders over $50.
Once your payment is authorized and finalized, MVMT takes up to 24 hours to process, approve, and ship your order.
If you want the product to be delivered outside the US, refer to this page for more information about international shipping.
MVMT Watch Reviews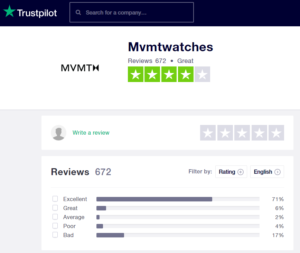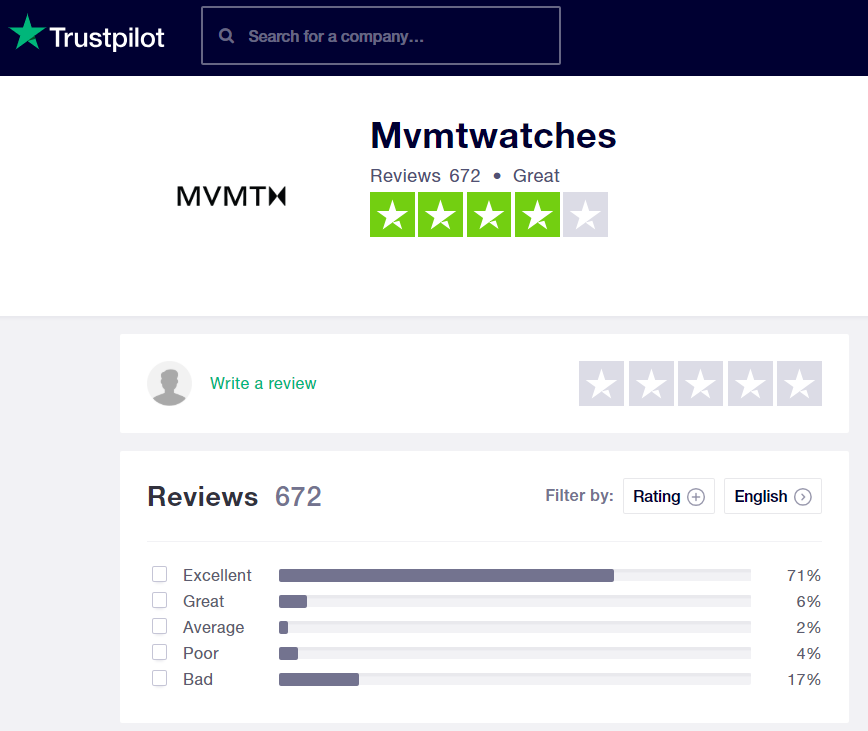 When referring to MVMT reviews, in general, the brand gets decent marks. Keeping in mind the price point and the expectation of the intended consumer, most of the comments we see are generally positive. As we've discussed, the brand relies heavily on Social Media and much of the appeal of these watches is the young and modern look rather than any complicated timekeeping functionality or watchmaking intricacies.
The types of complaints and negative reviews we tend to see with MVMT is that the watches are cheaply made, overprices for what you get and lack detailed aesthetics or high-end finishes such as sapphire glass or higher grade metal finishes. These types of comments are quite common with any comparable fashion watch. The reality is that yes you probably are paying somewhat of a premium for the brand name and the expensive marketing machine that backs a brand spawned and grown on social media
Are MVMT Watches Worth Buying?
See Voyager on MVMT | Read Amazon Reviews
MVMT is said to be the watch brand for the millennials by millennials. If you care about current fashion trends, hot brands and want a good-looking, stylish watch at a very affordable price, then MVMT is indeed a brand for you. It's simple and minimalist that's good for day-to-day use.
The interchangeable straps also appeal to fashion-minded consumers. This feature can provide the illusion of having many watches to choose from. MVMT, on the other hand, could be the brand for special occasions such as graduation, birthday, and even job interview. It can somehow serve as your transition watch while still saving up for a better one that will last for years.
The previous generations, watch enthusiasts and collectors, however, are not very enthused about MVMT watches. The same goes for those who explore more about the brand and the internal workings of the watches.
Seeing that MVMT watches are sourced from China, they know that you can purchase similar watches at an extremely lower cost.
In general, the complaints from serious watch aficionados against MVMT are the same arguments you'll hear against most fashion watch brands such as Michael Kors, Daniel Wellington, Guess, and others.
First off, these brands do not have experience in the watchmaking industry or any "horological heritage". Essentially, most of these fashion brands are buying inexpensive quartz movements and having their watches mass-produced in China, and slapping their logo on the dial as branding.
Under the glass, you'll find very little difference between these watches. You may see them advertising the features of the watch using terms such as "Japanese Miyota Precision Quartz Movement". That sounds fancy but it's really just a $5 watch movement and the actually watches are mass-produced in China.
Additionally, you can find reviews by MVMT watch owners reporting that they lose time quit working – often after just a few months or just stopped ticking altogether.
In view of this, if you want a watch that will likely last for years, then maybe you may opt for another brand that's already known for its long history and for watchmaking rather than a fashion brand that also markets watches.
There are plenty of reputable watch brands that would be very good alternatives that sell in a similar price range but offer better quality and reputation.  A few that come to mind are Citizen, Seiko or Swiss-made Tissot or Swatch.
For comparison, you can see some of our recommended Seiko Watches For Men or top Ladies Seiko Watches
Or see our lists of Best Citizen Watches For Men | Women's Citizen Watches.
Where To Buy MVMT Watches
If you want to #jointhemvmt, the best source, of course, is the MVMT's Official Website.
Click here to go directly to watches on sale on their website: Men's | Women's
There is also a wide variety of MVMT watches available on Amazon and eBay.
Is MVMT a Luxury Brand?
This may seem like a strange question to many watch aficionados since they would never consider MVMT a luxury brand, however, it is a very fair question. If you are new to watch shopping, the reference to "luxury", "luxurious" and other synonyms are so widespread that it's hard to know.
While the exact definition of a luxury watch is subjective, MVMT doesn't meet any of the normal criteria that watch collectors would use to categorize luxury. To start, they have no watchmaking history as a manufacturer or brand. They use exclusively quartz movements and do not make their own mechanical movements and materials use are nowhere near what you'd find in the luxury category. Apart from that, the retails prices are a dead giveaway since most MVMT sell in for the sub-$200 range.
If you're looking for a category to define them, we'd call them a fashion watch.
MVMT Watch Warranty Policy
Two-year Limited Warranty
MVMT watches are covered by a two-year limited warranty that covers any manufacturer's defects starting on the original purchase date, provided that it was bought from an authorized dealer. The company shall repair or replace the product for free, as necessary.
However, the warranty does not cover water damage, normal wear and tear, batteries, accidental glass damage, scratches, strap damage, and theft.
Return Policy
See Nova on MVMT | Read Amazon Reviews
In addition to the two-year warranty, another particularly interesting policy of MVMT is its return policy.
All brand new products can be returned for a full refund or store credit within 60 days of delivery. This applies to all domestic and international orders that cost more than $50.
For international returns under $50, however, the customer is responsible for return shipping.
Should you want to know more about their return policy, visit this page.
Closing Words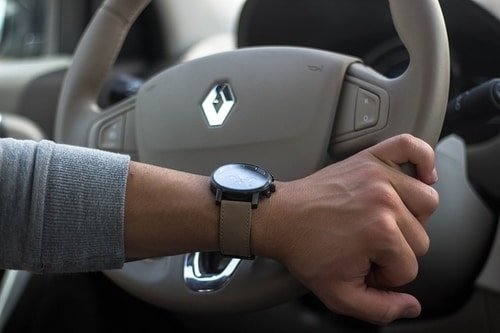 Although MVMT has already made a name, it continues its commitment to its goal of delivering premium designs for radically fair prices. Every year, it gains more supporters worldwide and they are inviting more millennials to also #jointhemvmt.
Up to where can you take your MVMT watch? See this Work Hard, Travel Harder video by Sam Kolder: