Whether we like it or not, all of us fall into demographic categories. It might be a demographic as broad as middle class or as specific as a parent of two children, or as seemingly arbitrary as fans of pineapple on pizza (gross).
Nobody utilizes demographic breakdowns more than advertisers, and no group is more sought after than the most ephemeral of demographic groups, Millennials.
The Millennial Generation includes anyone born from 1981 to 1996. There's a myth they don't buy "old-fashioned" watches, but the latest research shows that over 52% own at least one analog watch and another 18% own more than one watch. Some people claim that watches are becoming obsolete compared to smartwatches, but the numbers show that millennials do still wear watches.
Millennials' common traits include being tech-savvy and often broke with have no use for the unnecessary, older tech of a wristwatch (especially when they all own an iPhone), but in fact, watches are seeing a resurgence as a popular accessory. The companies that are attracting them are generally not the same as their parents, but they still appreciate a good timepiece.
So what watches are Millennials buying these days?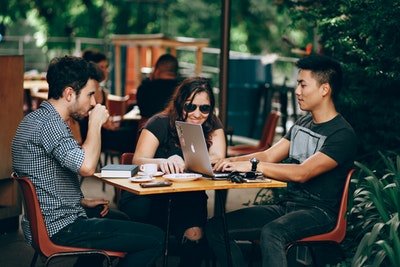 What the heck is a Millennial?

"Millennial" is a term for which nobody seems to be able to agree on a definition, like "hipster" or "irony." When the term is used in the media, it's generally shorthand for "anyone younger than me" (I'm a Millennial, for what it's worth).
If you've read any old media in the past ten years, you'd think Millennials were un-aging, remorseless serial killers of corporations.
As the Baby Boomers and Gen Xers before them, Millennials are a varied assemblage haphazardly grouped by the years of their birth. Some people say anyone born from 1980 to 2000 is a Millennial, while others group them from 1983 to 1997.
The poindexters at the Pew Research Center give their official years as anyone born from 1981 to 1996, and who am I to argue with them?
Millennials grew up with different levels of technology, from those born in the early '80s who came of age before the Internet to those born in the mid-90s who never knew a world without mobile phones.
With the rapid evolution of technology, it's probably safe to say the Millennial Generation represents the widest gap in the technological advancement of any generation that preceded it. Still, Millennials of any age have never known a world that wasn't constantly changing.
This raises an important question.
Why would a Millennial want a wristwatch?
The difference between a rotary phone and a modern smartphone is equivalent to the difference between a penguin and a bald eagle. Sure, there are some common features, but they barely seem related. Anyone born between 1980 and the mid-90s has seen their TVs get thinner and clearer, their computers get smaller and faster, and their music transforms from a cassette or round disc to an invisible file.
The classic wristwatch has been largely impervious to these seismic transformations. Sure, smartwatches represent a major technological leap forward (we'll discuss those later), but even they still look and wear not so unlike something your great-grandfather could have worn.
The original design of a timepiece that could be worn like a bracelet has gone essentially unchanged for generations.
Perhaps this is because, in terms of design, the wristwatch is nearly perfect, an elegant and effectively designed piece of technology that needs no improvement. Yes, extra features and tools have been added to wristwatches for the past century or more, but few watchmakers have attempted a whole-scale redesign (and those that do are usually doing it for aesthetic purposes).
So, if wristwatches have a design that has remained largely static for centuries, could they possibly appeal to a generation that thinks 15-year-old flip phones look hopelessly dated? Surprisingly, the answer is an emphatic, Yes.
Millennials love wristwatches

Any broad sentiment that starts with "Millennials love…" is bound to be met with some pushback, yet there is good evidence to suggest that, in fact, Millennials feel the L-word for wristwatches. And not just smartwatches; classic analog watches are having a moment in this generation. This wristwatch renaissance is in large part led by Millennial-led companies selling to their peers.
In 2017, upstart watch company Daniel Wellington was ranked as the fastest-growing company in Europe.
Led by Swedish founder, Filip Tysander, Daniel Wellington is a brand of watches that keep it simple (stupid). Nary a bell nor a whistle is to be found on most of the brand's watches, and that's the point.

Take for example the Classic Petite Sterling in Black, it doesn't connect to your phone or keep time by GPS. It tells you the time with thin silver hands over a black face set against a mesh, silver band.
The watch's movement is Japanese quartz while its appeal is its utter simplicity. There are plenty of fashion watch brands out there, but few have come out of the gate with such a consistent vision.
What Daniel Wellington and many of the other new, Millennial-focused watch brands have done is meet that demographic where they are. That means a strong social media presence; in particular, Instagram, where beautiful models and exquisite backdrops make a perfect showcase for minimalist timepieces.
Click here to read our full overview of Daniel Wellington watches.
Daniel Wellington might have been the first and biggest company to appeal to the Millennial watch-buying demographic, but they are hardly alone now. In L.A., you'll find MVMT, while halfway across the country there is Chicago-based Oak & Oscar. Meanwhile, in Germany, Kapten & Son is making waves, and across Europe, there are companies like Klarf and Cluse.
Like any true Millennial, all of these companies would surely insist that they have their own distinct personalities and qualities, and I won't dispute that. But, if you look through their sites, what you'll see is a wide selection of analog watches and frequent use of the words "vintage" and "minimalist."
The conclusion all of these brands seem to have come to is that Millennials have tons of ever-changing technology in their world and they would appreciate a bit more stability. So far, it seems to be a lucrative assumption. It's fitting that one of Daniel Wellington's favorite marketing keywords is "Timeless."
Minimalist watches for Millennials
So, if these brands are marketed towards Millennials, what exactly are they selling? Well, as I said, there are considerable similarities among these different brands, particularly in their marketing styles, but these emerging watchmakers are all making a name for themselves (at least in Europe).


MVMT is a good example of a young watch company that has a distinct style yet doesn't stray too far from the minimalist ethos established by Daniel Wellington. Look no further than these matching black men's and women's chronograph watches. Both analog quartz watches include three subdials on the face and eschew numerals for ticks to indicate the hour.
The men's watch is all black, while the women's has a gold case which is set off against black leather straps. Each watch is water-resistant up to 50 meters, which isn't much, but that's beside the point. These are sleek, fashionable watches that are affordably priced and aren't trying to do anything more than look good. At that, they succeed.


German watchmaker Kapten & Son looks to have followed Daniel Wellington's playbook even more carefully, from their classically simple designs to their models-in-picturesque-landscapes social media marketing. Also, in terms of design and pricing, you won't find much to distinguish them from their Swedish competitor (don't tell them I said that).
Having said that, if you're looking for something with some unique character, check out Kapten & Son's Campus Sail Nylon Watch (find it on Amazon here).
This gold, white, and blue watch have a Swiss quartz movement.
The white and blue nylon strap gives the timepiece the feel of something you'd wear out on the yacht, but it's well-priced and unpretentious.


Mixing British style with a Scandinavian penchant for minimalism, Klarf is yet another brand producing understated timepieces that feel timeless. The watch company hasn't made much of a splash in the US, yet (they can't be found on Amazon in the states, but you can find them on the UK's site).
Their watches all of them coming with either stainless steel or Italian leather strap.
This gold and black women's watch with mesh strap is a characteristic example of what Klarf does well: quiet elegance and reliable timekeeping (thanks to Japanese quartz movement) without any extra flash.


Then there's Cluse who you'll be absolutely stunned to learn emphasizes minimalism in their designs. What does set them apart is that they only sell women's watches, at least for now. They make eight different lines of watches with names like La Bohème and Minuit.
Their Rose Gold and White Marble quartz watch from the La Roche line is a nice example of how they keep things simple. The face is real marble unblemished by any hour indicators and the solid gray strap is leather. Like most of their watches, this piece can be found at an affordable price point.
If you're starting to get a bit of déjà vu from all these brands, Oak & Oscar can serve as the combo breaker. Oak & Oscar, which you won't find anywhere on Amazon (yet), offers a tad more complexity with their watches, while also breaking the pattern of low-cost timepieces.
Their beautifully designed Jackson line of watches retail in the $3000 range.
A major reason for that higher price point is what's going on underneath: these watches are true, old-school mechanical analogs, not battery-powered. The watchmakers have also teamed up with the renowned Horween Leather Company for their leather bands. Considerably more expensive than their competitors, Oak & Oscar make watches for the Millennial whose app just got accepted by the Apple Store.
Smartwatches for Millennials
Speaking of Apple, I promised we would return to the subject of smartwatches. Though the rise and success of Millennial-owned watch companies suggest everyone in their 20s and 30s loves minimalism, don't believe it. In the same years that Daniel Wellington was becoming the fastest-growing company in Europe, smartwatches were becoming must-have items for the Millennial technophiles.

At the moment, there is perhaps no greater status symbol than the newly released Apple Watch 6. This piece of tech is the very antithesis of minimalism. It has GPS and cellular tech, as well as speakers and a microphone for phone calls. It also comes with health trackers and all kinds of apps, even games. Rumor has it, it even tells time.


The Apple Watch is hardly the only smartwatch on the market, with Samsung and Fossil making their presence known in the market, along with dozens of other companies.
The Apple Watch 4 is brand new, though, and if there is one stereotype of Millennials that tends to ring true when it comes to hi-tech, we like the newest and best. For the next few months, at least, Apple's watch will be the talk of the digital universe.
What are the most expensive smartwatches you can buy in 2021? You'll never guess how much!
Classic watch brands for Millennials
Not all watch companies are taking the emergence of upstart watchmakers and smartwatches lying down. Luxury Swiss watchmaker, Tissot, has been around since 1853, and over the many generations of their existence, they have firmly established themselves in the upper echelon of the watchmaking industry.
For that reason, it's not unusual to find some of their timepieces retail for a few thousand dollars. To appeal to younger consumers, though, they've started producing less expensive, but still expertly crafted watches.


The Tissot Traditional Chronograph looks to best Daniel Wellington and all those other Millennial-led companies at their own game. A minimalist spirit definitely lives inside this watch which not only has Swiss movement but can genuinely be labeled Swiss Made (just check the face if you have any doubts).
The three subdials and date window add a little more texture to it, but otherwise, this silver-tone timepiece with black leather straps lets its style (and heritage) speak for itself.
It surely won't take long for many of the other legacy luxury brands to follow Tissot's example and start making timepieces specifically for the fashionable, frugal members of the Millennial generation. And then, in a few years, Generation Z will be buying watches and the whole industry will be shaken up again. Hashtag c'est la vie.