Smartwatches have arrived. Only a few years ago, most people were dismissing the tech as nerd gadgetry or a redundant accessory, but the smartwatch is now being embraced by all types of people with all kinds of needs. The versatility of the technology and the simple elegance of the interface has made it a product for everyone.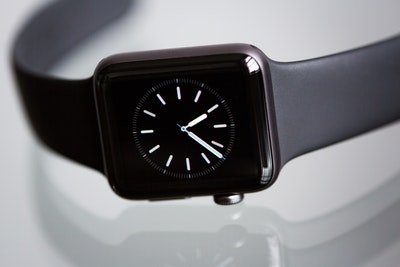 Companies both new and old are getting on board and making their own smartwatches. These companies include old generation watchmakers, popular smartphone manufacturers, and newly launched companies just looking to make their mark in a growing industry. With this influx of new smartwatches, it takes a bit of research to find which one is right for you.
One way to determine the quality of a smartwatch is the price. As we all know, a high price tag doesn't always equate to high quality; on the other hand, it usually does. We've looked at all price ranges, including the best budget smartwatches, but we're here to look into the most expensive smartwatches on the market today to answer the questions: Why are they so expensive and are they worth it?
While some of the smartwatches below can't actually be purchased online here's a short list of some of the highest-priced ones available on Amazon:

Most Expensive Smartwatches
Wristwatches can fill a lot of different roles – timekeeper, multipurpose tool, a family heirloom – but for those of substantial means, the right watch is a status symbol. Whether forged from gold, encrusted with diamonds, or simply bearing a prestige name (Patek Philippe, Breguet, etc.), million-dollar watches project wealth, high standing, and an aristocratic lack of modesty.
If smartwatches haven't quite broken the seven-digit mark, yet, a select few are sitting comfortably at six. When a smartwatch costs more than the average house in Iowa, you can bet that you're not paying for features, you're paying for prestige.
Here are some of the most spendy watches for the rich & famous:
Tag Heuer Connected Modular: $180,000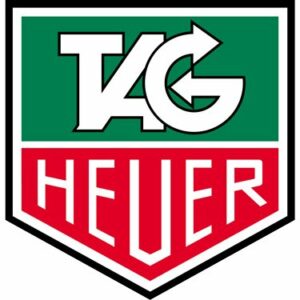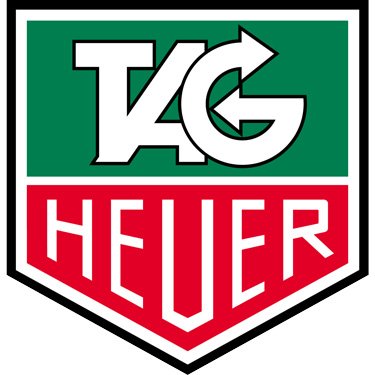 Appropriately, the smartwatch with the highest price at the moment is made by one of the most prestigious watchmakers in the world, Switzerland's own TAG Heuer. The Tag Heuer Connected Modular 45 Full Diamond is a masterclass in precision watchmaking and excess.
It can't be found online, but if you can track one down, it'll cost you a cool $180,000.
So what do you get for nearly two hundred Gs? Diamonds and white gold, for one. To be more precise, 589 diamonds spread out over the band, case, and face of the watch like 24-carat confetti. It's a glitzy timepiece, to be sure, but its monochromatic color scheme keeps it from looking gaudy or overly flashy.
The qualities that make it a smartwatch include an Intel processor with 512 MB of memory and 4 GB of storage. It can connect to a smartphone using either an Android OS or iOS, which means you can use it with your Samsung or Apple.
It has an AMOLED touchscreen, a microphone, GPS, health trackers, and most of the other features you'd expect from a smartwatch. It also has a gyroscope and accelerometer for the well-heeled watch aficionado on the go.


Before throwing your lottery winnings down on this watch, though, consider that TAG Heuer is a company best known for its sophisticated, timeless mechanical watch technology. When it comes to more modern smartwatch technology, though, they come up a bit lacking. (It should also be noted that this is just a glitzed-up version of their normal smartwatch.)
Smartwatch technology goes obsolete pretty quickly (which, again, like smartphones, is why new versions are continuously coming out), so is it worth it to pay so much for a diamond-covered smartwatch? Probably not. Just invest in a classic diamond-and-gold mechanical watch if you absolutely must show off.
Don't be too disappointed, though, there are still other opportunities for spending a hundred grand on a smartwatch.
Brikk Lux Watch Omni: $114,995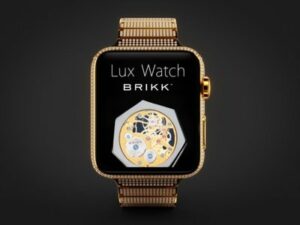 If you're an Apple product addict but you still want to spend what some people make in three years on a smartwatch, you're in luck.
Luxury watchmaker Brikk has created the Lux Watch Omni 18K Yellow Gold.
This is a custom Apple Watch that is covered in diamonds and gold (yellow or pink, or platinum if your style is a little less ostentatious). It should be stressed that while this watch is not made by Apple (Brikk customizes all types of luxury accessories), it is an authentic Apple Watch, albeit one you won't find advertised on the official Apple site.
The Brikk Lux watch comes in two sizes, either 38 MM or 42 MM, and sells for $109,905 or $114,995, respectively (the bigger watch comes with more diamonds, hence the price jump). Those are bargain prices compared to the TAG Heuer, but then again, it also doesn't have 24 carats worth of diamonds – just a lowly 12 carats.
The technical specs of the watch are that of whichever Apple Watch you select, so at least you know what you're getting in terms of smartwatch technology. Just as the TAG Heuer watch is prone to inevitable obsolescence, this custom Brikk watch will eventually fall behind the times. Still, until then, you'll have an Apple Watch covered in diamonds, which will definitely set you apart from the Starbucks set.
Built-In Nico Gerard Sunrise Pinnacle: $112,000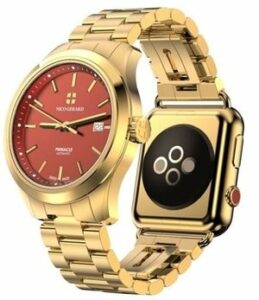 Perhaps diamonds just don't do it for you. Not everyone with a multimillion-dollar nest egg is drawn to shiny rocks.
In that case, consider something with a little more classic design and pick up the limited edition, gold Built-In Nico Gerard Sunrise Pinnacle.
By limited, we mean very limited: only 88 of these timepieces have been made.
Nico Gerard is a luxury Swiss watchmaker that has put a priority on not only crafting fine watches but imbuing them with the latest technology. Like the Brikk watch, the Sunrise Pinnacle is an Apple Watch, but unlike the Brikk watch, it's also not. That's because this watch is actually two watches in one.
This unusual design includes a traditional, Swiss-made mechanical watch with COSC-certified Swiss movement and an Apple Watch on the opposite side of the 18K gold band. Yes, that's right, there are two separate watches on the Sunrise Pinnacle, one for each side of your wrist. Was anyone asking for such a contraption? Who knows, but it was made.
This watch has to be specially reserved and if you can get on the list, it will still cost you in the ballpark of $112,000.
There's no question that the mechanical watch is a fine-looking timepiece with its red face offering an attractive contrast to the gold case and band. And a gold Apple Watch is certainly worth a little extra change. Of all three of these luxury watches, this one probably makes the most sense in terms of long-term investment, so if you absolutely must put down the cost of a sports car on a watch, this would be our recommendation.
Practical high-end smartwatches
Here are some more "affordable" high-end smartwatches…
Louis Vuitton Smartwatch Tambour Horizon
While it's diverting to gawk at exorbitantly expensive luxury items, there actually are high-end smartwatches that might be worth your money, as long as you know what to look for.
For the more fashion-minded, consider the Tambour Horizon Black created by the French fashion giant Louis Vuitton.


Stylish and personalized, the Tambour retails for between $2,450 and $ 4,450 (depending on exact model) and runs onAndroid Wear 2.0 OS.
Click here to find on Tambour Horizon eBay
In addition to normal smartwatch functionality, it includes a 24-hour clock and weather guide for time zones around the world. This watch is designed for the fashionable traveler in mind who wants to make a global statement.
If you're someone who only trusts Swiss watchmakers for your timekeeping needs, look to luxury watchmaker Breitling.
Breitling Exospace B55

Their analog Exospace B55 Yachting has a recommended retail price of $7,710 on the Breitling website. This model brings Swiss-made refinement to the smartwatch game.
Search Breitling Exospace B55 on Amazon
Designed for the outdoorsman, its non-smartwatch functions include a chronograph, UTC world time clock, tachymeter, bidirectional bezel rotation, and Swiss quartz movement.
With a brushed titanium case, the Exospace B55 seamlessly blends classic Swiss watchmaking with modern tech.
If you're into yachting, check out these top nautical watches with sailing-specific features.
The Movado Connect (available through Amazon) is compatible with select Apple and Android phones.


It has both wireless and Bluetooth connectivity and sends you notifications from your phone. Swiss watchmaker Movado has made their connected smartwatch with various faces to fit every style. The Connect comes equipped with Google Fit and Google Assistant, but this is first and foremost a fashion watch.
It lacks many of the more common smartwatch features (like a calling capability) that the more affordable tech-forward alternatives have. Read more about Movado brand watches here.
Another luxury Swiss watchmaker, Montblanc, has come out with the Summit Smartwatch, an iPhone and Android-compatible smartwatch in black stainless steel.


It does include a heart rate monitor, altimeter, fitness tracking sensors, chronograph, and other apps for the traveler (including a voice translation function). We'll admit, combining an AMOLED touchscreen watch face with a calfskin leather band is a cool blend of the classic and the modern.
Once again, the main draw of this watch is its refined design, as the smartwatch functionality is solid but not exceptional for a suggested retail price of $1,500.
This sleek profile of this designer watch is similar to what you'd see in some of our architecture-inspired watches or watches we've seen that honor automobile design.
Garmin MARQ™

In 2019, Garmin launched it's Marq™ line of luxury tool watches. This is Garmin's most expensive line of watches to date and includes five different models: Driver, Aviator, Captain, Expedition and Athlete that range in price from $1,500 to $2,500.
All the watches include the features found on the Fenix 5 Plus plus. Some of the most notable features are:
Music and Garmin Contactless Pay
Detailed maps
PulseOx SpO2 measurement
Newly improved Garmin ELEVATE optical HR sensor
Sport-Specific features for Swim/Bike/Run/Golf/Ski and many other sports.
Global database of ski resort runs/maps included
Database of worldwide golf courses
The Aviator, Captain, and Driver editions are made with a ceramic watch bezel.
See the full line of Marq™ smartwatches on Garmin.com
Pro Trek Resin Outdoor Smartwatch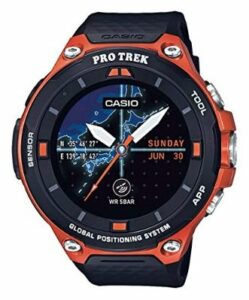 If those Swiss watchmakers don't fit your lifestyle, you'll be happy (and unsurprised) to learn that Japanese electronics giant Casio has come out with their own smartwatch: the Pro Trek Resin Outdoor Smartwatch.
Casio is the company behind the durable G-Shock line of watches, so it should be no surprise that their foray into smartwatches would be tougher than the average smartwatch.
The Pro Trek is equipped with the Android Wear 2.0 OS, GPS, full-color maps, and numerous activity trackers, including a compass, barometer, and altimeter which landed it on our list of best watches for hunters and outdoorsmen.
The watch is even water-resistant up to 50 m (admittedly, not all that deep, but better than most smartwatches).
This watch is designed for the active user and has the apps to prove it. If the big-name smartwatches and the expensive fashion brands aren't to your taste, you can split the difference with the Pro Trek.
Once again, it should be stressed that just because these watches are expensive, that doesn't mean they're the best available, and that certainly doesn't mean they will be right for your needs.
If, though, you've been looking for a new smartwatch, and the Apple and Samsungs of the world are leaving you cold, there are always these many alternatives.
And if luxury is the most important quality in your purchasing decisions, don't be surprised when the first million-dollar smartwatch hits the market in the next three or four years.
The most popular smartwatches
If after all that you've decided that you just don't have the budget or can't justify the luxury of spending thousands on a new smartwatch, here are some of the most popular options that give you a lot more bang for your buck!
Unless you have thousands of dollars to spend on the smartwatches above, here are some more practical and affordable options.
The smartphone industry has increasingly become Samsung, Apple, and everyone else. That isn't to say there aren't other quality brands or even big names, but those two giants have the largest chunk of the market (together, they are responsible for 35 percent of all sales).
It should be no surprise, then, that those two behemoths sit atop the hill in smartwatches as well.


At the moment, the flagship smartwatches of the two companies are the Apple Watch 6 and the Samsung Galaxy Watch 3, respectively.
Like smartphones, these watches are available with flexible specs, so prices vary, but both watches usually fall in the range between $300 to $500.
The fully smart Huawei Watch GT 2e is a close competitor to the two major brands.
(Also like smartphones, when the new models are released, the prices for the older models drop precipitously.)
When you start to get up to $400, you're getting into the pricier range for most of the popular, fully-equipped smartwatches. If you're only interested in health trackers, you don't need to pay more than $100.
Each of the popular watches has its pluses and minuses. The merits of each brand (constantly debated by their fans) will mostly depend on what precisely the consumer is looking for in a smartwatch. What, though, is a person to do if the functions of a smartwatch are less important than what it says about the wearer?
What is a smartwatch?

Smartwatches are touchscreen digital watches that run apps (like those on smartphones) and usually play digital media. Most smartwatches use a Bluetooth or WiFi connection to connect to the user's smartphone, giving the watch the ability to receive phone and text messages. Some smartwatches differentiate themselves because they do not need to connect to a phone to perform those functions.
To go with the most general description, a smartwatch is essentially a smartphone you can wear on your wrist (though not all smartwatches have phone capabilities).
While ambitious watchmakers have been trying to add interesting and ever stranger features to watches for generations, the first true smartwatches arrived in 2012. That was when Sony released the SmartWatch, a wearable computer running an Android OS that connected to the Xperia smartphone.
It made barely a splash among consumers, but over the next few years, that first ripple turned into a wave.
If you are not totally convinced by the modern look of these watches, you may want to check out our explanation of hybrid watches. These combine the convenient tech features of a smartwatch with the classic look of a wristwatch.
You can also check out our list of best hybrid watches here.
Related Video: Luxurious Smartwatches That You Must See