Hybrid smartwatches are a great option if you want a balanced mix of technology and traditional design: a watch with an analog look but also smart functions such as activity and health/fitness trackers.
Simply put, a hybrid smartwatch has combined features of a traditional analog watch and a smartwatch. This is the perfect type of watch for those who want the functions and connectivity of a smartwatch, but don't want something that looks too high-tech or overly modern.
These are connected to smartphones, allowing the user to use the watch as an activity tracker, receive notifications from the phone, and control functions remotely (i.e. using the watch as a controller for the music player).
Many of the top smartwatch brands now have hybrid versions, so the choices can be a bit overwhelming. We've included something for every budget and style, including some picks for women looking for a dress watch as well as more sporty masculine design picks for men.

Quick Recommendations:

Best Hybrid Smartwatches
Garmin Vivomove HR Hybrid Smartwatch
Read Amazon Reviews | See on Garmin
If you're looking for a more stylish design, this watch is something that you should consider.
Compared to the two watches reviewed so far, the Garmin Vivomove has a sleeker appearance—one could say that it's less "sporty" looking, an everyday watch that doesn't look too bulky like other smartwatches.
Garmin is considered to be one of the best smartwatch brands on the market, so you're sure that the sports and health functions of this watch are extremely reliable. While this delivers in terms of looks, it also has functions such as a fitness monitor and stress tracking features like the heart rate monitor and an all-day stress tracking. For instance, if you've had a long, stressful day, the watch will remind you to take a break, or use the relaxation timer feature that will give you different exercises to help cope with stress.
Garmin users are encouraged to be part of the brand's Garmin Connect online community, where all of the health and fitness data from your watch is stored. Using this website/app, you will be able to not just monitor your progress, but also to encourage (and get encouragement from) other users through different challenges.
Skagen Jorn Hybrid HR (Model: SKT3000)
Read Amazon Reviews | See on Skagen
Another simple, non-bulky hybrid smartwatch, the Skagen Jorn Hybrid HR has a classic design that has smartwatch features such as activity tracking, automatic time, and date adjustment. It also tracks distance, steps, and calories burned.
This is compatible with both iPhone and Android phones that connect to their own app (using the SKAGEN app). Some cons: there have been some battery/charging issues, even if the brand claims that it's a no-charge smartwatch.
If you're looking for a smartwatch that's easy on the eyes and doesn't look like a smartwatch, this is something to consider. This has good reviews on the discreet look, which is perfect for those who want unobtrusive notifications. The price tag is very affordable compared to other watches on our list and the minimalist design is what makes this Danish watch brand so well-known for its fashionable look.
Withings Steel HR Hybrid Smartwatch
Read Amazon Reviews | See on Withings.com
Some of the main features of the Withings Steel HR Hybrid Smartwatch include a 24/7 heart rate monitor, a water resistance to 50m, and smartphone notifications (like calling, texting, and app notifications). It also has a Multisport Tracking feature for workouts, which is recorded and recapped using the Health Mate app; and a sleep tracker.
The tracking feature can be used in many different fitness activities like walking, running, and swimming. It also has a GPS that allows the user to monitor the activity's progress.
The watch can also be customized with different strap colors and materials such as leather, silicone, and metal. This watch boasts of a high-quality 316L stainless steel material, with a rechargeable battery that lasts for up to 25 days.
Withings (pronounced as "with-things") is a French electronic brand known for making innovative connected devices such as blood pressure monitors and activity tracking watches.
A bit of history about the brand: In 2016, Withings was bought by Nokia for a reported $191 million. This acquisition, which in effect made it a division of Nokia Health, rebranded Withings products. In 2018, however, founder Eric Carrell bought his company back from Nokia, and so it was once again independent.
Fossil Q Grant Hybrid Smartwatch (Model: FTW1118)
Read Amazon Reviews | See on Fossil.com
The Fossil Q Grant smartwatch has activity tracking (steps walked and calories burned), customizable buttons (for controlling music and dates), sleep tracking, goal tracking. Thanks to the Bluetooth feature, you will be able to connect to your phone—if there is a notification, you will receive a buzz on the watch. These functions can be enjoyed using Android™ OS 5.0+ and iOS 9.0+ devices, using the Fossil app.
The brand calls this watch "a classic hybrid that looks like a watch but acts like a smartwatch," has received a lot of good reviews not just on the great design, but also the functions and value for money.
Other features include multiple time zones, a stopwatch, a ring-your-phone alert that allows you to find your phone when it goes missing, date reminders, and music control. You can also take pictures with the touch of a button on the phone.
This watch is also battery-powered. You do need to worry about constantly charging, as the battery life could last for six months to a year. It's also water-resistant, so you don't have to worry about it getting wet. Many Grant owners have also pointed out is the sleek design of the watch—aside from having interchangeable straps (it's compatible with all types of 22mm straps). If you are not familiar with Fossil watches, see our detailed brand overview here.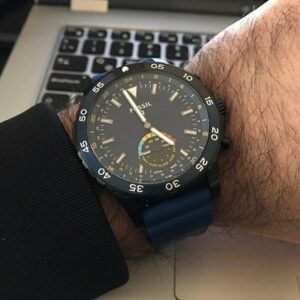 Samsung Galaxy Watch

Another strong hybrid smartwatch contender is the Samsung Galaxy Watch, which has two body sizes: 42mm (Midnight Black, Rose Gold) or 46mm (Silver).
Like the TicWatch Pro, this watch is extremely useful for those using it for fitness purposes. The Samsung Galaxy Watch also has a built-in health tracker that can accompany users in any type of workout.
This device, which is being compared to the TicWatch, is arguably one of the most powerful and advanced smartwatches today, so it's understandable that it's not cheap (normally retailing for around $300). All the fitness and activity features that you could possibly want in a smartphone are most likely here: activity tracking, heart rate monitor, a GPS with altimeter and barometer, connectivity to your music that you can connect to Bluetooth earbuds.
Users are able to connect this watch to their phones, but thanks to the LTE version, you can actually use it as a standalone phone that allows you to receive calls and check your messages without the help of your phone.
One of the things that many users have praised about this watch is the battery life, which many users say can last for days.
One of the extra features that you will most likely not find in other smartwatches is the Samsung Pay feature, which acts as a wallet; a wireless charging dock; and connectivity to IoT devices.
TicWatch Pro Bluetooth Smart Watch

The TicWatch Pro has not been around for very long, but it's already being considered as one of the best smartwatches on the market today.
Compatible with both iOs and Android, this watch has two modes: the Smart Mode, which can reportedly give you two days of battery life, and the Essential Mode, a power-saving display that shows the essential details (time, date, step counter, and heart rate).
One of the great things about TicWatch's design is its traditional design and watch features. You can choose from thousands of watch faces that were made especially for the TicWatch line.
The TicWatch Pro is excellent for those who want to use the smartwatch for health and fitness tracking. With this watch, you will be able to track sports and fitness activities—it can tell you how many calories you've burned, it has a heart rate monitor and a GPS tracker, and you can integrate hundreds of fitness apps via Google Play.
If you're an Android user, you will get to enjoy more features, such as making calls, sending text messages, or using Google Assistant ("OK, Google").
There are mixed Amazon reviews on its battery life. TicWatch claims that the Essential Mode will give you up to 30 days of battery life, but many users have expressed that this is not the case; that theirs would just last a few days.
Casio G-Shock G'MIX (GBA-400-1AJF)

Casio's a well-known sports watch brand that has been making durable watches for a long time now. It has also been riding the smartwatch wave lately, the G-Shock G-Mix
The G-Shock G-Mix features Smartphone Linkage and Bluetooth® Smart, which will allow the user to link the watch and the phone that can be used as remote control of the phone's music player and some watch settings.
This watch highlights The G'MIX app, which allows you to customize music with an equalizer. The watch has several presets for different types of music, a reverb setting that can reproduce the ambiance of live venues. You can also make use of the Soundhound app using the watch, for searching for music/songs you don't know the title of.
Some of the other features include world time (300 cities), alarm, timer illumination light, and a find-your-phone feature that will allow you to prompt the smartphone to make a sound even if it's in silent mode. The G-Mix is a part of the brand's Bluetooth-enabled G-Shocks.
As with all G-shocks, it is a durable watch with rugged construction that has earned the brand's reputation as one of the best tactical watches for everyone, from cops to construction workers.
Emporio Armani Hybrid Smartwatch (ART3010)
With the same price range as the Michael Kors watch, the Emporio Armani Hybrid Smartwatch is another model to consider by men who are looking for a style-meets-technology timepiece.
This watch makes use of Bluetooth Technology that allows you to enjoy features such as discreet phone notification alerts, activity and sleep tracking, and music control. Like the previous watch, this also makes use of a battery, so you don't need to charge. Just replace it with a CR2430.
You may be asking yourself if a fashion brand like Emporio Armani makes any decent watches…find out here.
Michael Kors Access Hybrid Smartwatch (MKT4007)

Moving on to a bigger, more "masculine" look (darker strap colors, bigger size). The Michael Kors Access Hybrid Smartwatch is what the brand calls "an analog essential with a tech twist."
The features are similar to some of the watches we have already featured earlier. This watch will track your activities, alerts you with smartphone notifications, control your music, track your sleep, ring your phone when you can't find it, and assist you in taking photos.
If you want a timepiece that has a sleek, classic look, this is a great model to consider since it doesn't look like a smartwatch at all.
One of the best things about this watch is you don't need to charge it. Just replace the battery, which is an affordable CR2430 (this will last for about six months). The watch is also water-resistant up to 50m (165ft), too.
Alpina Seastrong Horological Smartwatch (AL-282LBB4V6)

Alpina was founded in 1883, manufacturing watches in Geneva, Switzerland. The brand's goal is to make luxury sports watches that are precise and reliable and can perform even in the most demanding environments.
The brand has a range of different sports and pilot watches. in 2015, it launched the Alpina Seastrong Horological Smartwatch. One of the models from this collection is the Alpina Mens AL-282LBB4V6 hybrid smartwatch that has activity, sleep tracking and can receive calls and messages.
Other notable features include dynamic coaching, a world timer, a durable black rubber strap, and a fiberglass case. There's a wide range of Seastrong models of different price points and materials—check out this Alpina page to see all available models.
Compatible with both Android and iOS, this quartz movement 45.5mm watch is water-resistant to 100m, so you can take it to the shower, water activities like swimming and snorkeling. This watch has up to four years of battery life (depending on usage).
Learn more about Alpina's history and collections here.
Mondaine Helvetica 1 (MH1B2S80LB)

Swiss watch brand Mondaine has been around since the 1950s. Originally known for making clocks in train stations, the brand creates many unique and reliable watches with different price points and incorporates unique watch design and technology.
One of these revolutionary technologies is Stop2Go, which features a now-iconic red seconds hand that turns full circle for 58 seconds and then waits at the 12 o'clock mark before starting the rotation again. To learn more about this feature, and to learn more about Mondaine's history and collections, check out our Mondaine Watch Review.
The Mondaine Helvetica 1 Smartwatch, the first-ever by the brand, currently has a total of 9 different styles.
One model from this collection is the Helvetica 1 MH1.B2S20.RB, which has a brushed black, IP plated stainless steel case, an anti-reflective coated sapphire crystal, and a silicone strap. This watch is water-resistant to 30m.
The dial has a combination of Arabic (12, 3, and 9 o'clock positions) and index markers. At the 6 o'clock position is a secondary dial that displays the user's daily goal. Powered by MotionX technology, this watch can be paired with an Android or iOS phone, which will measure activity and sleep. This watch, however, does not have a notification feature for text, calls, or social media.
Frederique Constant Horological Smartwatch (FC-285V5B4)

Swiss watchmaker Frederique Constant, which was founded in 1988, is known for producing high-quality luxury watches with both mechanical and automatic movements.
The Frederique Constant Horological smartwatch combines the brand's classic handmade style and modern technology, having smartwatch features on an analog display.
This 42mm Swiss quartz watch has activity tracking, which allows users to track their daily distance, steps, and calories burned. The watch can also remind you whether it's time to get moving again.
This model also has a sleep monitoring feature, which tracks and records sleep (as well as how deep or light it is). You can also program the watch to wake you at the most optimal time, or when you are most refreshed.
There's also a good feature for those who travel frequently. The watch will automatically adjust to the current time wherever you are in the world. It picks up the local time from your smartphone and displays the new time automatically—so there is no need to make manual adjustments.
We wrote about the Frederique Constant Horological Smartwatch collection on our Frederique Constant watch review article.

We'll cap off this list with a hybrid smartwatch by Breitling, a luxury Swiss watch brand. This watch certainly falls under the luxury category considering its hefty price tag, but the look is very casual, which is enhanced by the sporty and casual blue rubber strap.
The Breitling Exospace B55 Connected has a sleek black titanium case and a titanium bezel. This is a big 46mm watch, so all the details are legible. This pilot's watch has tailor-made functions such as a tachymeter and a countdown or count-up system. This is also a popular watch among yachtsmen, as it has a regatta feature that allows users to record regatta times during yacht racing.
Breitling calls this line of watches its "first connected chronograph," which uses the smartphone to enhance the functions of the analog watch. Other functions include a world time feature, seven daily alarms, Bluetooth and smartphone connectivity, a backlight, and a 12/24hr LCD digital display.
Battery Life
If you read reviews of these smartwatches online, you'll find mixed reviews on battery life. For instance, some will say that their watch can last for days, while others will point out that their watch cannot even last for 24 hours. When considering battery life, keep in mind that the performance depends on the activity and apps installed on the device, activity (calls, messages, or emails), GPS, and activities being tracked throughout the day.
See our recommendations for top smartwatches with the best battery life.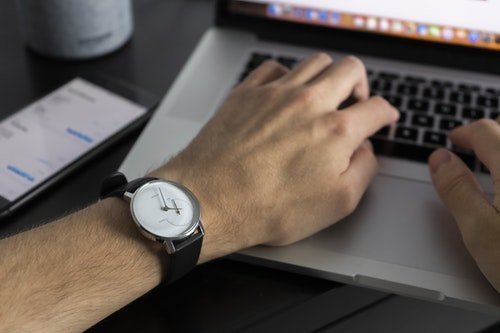 More and more hybrid smartwatches are coming out to meet the demand of consumers who want to take advantage of tech and sync their devices with the wristwatch without the look of a tech gadget.
If you want to try your hand on these devices, we've tried our best to offer you a wide variety of styles and choices for any budget from some of the top watch brands currently making hybrids on the market.