Frederique Constant is a relatively new watchmaker, but over the last three decades, the brand has consistently grown stronger, always coming up with attractive luxury watch models.
This article will take a closer look at the company, and center on its watch collections. Whether this is your first time reading about the brand, or if you're thinking of purchasing your first Frederique Constant watch, this piece will let you in on some of the most important things that you need to know.


Frederique Constant: A History
Frederique Constant was founded in 1988 by couple Aletta Francoise Frédérique Stas-Bax and Peter Constant Stas. The company is named as such because the founders took the names of their great grandparents and combined them (Frédérique Schreiner and Constant Stas).
The company may not be as old compared to its other Swiss watch company counterparts—most of which have been operating for more than a century—but the company proved that they are also experts in watchmaking since their inception. According to reports, the company's production by 2011 reached 120,000, with watches being sold in more than a hundred countries.
In 2016, Japanese watchmaker and electronics brand Citizen acquired the company. The Citizen Holding Group also owns Bulova, Arnold & Son, Alpina and CAMPANOLA
Where Are Frederique Constant Watches Made?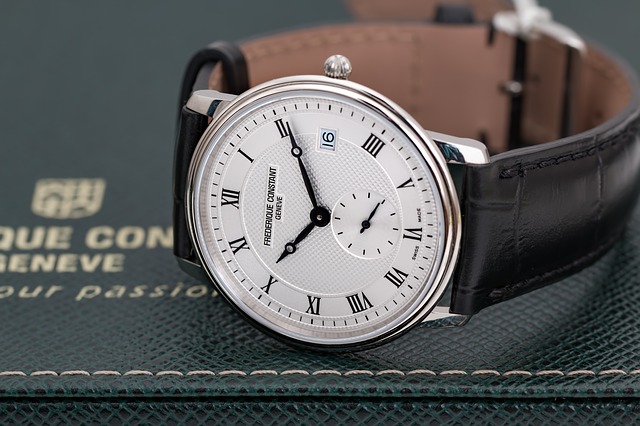 The company has its main headquarters at Plan-les-Ouates, a 3,200 square meter property where the watches are assembled—from movement and assembly to quality control. There is also a facility in Geneva.
According to the brand's website, the process of making a Frederique Constant watch starts with a discussion between employees of different departments such as sales, marketing, and workshops. When the employees are finished with the initial brainstorming and discussions, the designers will draw the ideas and plan the specifications of the watch. Then, the team will be ready to start working on a prototype.
During the development process of a watch, the company makes use of technology to develop a vision—specifically, a computer design software: "The Designer will then build the model, component by component, layer by layer, which in turn will go on to define the manufacturing process for this watch itself."
To learn more about the brand's watchmaking process, visit this page.
Frederique Constant: Are They Good Watches?

Yes, Frederique Constant is a respected watch brand appreciated by experts and watch lovers alike. A simple search online will lead you to a number of watch websites and forums of watch aficionados confirming that the company is highly regarded, and the watches they produce are of very high quality (which explains the hefty price tags). You can check out discussions such as this one to see what others think of the company.
If you're looking for other brands to compare that are in a relatively similar category, as far as build quality, style and reputation we suggest you start with brands such as Tissot or Longines, Raymond Weil or Oris.
This question will be further answered below when we start talking about the brand's different watch collections in detail.
Frederique Constant Watch Collections
Frederique Constant has a wide range of watches to choose from, available in both men's and women's sizes. Below, we'll talk about some of the brand's best collections and take a closer look at some of its best models.
Frederique Constant Classic Collection
Read Amazon Reviews | See on eBay
As the name suggests, this collection of watches has clean lines and a classic look; watches that you can easily pair with any outfit.
One of the models that encapsulate the collection's aesthetic is the Automatic FC-316MC5B9, a 37.5mm solid gold watch with an automatic movement and 38 hours of power reserve. This one has a total of 26 jewels and a convex sapphire crystal. There is a date display at 3 o'clock, and the bracelet is a classic alligator strap. This style has Roman numeral hour markers and index markers. Check out the different choices here on frederiqueconstant.com.

Read Amazon Reviews | See on eBay
The Classics collection also includes the Heart Beat Moonphase watch, which has moon phase, minutes, seconds, heartbeat, and date pointer features. This 40mm timepiece with Roman numeral markers has a yellow gold plated stainless steel case with a sapphire crystal and a leather strap (a stainless steel bracelet is also available).
Frederique Constant Manufacture collection
Frederique Constant has Manufacture (or in-house) movements. First introduced in 2001, these watches are the high-end FC-9xx caliber. According to the brand's website, the precise mechanism of these watches is made possible by the tourbillon " that has been developed according to an industrialized process down to the smallest detail." The process is explained in detail on the brand's website, which you can explore further here.
One of the watches with this impressive mechanism is the Classic Tourbillon Perpetual Calendar Manufacture FC-975S4H6, a limited edition with only 88 pieces. This one has the FC-975 Manufacture caliber, an automatic tourbillon, and a perpetual calendar. This 42mm watch has a total of 33 jewels and has a polished stainless steel 3-parts case. But all that goodness comes at a cost, the watch is priced at € 20,990 on the brand's website.
Another excellent (and much more affordable) watch from this collection is the Classic Manufacture FC-710MC4H6, which has an in-house mechanical self-winding automatic movement, a 42-hour power reserve, and a sleek guilloche decoration with printed Roman numerals. This model has a stainless steel case and a leather strap, as well as water resistance to 50m.

Read Amazon Reviews | See on eBay
This watch was featured by respected watch websites such as Hodinkee (it was reviewed once on its column that features recommended watches under $3,000—read more here), and this article by A Blog to Watch, which highlighted its competitive price).
Frederique Constant Ladies Automatic collection
Read Amazon Reviews | See on eBay
This brand's collection of ladies watches has a number of different styles and designs, and all dotted with diamonds.
Most of these watches have the common "double heartbeat" design, which is a design of two hearts overlapping at 12 o'clock. One example of this is the Double Heart Beat FC-310WDHB3BD6B, a 36mm watch made of polished stainless steel, and has a 2-piece case with 40 diamonds. The dial is white, with sunray decoration, and has a combination of six diamonds and three silver indexes.
Three models of this collection (including the one we just discussed above), have the FC-310 automatic movement. Customers can choose from navy blue alligator leather or single rose gold or two-tone stainless steel bracelets. Two models, also with the double heartbeat design, have the FC-303 automatic movement
According to the brand's website, 50USD is donated to the DonorsChoose.org organization for every watch sold. This charity was chosen by actress Gwyneth Paltrow, which is the brand's brand ambassador for charities.
Frederique Constant Horological Smartwatch Collection
Read Amazon Reviews | See on eBay
"A classic look with smart features" – this is how the brand describes its line of smartwatches. Called Horological Smartwatches, this line is a testament that Frederique Constant is always in pursuit of advanced technologies in timekeeping.
The Horological Smartwatch is a combination of the brand's hand-made timepieces and modern smartwatch technology. Unlike most smartwatches on the market today, however, the watches from this collection don't have a digital screen. Instead, it displays an analog time and provides the wearer with features like daily activities and sleep cycles using a sensor data collection engine.
One of these watches is the Frederique Constant Horological Smartwatch FC-285V5B4, a 42mm watch with a rose gold-plated stainless steel and a convex sapphire. This looks like a regular watch at first glance, but these can automatically sync with Apple or Android phones.
With these smartwatches, Frederique Constant aims to promote improving the wearer's quality of life. Some of the features will allow users to get an idea of how they perform their daily activities—aside from activity tracking and sleep monitoring, the watch also provides call and text notification, world time, sleep cycle alarms, active alerts, and dynamic coaching.
For more information on this new technology, you can read the brand's introduction to the collection here. The brand's website has a comprehensive assistance page dedicated to supporting the watches from this collection. This page provides information on how to get started, troubleshooting, frequently asked questions, and so on.
Frederique Constant Runabout Collection
This is a watch that was born out of a partnership between Frederique Constant and the Riva Historical Society, which promotes the conservation of the Riva sports boats.
The watches are a tribute to the legendary sport boats. According to the brand's website, these are powerful boats and are considered as the "finest Runabout-type boats in Europe," used in activities like fishing, cruising, and water sports.

Read Amazon Reviews | See on eBay
There are currently three models to choose from in this collection, including the Runabout Automatic FC-350RMG5B6, a limited edition 42mm watch with a stainless steel 3-piece case, a guilloche decoration, and luminous numbers and indexes. There is a 24-hour military-time format in the inner rim of the watch, and there is also a date window at 6 o'clock. One notable detail is an engraved Riva Historical Society flag on the see-through case back. This model is a limited edition—it only has a total of 2,888 pieces.
Frederique Constant Vintage Rally Collection

Read Amazon Reviews | See on eBay
This is the brand's collection chronographs, perfect for those who want to use the watch outdoors, or those who are looking for a watch that's sporty and robust.
This collection was inspired by vintage cars—Austin Healey cars to be exact. For the past 14 years, Frederique Constant has launched limited edition watches every year (and has served as the official timekeeper of old car rallies all over the world). Inspired by the car brand, these watches reflect the two companies' passion in quality and precision.
These watches have a unique design that's stylish and sporty at the same time. They're also very legible, thanks to the watch size and the bold numeral and index markers. The 42mm Vintage Rally Healey Chronograph FC-397HN5B4, for instance, has a navy racing leather strap and luminous markers. The red second and counter hands also bring out the navy dial.
There are two other available Vintage rally models—check them out here.
Frederique Constant Slimline Collection
If you're looking for a minimalist and clean look, the Slimline collection has a wide array of watches to choose from.

Read Amazon Reviews | See on eBay
This is Frederique Constant's collection where you'll find relatively affordable models (around $500), such as the Slimline Midsize FC-200RS5S36, which is a simple but sophisticated design—polished stainless steel and silver dial with Roman numeral indexes and hands. This is one of the many ultra-flat models of the collection, having a thickness of 1.9mm.

Read Amazon Reviews | See on eBay
There's also the Slimline Automatic FC-312V4S4, a 40mm watch with a Heart Beat (open heart style) detail at 12 o'clock. This one has a stainless steel case plated with rose gold, and minimalist applied rose gold plated indexes.
We included a ladies' Slimline model in our list of favorite women's moon phase watches.
Where To Buy Frederique Constant Watches
You can search Frederique Constant watches through their website—simply go to the page of the watch that you want to buy, and click on the button that will lead you to retailers near your location or check out the store locator here.
You can also purchase the brand's watches on Amazon and eBay, as well as reputable retailers such as Macy's, JomaShop, or WatchShop in the UK although some online sellers likely not have the same warranty as an official store. We'll discuss the warranty policy further below.
Those who are thinking of buying a Frederique Constant watch would be glad to know that the brand's website is comprehensive and helpful, packed with useful information on everything one needs to know about the watch. This page, for instance, is where customers will find downloadable instruction booklets, as well as tutorial videos.
Is Frederique Constant a luxury watch brand?
The term "luxury" is used quite loosely among many watch aficionados. While many serious watch collectors reserve the term for only the most prestigious brands with the longest and most established horological history, mechanical timepieces, and prices (usually averaging above the 10,000 CHF range- (roughly $11K USD in 2021). However, the distinction between high-end, entry-level luxury and "true" luxury is vague and many would consider a brand such as Frederique Constant an entry-level or "affordable-luxury". Frederique Constant manufacture in-house movements and
The brand, on its own website, self-declares itself as a maker of Swiss-made luxury watches.
Do Frederique Constant watches hold their value?
Very few watch brands hold their value over the long term. While there are brands such as Patek Philippe, Rolex or Audemars Piguet that are considered investments that have a solid potential to appreciate, the vast majority of watches on the market will fall in value over time once you take into consideration the real value and inflation.
Having said that, Frederique Constant is a well-respected brand that makes quality timepieces. They are built to last and we would not hesitate to recommend that, however, we would not expect them to be a strong investment over time. If you are considering starting a watch collection and want to include this brand, it would be smart to look at some of their vintage models that have stood the test of time or have some historical significance, such as their Worldtimer watch or one with their patented "Heart Beat" design with silicon escapement wheel.
Frederique Constant Warranty Policy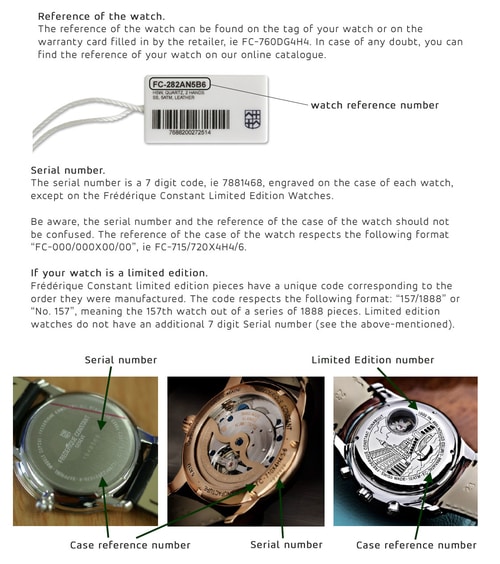 All Frederique Constant watch has coverage on manufacturing defects in the first two years from the purchase date (two years from the date indicated on the warranty certificate, which should be signed by a Frederique Constant official representative).
All service and repair of your Frederique Constant watch can only be carried out by an authorized center. Some of the things that are not covered by the warranty included theft, damage from accidents, and damage from improper use and tampering. To see all of the things that are not covered by the warranty, you can visit this page.
One of the topics highlighted by the brand on its warranty page is the water-resistance check. The water resistance of the watch may increase the risk of deterioration of the gaskets, so they recommend having the water resistance tested every two years after the year of purchase by their accredited centers.
Customers can activate their watch warranty here.
Thanks for reading!
We hope that this article provided you with the essential things you need to know about Frederique Constant. This brand is relatively young but has proven itself to be a company that is always in pursuit of new technologies while staying true to the tried and tested ones. Stay tuned on this site for more news and articles on the brand!