Precision. Quality. Elegance. Toughness. Many watch aficionados are searching for all those characteristics in one watch at the same time. Is that too much to ask?
While some elegant watches offer precision and high quality, you don't always expect them to be tough. On the other end, you may find a good quality, tough watch but you may have to sacrifice its precision or elegance, or sometimes, both.



The good news is, there is actually a lesser-known brand that offers all this and more – Alpina.
Timepieces from Alpina are truly exceptional. They are aesthetically appealing and undoubtedly precise. But that is not all, Alpina also makes sure that each timepiece is of superior quality and tough enough to survive even extreme sports conditions.
Although the Alpina may be less popular nowadays than some other Swiss brands, especially some bestselling fashion brands that rely heavily on social media and advertising, Alpina has proven that its commitment to masterfully producing in-house movements has not changed. They have taken advantage of the technological advancements but continue their history of watchmaking and the quality, durability, and precision of their watches.
Alpina is not to be underestimated.
History Of Alpina Watches
The Beginning of Alpinists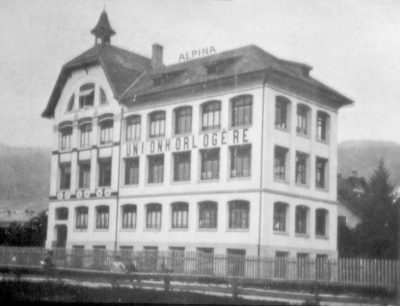 In 1883, Gottlieb Hauser founded the Alpina Swiss Watchmakers Corporation that united the Swiss independent watchmakers. They were called, the Alpinists. This was the start of the story of Alpina.
The founding of the Corporation of cooperating manufacturers and suppliers was originally intended to optimize the manufacturing of movements and timepieces. Yet, soon enough, Alpina started manufacturing its own in-house calibres and chronometers.
By 1901, the trademark "Alpina" was registered by Jacob Straub to protect his 12 and 19 line calibres which were unmarked until then. The Alpina trademark first appeared on high-end calibres and watches produced by Gottlieb Hauser. He was convinced that with the quality, durability, precision, and design of Alpina watches, it would become supremely successful worldwide.
The Series of Successes
To expand his market, Gottlieb Hauser, together with his son, visited Russia in 1903. Their 50-day trip aimed to establish a foothold in the empire of the Tsars. Fortunately, the trip was a success and they came home with ledgers filled with names of new customers. His son, Gottlieb Hauser Jr. wrote an account of the trip in 1955. It was entitled, From Bienne to Astrakhan: The Adventures of a Swiss Watch Representative in Russia Fifty Years Ago.
On its 25th anniversary, 1908, the Union registered Alpina as a brand name for timepieces. It was also then when they launched its distinctive symbol: the Alpiner, the legendary Alpina red triangle emblem.
In 1910, the Union created a perpetual calendar pocket watch complication, which was a significant technical milestone back then.
Alpina's first chronometer was then released in 1912. It was manufactured in its Glashutte factory with W.A. Dubois, a recognized master, performing the fine adjustment of the watches. These chronometers became expensive timepieces so they were sold together with a guarantee certificate.
By 1920, Alpina watches were already available in more than 2,000 outlets worldwide, truly an exceptional figure in those days. It is safe to say that Alpina was one of the first leading manufacturers of Swiss watches.
In 1920, also the end of the First World War, around 2,000 dealers throughout Europe were showcasing Alpina watches. Alpina watches reached Lisbon, Amsterdam, Copenhagen, London, Stockholm, and even Santiago de Chile. By 1921, Alpina became a producer and supplier of military pilot watches.
In 1933, the first sports watch was released. It was called the Block Uhr, equipped with a sturdy all-steel case and a new type of patented crown (Brevet 1464).
The Launch of Alpina 4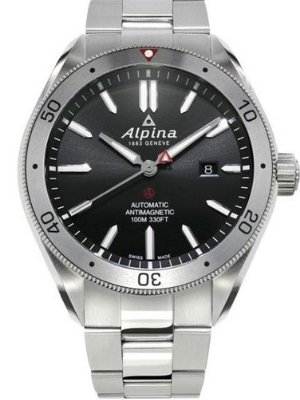 Hauser had always wanted to manufacture and provide the ideal watch for sportsmen, engineers, technicians, and adventurers. As such, he introduced the "Alpina 4" concept in 1938. The Alpina 4 revolutionized the sports watch by insisting that a true sports watch must have these four characteristics: anti-magnetic, anti-shock, water-resistant and stainless steel.
The Quartz Crisis
With the Alpina 4 watches, the company experienced unparallel success until the 1970s, when mass-produced, cheap, and impersonal watches were launched and became popular in the market. Also called, the Quartz Crisis, it made a heavily negative impact not only on Alpina but on Swiss mechanical watchmakers in general. Despite the popularity of these mass-produced watches, Alpina stood firm on its mechanical watch standards.
The Comeback
In 2002, Frédérique Constant SA, also a Swiss manufacturer based in Plan-les-Ouates, Geneva acquired the Alpina Watches.
In the same year, although struggling, Alpina finally made its comeback while remaining faithful to its horological legacy.
In 2003, Alpina presented four in-house developed and produced complications: the AL-980 Tourbillon (first Alpina tourbillon), the AL-718 World Timer (with 24 time zones on the dial), the AL-950 Automatic Regulator, and the AL-710 Small Date.
In 2015, Alpina launched the Horological Smartwatch, a Swiss-made connected watch with analogical time and quantified-self functionalities display. In that same year, it also introduced a new in-house caliber, AL-760 Automatic Flyback Chronograph.
It interprets the flyback mechanism through the "Direct Flyback" technology invented by and patented to Alpina. This technology increases the reliability and robustness of the flyback mechanism. See the Swiss brands making smartwatches.
By 2017: Citizen Holdings of Tokyo, Japan acquired Alpina as well as Frédérique Constant SA. In 2018, Alpina reported a 35% increase in sales since being acquired by Citizen.
Making Alpina Watches
Where are Alpina watches made?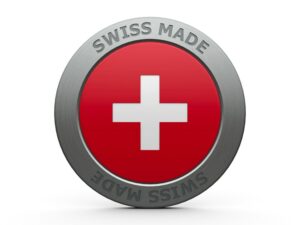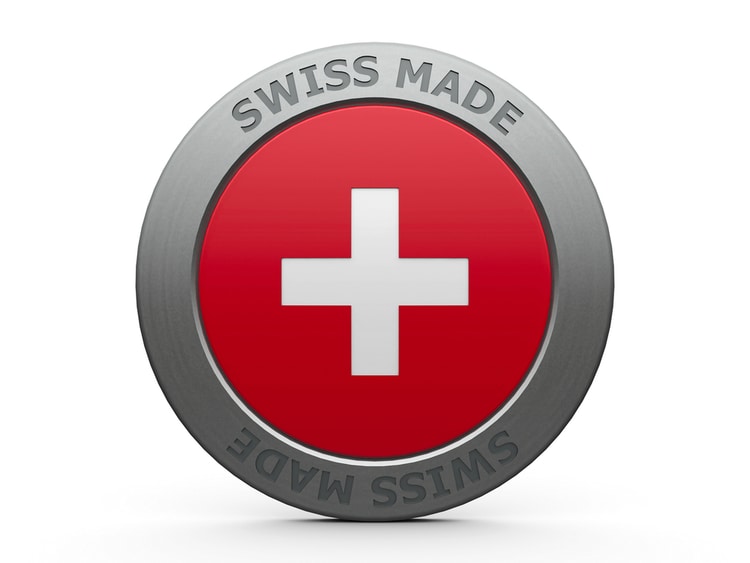 Since 2006, the home of Alpina watches is the purpose-built hi-tech manufacturing plant in Plan-les-Ouates, Geneva.  This 3,200 square meters building is the second home of the dedicated craftsmen and women who are responsible for the production and assembly of Alpina movements and watches. It is also where the watches are conceived, engineered, designed and assembled, completely in-house.
How are the Alpina watches made?
Before any timepiece becomes worthy to be called a true Alpina sports watch, it undergoes a series of rigorous tests to ensure precision, aesthetic appearance, and conformity with Alpina's standards.  Throughout the stages of watch production, each watch is being subjected to tests that determine if it will stand real life and extreme sports conditions.
Superior Quality
Alpina watches stand out from others is because of their superior quality that is achieved through the company's unwavering dedication to excellence.
There are no shortcuts in production. Each one has to undergo a meticulous quality control process in order to ensure that the watch is as perfect as it could be, down to the tiniest part. Alpinist watchmakers who have undergone extensive training in the chosen area of expertise are responsible for the testing.  These Alpinist are not just ordinary employees, they are artisans who are also passionate about watchmaking. As a result, each Alpina timepiece is a labor of love.
Manual Assembly
Although Alpina uses various hi-tech equipment such as computers, laser-guided machines, nanotechnology, and state-of-the-art microscopes, the actual process of putting a watch together is still done by hand. Whether it is an automatic or a sophisticated caliber, it is assembled by a white-coated lab technician in a dust-free, climate-controlled area.
Tested in Every Step
Before releasing into the market and out onto the real world, each Alpina watch is exposed to tests that simulate real-life and extreme conditions. And, by tests, it means that it is a series of trials that go along with the process of watchmaking.
The mechanical movements are exposed to strong rotation forces. Each watch is placed inside a fast-rotating device that simulates gravitational forces created by the movement of the wrist. Then the movement rotor undergoes a visual inspection. In addition, its movement's accuracy and amplitude are tested using the Witschi equipment, placing them in five different positions.
Watch water resistance is also put to test using Hormec machines. Only after these will it be inspected for aesthetic conformity. If you think that's already too many tests, the watches still have to undergo a power reserve test at the end of the process.
Alpina Watch Reputation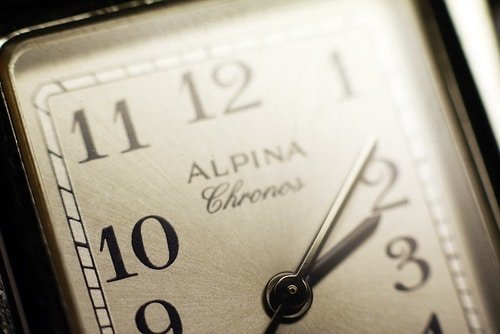 Alpina has an iconic reputation for integrating Swiss watchmaking with technical innovations. It's also one of the more affordable Swiss watch brands.
It continued its legacy in manufacturing the finest Swiss movements by continuously investing in hi-tech equipment and developing new and innovative processes. As such, more in-house avant-garde professional sports watches are being produced.
Alpina has become one of the popular choices for those who need robust watches that do not compromise precision. This includes serious sports enthusiasts, professional divers, adventurers, even pilots.
Despite being robust, Alpina watches are also designed with elements that are also fitting in a social setting. As such, you can have a fancy-looking watch without everyone knowing that it is a sports watch.
If you are looking for "affordable luxury", Alpina offers top-of-the-line quality while still maintaining that elegant look and supreme precision without costing as much as Swiss luxury brands.
The Alpina Alpiner made our list of Best Affordable Automatic watches.  While not everyone would consider Alpina as "affordable", considering the quality, Swiss heritage, and the price of similar brands, they do have watches starting at a few hundred dollars (in their Startime, Seastrong and Comtesse product lines) which are very competitively priced considering there are Chinese-made fashion watches using cheap quartz movements selling in the same price range.
While Alpina may not hold its value as well as top luxury brands over time, Alpina does compete alongside other Swiss watch brands such as Hamilton, Montblanc, Oris, Omega, and TAG Heuer.
Alpina is often compared to other brands that are not just popular Swiss watch brands, but they are even considered as the benchmark for Swiss watchmaking. Alpina's close connection to Frédérique Constant also puts it in high regard among watch aficionados since the brand is also known for its horological history and the classic elegance of its timepieces.
Are Alpina Watches Good Quality?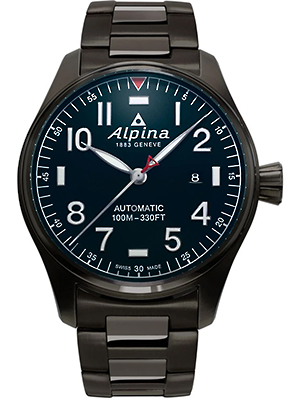 At the onset, 135 years in the watchmaking industry should already say a lot about the brand. Although it struggled through the Quartz Crisis, Alpina was able to make a comeback without sacrificing its principles.
As such, to say that Alpina watches are good is an understatement. Alpina watches are much better than good. Perhaps the more appropriate terms are iconic, legendary, innovative even revolutionary. The precision and quality of Alpina watches are some things that you shouldn't even have to question.
Throughout the years, decades, and more than a century of Swiss watchmaking, Alpina has stood firm on its Alpinist Principles.
However, because of new Swiss brands rising in the market, Alpina is perceived to be losing its market position. Those who have bought an Alpina watch have only good things to say about the brand, particularly its in-house movements. Nevertheless, Alpina continues on releasing innovative watches – combining precision, aesthetics, and quality at a reasonable price point.
One of its most recent innovations is the Alpina Horological Smartwatch that was launched in 2015. It may look like an ordinary analog wristwatch yet it actually allows you to be connected with technology.
Alpina Horological Smartwatches are no longer just a symbol of your lifestyle; with the integration of technology, they can even measure your lifestyle.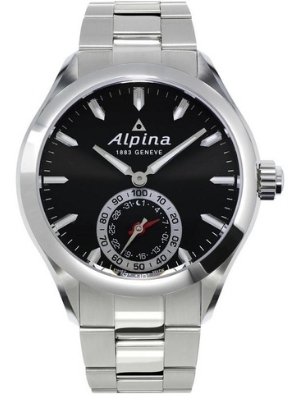 They have 2-4 years of battery life, can monitor your activities such as daily steps, calories burned, and total distance. They can also track your sleep and even alarm to wake you up at the optimal time.
If you are thinking of buying an Alpina and are looking for reasonable comparisons, Alpina competes with brands such as Hamilton, Glycine, Tissot and Oris due to all of the brands' Swiss horological heritage. These brands also compete within a comparable price range.
Alpina International Warranty Policy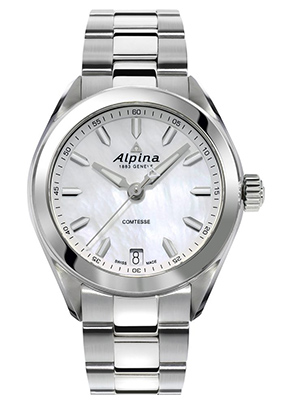 Each Alpina watch comes with a two-year warranty covering all manufacturing defects that may arise during regular use. As such, the Alpina Watch International S. A. will replace the defective component at no cost to the customer, given that the defect is brought by a manufacturing error as duly noted by the company's technical services. Also, provided that a valid Warranty Certificate, signed and stamped by an authorized Alpina Retailer is presented.
The Alpina International Warranty also acknowledges all Alpina wristwatches purchased from any authorized Alpina Retailer anywhere in the world. Should the watch needs to be repaired, only an Alpina-approved service and repair center may do so. Otherwise, the International Warranty is null and void.
If you want to know more, you can read more details about the warranty here.
Where To Buy Alpina watches?
By this time, perhaps you appreciate the Alpina as a watch brand more than ever. Well, you don't have to look any further.
The Alpina website showcases a wide variety of Alpina watches for you to choose from.
You can find Alpina watches everywhere from airport duty-free and international destinations from Dubai to Gibraltar – and of course, the brand's home country of Switzerland. Many high-end boutiques and reputable online watch retailers carry Alpina.
Here is a look at the new Alpiner X:

Remember, not only those that are popular can manufacture quality timepieces. And, not all great quality watches have to be super expensive.