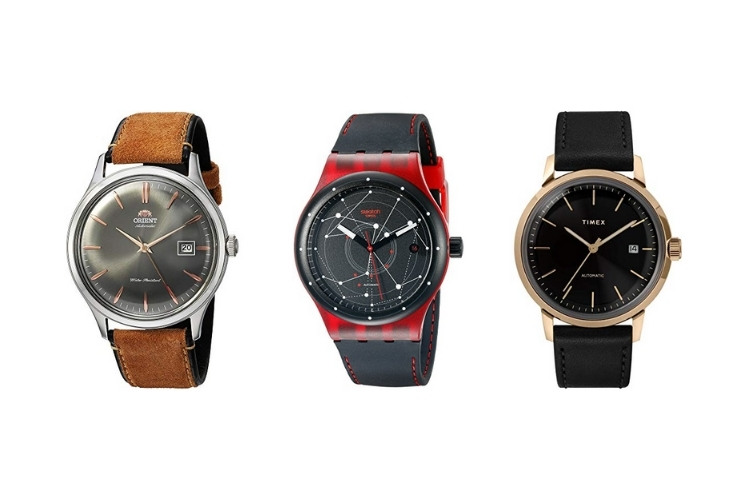 An automatic wristwatch is, as the name implies, uses an automatic movement. Basically, this type of watch does not require any manual winding up on the wearer's part. Automatic watches are ideal for everyday use since just wearing them regularly keeps them wound without the need for batteries.
There are countless choices out there for automatic watches for men, but which one to choose? To be more precise, which one to buy if you are on a budget? Below you'll find our curated list of watches, we've included a wide variety of styles from dressy to divers to hopefully help you find a watch that matches your personal style and taste.
Quick Recommendations:

Check out this list of the best affordable automatic watches for men to help narrow down your list.
Best Affordable Automatic Watches for Men
Orient Bambino Version IV Japanese Automatic Stainless-Steel Watch
The Orient Bambino Version IV is a sleeker iteration of the series. It uses a stainless-steel case and a leather dress to provide that sophisticated yet casual appearance.
The ergonomic premium grade leather is not just for show as well. The leather bands are designed to fit perfectly around your wrist while still offering absolute comfort.
It features an analog face that syncs perfectly with the current time. The Orient Bambino can be worn for all types of occasions, from formal to just everyday casual activities.
It also designed to be water-resistant for up to 30 meters or 100 feet. It is, however, advisable to avoid swimming or bathing with this watch on. Additional features include a domed crystal and a date indicator.
Timex Men's Marlin Automatic 40mm Watch
The Timex Marlin is an example of how Timex has stayed in the watch game for so many years. This two-tone watch looks amazing with the gold bezel, gold, and luminous watch hands set against a black background.
The Timex Marlin is a recreation of Timex's 1960's Mid-century watch design.
The simple date window, with no day display which is common among dress watches. Domed acrylic crystal to protect the watch face, and water-resistant to 30m.
Customer reviews are overwhelmingly positive, most customers purchased the watch's vintage vibe.
Apart from the sleek design, the watch is well built with reliable Timex watchmaking, Timex utilizes a Japanese Miyota caliber 8215 automatic movement with a power reserve of 40 hours and accuracy of -20~+40 sec per day.
This is a perfect fit if you're looking for a refined automatic dress watch from a trustworthy American watch brand.
Invicta Pro Driver Stainless Steel Automatic Diving Watch (Model: 3044)
Invicta is Latin for invincible and it truly shows here with its high-quality construction and an impressive level of durability.
The Invicta Pro Diver features a professionally made quartz movement that ensures the wearer will get a highly accurate time, every time.
The Invicta uses a 39mm stainless steel case and is water-resistant. The watch also features a unidirectional turning bezel. As for aesthetics, it has a rather luminous appearance which is desirable for divers.
Additional features include a magnifier and flame fusion crystal as well. This is a classy and durable automatic watch that is designed to accommodate the needs of divers, professional or not.
Vostok Amphibian Scuba Dude Automatic Men's Wristwatch
The Vostok Amphibian Scuba Dude features casual and vintage aesthetics that make it a good fit for all occasions.
It uses a distinct acrylic crystal dome with a dimension of 39mm x 46mm x 15mm classic case. The dial is available in a variety of designs, with the default being the green and teal Red Star Paratrooper dial.
The strap that comes with the Vostok Amphibian Scuba Dude is not quite impressive though. It does appear that the band is where the manufacturer made cost-cutting decisions.
It is recommended that you look for an aftermarket bracelet to pair up with the Vostok as the standard bracelet it comes with is lacking compared to the watch.
As for performance, the Vostok uses their 2416 Caliber mechanism. This provides the Vostok with the ability to utilize reliable vintage specifications within a modern aesthetic.
This is an affordable automatic wristwatch that is an ideal companion for the beginning collector who is looking to satiate their hobby with an affordable wristwatch from a Russian brand with a long history.
Swatch Sistem 51 Irony Automatic (YIS400)
Swatch Sistem 51 Irony Automatic is a sleek, modern, and minimalist-inspired automatic wristwatch. It is water-resistant for up to 100 feet and uses luminescent hands for better visibility during low-light environments. This also makes it an ideal choice for divers as well.
The case diameter of the Swatch SUT400 Sistem measures 42mm with a thickness of 14.
Additional features include a date display that is located at the 3 o'clock position.
The classic retro dail, coupled with the minimalist design, makes this a popular choice for the younger generation of watch collectors.
It also has the reputation of Swatch behind it so you are guaranteed you're getting a top-quality yet affordable Swiss wristwatch.
Fossil Men's Modern Machine Automatic Self-Wind
The Fossil Modern Machine Sport wristwatch comes with a unique design that helps separate it from the pack. First off, it uses an ion-plated stainless-steel casing which greatly improves durability. The premium-grade leather strap is also a nice addition to its overall appeal and quality.
This analog-style wristwatch features luminous silver hands and index hour markers, and minute markers located around the outer rim. Its defining feature is the transparent back case which gives you a nice view of the inner working of the watch.
The case measures 45mm in diameter and 14mm thickness. The band's width is at a comfortable 24mm giving it durability while also being flexible enough to provide comfort on the wrist.
The Modern Machine Sport wristwatch has a water resistance rating of up 165 feet. Not for long-duration diving and deep-sea diving activities although realistically we're selecting Fossil for its style and price point not diving capabilities.
Seiko Men's SNK809 Seiko 5 Automatic Stainless-Steel
The Seiko 5 SNK809 has a casual appearance. To the point that the overall aesthetic does not exude an air of premium or high-end flair. However, do not let this first impression appearance fool you. The construction of this automatic wristwatch checks all the boxes and then some.
Seiko wristwatches feature their patented Hardflex material. The Hardflex material is marketed as being considerably more durable than standard mineral crystals used by most wristwatches. However, note that it is merely scratch-resistant.
The case has a matte finish which helps improve its resistance against scratches. The Seiko 5 Automatic is designed for everyday use and will surely avoid wear and tear for a longer period of time.
Seiko 5 offers a simple and practical approach and delivers quality in spades at a highly affordable price tag.
Orient "Sun & Moon Open Heart" Japanese Automatic
This second Orient on our list is perfect for the man looking for a bit of wrist flair with an "open-heart" dial for that eye-catching factor you are looking for.
The day and night indicator, perfectly portrayed here with a sun and moon display, accentuates the open-heart dial.
Having a peek inside the intricacies of the Orient caliber F6L24 movement is almost hypnotic with the perpetual ticking of each integral gear inside. This high-precision watch movement also comes with a 40-hour power reserve.
The Orient Sun and Moon Open Heart is a premium-grade dress watch that is at an affordable price.
To add to its charm, this Orient dress watch also features a transparent back case that gives wearers a full view of the watch's in-house movement.
Seiko 5 Sports Automatic Black Dial Stainless Steel
The Seiko 5 Sports series features an all-stainless steel design giving it that premium look and feel. It incorporates luminous hands for better visibility in low-light environments, Arabic numeral markers, and minute markers located around the outer rim.
The date display is located on the 3 o'clock marker. The case diameter measures 42mm with a thickness of 12mm. The band's width is 20mm which is slightly thicker but still manages to provide a nice and snug fit.
It is also water-resistant for up to 330 feet with a fold-over and release clasp.
The Seiko 5 Automatic Dila Wristwatch is an elegant choice for both formal, casual, and everyday attire. Its water resistance is quite impressive and will surely be a nice companion for individuals who participate frequently in outdoor activities.
Bulova Men's Automatic Stainless Steel Watch
The Bulova Men's Automatic Watch certainly captures the premium and high-end appearance of a top-quality smartwatch. While the price range puts it at the higher end of the spectrum, it is still relatively affordable all things considered.
Features include the new gunmetal IP stainless steel case. The Bulova has a 46 mm diameter case and has a water resistance rating of up to 330 feet. This makes it a suitable wristwatch for swimming but not recommended for any deep-sea diving.
The skeleton dial is made with extreme attention to detail which accentuates its sophisticated style. One aspect of Bulova watches is their impressive skill in crafting truly eye-catching wristwatches. If you are looking for a watch that is both reliable and is made to impress, Bulova is a good watch brand to invest in.
Hamilton Unisex Khaki King Automatic Watch
Read Amazon Reviews | See at Hamilton 
The Hamilton Unisex Khaki King wristwatch features similar designs to Hamilton's previous military-style watches. Of course, they've tweaked the design enough for it to stand on its own. Think of this as a perfect blend of military and modern formal and casual design.
As you would expect from a wristwatch that has its root from a military watch, the Hamilton Khaki King features durable and heavy-duty stainless steel designed to withstand the roughest of environments. The Hamilton Khaki King comes in at a relatively larger 40 mm diameter with an 11 mm thickness.
The larger size firmly places it on the men's watch category and while women can wear it, it might actually look a bit large. Another change from its predecessor is with the bands. Instead of using the Nato straps, the Khaki King uses a leather strap-on instead. The band's width is around 20 mm, a good range for watch bands. The syringe hands and a touch of style also stand out well against the black dial.
The Hamilton Khaki King brings some of the favorable features from its military watch days into a more casual friendly aesthetics. But make no mistake, this iteration is near comparable to the durability of its older sibling.
Victorinox Men's Maverick Swiss Automatic Stainless-Steel Casual Watch
The Victorinox Maverick is an automatic watch designed for divers that also does not skimp style. In fact, if you are familiar with various watch brands, you will notice a similarity with the Seamaster or Submariner.
The Victorinox Maverick utilizes the ETA Caliber 2824-2 system. This provides its precise automatic movement. This mechanism is also found in some of the brands' more affordable watch series. The movement system has a 38 hours power reserve and features 25 jewels.
The Maverick's movement system also clocks in 28,800 vibrations per hour or 8 beats per second. What this means is that the second's hand moves 8 times within a second, which considerably improves its time accuracy.
The case has a 43 mm diameter and an 11 mm thickness, a pretty standard affair. This is also an ideal choice for outdoor activities thanks to the durable and scratch-resistant sapphire crystal glass. It also features a unidirectional rotating bezel with minute markings.
The Victorinox Maverick is an exceptional automatic wristwatch that is both stylish and reliable. It is also a great companion for any occasion, everyday use, and any outdoor activity.
Alpina Men's AL750N4E6B Alpiner Swiss Automatic Silver Watch
The Alpina Alpiner Watch uses the tried and tested Swiss-automatic movement system. This allows its impressive levels of accuracy at a more affordable price. The stainless-steel case measures 41 mm in diameter and is 14 mm thick.
The blue dial is accentuated by the silver luminescent hands. It also features a second sub-dial located at the 9 o'clock position and a date display that you can see at the 6 o'clock position. It also comes with a counter with a 30-minute counter located at the top and a 12-hour counter positioned at the bottom.
The Alpiner is also quite scratch-resistant with its use of sapphire crystal. As for the automatic movement system it uses Caliber AL-750 with a power reserve of 46-hours. The Alpiner also comes with an anti-shock system.
It has a water resistance rating of up 165-feet. If you are unfamiliar with Alpina watches, check out our brand overview here.
Tag Heuer Formula 1 Caliber 5 Automatic Watch
Tag Heuer is among the top industry names in the world.
The Formula 1 Caliber 5 watch is definitely an eye-catching watch. Depending on your budget and the type of watch you're looking for you may or may not call it "affordable".
However, considering that Tags go up in the price range of several thousand dollars, this more entry-level Swiss-made automatic is considered by many to be an affordable investment.
The sports watch uses standard punctured straps. The case measures 41 mm in diameter and is 12 mm thick. The case is made from highly durable titanium material. It also features a synthetic sapphire crystal making it highly scratch-resistant.
This watch also uses the Swiss automatic movement system in conjunction with an analog display.
The watch is water-resistant for up to 660-feet, the highest in this list. Because of this, the Tag Heuer Formula 1 is designed for serious outdoor marine activities. However, it is still not recommended for any serious diving excursions.
Victorinox Swiss Army Men's Ambassador Clous de Paris Automatic Stainless-Steel
Another Victorinox series makes a back-to-back appearance in this list, the Ambassador Clous de Paris is a nice little addition to your collection with its simple, practical, business-casual design.
The Clous de Paris delivers a Victorinox brand of quality with its extremely precise Swiss automatic movement system.
Features include a chronograph, date window, and luminescent hands set against a black dial. It utilizes a high-quality stainless steel case and a comfortable premium-grade leather strap.
It also uses the tried and true sapphire crystal which is known to be highly scratch-resistant, making this watch an ideal accessory for outdoor activities as well.
As you expected, the Victorinox Ambassador Clous de Paris has a water resistance rating. What is pretty impressive though is that it is water-resistant for up to 330 feet.
This makes it an ideal watch for casual snorkeling and swimming. I'll think twice about using it for any serious diving activities though.
Top Buying Considerations:
Since you're looking for affordable automatics, it may be stating the obvious but the top buying priorities we used to select these watches are the movement itself, focusing on the accuracy, reliability and power reserve.
Movement: The list includes half a dozen swiss automatics such as the AL-750 by Alpina or the ETA Caliber 2824-2 with 38 hr power reserve as well as many other models with Japanese movements such as the Orient caliber F6L24.
Price: The second part of the equation is price, the main challenge to researching and compiling this list is deciding what people consider "affordable", this is very subjective depending on your budget but we've included many options in the sub-500 range working our way up to affordable-luxury options by well-respected watch brands.
Style: We've included a wide variety of styles from dive and dress to everyday casual as well as some specialized dials including full skeleton dials and more subtle "open heart" models.
If you wish to learn more about various types of specially made watches in the market please check out our other interesting articles on Pilot watches, Nautical watches, or even watches worn by a fictional super-spy- James Bond in the films.
Among all the different types of watches on the market, automatic watches are a great choice for everyday use. While there are very expensive automatic watches on the market, we've managed to find several on this list that are affordable for almost any watch buyer. While they will stay wound just by wearing them, you can also store them in a watch winder to keep them accurate when you are not wearing them, although you really probably don't one unless you have a watch collection with several automatic watches.