Bulova is one of the longest-running brands in the US watch and clock-making industry. This American brand was founded in 1875 in downtown New York.
Since then, it's been dedicated to producing accurate watches. Some Bulova watches, like the Accutron or the Precisionist, are considered by many horologists to have made their permanent mark in the watchmaking industry. Bulova watches have also been featured in many films.
Bulova also designs and produces the more stylish Caravelle (previously known as Caravelle New York), the Swiss-made Wittnauer Swiss and Marine Star that are dress watches, and of course, its signature Bulova line.
Currently, Bulova, along with the aforementioned brands that it manufactures, is owned by the Citizen Watch Co. If after reading this brand overview you're still interested, make sure you check out our list of recommended Bulova Men's watches or this list of top Ladies Bulova watches.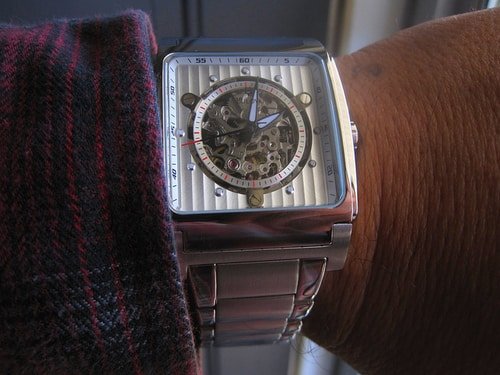 History of Bulova watches
Bulova entered the watchmaking industry in 1875. It was initially founded and incorporated as J. Bulova Company by a 23-year-old Bohemian immigrant Joseph Bulova.
Its humble beginnings started in a small jewelry store on Maiden Lane, Lower Manhattan, New York City. It is where J. Bulova started his lifelong quest: "to craft supreme quality timepieces for an ever-changing and dynamic landscape." Since then, the company's foundation is its unwavering drive for perfection, efficiency, and precision, quality, and craftsmanship.
By 1923, it was reincorporated with the name Bulova Watch Company and became a subsidiary of the Loews Corporation in 1979. In June 2008, it was acquired by the Japanese conglomerate Citizen Watch Co. at the amount of $250 million.
Bulova's Firsts
With its long history, Bulova produced, released, and experienced many "firsts" along the way. These momentous achievements and events in Bulova history have made a substantial impact not just on the brand but to the American public as well.
Here are the "firsts" in Bulova's timeline.
Boudoir and Desk Clocks: In 1911, Bulova began the manufacture of boudoir and desk clocks. Alongside this, the brand was also producing well-crafted pocket watches that were sold in great volumes.
First Manufacturing Plant: Bulova launched its first plant specifically dedicated to the production of watches in Biel, Switzerland in 1912. It was then when he standardized the mass production of watches. Back then, this capability to produce a large volume of watches was new in watchmaking.
First Range of Men's Wristwatches: By 1919, Bulova was able to release its first complete range of wristwatches for men. To market this, J. Bulova's first popular advertising used an iconic visual style. This is also the reason why these watches became well-known to the American public.
First Radio Advertisement
Bulova made history even in the radio airwaves when it produced its first radio commercial in 1926. The announcement, "At the tone, its 8 PM, B-U-L-O-V-A Bulova watch time" has been broadcasted nationally and was heard by millions of Americans.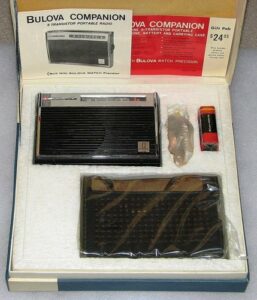 Two years later, in 1928, Bulova launched the world's first clock radio.
First TV Commercial: Continuing its legacy of being the first one to advertise, on July 1, 1941, just when commercial advertising was permitted on television, Bulova aired the first TV commercial. It was a simple one with a picture of a clock and a map of the United States, with a voice-over proclaiming, "America runs on Bulova time.
School for Disabled Veterans: In 1945, Arde Bulova, then Chairman of the Board and the son of Joseph Bulova, founded the Joseph Bulova School of Watchmaking to help the disabled veterans from the Second World War become self-sufficient. Later on, the school became a rehabilitation facility accommodating persons with disabilities nationwide.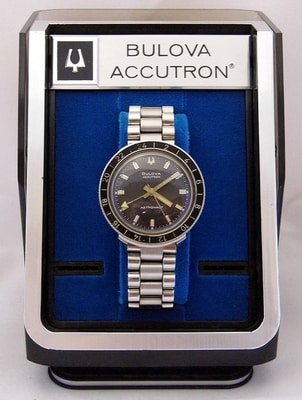 First Fully Electronic Watch: In 1953, the development of Accutron, the name itself mixed the terms "accurate" and "electronic", was started by the engineer Max Hetzel. The research and development for this breakthrough in timekeeping technology took some years until October 25, 1960, when the first Bulova Accutrons were released to the market.
The Accutron uses a 360Hz tuning fork instead of a balance wheel as its timekeeping element. This tuning fork is then powered by a one-transistor electronic oscillator circuit. This is mainly why it became the first electronic watch.
As a result, the Accutron had a faint, high-pitched hum that came from the vibrating tuning fork, instead of the ticking sound as may be heard in mechanical watches. Accutron guarantees accuracy up to two seconds per day, which is considerably better than mechanical watches back then.
Read more about the history of Accutron in this post.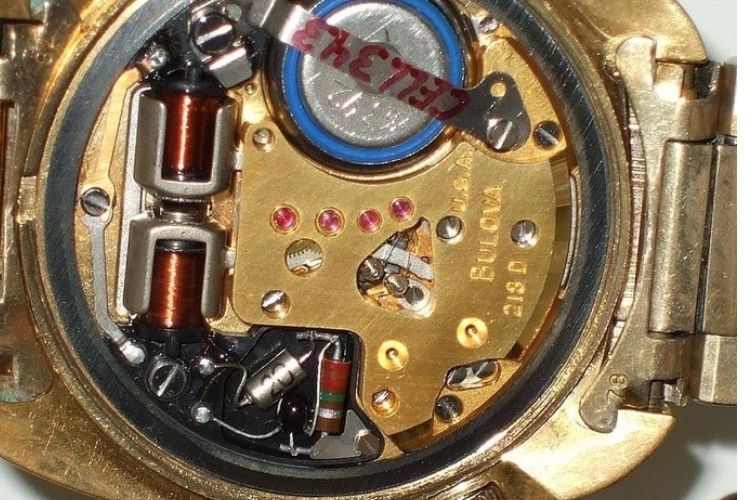 Accutron for Space Program: Realizing the accuracy of Accutron, in 1960, Bulova was asked to incorporate Accutron into NASA computers for the space program.
Bulova developed technology for various timing instruments for NASA satellites. Since then, the timing mechanisms of Bulova became integral to the 46 U.S. space missions and the Skylab, the United States' first space station.
First Privately-owned Timepiece on the Moon: During the Apollo 15 mission in 1971, all twelve men who walked to the moon wore the standard NASA-issued Omega Speedmaster. As such, these watches were considered government property.
However, from the transcripts of the Apollo 15 Lunar Surface Journal, it was found that the crystal face of the Omega watch of David Scott, mission commander, popped off during his second excursion on the moon's surface.
Given the circumstance, it was said that for his third lunar walk, he used his backup Bulova watch. It was the Moon Pilot Chronograph that was recently auctioned for the amount of $1.625 million. This is also the most expensive astronaut-owned artifact ever sold at an auction.
Interested in space exploration? Click here to read about other watches astronauts have worn.
The Bulova Precisionist


In more recent history, Bulova introduced a new type of quartz watch with a higher frequency crystal. The Precisionist was released in 2010, boasting of accuracy up to 10 seconds per year, and has a smooth sweeping second hand, instead of one that jumps per second.
Throughout the years, Bulova products have kept the official time in the Air Force One, served as Presidential Gifts of State to visiting dignitaries, and even became U.S. Olympic Team's official watch.
*The information provided in this section is sourced from the Bulova website, its Wikipedia page, and watch forum.
Where Are Bulova Watches Made?
Although Bulova is an American watch brand and has its headquarters established in New York, Bulova watches are manufactured there. Early Bulovas were made at their factory in Biel (Switzerland). Currently, some higher-end Bulova watches are still made in Switzerland while others are made in Japan and Hong Kong.
It is a comprehensive international operating strategy that the brand developed in order to enhance its global position while keeping the integrity of its name. In fact, to revitalize its brand, it opened a European headquarters in Fribourg, Switzerland.
This European facility is responsible for the production and distribution of Bulova's high-end products, particularly the proprietary mechanical Accu-Swiss and the battery-driven Precisionist/Accutron movements. For their product development, however, both headquarters in New York and Fribourg do the job.
On the other hand, mid-priced models came from Japan while the low-end ones and the Caravelle watch line may be manufactured either in Japan or Hong Kong.
Bulova Watch Reputation
Being one of the largest and longest-running watch brands in the world, Bulova has become widely recognized in its industry. Many times in its history, it has set the standard and introduced new innovations that other watchmakers strive to keep up with.
Bulova has a stellar reputation for producing timepieces with high accuracy, style, and durability. Yes, their products are considered among the finest watches but they also make sure that their timepieces can reach the general public at very affordable prices.
Considering that it has quite a wide range of watches produced, the high-end timepieces are usually being compared to other quartz watches when it comes to quality.
For the mid-range and low-end Japanese produced, its main competitors in the watch market are supposedly Citizen and Seiko.
However, as already mentioned, Citizen bought Bulova in 1979.
Nonetheless, another threat to its brand name is the counterfeit imitations being sold at a much cheaper price.
Are Bulova Watches Good Quality?
Reviews for this watch brand are generally positive, both from professional evaluations, from consumers, and watch enthusiasts. The community may be torn if it is of high quality or not, but in general, it is agreed that Bulova timepieces are good watches.
Bulova is able to produce well-designed, expensive-looking, and beautifully crafted timepieces and yet offers them at affordable prices. This is what watch enthusiasts and consumers love about this brand.
Bulova watches are often compared to Tissot and Movado, among other brands. As mentioned above, they often compete against Seiko and Citizen based on price range.
Build Quality
When it comes to the quality per se of the watches, the community has mixed opinions. This may be largely due to the wide range of watches that the brand has been producing. As mentioned, there are watch models that are manufactured in Switzerland. These models are considered the finest ones, which quality is comparable with Timex and Fossil.
The mid-range and low-end watches produced in Hong Kong and Japan are usually considered so-so. They are good, yes, but nothing spectacular. Regardless of the quality, watch enthusiasts and consumers alike agree that Boluva watches are priced accordingly and correctly.
Watch Movement

When it comes to the movement of Bulova watches, the general public agrees that the brand produced some watches of great watches over the years. For example, the Gemini models from the Accutron line that use the ETA 2892-A2 movement.
The interesting technology that the brand launched also gained the approval of many consumers and enthusiasts. One particular favorite is the Precisionist movement that provides a very high accuracy quartz movement and is characterized by the sweeping hand, only seen before in automatic watches.
However, there are some disappointments about the Japanese Miyota automatic movement. Some believe that this feature will not bring any advantage to the brand, and instead will just jeopardize its name.
Where to buy Bulova watches?
If you want to purchase a Bulova watch for yourself or for a loved one, Amazon offers numerous watches for you to choose from.
Or, if you want to go directly to the source, you may visit the Bulova website.
Check Prices on Bulova watches on Amazon.
See new and vintage Bulova watches on eBay.

Bulova Global Warranty Policy
All Bulova watches are covered by a 3-year Limited Global Warranty from the date it was purchased. It is limited only to the original owner of the watch and covers parts of the watch that have failed due to original defects in materials or workmanship under normal use. The company may also opt to replace the watch with another comparable one.
If the watch needs to be repaired or serviced, it is encouraged that only a qualified technician from an Authorized Bulova Dealer or the Bulova Corporation should do so. Otherwise, the warranty is considered null and void. You may read other details about the 3-year warranty here (opens PDF)
If you have some concerns and questions, read the FAQ's to help you out.
Are Bulova Luxury Watches?
This is a very common question among our readers. While there is no absolute right answer since the definition of a luxury watch is debatable, most watch collectors would not consider Bulova to be a luxury brand. Many would define it as a consumer or enthusiast-level watch.
However, there are some Bulova watches that are considered collectibles such as their vintage Accutron watches or Bulova chronographs that use the Valjoux movement and some of the brand's limited edition watches do have prices comparable to some entry-level luxury watches.
How to Spot Fake Bulova Watches?
As mentioned above, one of the threats to the Bulova brand name is the counterfeit imitations of their watches. These watches that are usually bought in the black market look almost exactly the same as the original ones. However, their quality is too far off.
Since most people can't usually tell the difference between an authentic Bulova from the imitations, some sellers take this as an opportunity.
Fine-looking watches are being offered at a price lower as compared to authorized dealers making you believe that they are authentic. Only when you have worn it for a month will you notice that the watch is losing its accuracy after a month, finally figuring out that it's actually an imitation. Worse, you have bought it at a far greater price than it is worth.
So, before you go on buying a Bulova watch, especially if it's not from an authorized dealer, here are a few steps to see if it's a fake or not:
It should bear the name "Bulova" on its watch face or on the metal exterior. Other brand names such as Caravelle, Accutron, and Wittenauer sometimes appear with, or instead of, the Bulova name. If the watch face indicates "Bulova Movement", know that such a watch is not considered a Bulova watch. Rather, it is often classified as a "jobber watch". Jobber watches are those that take Bulova movements and put them into third-party cases.
Recent models have a serial number on the back. You can type it into the interface on the brand's website to check if the model you have is real.
At the back of your watch, there should be a symbol or code near the stem set screw based on what year it was made. See the specific symbol or code for each corresponding year in the table here.
Most Bulova watches have Art Nouveau-style swirls and the austere touches of Art Deco.
You may call 1-800-A-BULOVA and talk to a company representative. The representative may check the serial number of your watch for you. Or, if the watch is too old to have a serial number, the representative will guide you to a jeweler near you who can examine and verify the watch's authenticity.