Though space travel has been a reality for over half a century, the men and women who have gone up to space are among a small, elite club. For that reason, there is a considerable aura of cool and sophistication around astronauts and anything they do or wear. Though they have bigger concerns on their minds, they have essentially become style icons.


This is especially true in the arena of timepieces. Ever since Buzz Aldrin famously wore an Omega Speedmaster, watches and space flight have been intricately linked. In truth, the connection between the two actually predates the moon landing and it continues to this day with the latest generation of astronauts.
Let's take a look at the history of time in space.
The first watch in space

The Omega Speedmaster is the timepiece most commonly associated with space travel, but while it was the first watch on the moon, it was not the first in space. That honor goes to a Russian (Soviet at the time) brand, Sturmanskie.
Or perhaps it was a Rodina or a Pobeda. As maybe should be expected, the history from the Soviet Union is a little uncertain. What is known is that the first man to wear a watch in space was a Soviet pilot, Yuri Gagarin, on April 12, 1961. On that day, Gagarin made history for humans and wristwatches, alike.
Click here to read more about Russian watch Brands.
The Soviet and American space programs were famously in competition with each other. When an accomplished astronaut, John Glenn, became the first American to orbit the planet, he was wearing a timepiece made by the renowned Swiss watchmaker, TAG Heuer. However, Glenn's timepiece was technically a stopwatch, not a wristwatch.
Another Swiss brand, Breitling, would be the first to send a wristwatch into orbit a few months later.
In 1965, Soviet cosmonaut Alexey Leonov became the first person to wear a watch on a spacewalk (or EVA – Extravehicular activity – as it's officially known). He was wearing another Soviet brand, Strela, which makes them officially the first watchmaker to explore open space.
Four years later, on one of the most important dates in human history – July 21, 1969 – Buzz Aldrin followed Neil Armstrong out of the Apollo 11 and onto the surface of the moon. Certainly, that "small step" was momentous for all kinds of history-making reasons, but it also cemented Omega as one of the most significant watch brands in the world.
During the 1971 Apollo 15 mission, when Colonel Dave Scott's Nasa-issued Omega watch stopped working he strapped his own Bulova Lunar EVA (Wrist) Chronograph. The watch, including the lunar dust that was still on it, sold for $1.6 million at auction in 2015.
Bulova has since re-released the Lunar Pilot Chronograph Watch which made our list of Best Chronograph Watches Under $500.
Why did Buzz Aldrin wear an Omega Speedmaster?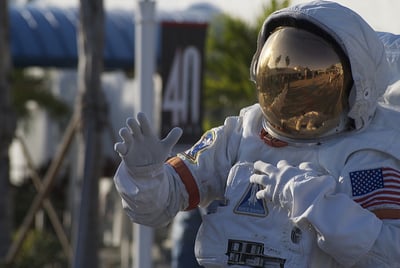 It wasn't mere chance that put Omega on the moon. In 1962, NASA was looking for watches strong enough to travel with their astronauts into space. They purchased a number of different brands to test how they handled zero gravity and pressurized rooms. The Omega Speedmaster came out on top.
Before Aldrin wore his Omega on the moon, fellow American astronaut, Ed White, wore a Speedmaster on the first American spacewalk.
All NASA astronauts in the 1960s were issued Speedmaster watches, so one way or the other, it seems like Omega was destined to be the first watch on the moon. To this day, most American astronauts still rely on the Omega Speedmaster (like, for instance, Chris Hadfield, the Major Tom guy in the video below). This is, at least in part, because it remains the only watch officially certified by NASA to be able to handle spacewalks.
Of course, it probably helps that wearing the watch is a pretty cool reminder of the legacy they are a part of furthering.

What other watches do astronauts wear?
As suggested above, while the Speedmaster is NASA's go-to watch, astronauts are just like everyone else: sometimes they have other personal preferences.
Omega Watches:

Today's astronauts are rarely household names the way Armstrong and Aldrin were, but if there was one who could be considered a celebrity, it's probably Scott Kelly.
Kelly has set the American record for the longest unbroken period spent in space – 342 days – a feat that has landed him on talk shows and other media appearances. He's done a number of interviews from space, as well.


Like any true wristwatch lover, Kelly likes to change up the watches he wears from day to day, and so, for his nearly year-long trip to space, he packed at least four different watches.
Two of those watches were- surprise surprise, Speedmasters: the classic Professional and the Skywalker X-33.
Both mechanical watches are extremely durable and include scratch-resistant sapphire crystal faces.
To read more about Omega, see our brand overview here.
Breitling watches

Other watches that Kelly has been seen wearing, either on earth or in space, include two different Breitling watches.
The first is the Breitling Navitmer 1461, a doozy of a watch with 38 jewels that includes a calendar, a slide rule feature, and, appropriately enough, a moon phase feature.
At well over $10,000, this is a watch for someone whose budget can reach the stars.


Kelly has also been seen wearing the Breitling Heritage Superocean Chronograph, an elegant blue mechanical wristwatch. It has an anti-reflective sapphire face and a chronograph feature but is otherwise a fairly simple timepiece.
For its roughly $5,000 price, you're in large part paying for the fine and lasting heritage of the Breitling brand.
After all, it might not be the official watch of NASA, but Breitling knows a thing or two about going to space.
Russians in space (and their watches)
Just as it was at the heart of the space race, Americans are hardly the only people going up into space. In fact, Russian cosmonauts are still regularly graduating from the Yuri Gagarin Cosmonaut Training Center. Just as the Omega Speedmaster is a regular feature of American spaceflight, the Fortis B-42 Chronograph is a common sight on the wrists of the cosmonauts.


Fortis is a Swiss watchmaker that has been around since 1912. The B-42 includes 25 jewels and has all the reliability and precision that can be expected from a Swiss self-winding mechanical watch. The watch also has a chronograph and a tachymeter to go along with an incredible shock- and scratch-resistant body and face. If you have to make a quick jaunt to the International Space Station, the B-42 will be up for the journey.
Since the years of the Cold War, space travel has largely become a collaborative effort, the one human endeavor in which the nations of the world work together in unison. It's therefore quite appropriate – even heartening – that one of the lasting symbols of space travel is a Swiss watch.
If you're interested in astronauts, you may also find this article about the watches that special forces wear, or this one specifically about the history of Navy SEAL watches.
Also, if you like the style and practical tools that pilot watches offer but don't have the budget to spend the thousands of dollars that some of the above-mentioned watches cost, check out our list of best pilot watches under $500. While they haven't been worn in space, the list includes models that any aspiring astronaut would enjoy wearing.
*Main Photo Credit: NASA Goddard Space Flight Center. Buzz Aldrin during their initial inspection of the Lunar Module.