Sapphires are one of the hardest minerals in the world. They are also extremely versatile. For that reason, they can be found in a lot more than engagement rings. Their mix of smoothness and scratch-resistance has made them extremely popular in mechanical watches as a substitute for both external glass faces and internal metal bearings.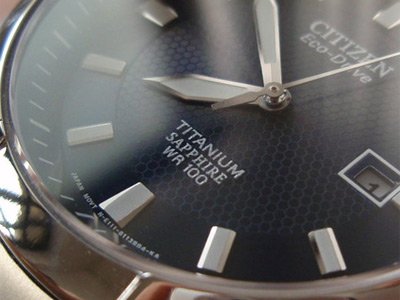 Here is an overview of some of the best and most affordable watches with sapphire crystal faces, as well as a brief look at how sapphires are used inside watches. Affordable" is a very relative term depending on your budget but we've tried to find watches that most of our readers would consider. While you can find some really cheap watches (sometimes from brands we don't even recognize) with sapphire crystal, for this list we've limited our search to only include reputable watch brands known for their quality watchmaking and even include some Swiss-made options.
Best Affordable Sapphire Crystal Watches:
If you aren't ready to drop a thousand bucks on a watch, don't despair, there are sapphire crystal watches available at more affordable rates.

Men's Citizen Eco-Drive

Consider the chic and well-priced Eco-Drive by Citizen. This solar-powered watches has Japanese quartz movement, a sophisticated stainless-steel case, and an anti-reflective sapphire face. The 41 mm case is a modest diameter that looks elegant on almost all wrist sizes. Water resistant to 100 m (330 ft) makes it safe to get wet or even shower or swim with it one.
Though a Japanese company, Citizen was in part founded by Swiss investors and it has earned its reputation as one of the most innovative watchmakers in the world. A Citizen watch is one of the surest purchases when it comes to mid-range watches.
Women's Citizen Eco-Drive Silhouette Sports Watch
This classic looking two-tone Citizen Eco-Drive ladies watch with titanium band has a classic style that is unlikely to ever go out of fashion. The minimalist dial lacks any numbers, the hours are marked with a golden accent and the sleek date box ads a touch of class and practicality.
The Eco-Drive watch features Japanese quartz movement for extremely high accuracy. The watch is water-resistant to 100m (330ft). This classy looking dress watch can be worn for business or beautiful and durable watch for everyday wear. As we mentioned with the men's Citizen above, this is a reputable watch brand and a great value for the price range, Eco-Drive watches are also considered some of the best solar-powered watches on the market.
Men's Seiko Spirit Smart Solar Sapphire Glass

One of Citizen's chief competitors is Seiko, another Japanese watchmaker, but one that has been around almost as long as TAG Heuer.
Seiko's SPIRIT Smart Solar Watch matches the Eco-Drive for sophistication and style.
The sapphire crystal face and solar-powered battery normally retail for a similar price as the Citizen and the craftsmanship of a Seiko watch is unquestionable.
(Buyer beware: "Smart" in the name does NOT mean smartwatch; this is your standard analog watch without smartphone features.)
Ladies Seiko Sapphire Titanium Watch

This Seiko Sapphire Titanium watch we've chosen for women, of course, has a sapphire crystal dial to protect the watch face. Apart from that required feature for this list, it is a beautiful titanium band with gold-tone highlights. The 25 mm diameter and thin 8 mm thick case makes a nice size for petite wrists.
Titanium watches are strong and have the characteristic tone similar to brushed metal giving it a look of subdued elegance compared to the flash of stainless.
The white watch dial is offset with gold-toned hour markers and a date window at the 3 o'clock position. The watch is water-resistant to 100M.
If you are deciding between Citizen and Seiko you may want to check out this comparison of the two brands.
Men's Victorinox Swiss Army Chrono Classic
Considering this is Swiss-made, the Victorinox Swiss Army Chrono is one of the more affordable, classic Chronos on the market that also has a scratch resistant and anti-reflective sapphire crystal.
The watch is made with hypoallergenic stainless steel and features a calendar and tachymeter. This watch is water resistant to 100 meters making it perfectly safe to swim with (but not scuba diving).
Made in Switzerland and covered by a 2-year warranty.
Women's Victorinox Swiss Army I.N.O.X.

This women's version of the Victorinox Swiss Army Watch is a beautiful piece of craftsmanship with an extra touch of elegance that in our opinion outdoes the men's model, not only on looks but features also.
The sleek black face with simple white accents makes this an elegant looking watch along with it's all black resin band. Although for a more outdoorsy look, the watch comes in two paracord options and as well as a clean looking white band.
As mentioned, the features outperform the men's version with double the water-resistance (200 meters) making it suitable for swimming or even scuba diving and durability that is unmatched. According to Victorinox, it can survive being run over by a 64-ton tank and survive the long wash cycle on your washing machine!
If still not convinced they offer a 3-year limited warranty.
Men's Tissot Powermatic 80

Perhaps you want a Swiss watch with a sapphire face. Consider the elegant Powermatic 80 by Tissot, classic Swiss-made quartz with a scratch-resistant face.
Tissot has been around since 1853 and has a product line that runs the range from a couple of hundred dollars to thousands.
The Powermatic can be found in the mid-$400 range, a reasonable price for such a finely constructed timepiece.
Women's Tissot Silver Dial Rose Gold Tone

To offer you a ladies version of a Tissot sapphire crystal watch, we think this Rose Toned Men'sMen'sStainless Steel Tissot is definitely worth a closer look.
With the elegance of all metal band but the unique rose tone, it stands out from the crowd of silver toned metal women's watches that are so popular.
The touch of color is a welcomed change from the classic stainless bands and at about half of the price as the men's Tissot above, it's one of the more affordable watches on the list.
Our last pair of men's and women's sapphire watches are from Invicta. If you are not familiar with the brand, you may want to check out our Invicta brand overview. This Swiss company has been making watches since 1837, however, while they are a Swiss watchmaker, the watches are not completely made in Switzerland although they may use some Swiss parts (such as the Swiss-quartz Movement in the Lady Diver reviewed below.
Invicta makes affordable watches (that are made to look more expensive). They tend to be reliable but are not a collector nor luxury watches as the brand history might hint at, the options below for both men and women are two of the most affordable watches on our list.
Men's Invicta Sapphire Automatic Diver (7042)
The brushed and polished stainless steel Men's Invicta Sapphire Diver watch features accurate twenty-one jewel Japanese-automatic movement and a very striking blue watch face with white hour markers and luminous second and hour hands.
The watch uses a screw-down crown (to prevent water and dirt from getting inside the watch) and has a rotating bezel.
The band features a traditional diver's watch style buckle and safety clasp. A huge advantage to this watch is that it is water-resistant to 660 feet (200 M).
Women's Invicta Sapphire Lady Diver 7066
This Women's version of the Invicta Sapphire Diver is more sleek and elegant than the men's model with it's grey and silver tones.
The watch offers very similar features as it's male counterpart: water resistant to 660 feet, rotating bezel and screw-down crown. The watch also features a small magnified date window.
The main difference between the two is the Swiss-quartz Movement vs the Japanese movement on the men's.
Lastly, if you happen to have trouble finding watches due to a nickel allergy, you'll want to check out this CX Swiss Military Unisex Solid Nickel-Free Diving Chronograph Watch that features a sapphire face and is also made of a solid block of nickel-free stainless steel and is safe for people that have nickel allergies
Buyers Guide: Sapphire Crystal Watches
Is My Watch Made With Real Sapphire?
Sapphire crystals are one of the most common jewels used in the manufacturing of watches, but these days those crystals are usually synthetic. Back in 1893, a French chemist figured out how to synthesize sapphires. These fake sapphires are just as durable and smooth as the real thing, so for the purposes of watchmaking, they serve the same purpose.
While I wouldn't recommend gifting a fake jewel for your next anniversary, they are actually the key to modern watchmaking. Synthetic sapphires are the reason you can afford to buy a pristine timepiece that is exceptionally accurate and almost impossible to scratch.
Aren't All Sapphire Watches Expensive?
Considering that only one mineral on earth is stronger than sapphire, and that is a diamond, you can bet that sapphire watches are in high demand. Even though watchmakers use fake sapphires, the process of making synthetic sapphire is also very expensive. For both of those reasons, a watch made with sapphires is generally going to be pricier.
So, yes, often sapphire watches will be very expensive. However, as synthetic sapphire has become more common, many manufacturers have found a way to produce crystal faces for watches without having to charge exorbitant prices.
Why Are There Jewels In My Watch?
Usually, when you see a watch advertised as having a sapphire crystal, it's referring to the crystal face. However, sapphires (and other jewels) are not only used on the exterior of the watch. They are, in fact, a big reason why modern mechanical watches are so accurate.
When shopping for a watch, it is likely that you have seen timepieces described as "17 Jewels" or "21 Jewels." Far from being some obscure, insider system of measurements, those terms tell you exactly what it sounds like: within a "17 Jewels" watch, you will find 17 different jewels.
As you know, the innards of a watch include a series of gears and turning wheels. These metallic parts press and grind into one other, creating friction and wearing each other down. This leads to less accurate timekeeping and, over time, a need for repairs. In 1704, watchmakers figured out how to lessen the natural wear: use jewels for the bearings.
Both stronger and smoother than metal, specific gemstones provide for a much more fluid watch movement. This "jeweled movement" is now standard in most mechanical watches. Various jewels have been used in watches, but sapphires are the choice for high-end brands because, as we've already discussed, they are extremely strong and resistant to scratching.
How Much Do Sapphire Bearings Cost?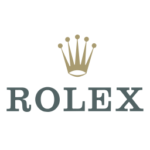 It might seem strange to pay extra money for jewels that neither you nor anyone else will ever actually see, but it's quite common when you're purchasing a watch. Jewels are a normal and important component of most high-end mechanical watches.
In any luxury watch, it's almost certain there will be rubies, emeralds, or sapphires. For instance, since the 1990s, every Rolex watch has had sapphire inside it. I don't think I have to tell anyone that Rolexes are one of the most expensive brands on the market.
If you're looking at a classic Rolex Submariner, you're going to get sapphires and a price tag higher than some people's yearly rent. What you're paying for is Rolex's long-established reputation for impeccable craftsmanship and the fluid movement of nearly indestructible sapphires. The Submariner is the kind of watch that qualifies as an investment.
Sapphire Scratch Resistance Test
One of the most desirable features of a sapphire crystal is their hardness, one of the hardest minerals found on earth, it makes sense that they would be used on the faces of high-quality watches. Here is an interesting test was done on both an Apple watch with sapphire face and a Tissot, similar to the one described above to see how they both hold up and if Apple is using real Sapphire on its new watches.
Spoiler: the Tissot outperforms the Apple even though the smartwatch sells for about $1,000 more!

Luxury sapphire watches
TAG Heuer is one of the most sought after and respected names in watchmaking. They are a Swiss company that has been around since 1860. In that time, they've built a reputation that often earns them placement next to Rolex in conversations about luxury watches. For that reason, a TAG Heuer watch will usually be sold at a price somewhere between four to five figures.
TAG Heuer has a line of watches with sapphire crystal faces that, for a luxury line of watches, are relatively affordable.
Take, for instance, their stainless steel Aquaracer, which boasts a face so scratch-resistant, only the edge of a diamond could cut it.
With a retail price that normally ranges between $1250 and $1550, it might not be some people's definition of "affordable," but for a luxury watch that will look new for decades, it's definitely a deal.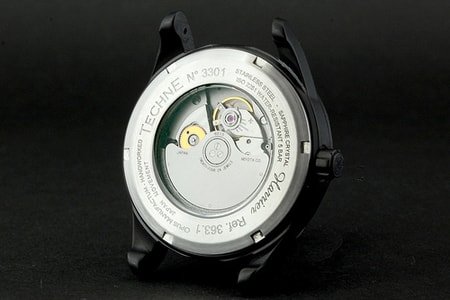 As I said earlier, when most people discuss sapphire crystal in watches, they are referring to the face. Shopping for multi-jeweled mechanical watches with sapphire bearings will require a little deeper dive. Either way, it's a smart investment.
Regardless if you are sporting sapphires on the outside of your watch or the inside, you have one of the strongest and most reliable materials on earth on your wrist. You've got to admit, that's pretty cool.