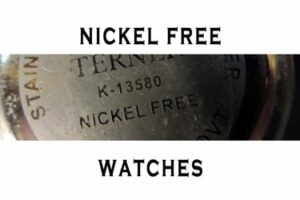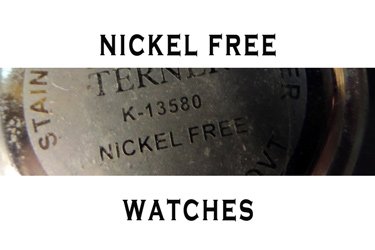 Watches are an accessory that can vastly improve an outfit or give you an air of sophistication. Unfortunately, for certain people, wearing most normal wristwatches isn't an option. These people have an allergy to nickel and it can cause anything from mild irritation to extremely painful rashes.
For people who do suffer from nickel allergies, metallic watches can be a cause of constant discomfort. Plastic watches can be a suitable alternative, but far too often they look cheap, while specially made watches tend to be very expensive. Luckily, there are a variety of options available for people with nickel allergies that not only look stylish but won't empty your bank account.
An irritating rash
When I was kid, I always thought watches looked totally cool. I used to ask for a new one every birthday. First, there were watches with cartoon characters, then watches with snap bands, and as I got older, the timepieces I'd wear had all kinds of nifty gadgets and shiny doodads on them.
As much as I loved the way my watches looked, I absolutely hated wearing them. No matter how loose or tight I wore them, they bothered me. My wrist would itch and I'd be constantly taking them off to scratch the skin. If I didn't lose or break a watch from too frequently removing it, I would develop an uncomfortable red rash.
Eventually, I decided that my skin simply didn't like wristwatches and I had no choice but to give up on them. I tried a pocket watch for a year, but that wasn't very practical (and I looked pretentious). When owning mobile phones became the norm, wearing a wristwatch seemed like an unnecessary indulgence, so I resigned myself to never wearing one again.
What is nickel?
After years of going bare on my wrist, I decided that I missed having the option to accessorize with a cool watch. There are so many fashionable timepieces on the market these days, I hated that I couldn't enjoy one for myself. I always felt underdressed.
I began searching online to see if there was an explanation for my reaction to all my old wristwatches in the past, and that's when I first read about nickel allergies. Reading up on the symptoms, it was clear that what I had been suffering from all these years was a mild allergic reaction to the nickel in my watches. A doctor's appointment confirmed it.
Nickel is common in all kinds of jewelry, including earrings, necklaces, bracelets, and, of course, watches. In fact, nickel is the fifth most common element on earth, which is pretty unlucky for those of us who are allergic to it.
Since nickel is a metal with a high melting point that doesn't corrode or rust easily, it is ideal for use in many products, both small and large. For most people, assuming their nickel allergy isn't extremely severe, incidental contact with nickel won't have any noticeable effect. Prolonged contact, on the other hand, can cause a great deal of discomfort.

Nickel in watches
Today, many watches are advertised as being stainless steel. Before this type of steel was widely used in watch manufacturing, an alloy known as "nickel silver" (a combination of nickel, zinc, and copper) was the most common material used in watches. Even with the advent of stainless steel, pure nickel is still frequently used in the construction of watches.
Due to its resistance to corrosion, nickel can be found on various watch parts because it is used in electroplating coating. This helps ensure metal parts are rust-resistant and that there is less positively charged ions. This coating also keeps metal surfaces looking shiny and new. Generally speaking, when there is metal in a watch, there is a high chance nickel can be found.
Nickel ions fall loose from their alloy pretty easily, especially when they come into contact with an electrolyte fluid, such as sweat. As a kid, whenever my wrist would get sweaty under my watch, the skin would start to itch. That was a pretty tell-tale sign that I was having an allergic reaction, though I didn't realize it at the time.
Nickel-free watches to consider
Most of the nicest wristwatches on the market are either going to be made with a metal case, metal band, or both. For the watches that don't, many will still have metal parts. Even if you can't see metal, though, that doesn't mean there won't be internal parts that can, with enough proximity, trigger an allergic reaction.
If you, like me, have been avoiding watches for years because of your nickel allergy, take heart, there are options out there for you. When searching for a watch that will suit you, you can search for "nickel-free" or "hypoallergenic" (or "anti-allergenic") and you will be able to better narrow down the options.
---
As you are on the search for a nickel-free watch, finding one that only uses stainless steel may do the trick. Take, for instance, the CX Swiss Military watch, with a stainless steel band and case. It's completely nickel-free and has Swiss-made quartz movement. This is a beautiful and stylish watch that won't make your skin break out in a rash.
---
If the all stainless steel watch is a little harsh for your tastes, consider the Jiusko Swiss Classic Quartz. This elegant black-and-silver, Swiss analog watch has a pleasant simplicity to its design. It's water-resistant up to almost 100 feet and comes with a leather band. Most importantly though, it's hypoallergenic and nickel-free.
---
If your allergy to nickel is severe enough, though, then you may want to look into entirely metal-free watches. Swatch makes an entire line designed for those of us who want to avoid nickel. These come in a variety of styles and, naturally, are made with Swatch's guarantee of quality and fine craftsmanship. Some popular models are the Swatch Sistem 51, the pure white Milchstrasse and the plastic Patchwork watch with its very colorful strap.
---
There is also Storm Watches, a London-based watchmaker that proclaims all of its watches are nickel-safe and anti-allergenic. I haven't personally tried any of their watches, so I can't vouch that nickel-safe is just as good as nickel-free, but if you're wanting a highly stylized watch and your allergy isn't too sensitive, they undoubtedly have a cool timepiece for you.
---
If you're interested in learning more about Nickel allergic contact dermatitis (NACD), check out this 2 minute video with Dr. Kate Heim, PhD. a board certified toxicologist from the Nickel Institute. It also touches on watches and why stainless steel can be a good alternative for watch bands.
---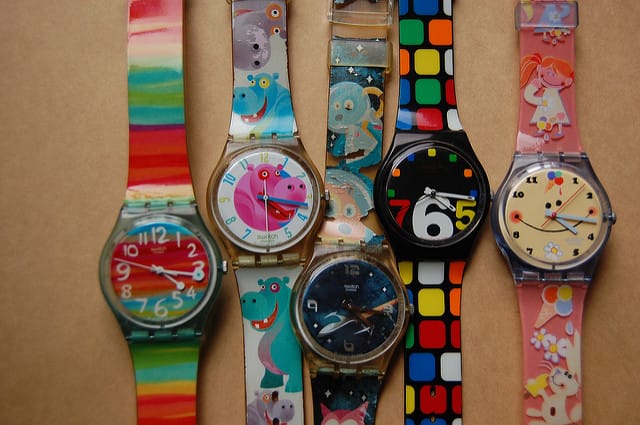 In my research, I was pleased to find that almost all of the big name watchmakers make nickel-free and hypoallergenic watches. That means I can still get a new watch every birthday and actually be able to wear them.
I'm happy to tell you, you no longer have to avoid watches because of your nickel allergy. Whether you're looking to spend a hundred dollars or a few thousand, you can find something that suits your style and your wallet.