Watches are an accessory that can vastly improve an outfit or give you an air of sophistication. Unfortunately, for certain people, wearing most normal wristwatches isn't an option. These people have an allergy to nickel and it can cause anything from mild irritation to extremely painful rashes.
For people who do suffer from nickel allergies, metallic watches can be a cause of constant discomfort. Plastic watches can be a suitable alternative, but far too often they look cheap, while specially-made watches tend to be very expensive. Luckily, there are a variety of options available for people with nickel allergies that not only look stylish but won't empty your bank account.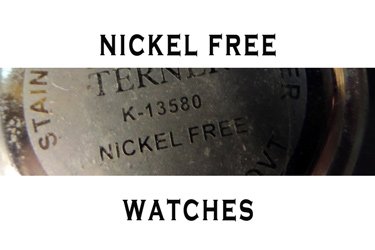 An irritating rash
When I was a kid, I always thought watches looked totally cool. I used to ask for a new one every birthday. First, there were watches with cartoon characters, then watches with snap bands, and as I got older, the timepieces I'd wear had all kinds of nifty gadgets and shiny doodads on them.
As much as I loved the way my watches looked, I absolutely hated wearing them. No matter how loose or tight I wore them, they bothered me. My wrist would itch and I'd be constantly taking them off to scratch the skin. If I didn't lose or break a watch from too frequently removing it, I would develop an uncomfortable red rash.
Eventually, I decided that my skin simply didn't like wristwatches and I had no choice but to give up on them. I tried a pocket watch for a year, but that wasn't very practical (and I looked pretentious). When owning mobile phones became the norm, wearing a wristwatch seemed like an unnecessary indulgence, so I resigned myself to never wear one again. 
Luckily, there are now several affordable watches on the market. It took quite a bit of searching but we tracked down options for men and women.
Nickel-free Watches To Consider

Most of the nicest wristwatches on the market are either going to be made with a metal case, metal band, or both. For the watches that don't, many will still have metal parts. Even if you can't see metal, though, that doesn't mean there won't be internal parts that can, with enough proximity, trigger an allergic reaction.
If you, like me, have been avoiding watches for years because of your nickel allergy, take heart, there are options out there for you. When searching for a watch that will suit you, you can search for "nickel-free" or "hypoallergenic" (or "anti-allergenic") and you will be able to better narrow down the options.
Another option is titanium which is naturally hypoallergic because of the naturally occurring oxide layer that covers the metal. This layer is beneficial for watchmaking for two reasons. One, it prevents titanium from rusting, and two, it keeps the metal from interacting with human skin, which is what causes allergic reactions.
For this reason, people whose skin does not react well to stainless steel (myself included) can seek out titanium as an alternative.
If none of the watches below catch your eye, be sure to also check out our list of best titanium watches that has options for both men and women.
---
Unisex CX Swiss Military 1727

As you are on the search for a nickel-free watch, finding one that only uses stainless steel may do the trick.
Take, for instance, the CX Swiss Military Diving Chronograph Watch with a stainless steel band and case. It's completely nickel-free and has Swiss-made quartz movement.
This is a beautiful and stylish watch that won't make your skin break out in a rash.
This watch also features a sapphire crystal face which is known for being one of the most scratch-resistant materials.
The same brand sells two other Solid Nickel-Free watch models, the Limited Edition Chronograph Watch 1725 and the Unisex CX 1726.
---
Jiusko Swiss Classic Quartz

If the all stainless steel watch is a little harsh for your tastes, consider the Jiusko Swiss Classic Quartz.
This elegant black-and-silver model has a pleasant simplicity to its design.
The same watch comes in a Brown/Rose Gold option as well as a third style option with silver numbering and face with a brown leather band. 
It's water-resistant up to almost 100 feet and features analog quartz Swiss Ronda movement. 
Most importantly though, it's hypoallergenic and nickel-free.
---
Men's Radiant Black Silicone Chronograph

This black chronograph by Spanish watch brand, Radiant, has both digital and analog displays.
Featuring quartz movement and calendar, and multifunction alarm.
This is an affordable option for men looking for a more sporty-looking watch.
---
Women's Jiusko Sapphire + His & Hers Set
Jiusko is back on our list a second time with the matching pair of couples watches (if you just want to buy the Men's or Women's watch they are also sold individually on Amazon using that same link).
These his and her watches have mesh steel bracelets and come in three styles: Black, Silver, and two-tone Blue/Rosetone.  The Men's watch is available individually in Black and the Women's can be purchased in either black or silver.
These watches are water-resistant up to 30 meters. The movement is Japanese quartz and the dial is covered in a sapphire crystal face. The analog display also includes a smaller sub-dial with showing the seconds.
If you buy the couples set, it comes in a red suede heart-shaped gift box which is a nice added touch if you're giving this for an anniversary gift.
---
Swatch PatchWork 

If your allergy to nickel is severe enough, though, then you may want to look into entirely metal-free watches.
Swatch makes an entire line designed for those of us who want to avoid nickel.
These come in a variety of styles and, naturally, are made with Swatch's guarantee of quality and fine craftsmanship.
Some popular models are the Swatch Sistem 51, the pure white Milchstrasse and the plastic Patchwork watch with its very colorful strap. 
---
Jiusko Sapphire – Men's Black Gold Quartz Dress Watch
If you are looking for an elegant men's dress watch this black and gold Men's Quartz by Jiusko. While you may have never heard of this brand before today, it's made our list again. While the brand isn't very well known, they do offer several nickel-free consumer watches at relatively affordable prices.
Unfortunately, many of the household name brands do not have many options for allergies sufferers so we have to look at lesser-known options.  The brand does offer a 5 Year Warranty which does give buyers more confidence when buying.  This watch uses a Japanese Miyota Analog Quartz Movement and has a Scratchproof Sapphire Crystal face and is water-resistant to 30 meters.
If you like the look of black and gold, this elegant timepiece is worth a closer look.
---
Skagen Watch

Please Note: The Skagen watch mentioned below are marketed as "Nickel-Safe" but not 100% Nickel-Free based on regulation in the EU.
Products can pass the EU Directive and claim to be nickel free while still releasing nickel at a rate of 0.05 microgrammes per square centimeter. 
So, if you have a very sensitive allergy you may want to avoid these. However, some buyers of Skagen watches have confirmed that they are rash-free when wearing these. 
Henrik and Charlotte Jorst moved from their native Denmark to the US to create Skagen Designs in 1989.
The sleek, modern design so often seen in Danish products shines through with this Japan quartz movement watch.
The Titanium case and mesh watch band are Hypo-Allergenic and Nickel Safe.
While the watch is marketed to men, the sleek profile and discreet design could easily sit on a women's wrist without looking too masculine.
The Skagen Men's 583XLSLC Swiss is another option from this well-known Danish watchmaker.
---
Smartwatch Pick:  Ticwatch E!

Several readers have asked our recommendation for an allergy-free smartwatch.
We've searched high and low for a good smartwatch option, while the Tickwatch E! is not technically advertised as a nickel-free watch, several watch owners with metal allergies have commented in online forums that the Tickwatch E has given them no problem due to its all-plastic case backing. Read our full review of TicWatches here.
Granted, this is anecdotal evidence from a small number of users – so if you have a severe allergy proceed with caution or skip smartwatches for now and stick with one of the models below.
The company also does not guarantee or advertise this as being nickel free but based on our findings we have yet to find a smartwatch that is 100% nickel-free.


Some others have recommended the Huawei smartwatch because the watch backing uses surgical stainless steel (316L) which contains less nickel (between 8-10.5%) than other types of steel.
There are various models of the Huawei, you'd want to look at the Huawei Stainless Steel Watch that has both a stainless case and band.
While some medical studies, like this one, have shown that the majority of people will not get contact dermatitis from 316L, there are people that do get a reaction to 316L- so it's not a guarantee.
Also as the video below explains, high-grade stainless steel can be fine for some people with allergies whereas people that are hyper-allergic may not tolerate it. The video also explains that it is really the amount of metal that is released (not the content percentage) that makes the difference.
If you're interested in learning more about Nickel allergic contact dermatitis (NACD), check out this 2-minute video with Dr. Kate Heim, Ph.D. a board-certified toxicologist from the Nickel Institute. It also touches on watches and why stainless steel may be a good alternative for watch bands.

---
Luxury Option: Louis Moinet Spiroscope Watch 

If you are looking for a very high-end, nickel-free luxury watch you'll definitely want to consider this Louis Moinet Luxury Spiroscope Watch.
Louis Moinet is actually the inventor of the chronograph and is considered one of the greatest watchmakers of all time. The Swiss company revived the brand that dates back to 1806 when Moinet started making his original creations.
This luxury Swiss-made watch is the epitome of classic watch design with its impressive caseback as well as the spiroscope on the lower center of the watch dial that highlights the watch movement.  The polished stainless steel case and guilloche dial along with the elegant blue color highlights (both the luminescent hands and blue screw hour markers) give the is a timeless classic look.
The watch uses a Swiss 25 jewel movement, 360-degree rotor and uses a smooth sweeping second hand. The watch strap is made of brown alligator leather.
There are only 60 timepieces in this limited production run.
If you are a serious watch aficionado or collector who also unfortunately limited in your watch options due to a nickel allergy this is definitely one to consider adding to your collection.


---
There are also Storm Watches, a London-based watchmaker that proclaims all of its watches are nickel-safe and anti-allergenic.
I haven't personally tried any of their watches, so I can't vouch that nickel-safe is just as good as nickel-free, but if you're wanting a highly stylized watch and your allergy isn't too sensitive, they undoubtedly have a cool timepiece for you.
What is Nickel?
After years of going bare on my wrist, I decided that I missed having the option to accessorize with a cool watch. There are so many fashionable timepieces on the market these days, I hated that I couldn't enjoy one for myself. I always felt underdressed.
I began searching online to see if there was an explanation for my reaction to all my old wristwatches in the past, and that's when I first read about nickel allergies. Reading up on the symptoms, it was clear that what I had been suffering from all these years was a mild allergic reaction to the nickel in my watches. A doctor's appointment confirmed it.
Nickel is common in all kinds of jewelry, including earrings, necklaces, bracelets, and, of course, watches. In fact, nickel is the fifth most common element on earth, which is pretty unlucky for those of us who are allergic to it.
Since nickel is a metal with a high melting point that doesn't corrode or rust easily, it is ideal for use in many products, both small and large. For most people, assuming their nickel allergy isn't extremely severe, incidental contact with nickel won't have any noticeable effect. Prolonged contact, on the other hand, can cause a great deal of discomfort.
---

Nickel in watches
Today, many watches are advertised as being stainless steel. Before this type of steel was widely used in watch manufacturing, an alloy known as "nickel silver" (a combination of nickel, zinc, and copper) was the most common material used in watches. Even with the advent of stainless steel, pure nickel is still frequently used in the construction of watches.

Due to its resistance to corrosion, nickel can be found on various watch parts because it is used in electroplating coating. This helps ensure metal parts are rust-resistant and that there is less positively charged ions. This coating also keeps metal surfaces looking shiny and new. Generally speaking, when there is metal in a watch, there is a high chance nickel can be found.
Nickel ions fall loose from their alloy pretty easily, especially when they come into contact with electrolyte fluid, such as sweat. As a kid, whenever my wrist would get sweaty under my watch, the skin would start to itch. That was a pretty tell-tale sign that I was having an allergic reaction, though I didn't realize it at the time.
Many times, shopper see stainless steel bands and assume that because of that the watches are totally free of nickel. However, different grades of stainless steel contain both chromium and nickel – these elements are added as an alloy to prevent rust. And while some watch aficionados recommend buying 316L stainless steel, that really is not a solution since it still contains between 8-10.5% nickel
However, there are some stainless steel watch bands that are made out of nickel-free stainless steel, such as the CX watches on our recommended list above.
---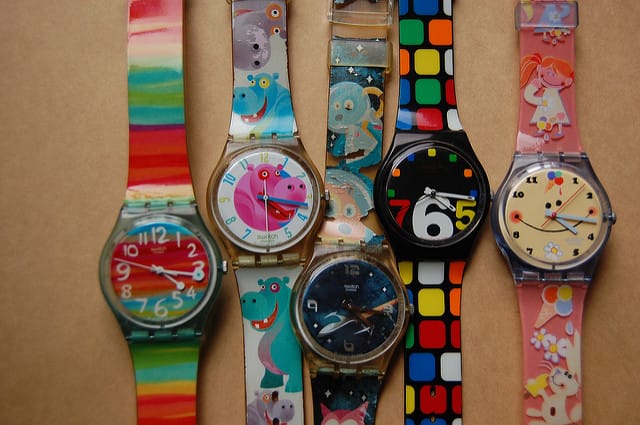 In my research, I was pleased to find that some of the big name watchmakers make nickel-free and hypoallergenic watches. That means I can still get a new watch every birthday and actually be able to wear them.
I'm happy to tell you, you no longer have to avoid watches because of your nickel allergy.
Whether you're looking to spend a hundred dollars or a few thousand, you can find something that suits your style and your wallet.