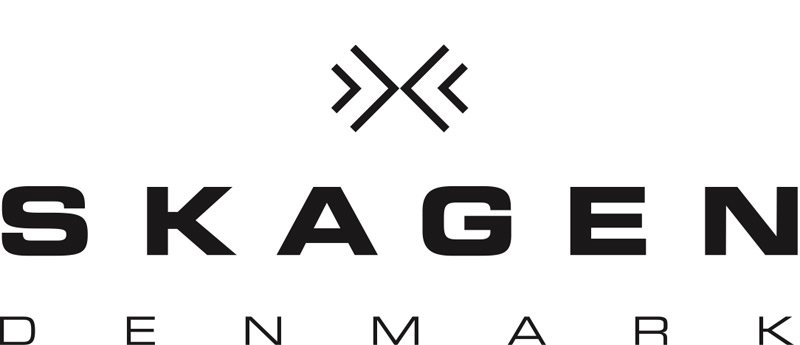 Skagen, or officially Skagen Denmark is the watch brand under the umbrella brand Skagen Designs Ltd.
Skagen Designs Ltd., in general, also offers handbags, jewelry, and other personal and fashion accessories including leather purses and jewelry.
Despite the common assumptions because of the brand name, Skagen Denmark is a US watch brand with its headquarters located in Texas, Hong Kong, and Denmark.
Although they still market that the being from "Skagen, Denmark" (this also appears engraved on the watch backs) so many people do still consider them a Danish watch Brand (click to see other watches designed and/or made in Denmark)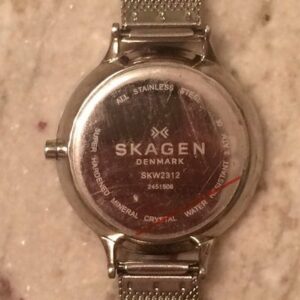 History of Skagen Watches
How Did It Start?
Skagen Denmark was founded by a Danish couple, Henrik and Charlotte Jorst, in 1989. Henrik and Charlotte were originally from Copenhagen, Denmark. They moved to the US in 1987 when Henrik was designated as the US Sales Manager of Carlsberg, a Danish brewery. However, along with this corporate promotion for Henrik, the couple also aspired to have and manage their very own business.
The Danish couple decided to represent Jacob Jensen's watches in the US, as well as other gift watches from a Danish manufacturer.
Later on, Henrik and Charlotte were able to get touch with Comtech Watches, a clock and watch manufacturer also from Denmark. They were able to produce watches with elegant Danish designs but at affordable prices. Henrik and Charlotte showcased such watches with their own designs in New York in 1991 during a corporate gift fair.
During the said fair, their watches and their designs caught the attention of some retailers. The retailers encouraged the couple to launch the watches under their own brand name. Henrik and Charlotte did so, and they chose to establish the brand Skagen Denmark.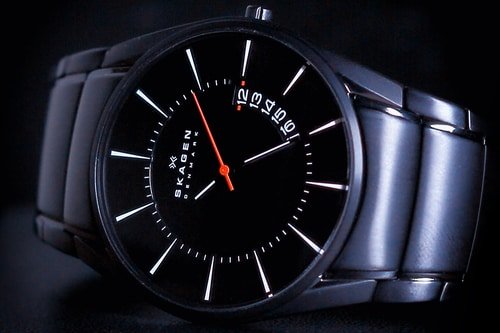 What's with the Name?
The name Skagen came from the name of a tiny fishing village in Scandinavia, which is located in the northernmost part of a Danish peninsula – Jutland. Accordingly, the designs of Skagen watches were also inspired by the same village. It is pure, beautiful, and unique.
Moreover, even the Skagen logo is inspired by the same village. It represents the bodies of water, Skagerrak and Kattegat, that meet at Skagen.
What Happened Next?
It was not until 1992 when Henrik and Charlotte Jorsts sold their watches under the Skagen brand name. During the said year, they were able to sell watches in the total amount of around $800,000.00.
By 1995, Skagen watches were approved to be showcased in Bloomingdale's, a department store in New York, for a trial period.
In 1998, Skagen finally started distributing its watches in Europe and opened an office in Denmark. In that country alone, 80 stores opened their shelves for Skagen watches. With the expansion of the brand to Europe, the annual sales rose to $30 million.
In the following years, Skagen continued to expand to other European countries such as the United Kingdom, Netherlands, and Germany. By 2007, Skagen watches even made it to the watch stores in Asia, with its distribution office located in Hong Kong.
Since the brand already expanded geographically, by 2010, they also made their presence known in the online community. Skagen launched its website primarily serving and delivering watches in the US and Europe. The following year, it also catered to Australia, Hong Kong, and Singapore online customers.
By 2012, Skagen Designs, Ltd. became a subsidiary the Fossil Group when the latter purchase Skagen.
Where Are Skagen watches made?
Because of its brand name, Skagen Denmark, some people tend to think that Skagen watches are made in Denmark. However, such is not the case.
As a matter of fact, from the very start, Skagen watches were manufactured in a factory in Hong Kong. However, when the brand was purchased by Fossil in 2012, its production transferred to Fossil's factory in China, along with the other subsidiaries of the said watch group.
Skagen Watch Reputation
Skagen is known as a fashion watch brand with simple, minimalist designs. As inspired by the village from which the brand took its name, Skagen commits to producing watches with "clean, uncluttered, and streamlined" designs. The company believes that simply-designed watches are more beautiful and more versatile.
In addition, customers who actually bought and are using Skagen watches appreciate the fact that Skagen watches are sleek, slim, and simple. They found Skagen watches to perfectly fit small wrists.
Other aspects that customers and watch enthusiasts love about Skagen watches are their titanium case and mesh bands.
However, due to its simple designs, Skagen watches are sometimes compared to Daniel Wellington (DW) and MVMT watches.
In online forums, some question why Skagen is usually treated with more respect than DW and MVMT when the three brands seem to offer similar watches.
If you will read/have read the reviews on Daniel Wellington and MVMT, you'll realize that Skagen is indeed playing on a different field. The three brands may all use Japanese movement but Skagen offers a wider range of designs. Also, the major thing that differentiates Skagen from the previous two brands mentioned is the high-end materials that they use.
While they are known as fashion watches, the minimalist design pays homage to its Danish roots and is a popular watch brand for millennials.
Skagen Watch Reviews
Are Skagen Watches Worth Buying?
Assuming you are already shopping for this type of watch in this price range and have realistic expectations then the short answer to this is, yes. Skagen watches are relatively affordable and have an attractive look for people that appreciate minimalist design.
However, many of the brand's watches sell for around $100 and there is some truth to the adage "you get what you pay for". Don't expect to be passing on your Skagen watch to your grandchildren. It's not a luxury watch brand that will appreciate in value over time nor would any serious watch aficionado even consider buying one, but if you are in the market for a fashion watch then Skagen is a good option to consider.
Here are some of the main reasons why people buy Skagen:
Award-Winning Designs
It's quite typical for watch brands to claim that they offer stylish and great designs. However, Skagen did not just claim, they actually received awards to back up such claim.
In the Red Dot Award: Production Design 2010, Skagen received the "Red Dot" award for its Denmark 20th anniversary 233 watches and Swiss Movement 585 Series. Such an award is a recognition for high-quality design and was decided upon by brilliant watch experts.
Even in the succeeding years, Skagen continued to receive Red Dot Awards. In 2011, Skagen Denmark 809 Series Men's Multi-function Sportswatch received the "red dot" seal while in 2012, the brand's 234 series was awarded.
Swiss Movements
Although most Skagen Denmark watches utilize Japanese movement, the brand also offers watches with Swiss movement for men and women.
Most Swiss-made movements are usually priced higher on the market. However, with Skagen, you may purchase such watches at more affordable rates. Also, since the Fossil Group is also expanding is Swiss collection, we expect to see Skagen Denmark also offering more Swiss-made movements in its collection.
Simple and Affordable
Skagen Denmark lives true to its commitment to simplicity. Their watches have noticeable smaller watch faces and thinner straps. Making it preferable for those who want non-bulky and lighter watches.
Also, despite having award-winning designs and using high-end materials, the brand manages to offer its watches still at relatively affordable prices. You won't have to be intimidated just because they're award-winning!
Connectivity
Skagen is one of the brands that has entered the hybrid smartwatch market with its Skagen Connected line which we included here on our list of Best Hybrid Smartwatches.
Skagen Watch Warranty Policy
Should you buy a Skagen Watch, it will be covered by an international warranty for 2 years. This warranty is limited only to manufacturing materials and defects. Upon the sole discretion of the company, it may either repair or replace the warranted watch free of charge.
It will not, however, cover any defect on the battery, glass, straps, exposed crystals, and other embellishments on the watch. Any damage on the watch due to water, poor care, accidents, and normal wear and tear will also not be covered by the warranty.
You may, however, bring your watch for repair in any authorized dealer or service center. If it's outside the warranty coverage already, then you will be charged with the corresponding fee.
On the other hand, once you have your watch serviced or repaired in any unauthorized repair center or by any authorized person, then the warranty becomes void.
Should you wish to know more about the warranty terms of Skagen, read here.
Where to buy Skagen Watches
If you wish to own a Skagen watch, you may purchase online through their website Skagen.com or choose among hundreds of options on Amazon.
You can also often find deals Skagen on nordstromrack.com
In the UK, jurawatches.co.uk has a wide selection of Skagen.
But, if you want to see the watches personally, the Skagen website also has a store locator to help you find a store near you.
Closing Words
Although its less popular than other watch brands, Skagen Denmark still sure is worthy to consider if you prefer watches that are sleek, simple, yet elegant. Their quality, design and the price will surely not disappoint nor intimidate you.