There are a number of concerns about the watch industry. There's the issue of mining gold, silver, and other precious metals that may harm people and the environment; and the use of harmful batteries like silver oxide buttons in quartz watches and lithium-ion batteries in smartwatches. There's also the issue of using leather straps that may harm animals and the poor working conditions of people who assemble watches.
In this article, we are going to feature watch brands that trying to avoid things like these. These companies are making an effort to use more ethical and sustainable methods of production—eco-friendly and sustainable materials, using natural resources like wood, having programs that give back, and so on.
We'll talk about companies that are eco-conscious and promote ethical practices, as well as those that have initiatives that contribute to the improvement of societies.
Sustainable Watches – Ethical & Socially Responsible Watch Brands
Solios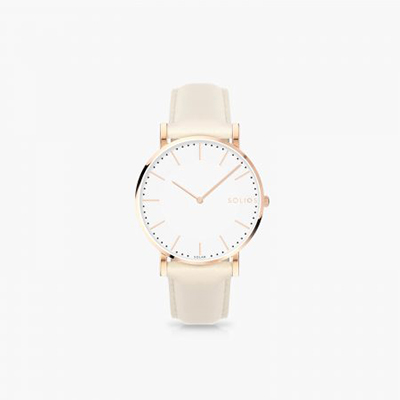 One of Solios' main objective is to create watches that promotes a better planet. The brand creates watches that are powered by renewable energy.
On their website, it says that for every Solios watch sold, the brand is able to protect one acre of rainforest. Working with organizations like Rainforest Trust, the brand makes sure that they contribute to the long-term protection of endangered lands.
It is worth mentioning that Solios was the first watch company that has received a B certification. This means that they meet the "highest standards of verified social and environmental performance, public transparency, and legal accountability to balance profit and purpose." You can read more about the brand's history and efforts here.
The brand creates watches with a minimalist design and solar power technology. Their packaging is made from recycled and recyclable paper made in Montreal. You can learn more about the brand and its watches in our article about Solios watches here.
Momentum Watches

Run by the St. Mortiz watch groups, Momentum is a watch brand based in Vancouver, Canada. Set up in 1980, Momentum makes sports and outdoor watches, with a focus on quality timepieces and high waterproofing performance. Located near the sea and the mountains, Momentum takes pride in testing their watches for swimming, diving, cycling, skiing, hiking, and more. In this regard, the brand commits to protecting and preserving nature.
Consequently, the brand strives to make watches with the longest durability, without compromising the quality or accuracy. By ensuring longevity, Momentum reduces the strain on the environment to manufacture watches by exploiting nature's resources. Also, they have recently started packaging all their watches in completely recyclable cardboard boxes. Inside the box, the cushion used to hold the watch uses bio-degradable latex rubber as well.
Most of all, Momentum uses sustainable eco-friendly batteries such as its M-50, which requires a change only once in 8 to 10 years. This reduces the number of harmful batteries ending up in landfills. Currently, the brand is on a mission to equip more of its timepieces with solar-powered batteries with titanium-lithium-ion cells. These batteries are easily changeable, and the brighter the light, the faster the battery charges. And, once fully charged, these solar-powered batteries can run for six months without any light!
Learn more about the brand's efforts here!
Nordgreen
This brand is a relatively new one. Founded in 2017, Nordgreen owners Pascar Sivam and Vasilij Brandt started a watch company with not just functional timepieces but also takes action when it comes to sustainable practices. The brand's founders approach Jakob Wagner, who designed for brands like Bang & Olufsen and B7B Italia.
The brand promotes what they call responsible Danish design. As they create innovative watches with high design standards, they will also help with environmental problems by planting trees and giving back to partner organizations around the world.
One of these efforts includes using sustainable packaging. Nordgreen uses FSC-certified packaging—cardboard paper from responsibly-managed forests and upcycled materials.
The brand also collaborates with NGOs that support global causes. Some of these include a partnership with Social Bite UK and Second Harvest Japan that provided meals, a partnership with ThanksGive organization in Korea that provided books to children, and collaboration with Pratham UK, which helped fund quality education in India. You can learn more about the brand's sustainability efforts here.
Asorock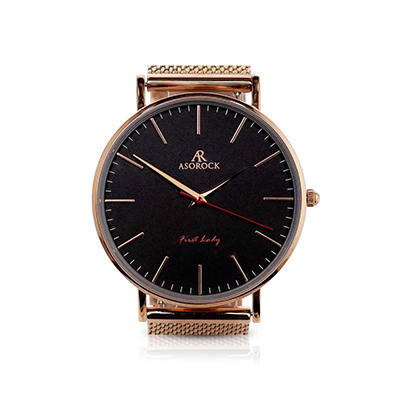 Asorock is a relatively new brand, but it has already released a promising line of watches that are not only well-designed but are also backed with a mission that gives back.
The brand was founded in 2016 by entrepreneurs and watch enthusiasts Ben Iroala and Andrew Mutale, who wanted to produce high-quality watches without the high retail markup. Asorock's goal is to promote social entrepreneurship, with a mission to manufacture watches that help build free libraries in rural areas in the African continent.
The brand uses the direct-to-consumer approach of manufacturing. According to their website, they use the same materials as brands with hundreds to thousands of dollars worth of watches, but they are able to keep their watches affordable by supply and advertising costs to a minimum.
Proceeds from every purchase of an Asorock watch go to building a library in Nigeria. Asorock's goal is to start building by the fourth quarter of 2021. Everyone who will buy their watches prior to this will have their names engraved on a "Thank You" pillar in the library.
You can explore the brand's watch collections here.
WeWood

Founded in 2009 in Florence, Italian company WeWood makes watches made from wood that is free from toxic and artificial materials.
According to the brand's website, they also plant a tree for every watch sold. This is done in collaboration with environmental organizations like American Forests and Trees for the Future.
In terms of design, WeWood creates watches that are lightweight, and chemical-free, as well as reclaimed or recycled. These are also reclaimed and Because wood has special shades and colors, each of the brand's timepieces is unique. They also reflect the artistic heritage of Florence.
Since 2011, the company has helped plant over 600,000 trees. It has not been updated on the brand's website, but its goal is to plant one million trees by 2020.
We featured WeWood in our Wooden Watch Brands article.
Dan & Mez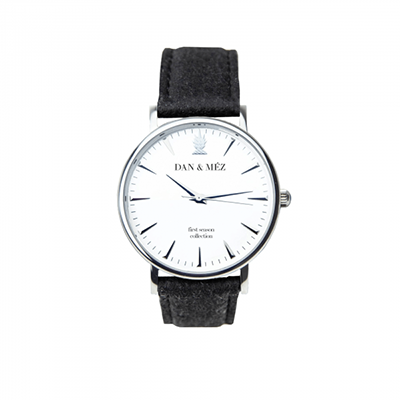 Dan & Mez is a watchmaker that created sustainable vegan watches. The brand, which is approved by PETA aims to establish new standards in the leather industry.
The company was founded by two friends who share the same love for watches, and have a common passion for veganism. Together they created a brand that uses eco-friendly and vegan leather that's not only fashionable but sustainable as well.
Dan & Mez watches have simple, minimalist designs with a classic look. They have models with quartz and automatic movement, as well as a 100% vegan and sustainable leather strap made from recycles pineapple leaves.
These watches are made by hand by watchmakers and workers who are being paid high wages. One of the company's goals is to have a manufacturing facility powered by renewable energy.
Triwa
Triwa's name is a portmanteau – "Transforming the Industry of Watches," highlighting the brand's mission. Founded by four friends in 2007, the company focuses on creating watches that have modern designs, classic silhouettes, and a simple Scandinavian aesthetic.
The company's products include watches, watch bands, sunglasses, and bracelets–all of which are developed in their Stockholm studio. The brand now has a wide range of watches and accessories, including watch lines that recycle materials.
One of these watch collections is the Time for Oceans collection, which feature watches that are made with recycled ocean plastic. This line aims to promote the alarming, critical health of the oceans and aims to contribute to ocean clean-up.
There is also the Time for Peace collection, which makes use of Humanium Metal, a material made from destructed illegal firearms. This line aims to promote issues of gun-related violence, and for every watch sold, the company gives back 15% of the sale to conflict-torn societies. We talked about this watch in our article on Successful Crowdsourced Watches.
Triwa is featured in our articles on Minimalist Men's Watches and Swedish watches.
Eone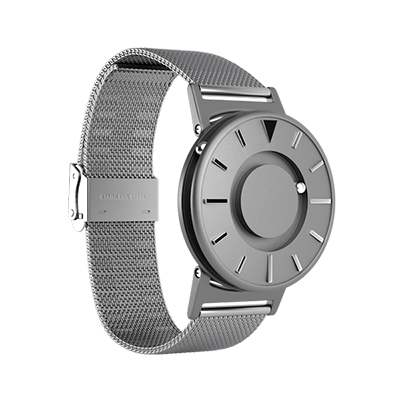 Eone is a watchmaker that has aims to create watches that are fashionable and inclusive.
The company was founded by Hyungsoo Kim, who was a graduate student at MIT. Learning that there were very limited watches for the blind, he started collaborating with designers and those with impaired vision to create what is now Eone, a brand that makes watches that are not only stylish and beautiful but also something that can meet the needs of everyone.
Eone's Bradley watch collection was inspired by swimmer Bradley Snyder, who is a Paralympic Games champion, as well as a record-holder. Snyder became blind defusing bombs in Afghanistan but continued to persevere even after the injury. He was chosen by Eone as a spokesperson because of his dedication to the sport, and for speaking out against stereotypes on people living with a disability.
The Bradley timepiece has a unique design that promotes inclusivity. Anyone, sighted or blind, will be able to easily use it. The watch has raised hour markers (longer lines for 3, 6, and 9 o'clock; shorter for the rest of the markers), allowing the wearer to tell the time by simply touching and feeling the watch. There are two magnetized ball bearings that go around the watch, one for hours and another for minutes.
You can learn more about the technology and specs of The Bradley watch here.
Solgaard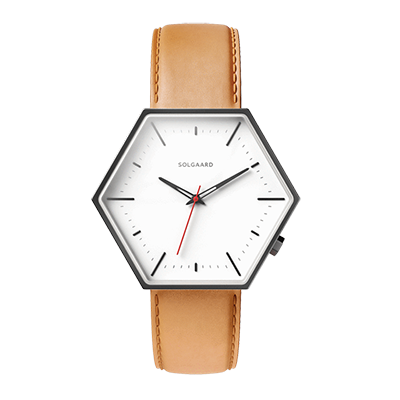 Solgaard promotes sustainability and aims to produce products that improve travel without damaging the planet. One of their goals is to help cut ocean plastic in half by 2025—for every item sold, they take 5lbs of plastic from the ocean.
The brand works in partnership with Plasticbank, which works with Philippine teams that help create jobs for locals who upcycle the plastic into useful items.
The brand also makes bags (suitcases and backpacks) with revolutionary designs, from an easy shelving system in a suitcase to a backpack with easy storage and anti-theft features.
Solgaard watches are all in a patented, hexagonal shape. The brand came up with the unique concept after learning that the shape will allow the wearer to see the time more quickly–they call it "Glimpse Tech." Some of the main features include a stainless steel case, a Japan-made Miyota movement, and a unisex, minimalist design.
Lux Woods
"Wood watches done right" is how Lux Woods describes its products. This company, another one from our Wood Watch Brands article, creates watches that are not only stylish and high in quality, but also sustainable.
All of the brand's watches are handmade and are made with different types of sustainably harvested wood, such as sandalwood, zebrawood, chanate wood, and walnut.
They also have a line of Apple Watch wood watch straps. The watches are also packed with recyclable watch boxes.
Lux Woods partners with organizations that share the same vision. Right now, they are working with two: Plant A Billion, which aims to plant a billion trees by 2025; and Feed the Children, an organization that aims to end hunger.
See their wide range of products here.
Baume / Baume & Mercier
Baume & Mercier is a luxury watch brand that practices high ethical standards and responsible business practices.
They have a "sustainability strategy," which is based on four things: ethical business practices, supply chain and environment, community partnerships and employee engagement, and accessibility.
One of their commitments is responsible practices in the jewelry that they use. They are a part of the non-profit organization Responsible Jewellery Council, which promotes ethical practices in the gold, diamonds, and platinum supply. The brand has been part of the organization since 2011.
Baume, which is originally a brand under luxury goods company Richemont officially joined the sister company Baume & Mercier (which has been around since the 1920s) in June 2020—two years after the development of their watches. According to the press release, the merger will allow the Baume project to develop items faster, as well as offer the old Swiss company innovative and eco-friendly ways of new watches.
See the wide array of luxury watches here.
Awake Watches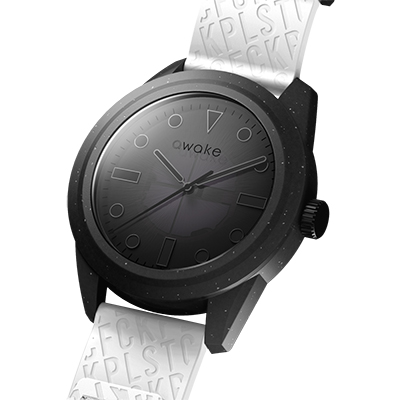 Awake is a French watch brand that is run by creatives and designers.
The company, which aims to have items that are sustainable, developed the world's first watch made of fishing nets.
Awake watches focus on creating timepieces that promote responsible design and sustainable production. Promoting low-impact design, the company highlights upcycling and organic manufacturing and design, solar energy, recycled materials, and unique watch designs.
One of the brand's initiatives is called Programme 360, which allows customers to recycle their own watches. According to Awake's website, they accept any old watch by any brand. They will then disassemble the watch, with each piece brought to the proper recycling channel. You can read more about it here.
One of their own watch collections includes the Project La Bleue, which French president Macron referred to as "what France wants to do in terms of sustainable innovation."
This model is made from fishing nets, uses solar energy, and uses recyclable packaging.