Crowdsourcing is a new way of engaging a large group of people to raise funds for a common goal. Funding platforms such as Kickstarter and Indiegogo help creators promote their creative innovations. If funding is successful it allows creators to bring products to life through the backing of people that support the product.
Not that long ago, young watch brands would first need to come up with large amounts of financing and launch a new watch before even being sure if there was existing demand for their idea. While crowdfunding has been used for everything from bikes to beekeeping boxes, wristwatches have also been widely supported. In fact, the Pebble smartwatch was, at the time, the most successful crowdfunding project to date.
Since then, these platforms have funded a wide variety of new watches. Below we feature some of the top-funded watches that have been successfully crowdfunded, as well as a few ongoing campaigns. We'll take a closer look at each watch model and company behind the campaign.
Crowdsourced Watch Designs
TRIWA x Humanium Metal Watch
TRIWA, which stands for "Transforming the Industry of Watches," is a Stockholm-based watch company that aims to create modern watches with classic designs and a simple Scandinavian design.
The brand collaborated with Humanium Metal Initiative via Kickstarter. This material is made from destructed illegal firearms–aside from creating a stylish watch, TRIWA also promotes their contribution to ending gun violence.
Humanium Metal is the product of melted illegal firearms. Purchasing this material alone already helps, as a portion of the sales gives back to the place where the firearms were collected.
There are two types of watches in the campaign: 34mm and 39mm, both with a Japanese Miyota Quartz movement. Key features include a Humanium metal case, luminous hands, and a recycled canvas strap. There's also the Humanium 39 Automatic, which features a Miyota automatic movement and 48-hour running time.
This Kickstarter campaign was a success, with 1,726 backers pledging around SEK 4,648,821 (approximately USD 560,594). All the watches are now available on the brand's website as well as online retailers including Amazon.
Liv GX-1 Automatic Watch

Liv is a Swiss company that makes handcrafted, limited-edition watches. The brand's small production style, use of high-quality materials, a combination of old-school watchmaking with new technology has gained it many loyal fans. When they launched the LIV GX1 Swiss Chrono watch on Kickstarter, they were able to complete funding in the first 11 hours, the most number of backers for a Swiss watch project on Kickstarter.
Liv released another watch in 2016, the GXI-A Automatic watch with a stainless steel case, sapphire crystal, and a screw-down crown. This model is powered by Sellita SW200 Swiss Movement. The watch also has a legible dial, with easy-to-read hands and luminous index markers.
This limited edition model (there are numbers on the sapphire crystal back, and has an individual serial number. The watch is water-resistant to 100m.
The first 2,000 pieces of the GXI-A were individually-numbered. The brand produced more of these, but the watches after the 2,000 mark are no longer considered limited edition.
The watches were shipped in May 2016. Liv updated their Kickstarter page in February 2020, saying that they launched a new limited edition GX1. See all of the available GX1 models on the brand's website, or on Amazon.
Zeitgeist H1 – New in 2021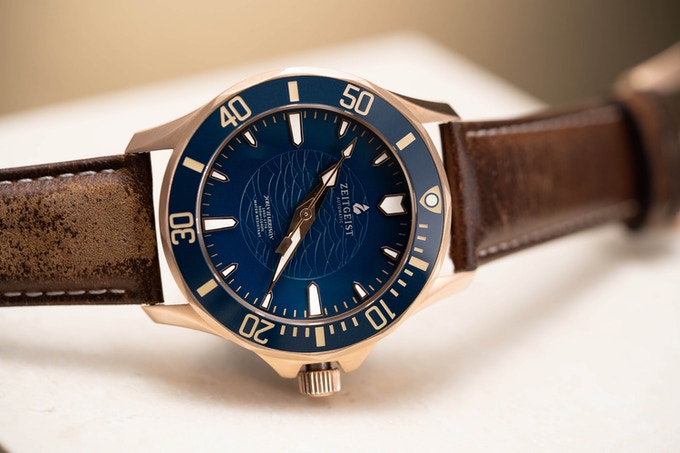 This watch is by Zeitgeist, a group of watch enthusiasts offering manufacturing and product development services. The Kickstarter campaign was introduced in February 2021 and is still ongoing as of posting time.
The Zeitgeist H1 watch is a dive watch with a bronze dial, a material that allows the watch to have a unique color or patina as it's worn over the years.
The dial's polished and applied index markers and bezels are powered by Super Luminova. The watch has a domed sapphire crystal with a ceramic bezel that's also luminous. Other key features include a domed, scratch-resistant sapphire crystal, a screw-down crown, and a helium escape valve that releases the pressure without letting moisture into the watch.
One of the things highlighted by the campaign is the leather strap. Called Tochigi leather, this is a type of hand-crafted strap with a process called leather edge sealing, which gives a smooth edge on the exposed seams. The color of the leather will change over time due to the wearer's body oil. There are two Tochigi straps to choose from: the Kurenai, which has a lightweight design; and the hypoallergenic Siru, which is for those who have sensitive skin.
The bronze case and the type of leather used are in line with the brand's "wabi-sabi" philosophy, which is the Japanese art of imperfect beauty. The imperfections and color changes that the watch will go through over time are what make it charming and unique.
The watch has two movement choices. There's the Japan Miyota 9039, which has an automatic self-winding watch; or a Swiss ETA 2801-2 manual-winding movement. The watch is also water-resistant to 500m.
Pebble Time Smartwatch

Pebble Time started its Kickstarter campaign for the e-paper smartwatch in 2015. The brand promoted a smartwatch with an e-paper display, had up to seven days of battery life, and a microphone that allows the wearer to do voice replies by dictation.
The watches promoted during the campaign include the Pebble Time and Pebble Time Steel. Some of the main features include a stainless steel case, leather, and stainless steel strap, and water resistance.
This is not the first time that Pebble started a project on Kickstarter. The brand gained popularity in 2012 when it raised $3.7 million in less than a week, and then more in the coming days, totaling about $4.3 million.
A lot has happened since this campaign was started. The brand, which had 78,471 backers who pledged $20,338,986, announced that they joined Fitbit.
Fitbit acquired Pebble assents, and Pebble shut down. While they no longer manufacture new products you can still find Pebble Time watches on Amazon and other retailers.
Mykronoz Zetim

A Kickstarter campaign by ZeTime calls the watch the "World's first smartwatch with hands over a touchscreen." Launched in 2017, this design was created by Swiss watchmaker MyKronoz, a brand that creates wearables like smartwatches, hybrid smartwatches, activity trackers, and wireless earphones.
Over 40 million backers who raised $8,000,000 helped ZeTime bring the project to life. After it was completed, it became the most funded hybrid smartwatch, with many reviews praising its innovation – a classic Swiss watch with smartwatch functions.
This hybrid smartwatch combines mechanical hands and a full-color touchscreen dial. Powered by the Smart Movement technology, the watch is able to update the time according to the wearer's location. The creators built the hands in such as way that they will not get in the way of the screen–the hands are able to move away from the text, separating the screen into two (horizontally).
There are two variants, a 44mm and a 39mm. The screen is a full-color TFT touchscreen where the wearer can see notifications and see all apps (social networks, email, music, navigation), and a case made from 44mm stainless steel with an ultra-resistant sapphire. Other key features include a heart rate monitor, sleep monitor, up to 30 days of battery life, and water resistance to 30m.
Learn more about the watch on the MyKronoz website. You can also explore more hybrid smartwatches here.
CIGA Design X Series Titanium Mechanical Watch

This campaign is by American brand CIGA Design, a company that aims to reinvent a hollow design watch—a unique concept with a patented mechanism.
This watch was launched on Indiegogo, another website that promotes crowdsourcing campaigns. This one was funded 2,000 percent in 24 hours and continues to grow. Learn more about the watch and its process here, which also gives a timeline for the production.
The X Series of watches has a unique design—an X-shaped skeleton with a self-winding movement displays that recharges as it is worn. The company boasts of "the most compact and steady automatic movement ever created." The watch has a durable titanium case that has Super Luminova coated markers, which is great for the outdoors and extreme conditions.
The watch is available in two sizes (44mm and 48mm), with both titanium and stainless steel versions. The band is a choice between silicone and nylon. The watches are powered by CIGA-X01, with a running time of 40 hours and water resistance is up to 30m.
You can now find CIGA Design Watches on Amazon and other retailers.
Filippo Loreti
View this post on Instagram

Filippo Loreti is an Italian watch brand that aims to create luxury watches that are relatively more affordable and more accessible. By designing the watches in-house and skipping the traditional channels and middlemen that make watchmaking expensive, they are able to have modestly-priced watches while maintaining high quality.
Filippo Loreti's success is owed to its backers. The brand launched its Kickstarter campaign in 2015 and was supported by 30,000 people, who contributed over $10 million. After the campaign, it was declared the "most funded timepiece project in crowdfunding history."
The brand partnered with some of the world's leading watch manufacturers, some of the best Italian tanneries and artisans for the leather straps. Every watch model is limited to 500 pieces and is meticulously crafted and assembled by hand.
There are a total of four collections: Florence, Rome, Bosa, and Como. The watches are available in 38mm and 40mm stainless steel cases made from composite metal-polymer and stainless steel. The straps are genuine handcrafted leather in a variety of colors, and the water resistance is up to 50m.
Today Filippo Loreti has a wide range of watches and accessories for both men and women. Check out their website to see all the available watches.
Yema Superman Heritage Bronze
View this post on Instagram

French watchmaker Yema has been around since the late 1940s, creating durable, high-quality watches developed for professionals—divers, pilots, and explorers.
One of its most popular models is the Yema Superman, a watch released in 1963. This model was developed for divers was used by French Air Force pilots—the watch has a 300m water resistance and a safety bezel lock.
Fast forward to June 2019, when the brand launched a Kickstarter campaign for a reissue of the iconic watch, the Yema Superman Heritage Bronze model. This model, which has a vintage look commemorated the brand's beginnings—1948 pieces, which stands for the year that it was introduced.
The Kickstarter campaign featured the Yema Superman (53.00.16) in a bronze edition. The unique color will allow the watch to develop a natural patina over the years, creating a vintage feel. The case is available in two sizes (39mm and 41mm), with a domed sapphire crystal, bronze bezel, and diamond-cut hands, The markers are powered by Super Luminova, and the movement is Yema's French in-house caliber automatic movement.
For this limited-edition reissue, the brand collaborated with Hugues Vitry, a professional diver and marine conservation activist. One of his missions was "Mission Maubydick," which studies sperm whales in the Indian Ocean. Vitry approached Yema in 2018 to proposed a watch design for the mission. He suggested bronze because it's more resistant to corrosion by saltwater.
The watch had over 1,200 backers who pledged over $1.1 million. See the brand's bronze collection here.
We have featured Yema watches on the site, as part of alternative watches for Rolex Batman and Rolex Pepsi Bezel models.
Revolution Watch Company Diver
View this post on Instagram

Another successful campaign from Indiegogo is this dive watch from Revolution Watch Company, which calls it the "world's best enthusiast-designed dive watch." The brand is composed of watch collectors and aficionados who want to develop watches with a classic vintage look and functions that make them perfect for daily wear.
The brand is composed of watch collectors and aficionados who want to develop watches with a classic vintage look and functions that make them perfect for daily wear.
The Revolution Diver watch has a vintage design, a homage to the 1960s dive watches. The case has a black dial, raised index marker, and a domed sapphire crystal. The water resistance is up to 300m, and has C3 Super Luminova, which makes it easy to read even when underwater. The strap is available in shark mesh or natural rubber. The movement is a Miyota 9015, automatic mechanical movement with 42 hours of power reserve.
The campaign has ended, but you can find the successful dive watch on the brand's website.
Ferro & Co. Le Mans-Inspired Watch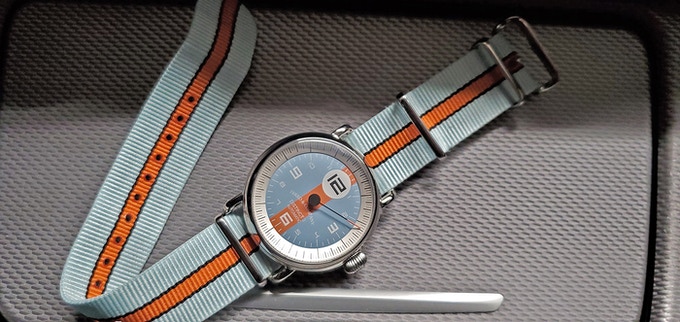 This watch by Canadian watchmaker Ferro & Co. is a retro race-themed watch inspired by the Le Mans 24-hour race, one of the world's oldest active sports car races in endurance racing. During this event, the drivers race non-stop for 24 hours.
This limited-edition release, which has a campaign on Kickstarter, is called the Distinct 3, which came after the brand's fans asked for a model with a smaller case and an upgraded movement. The finished products are divided into three series – Gulf, Grand Prix, and Petrol.
The Distinct 3 GLF, for instance, is a 42mm model with a stainless steel case and two types of glass (domed sapphire for the automatic movement, and flat sapphire crystal for the quartz movement). Customers can choose from Swiss Quartz, Swiss Automatic, and Japan Automatic movements.
This campaign is still ongoing. It has already surpassed its goal of CA$ 18,800. As of posting time, there are a total of 334 backers and over $187,000 pledged. You can explore the other Distinct 3 models on Ferro & Co.'s website.
TAG Heuer Autavia 2017
Having an online crowdsourced product is not limited to small brands and up-and-coming companies. The big names also use it to promote new products. One example of this is the Tag Heuer Autavia, a watch that was designed by the brand's fans and watch connoisseurs.
This is a reissue of the Autavia chronograph (the world is a contraction of "automobile" and "aviation"), which gained popularity in the 1960s. Designed by fourth-generation head Jack Heuer, this watch is a sports chronograph that was used by some of the biggest Formula 1 drivers.
Tag Heuer consulted over 50,000 fans who voted among different versions of the watch (16 first-generation Autavias). The final product is the Autavia Ref. 2446 Mark 3. Some of the key features include the 12-hour rotatable bezel, baton indexes, beveled horns, and luminous inserts. The watch still looks like the old model, but with some changes (a bigger size at 42mm, a thicker case, and a wider bezel).
You can read more about the watch in this article by Hodinkee, which takes a closer look at the changes and notable features.