Italy is home to some of our favorite foods: pizzas, spaghetti, Nutella. It is also where famous luxury brands started – Ferrari, Lamborghini, Ducati, Fiat, Gucci, Prada, Armani, Versace, among others.
Italy is also considered the design and fashion capital in the world and a country where you will find many heritage sites. It is no wonder why Italy is a favorite destination among tourists.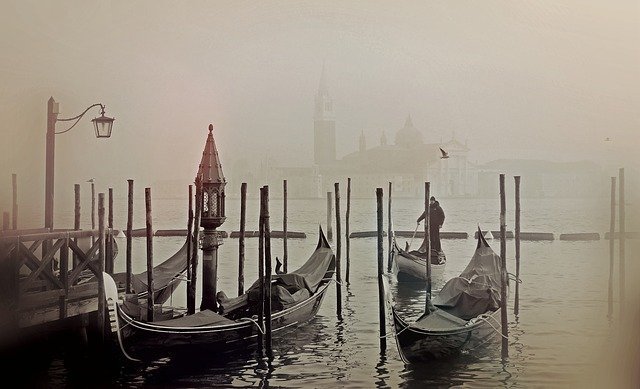 When it comes to watchmaking, Italy also has deep-rooted traditions in design and close proximity to Switzerland has also contributed to Italy's success in the watch industry.
Several luxury and high-quality watch brands have originated in this country. Some of which have gained a high global reputation that attracted investors from large Swiss watch companies.
Know more about these Italian watch brands below.
Italian Watch Brands
Anonimo

Federico Massacesi established Anonimo in 1997 with the intent of paying tribute to the watchmaking traditions of Florence. Its vision is to design and create mechanical timepieces that are beautiful in form and function.
What helped Anonimo enter Italy's watch industry with ease is the relocation of Panerai to Switzerland. When the latter left, Massacesi purchased Panerai's manufacturing facilities and hired Panerai watchmakers who remained in Florence.
Anonimo easily translates to anonymous. Such brand name reflects the company's ethos: "the watches are not about us, they are about the individual who wears them and are a testimony to and an expression of the personality of the wearer."
In 2009, Anonimo's management was taken over by European investors, yet its headquarters remained in Florence. This change then brought and combined the elegance of Italian watchmaking traditions and the excellence of Swiss watchmaking.
Anonimo has now grown to an international scale. The brand is known for its elegant yet finely detailed and durable timepieces – some even passing the military standards. Currently, Anonimo features three collections – Militare, Nautilo, and Epurato.
Read our full overview of Anonimo watches here.
Visit the Anonimo website for more details about these collections.
Breil Milano

Breil Milano or Breil is an Italian luxury company that markets jewels, eyewear, fragrances, leather accessories, and of course, watches. Innocente Binda started it in 1939 in Milan, Italy. Currently, it is still family-owned under the Binda Group.
The brand launched its first wristwatch in 1942. It mainly focuses on the aesthetics and branding of their timepieces over craftsmanship and watchmaking traditions. Regardless, Breil now offers many watches for men, although they also have a variety of women's watches also.
Explore more of the brand's watches on the Breil website.
Bulgari

Bulgari is one of the oldest, and perhaps among the most recognized jewelry brands worldwide. Its trademark is usually written as BVLGARI, derived from the last name of the company's founder – Sotirios Voulgaris. It started as a humble jewelry house in Italy way back in 1884 that combines the elements of ancient Romans and Greeks.
However, the company first designed its first watch in 1940. It was a Serpenti watch that circles the wrist and features the watch face within the snake's head. Such design has grown into one of Bulgari's unique collections that still exists up to the present.
Further, its iconic watch motif has the inscription BVLGARI BVLGARI around the bezel started in 1975. An ancient Roman coin inspired such a design, and so it originally stated BVLGARI ROMA. Read a more detailed review of Bvlgari watches here.
Bulgari designed, manufactured, and released other remarkable watch collections such as the Octo that features an octagonal bezel and dial, and the Grande Complications that feature tourbillon movement, among others.
Explore more of their watches here.
By 2011, this luxury brand was acquired by LVMH French group.
CT Scuderia

CT Scuderia is another Italian watch company headed by founder, CEO, and designer Enrico Margaritelli. Using his passion for the café racer lifestyle, sports racing, and vintage watch designs, he created a brand that makes watches inspired by old events and designs but provides a refreshing take on sports watches.
Before establishing CT Scuderia, Margaritelli worked with big brands such as Emporio Armani and Fossil, as well as created independent brands Soviet and Key West. Inspired by his watchmaker grandfather and vintage Italian motorcycle racing, Margaritelli creates watches that pay respect to tradition, while still maintaining creativity and modern design. See more details about CT Scuderia here.
Scuderia in Italian literally means stable in English so can be used as an equestrian term but is also widely used in professional auto racing, especially Formula 1, and many Italian teams incorporate the term in their names. For example, Scuderia AlphaTauri or Scuderia Ferrari (which by the way also sells race-inspired watches).
Giuliano Mazzuoli
Giuliano Mazzuoli is a namesake brand that was influenced by a long line of designers. Although his father founded the business in 1949, Guiliano took over by the 1970s. They started by producing planners and pens.
Later on, he was inspired by a pressure gauge. He used this as he designed his first watch that was named after the said inspiration – Manometro. Its unique design has made it widely popular.
The company continued designing, manufacturing, and launching other watch collections that are automotive-inspired such as the Contagiri, Transmissione and Carrara. Shop for a Giuliano Mazzuoli watch directly from its website.
Gucci

Gucci a luxury fashion and leather goods brand embarked on its watchmaking journey from 1997.
Initially founded in 1921 in Florance, Italy, the name Gucci is famous worldwide. Today, Gucci is also a leading fashion watchmaker, in addition to pioneering the luxury clothing industry.
Keeping up with their brand reputation, the brand's watches are as vibrant and unique as their clothes and shoes.
Emporio Armani

Giorgio Armani is known as one of the most influential Italian fashion designers. Emporio Armani was founded early in the 1980s by none other than Giorgio Armani, one of the most influential Italian fashion designers.
Emporio Armani is the sub-brand from the Armani line that targets the young adult market, particularly individuals in their 20s and 30s.
Like many other fashion brands, the production and distribution of Emporio Armani watches are managed via a licensing agreement with a large watch manufacturer, the Fossil group.
They are manufactured in southern China.
Haurex

Haurex was established in 1989 by Murizio Bianchini and Guiseppe La Giusa with the vision of producing timepieces that specifically suit Italian taste in design. They also made sure that their products are of high-quality and reasonably priced.
Currently, Haurex watches feature large dial and sporty designs.
Mazzucato

Designed by Simone Mazzucato in Milan, this Italian watch brand from Milan creates innovative designs that are not only cutting-edge and unique but boasts of high quality as well.
The brand stands out for its collection of reversible watches such as the Mazzucato Rim automatic watch. This watch has a reverse system that allows the wearer to invert the case in both directions reminiscent of earlier iconic classics such as the Jaeger-Le Coultre introduced the Reverso.
Meccaniche Veloci
View this post on Instagram

If you are looking for more automotive-inspired timepieces, Mecchaniche Veloci offers luxury watches that will surely capture the hearts of car racing fans and drivers. From the brand name itself that translates to mechanical speed.
While headquartered in Geneva, Switzerland the brand has Italian roots and takes pride in calling itself the "Swiss-Italian bespoke watchmaker based in Geneva" and on social media claims to be "The most Italian of Swiss watchmakers"
Mecchaniche Veloci produces high-quality and fashionable watches for those who are fascinated by speed.
Its timepieces fuse Italian design and high-quality Swiss parts, making each one stand out in the watch market.
Officina del Tempo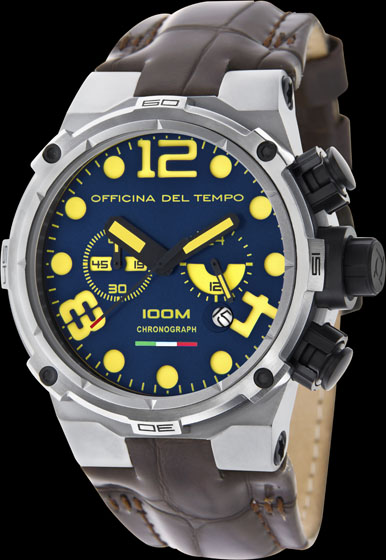 Amidst the long history of the watch industry in Italy, there are also relatively young watch brands. One of those is the Officina del Tempo that was established in 2000.
Its products are mainly sports watches and are primarily considered power and racing models. Despite being new to the industry, it has already reached more than 20 countries around the globe. The secret perhaps is that the brand puts a premium on the quality of its products, being mindful with every detail and in every step during the production.
See its timepieces directly from the Officina del Tempo website.
Officine Panerai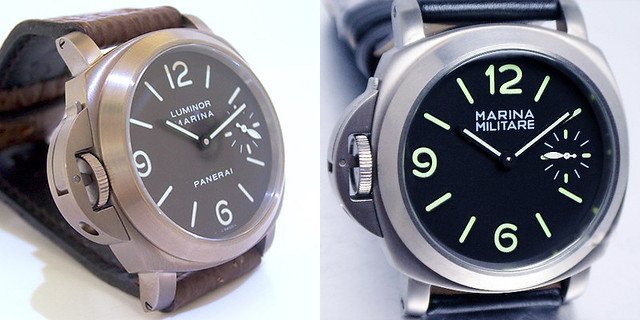 Also known just as Panerai, Officine Panerai started as a humble watch shop by Giovanni Panerai in 1860. Then located on Ponte alle Grazie, Panerai served as a watch showroom, workshop, and the first watchmaking school in Florence.
By 1890, it was relocated to Piazza San Giovanni and then changed its name to Orologeria Svizzera. Later on, the founder's grandson, Guido, took over the business.
By the twentieth century, what started as a humble watch shop became the official supplier to the Royal Italian Navy (Regia Marina). It was then that the company designed one of its popular and first patent – the Radiomir.
Throughout its long history, Panerai was able to produce other remarkable timepieces and has collaborated with other watchmakers. Its market and demand grew, and by 1997, then Vendome Group, which is now known as Richemont, S.A. purchased Panerai for about $1.5million.
After the purchase, Panerai headquarters moved to Geneva, Switzerland. Yet Panerai continued to showcase its horological expertise, thereby manufacturing its own in-house movements. It also persevered in innovating its watchmaking capabilities. One of its most recent innovations is the Carbotech.
Know more about this brand directly from its website.
Roberto Bianci

Roberto Bianci, as you might have expected, is another namesake brand. Roberto Bianci has already been exposed to jewelry since he was a child because of his father. He decided to pursue this path and became a certified gemologist himself.
He launched his own watch brand that features Italian designs, uses Swiss movements, and priced reasonably. Roberto Bianci timepieces sure are among the most fashionable yet affordable Italian watches you would find.
See its watch collections from its website.
Salvatore Ferragamo

Salvatore Ferragamo is another luxury brand; although, more than their watches, it is known for its shoes and other consumer products. This fashion brand was established in Florence in 1928 and has been known around the world for its luxurious boutiques that cater to the rich and famous.
It was not until 2007 when Ferragamo launched its first timepiece. In line with the reputation of the brand, Ferragamo watches are elegant and exude a modern flair. However, it is worthy to note that other companies with whom they have licensing agreements and partnerships manufacture the Ferragamo watches.
Regardless, they are beautiful and highly fashionable. You may also shop directly from the Salvatore Ferragamo website.
TB Buti

TB Buti is quite a new watch brand, having been established only in 2001 in Florence by a watch collector – Tommaso Buti.
Although quite new to the watch industry, it quickly gained wide popularity. As such, TB Buti was already able to showcase its high-end timepieces in Basel exhibition and was able to market its products in more than 12 countries a year after its conception. TB Buti has reached North and South America, Russia, Japan, and the Arab countries.
TB Buti specializes in a unique style, technical innovations and the use of high-quality materials.
U-Boat

U-Boat is home to handcrafted luxury timepieces from Italy that boast durability, bold designs, and large watch faces. It is said that the designs were originally crafted in 1942 when U-boat officers and Italian Air Force pilots asked Ilvo Fontana to create a watch for them. The designs were not finalized but were kept in the family for more than 60 years. Read more about U-Boat watches here.
It was only in the year 2000 when Italo Fontana finally made use of the designs to launch the U-Boat brand. It quickly gained popularity, especially in 2002, as it appealed most specifically to men who prefer military-style watches. Many of the models also come with the crown on the left, making it a preferred watch option for left-handed wearers.
At present, U-Boat features four collections – Chimera, Classic, U-42, Capsoil, and Precious. Discover more about their models on the U-Boat website. Check out U-Boat timepieces available on Amazon. You can also find new and pre-owned U-Boat watches on eBay.
Vabene
Vabene was founded by Giorgio Grimoldi, who came from the Grimoldi Milano jewelry dynasty. It is a Milan-based watch brand that particularly appeals to the younger watch market. Its timepieces are characterized as "funky, ironic, colorful and highly glamorous."
Visit the Vabene website to know more about its watches.
Visconti

Visconti is an original Italian brand that primarily produces writing instruments such as fountain pens, rollerball pens, and ballpoint pens. It was founded way back in 1988 in Florence by fountain pen collectors – Dante Del Vecchio and Luigi Poli.
Later on, Visconti expanded and hired professional watchmakers to develop timepieces that use premium quality Swiss and Italian components. Similar to other products, Visconti timepieces embody creativity, craftsmanship, quality, luxury, and of course, Italian design.
Visconti currently features three primary watch collections – the Opera, Lava, and Roma 60's. Explore more about these watch collections from the Visconti website.
Zannetti


Zannetti was founded in Rome, Italy, in 1982 by Ricardo Zannetti, whose passion for watchmaking comes from his own family. It started with Carmine Zannetti, who was a master goldsmith herself and delighted in fine mechanics and technical perfection. Such values have been passed down and applied even to Zannetti's latest creations.
Following her is Mario Zannetti, a design professor and an international artist. His expertise is in the application of geometrical lines, and he pays particular attention to mechanical details.
Ricardo Zannetti combined Carmine's commitment to technical perfection and Mario's passion for mechanical details as the primary principles behind the Zannetti timepieces.
Zannetti originally designed and manufactured watches for other brands. However, in 1986, Zannetti finally introduced its first own collection named The Stradivarius. Later on, the company produced more designs and watch types such as Jewel Watches, GMTs, and Skeleton watches, among others.
Visit the Zannetti website to see all its current collections.
We Wood

Florence-based WeWood focuses on wood watches that are free from toxic and artificial materials. They use reclaimed and recycles wood, and collaborate with different environmental organizations.
WeWood also plants a tree for every watch sold. According to their website, they have already planted over half a million trees all over the world since they started with their program in 2010.
Final Thoughts
Although some of the above watch brands are not as popular as Japanese watch brands or Swiss watch brands, they sure prove that Italy is home to amazing and top-of-the-line timepieces. Its watchmaking industry started pretty early, and that's probably one of the main reasons why these brands were able to develop and improve their designs and mechanical details continuously.
So, next time you visit Italy, you might as well visit their watch shops after you splurge on your pizza, pasta, and wine.