Any type of race requires accurate timekeeping. The need to measure speed and determine the exact time that an athlete finishes are some of the most essential things needed in professional sports.
This is why it only makes sense that horse racing (one of the oldest sports in the world), horse riding and equestrianism have always had a close connection to watchmakers. The relationship with the watch brands can be in the form of sponsorship of riders, a prestigious race or official timekeeping. In this article, we'll talk more about these partnerships, and explore the watch brands that have long been part of the horse racing world. We'll also feature some watches that would be a great match for any horse rider, jockey or any horse lover.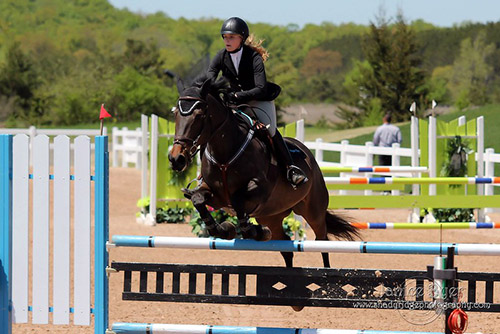 Novelty Equestrian & Horse-Themed Watches
Most watch companies with horse racing partnerships are luxury brands, which we will discuss further below. However, there are still those that have a more affordable price tag. For affordable horse-themed watches (those by brands that are not too well-known), horse lovers could check out "Back in the Saddle" site of novelty quartz watches.
You can also check out these equestrian watches on Zazzle, a page that has different styles of a horse or equestrian-inspired designs (most of them have either illustration or actual pictures of horses). Most of the price tags do not exceed $100.
Luxury Equestrian Watches
Equestrian events are a type of elite sports that require accurate timing, and so it's fitting that it's supported by luxury watch companies.
Below are some of the most popular watch companies that have partnerships with horse racing events, as well as sponsoring some of today's most famous riders. We'll discuss the brands' histories and talk about different watch models that were featured during different events.
Longines
Read Amazon Reviews | See on eBay
Swiss watchmaker Longines has had a long history with equestrian timekeeping—dating as far back as late 1878. It was in 1912 that the brand officially partnered with an international show jumping competition. The brand has been a part of some of the world's biggest equestrian events, providing accurate time and sponsoring them.
One of the first designs that Longines made was a chronograph that had an engraved motif of a jockey and mount—the brand's first-ever chronograph movement. In an interview with the brand's former Longines Vice President Juan-Carlos Capelli, this now-patented movement was the first Longines watch used for precision timing. According to another article, the movement was very accurate that it was used in measuring minutes and seconds by sports judges a few years later.
Capelli added that Longines continues to innovate in sports timing for both the riders and the audience. Continually developing new and informative ways of measuring time, the brand raises the profile of horse racing further by providing more timing information and more splits.


Today, Longines is part of different equestrian sports events: show-jumping, flat racing, endurance and evening competitions. The brand has partnerships with events like the Dubai World Cup, Triple Crown, Kentucky Derby, Prix de Diane Longines, and many more. Rankings are available on the brand's official website. These are updated regularly and in accordance with the schedule of the competitions.
The long history with equestrian events has also allowed the brand to get creative with its watches. The brand's Equestrian collection, for instance, is a tribute to the sport and the people behind them. There are the oval stainless steel models such as this one, as well as round options like this one, both of which are dedicated to women who love equestrian sports.
See the rest of the Equestrian collection here. We also featured one of these watches on our Best Longines Watches for Women.


Aside from being a sponsor at the Kentucky Derby (a horse racing event held in Louisville, Kentucky, USA annually), Longines also gives a watch to the event's winner. According to a Watch Time article, some of these watches that have been given include those from the Longines Master Collection, Longines Conquest Classic Moonphase, and the Longines Conquest 1/100th Horse Racing, a chronograph that was created for riders and fans (the stainless steel watch is called such because it can measure time to a precise 1/100th second).
If you'd like to read more about Longines as a company and get to know some of its best models, you can also check out our Longines Watch Review article, where we take a closer look at the brand's history and most important collections.
Rolex
Read Amazon Reviews | See on eBay
Another big horse racing partner is Swiss luxury watch brand Rolex, which has been supporting events for over six decades, sponsoring both riders and big events.
One of these events is the Rolex Grand Slam of Show Jumping. Introduced in 2013, the event was created by the CHIO Aachen, CSIO Spruce Meadows 'Masters' Tournament, and the CHI Geneva (and later on included the Dutch Masters). In this showjumping challenge—with a goal that Rolex describes as "to win the most difficult-to-obtain trophies in the world of equestrian sport," the rider who wins the Grand Prix at the four shows in direct succession will win.
Check out the official Rolex website for more details about the tournaments. This page will also give you a background on Rolex's sponsored showjumpers such as Scott Brash, Kent Farrington, Martin Fuchs, Steve Guerdat, Kevin Staut, Meredith Michaels-Beerbaum, Isabell Werth, and many others.
Another is the prestigious equestrian event that Rolex is a big part of is the Royal Windsor Horse Show, the largest outdoor horse show in the United Kingdom. The brand became an official partner in 2016.
There is also the Rolex Grand Slam of Eventing, where Rolex gives a cash prize to the rider who consecutively wins three big events: Mitsubishi Motors Badminton Horse Trials, Land Rover Burghley Horse Trials in Britain, and the Land Rover
Three-Day Event in the United States—"winning all three consecutively represents perfection," says Rolex on its website. According to this article, the prize money for the event started at $250,000 but was later increased to $350,000.
Rolex has a page on its website called "Every Rolex Tells a Story." Here, there are short stories about the brand's sponsored athletes and personalities all over the world, and promotion of its classic timepieces. One of the sponsored riders, Steve Guerdat, talks about his Rolex Daytona, the watch that he wore when he won the CHI Geneva in 2013.
Ralph Lauren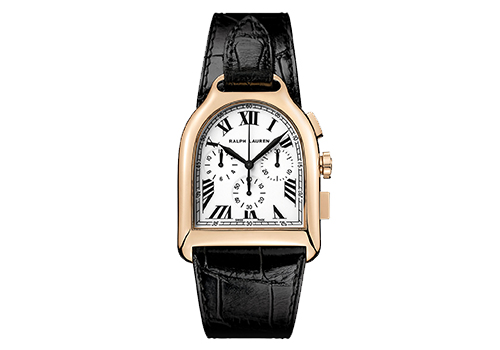 See on Ralph Lauren | See on eBay
Ralph Lauren is not a known sponsor in equestrian events, but the brand has in its collections many different forms of tributes to the sport. Designer Ralph Lauren is known for equestrian-inspired designs in its clothing, accessories, and watches—riding jackets, jewelry, watches with stirrup design, and so on. According to an article by Forbes, the man even owns a horse ranch in Colorado.
The posh equestrian style has been part of the Ralph Lauren collection since the brand's beginnings. The famous Ralph Lauren Ricky bag, according to this article, for instance, was inspired by a vintage saddle carrier. These early inspirations paved the way for more equestrian-inspired items, such as the brand's fashion luxury watch line.
One of Ralph Lauren's most popular equestrian-inspired collections is the elegant Stirrup collection, which, as the name suggests, are models with different features that share a common design: a stirrup-shaped watch case. There's a small rose gold design (around $13,500), a medium steel black (around $6,500).
One of the most expensive models is the Large Chronograph (around $25,800), which is a polished 18-karat rose gold stirrup-shaped case, a lacquered dial, Roman numeral markers, and sword-shaped hands. This watch (36.6mm x 38.5mm) is equipped with an RL750 caliber and has a power reserve of 48 hours. There are 12-hour and 30-minute counters, as well as a seconds dial.
These are pretty high price tags for a name that's widely known as a fashion brand so there was a lot of skepticism. When the watches came out, however, many were impressed by the movement and the design. Check out this review by A Blog to Watch, which pointed out that the movement of the Stirrup Chronograph was produced by the respected Jaeger-LeCoultre, changing the game for fashion brands producing watches.
You can check out the rest of the Stirrup collection here.
The brand also released the Miniature Ralph Lauren Stirrup collection, which is proportioned for women or anyone with smaller wrist sizes. The line includes the Mini Rose Gold Stirrup, with a 16.8 mm x 22.5 mm case and a case with a polished 18k rose gold. This watch has a quartz movement (which explains the more relatively affordable price tag of around $7,950 on the brand's website) and a battery life of up to 63 months. This is part of the stirrup design collection that celebrated its 10th anniversary.
Other horse-Inspired Watches
Many horse-inspired watches also came out in 2014, which was the Year of the Horse in the Chinese calendar. This article mentions some companies that created watches inspired by the year, such as a silicone watch by Swatch ( which created the Year of the Horse SUOZ169 model).
The luxurious Altiplano Cloisonné Enamel Horse watch by Piaget, which is only limited to 38 pieces and costs a whopping £48,700. There is also the Vacheron Constantin horse models from its Métiers d'Art collection, with each piece only limited to 12 pieces each.