Watches have long been an important part of Formula One. Many luxury watch brands have affiliations with the sport, sponsoring different F1 events, drivers, and championships.
It's only natural for Formula One and watchmaking and entwined. The two have many similarities: both require precision, expertise; and both are associated with style and luxury. Many luxury watch companies invest in teams every year, sponsoring events and creating watches that pay homage to some of the most successful drivers in the world.
This article will take a closer look at these sponsorships, and also talk about the watches worn by some of the biggest names of F1 racing.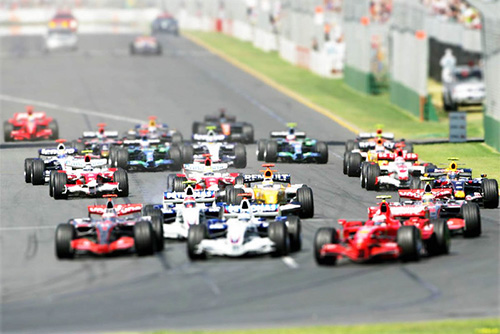 Formula One and Watches
International racing sport Formula One or F1 is known as the highest class of single-seater auto racing and is one of the most important forms of racing in the world.
Governed by the FIA (Fédération Internationale de l'Automobile or the International Automobile Federation), the word "Formula" is the set of rules that the drivers must follow. A Formula One driver's goal is to cross the finish line first, completing the number of laps determined. The sport was first introduced in the 1920s in Europe, but it was not until 1946 that the FIA standardized the rules.
One of the major sponsors of Formula One events are watch companies, and consequently sponsoring some of the best racers in the world. Some of the brand ambassadors for Rolex, for instance, include race champions Sir Jackie Stewart, Mark Webber, and Nico Rosberg Tag Heuer, for instance, has many ties with motorsports events. The brand is Red Bull Racing team's official timekeeper, official watch, and team performance partner. The company has also sponsored championships such as the FIM Endurance World Championship and Indy Car Series.
F1 Inspired Watches
We'll begin the list with some of today's most popular watches inspired by Formula One—collaborations and creations created not just for racers, but also to the fans of the sport.
If you would like to learn more about watches for car lovers, you can also check out our article on Watches For Car Enthusiasts, which discuss automobile-inspired watch designs.
TAG Heuer Carrera Red Bull Racing Special Edition
Read Amazon Reviews | See on eBay
Luxury Swiss watchmaker Tag Heuer has many F1-inspired watches and collaborations. This is one of its more expensive models, a Red Bull Racing Special Edition
The Tag Heuer Carrera Calibre HEUER01 is a robust 45mm with a black PVD steel brushed case, a tachymeter, and a dial with features such as a minute scale, three counters, and a blue flange with 60 seconds. There is also a red-lacquered central hand that brings out the predominantly blue colors of the strap, bezel, and case.
This watch comes in three different strap materials and color variations: a blue calfskin rubber leather strap (this model), a red rubber strap, and a black leather and rubber strap. The movement is a Tag Heuer Calibre Heuer 01, and the power reserve is up to 50 hours (chronograph operating for 40 hours).
Tag Heuer has dozens more Formula 1 watches on its website. You can check out the models here.
Edox Chronorally S
Read Amazon Reviews | See on eBay
This one has a relatively affordable price tag. Producing watches since 1884, Edox is a Swiss watch company that produces both classic and sporty watch models, such as the Edox Chronorally-S, a 44mm stainless steel quartz watch with an antireflective sapphire crystal, luminescent hands, and a unidirectional bezel.
The Edox Chronorally-S collection is a collaboration with the Sauber F1 team. The idea is to produce a durable sports watch that is able to endure harsh conditions.
There are more Chronorally models on the company's website—see them all here.
Casio Edifice Chronograph EQB-800BL-1AJF
Read Amazon Reviews | See on eBay
The goal of Casio's Edifice line is to have a collection that provides versatility, with features that can be used in a professional setting as well as with casual wear. Made of materials such as stainless steel and resin, this collection has models with prices ranging from $99 to $380. There is a wide range of watches to choose from (see all of on Casio's website).
The motorsport-inspired Casio Edifice EQB-800BL-1A is a flagship race lap sports chronograph. This model, which was created by motorsports fans and professional racers, is extra special, as it has the Connected Engine Technology, which allows the wearer to link the watch to a smartphone.
The company consulted with members of an Edifice-supported professional racing team. This allowed the watchmakers to add a target time indicator, positioned at 12 o'clock. This extra feature, according to Casio, "allows engineers to determine the timing required for team engineers to approach a vehicle, so more accurate values can be posted on the pit board. Spectators as well will also appreciate the ability to time vehicles they support as a race unfolds before them." You can read more about the target time indicator here, where it's discussed in detail.
Other features include a day indicator, date display, a 100m water resistance, and Dual Dial World Time. Some of the smartphone functions are automatic time adjustment, stopwatch data transfer, and world time for 300 cities.
IWC Schaffhausen Ingenieur Chronograph Automatic
Read Amazon Reviews | See on eBay
Swiss watchmaker IWC Schaffhausen is a luxury brand known for its partnerships with motorsport brands. In 2013, the brand became the official engineering partner of the Mercedes-AMG Petronas Formula One team. It also has partnerships with Mercedes-AMG Petronas Formula One Team drivers Lewis Hamilton and Valtteri Bottas.
IWC Schaffhausen has produced a number of watches that pay homage to the sport. One of the most popular is the Ingenieur Automatic Edition "AMG GT," a limited edition (only 25 pieces produced) that is made from solid boron carbide ceramic, the hardest ceramic in the world, that the brand says is "as hard as a diamond and as light as aluminum"—a first in the world.
Another outstanding model is the Ingenieur Chronograph, a stainless steel automatic and self-winding watch with a blue dial and luminous hands and markers. This 42.3mm watch has tachymeter markers around its outer rim, and a chronograph with three sub-dials (60-second, 30-minute and 12-hour).
See more racing-inspired models here.
Famous Formula One Drivers & Their Watches
Here are also some popular Formula One drivers and the watches they either endorse or those that they have been spotted wearing casually or during races.
Daniel Ricciardo / Tag Heuer Carrera Calibre 17
Read Amazon Reviews | See on eBay
The Red Bull Racing team is sponsored by Tag Heuer, so one of its members, Australian driver Daniel Ricciardo, has been spotted wearing Tag Heuer models. One of these is the Tag Heuer Carrera Calibre 17, which has an automatic chronograph.
Ricciardo also wore the limited-edition Tag Heuer Connected Modular 45 Aston Martin Red Bull Racing, a smartwatch the combines three main qualities: "speed, performance, and cutting edge technology."
This 45mm watch, which has a case of fine-brushed and polished titanium, a sapphire crystal, and a sandblasted ceramic bezel. This one's compatible with both Android and iOS and has a touch screen. The watch was made with partnerships with Google and Intel
Check this page for other materials and color variants available.
Steve McQueen / Tag Heuer Monaco
Read Amazon Reviews | See on eBay
Nicknamed "The King of Cool," American actor Steve McQueen was one of the most sought-after stars in the 1960s. A race car and motorcycle enthusiast and sponsored by Tag Heuer, McQueen made one watch very popular: the now-iconic blue-faced Tag Heuer Monaco 1133B Caliber 11 Automatic.
The watch rose to popularity after McQueen wore it in the 1970s film "Le Mans." The watch had approximately 15 minutes of screen time, enough for the audience to see a unique, futuristic-looking timepiece. This watch was extremely special, as it was the first water-resistant watch with a square case; as well as the first automatic chronograph. It has a fine-brushed steel case and bezel, sapphire crystal, and luminescent markers.
To this day, the brand continues to market the watch with his image. There are now more different colors and sizes to choose from, including the Tag Heuer Monaco Gulf Special 50th Anniversary Edition, created 50 years after the rise of the iconic watch. This one has the Gulf colors that McQueen wore to the movie: a blue dial, as well as the striking blue and orange racing stripes. The strap is perforated calfskin, which has orange stitching.
This watch has currently 15 Monaco models available—you can check them all out here. It's also made our list of the Best Square Watches For Men.
Lewis Hamilton / IWC Schaffhausen Big Pilot's Watch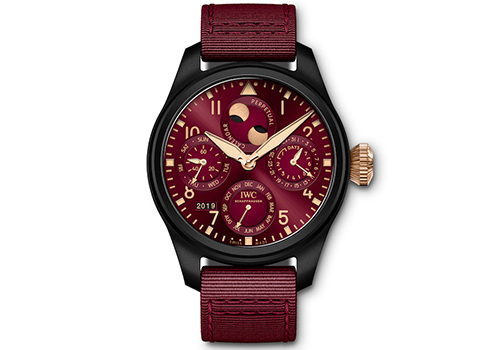 IWC Schaffhausen supports the Mercedes race team. Formula One world champion Lewis Hamilton has been spotted wearing watches by the brand in previous years, but one of the most popular models is his collaboration with the brand.
IWC Schaffhausen collaborated with Hamilton to create the "Lewis Hamilton" Big Pilot's Watch, a Perpetual Calendar Edition (reference IW503002). The 46.5mm watch, which has a 52615 manufacture calibre, with an in-house movement with a Pellaton winding system. This model has a bold matte black ceramic case, as well as a Bordeaux red dial and textile strap. The caseback ring is made of 18-karat red gold, and the perpetual calendar displays the lunar phase and the day, date, month, and year.
Christian Knoop, the company's Creative Director, said that Lewis approached them with an idea of a red and gold watch. He explained that the creation started with Hamilton's favorite model, the Big Pilot's Watch Perpetual Calendar. "We decided on a case made of black ceramic with hints of gold and a Bordeaux-red dial and textile strap," he added. "This combination radiates understated luxury."
IWC Schaffhausen produced only 100 pieces of this watch, and the price tag is around $57,000.
Nico Rosberg / Rolex Oyster Perpetual Submariner Date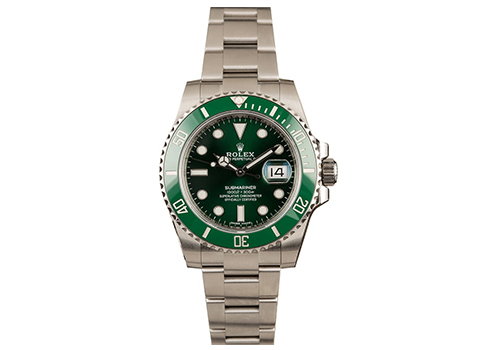 German-Finnish racing driver Nico Rosberg 's father Keke Rosberg—a world racing champion—once told him that in order to leave his legacy in motor racing, he needs to achieve two things: the Monaco Grand Prix and the F1 Drivers' World Champion—both of which he accomplished in his career (he officially retired in 2016, after winning the Japanese Grand Prix). It's worth noting that Nico won in Monaco exactly 30 years after Keke did.
On its official website, Rolex has a page called "Every Rolex Tells a Story," where famous personalities share their experiences with Rolex timepieces. Nico's story as about his purchase of the watch: after he won at Monaco, he decided to go to a Rolex branch and buy a rose gold Daytona for his wife–he had been planning to do so but got busy during preparations for the race.
After he found the Daytona, he saw to his right a Rolex Submariner, which is a watch he said he'd always admired. Winning the Monaco race, he decided he would treat himself, so he ended up buying both watches. "This watch stands for the great period I had at the Monaco Grand Prix," he said.
The iconic Oyster Perpetual Submariner Date uses Oystersteel, a durable material developed by Rolex; as well as the Oyster Bracelet, which is comfortable and equipped with Glidelock, which allows adjustments without the use of tools. This dive watch has a calibre 3135, a self-winding mechanical movement. Read more about the watch here.
Michael Schumacher / Omega Speedmaster
Read Amazon Reviews | See on eBay
German racing driver Michael Schumacher is known as one of the greatest Formula One drivers in the world. He is the only driver who has won seven Formula One World Championships (five of which was won consecutively), and a record holder for the most Grand Prix wins.
Schumacher, who is now retired following a skiing accident in 2013, was an Omega ambassador starting 1995. The iconic Speedmaster, which is also known as the first watch on the moon as it was worn by Buzz Aldrin in 1969, has a number of Speedmaster models dedicated to Schumacher's career and legacy.
One of these is the Omega Speedmaster Michael Schumacher World Champion 2000, a limited edition watch which was limited to 10,000 (6,000 of which has a black dial, and 4,000 has white). This model has red and orange checkers marks outside the dial, as well as Schumacher's name. The following years saw more models: Omega Speedmaster World Champion 2001 Schumacher (limited to 11,111 pieces), and the Omega Speedmaster World Champion 2002 Schumacher (limited to 5,555).

Featured Image: LG전자