Italian luxury brand BVLGARI (a stylized Bulgari) is a well-known name in the fashion world. The company traces its origins to the 1880s, when founder and namesake Sotirios Voulgaris, a Greek silversmith, opened his first store in the Balkans.
Bulgari is known for selling different luxury items: jewelry, bags, accessories, and fragrances to name a few. The brand is also known for producing luxury watches with stylish and creative Italian designs and reliable Swiss-made movements.
Over the decades that followed its successful jewelry business, Bulgari used its jewelry-making know-how with creativity in watch design—with extravagant and unique aesthetics.
The brand's first watch designs were innovative, gaining popularity among celebrities. Bulgari was known as the "jeweler to the stars" and the world's elite, with fans like Audrey Hepburn, Elizabeth Taylor, Ingrid Bergman, and Grace Kelly.
In this article, we'll talk about some of the brand's best models, both old and new. We'll also zero in on its history and collections.
Bulgari Brand History


During the company's early years, it was well-known for selling silver pieces with flora motifs and having Byzantine and Islamic art designs. The designs evolved in the decades that followed, with Sotirios drawing inspiration from different forms of art. When Sotirios died, the business was passed on to his sons Giorgio and Costantino.
According to an article on Time and Watches, Bulgari created its watch business in 1982. The Bulgari Time S.A. company built a home for the creation and production of all its watches in Neuchatel, Switzerland.
It was during the late 1940s that the famous Serpenti watches were introduced. This is a line of bracelet-watches that continue to be popular today—we'll discuss this further in the next section.
The company remains family-run, with Sotirios' great-grandson Paolo Bulgari as head of the company.
Bulgari Watch Collections
Below are some of Bulgari's most popular collections for both men and women. You can explore each collection further by visiting the brand's official website.
Bulgari Serpenti Collection

Bulgari's Serpenti collection gained a cult status over the decades. First released in the 1940s, this elegant line has both jewelry and watch collections.
One watch off this collection is the striking Serpenti watch (ref. 102726), with has an 18kt rose gold case with a green dial and an interchangeable double spiral bracelet in green leather. The wrap-around straps are interchangeable and can be personalized. This is a Swiss-made quartz 27mm model with a drop case and a water resistance to 50m.
The latest Serpenti watch collection is called the Serpenti Sedutorri, a "tribute to the warmth and splendor of gold." The models under this collection have three shades of gold—namely rose, white and yellow with ultra-precious diamond, and pave diamond renditions. The case is a drop-shaped watch head and a bracelet with a hexagonal pattern (according to the brand, this detail was inspired by a serpent's scales).
The first shade of gold available is a rose gold model, such as the 33mm Serpenti Seduttori Watch (ref. 103145), which has an 18kt gold case with a rose gold bracelet and a white silver opaline dial. The markers are a combination of index and Roman numerals. Powered by a quartz movement, this Swiss-made model has water resistance to 30m.
Another model is the two-tone Serpenti Seduttori (ref. 103143), a 33mm stainless steel watch with an 18kt rose gold bezel with diamonds and a white silver opaline dial. This is also a quartz model, with a 30m water resistance and a cabochon-cut sapphire.
Forbes called the Serpenti the brand's "most iconic women's watch". In an article published in 2018, the article also mentioned the Tubogas goldsmith technique, Bvlgari's unique jewelry-making technique that made the Serpenti watch special. Read more about the process here.
Bvlgari Bvlgari Collection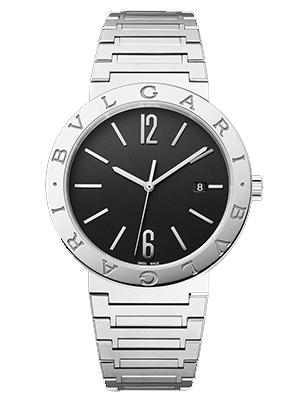 The watch that will later become the Bvlgari Bvlgari watch collection was first introduced in 1975 as a gift to the company's top 100 customers. This limited-edition model was a digital watch with an inscribed "Bvlgari Roma" on the bezel.
The watch was only supposed to be a gift, but it gained so much popularity that the brand decided to use it as a prototype for a collection, which is then officially named Bvlgari Bvlgari. These watches were inspired by ancient coins with Roman historic designs, and quickly become popular, and continues to be a favorite today. According to an article on the brand's history, this became the company's highest-selling watch after its release.
One of the most popular watches from this collection is the Bvlgari Bvlgari Solotempo watch, which pays homage to the original model and has a mechanical movement. This is a 41mm stainless steel watch with a black leather bracelet (that is interchangeable with a black rubber strap), a transparent case back and the iconic bezel engraved with the brand's double text and logo, inspired by the text on Roman coins.
The first Bvlgari Lady watch was introduced in 1977 and continues to be popular today. The collection also has a wide array of ladies' watches, such as the Bvlgari Bvlgari Lady (ref. 102922), a 33mm watch with a stainless steel case, bracelet, and bezel (which is engraved with the Bvlgari double logo). The crown has a pink cabochon-cut stone and has a black lacquered dial.
Octo Collection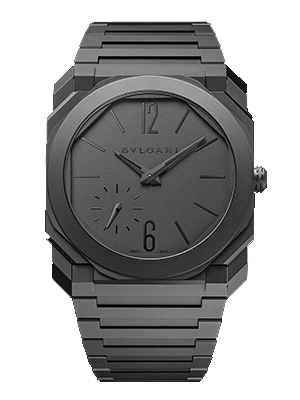 The Bulgari Octo collection has an edgy design, quite literally. Combining Italian design and high-quality Swiss watchmaking, the Octo line is composed of watches that have octagonal-shaped dials.
One of the most beloved models from this collection is the Octo Finissimo, which has a record of being the world's slimmest self-winding watch with a chronograph and a GMT function. This watch does not come cheap–the Octo Finissimo Automatic (ref. 103077) watch is priced at €15,900, or about $17,150. It has a small seconds feature at 7 o'clock, with a transparent case back where you can see the mechanical movement (the watch has up to 60 hours of power reserve). The water resistance is up to 30m.
There is also the Octo Roma, a simple yet sophisticated watch that has a simple analog design with a mechanical manufacture movement. The Octo Roma (ref. 103084) model has a stainless steel case, an alligator bracelet, and a transparent case back. It also has hand-applied indexes. According to Bulgari, this line is inspired by the 310 AD Roman Massentius Basilica.
There is also the Octo L'Originale, a timepiece with a 110-facet case, a mechanical movement (BVL 328 – Velocissimo caliber with up to 50 hours of power reserve), and a high-frequency chronograph. This model has a case and dial made of titanium (which is known for being lighter than stainless steel), and a black rubber strap. This is complex, sporty, and has features like hand-applied indexes and a buckle treated with black diamond-like carbon.
Divas' Dream Collection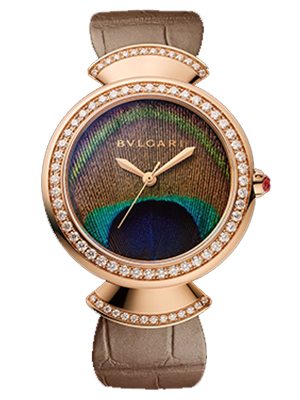 The Bulgari Divas' Dream collection is a line of watches that showcase Bulgari's balance of aesthetics and functionality.
One of the newest models is the Divas' Dream Watch (ref. 103139), a 22mm watch with a dial with a natural peacock feather dial and a beige alligator band. This elegant model is powered by an in-house manufacture mechanical movement automatic winding BVL 191 caliber. The bezel is an 18kt rose gold, and the links are set with diamonds. Like other Bulgari watch models, this was inspired by Italian design—in this case, the mosaics of Roman baths in Caracalla.
A simpler, but an equally elegant model is the Divas' Dream watch (ref. 102841) with a black lacquered dial. This is a 30mm with diamond indexes and a black alligator bracelet. This one runs on a quartz movement and has an 18kt rose gold case. Another rose gold case with an alligator bracelet version is also available.
Serpenti Secret Collection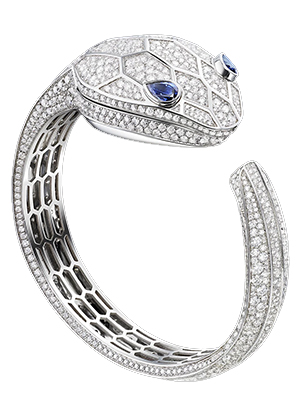 The Bulgar website has a Secret Watch line—possessing a style that combines Bulgari's expertise as a jeweler and watchmaker. This is a design that's uniquely Bulgari, with its glamorous and edgy snake icon with the links mimicking snakeskin.
One model is the 36mm Serpenti Misteriosi Secret Watch (ref. 102752). The jaw of the snake is hinged, with the watch inside. Like other Serpeti watches, this one also could around the wrist. This runs on a quartz movement, with a white gold case set with diamonds. The pear-shaped eyes of the snake are made of sapphire.
The line also includes handcuff versions, such as the Serpenti Misteriosi Romani (ref. 103189), which is designed with gems with hexagonal scales. This is also powered by a quartz movement, with an 18kt rose gold handcuffs and round brilliant-cut diamonds. The eyes of the snake are made with emeralds.
Bulgari Brand Reputation
Bulgari is considered as one of the world's most successful jewelry manufacturers and retailers. The brand enjoys a good reputation all over the world, thanks to high-quality materials, reliable movements, and an experienced team (Jean-Christophe Babin, formerly from Tag Heuer, joined the Bulgari team as CEO in 2013).
It was CEO Babin who improved the ladies' design presence in the brand's watch lines. In an interview with Watch Time, he said that the company searches for a balance between men's and women's watches, adding that the designs have become "more masculine." The brand has since been working on more ladies' designs: "So gradually we have become a more balanced watch brand between genders," Babin explained.
Is Bulgari A Good Watch Brand?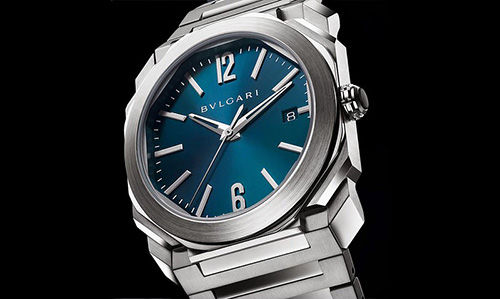 Bulgari is a reliable and respected watch brand. Apart from its success in jewelry making (as well as its accessories, bags, and fragrances, the brand also ensures that the same quality goes to their Swiss watchmaking.
One lesser-known fact about the brand is that it acquired high-end watch brands like Gerald Genta, which is by the legendary watch designer who created many iconic watches like the Audemars Piguet Royal Oak, Patek Philippe Nautilus, and the IWC Ingenieur.
Genta had been working with the company even before the acquisition—one of his most popular creations is the Bulgari Bulgari watch, which was inspired by an ancient Roman coin.
This article published on Quora says that a high-end Bulgari watch is a good investment; and that Bulgari has a special place in the Haute horology scene.
The article also discusses that though "horology purists" may not yet appreciate Bulgari watches, these timepieces are well-made and have excellent quality.
Where To Buy Bulgari Watches
The Bulgari website has a Store Locator page where you can search for a Bulgari store or an authorized retailer near you by typing the place, city, or zip code.
The watches available on the brand's website have prices included. To get more information, the site provides a Contact page where you can leave your contact details (such as name, country, and region), and ask questions about the watch or other Bulgari items.
Bulgari watches are also available on eBay, where you can find both original and pre-owned models. JomaShop also has a selection of Bulgari watches here.
Shoppers in India can find Bulgari watches on Ethoswatches.
Take note that warranty policies on these sites may be different—we'll talk more about Bulgari's watch warranty below.
Where Are Bulgari Watches Made?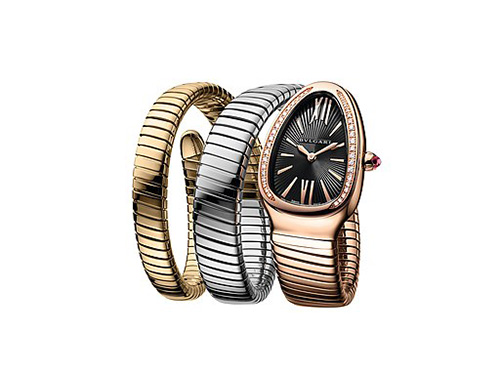 Bulgari watches are made in Switzerland. Bulgari Time is currently located in Neuchatel, Switzerland. The brand's different watches feature movements manufactured by different watch companies. The brand's watch production company, which employs around 500 people, is called Bulgari Haute Horlogerie SA.
Bulgari Watch Warranty
Every purchase of a Bulgari watch will give the customer a two-year warranty from the date of purchase. This is a digital warranty card that will register the watches in the Bulgari network and will be honored in any Bulgari boutique.
According to the Bulgari website, the digital warranty card uses a QR code and an NFC reader. If bought online, the digital warranty of the card is activated using the Bulgari's E-commerce Center before the watch is shipped.
The warranty does not cover normal wear of the case, band, crown, and glass. It is also considered invalid in case of "loss, theft, improper use, negligence or attempts to repair by unauthorized persons."
Read more about the company's warranty policies and coverages here, as well as after-sales services here.