The Audemars Piguet Royal Oak is an iconic watch launched during the Quartz crisis. It is particularly notable for its steel case, octagonal bezel with eight hexagonal screws, along an integrated bracelet. Although disconcerting when it was first launched, this luxury steel timepiece later received overwhelming support in the watch market because of its revolutionary design.
Should you wish to purchase one, many models go for forty thousand dollars while more limited models go for twice that. You may also check out authentic pre-owned Royal Oak Offshore models from this link, while they are still very inexpensive, you can occasionally pick one up for a more relatively affordable price.

The Royal Oak is associated with wealthy celebrities, it's part of Arnold Schwarzenegger's watch collection and worn by Hollywood stars and fictional characters such as Bobby Axelrod in Billions.
If that's still quite too much, then don't worry. In this post, we'll give you some great alternatives to Audemars Piguet Royal Oak offered at more affordable price points.
Quick Recommendations:

The Audemars Piguet Royal Oak

As mentioned above, the Audemars Piguet (AP) Royal Oak was bravely introduced to the watch market during the Quartz crisis. During such a period, Swiss manufacturers were about to face financial collapse, and Audemars Piguet knew that they must do something to prevent this from happening. Then, the company decided on producing an all-original steel luxury watch that's both sporty and elegant. This was made possible by watch designer Gerald Genta, who later stated that the Royal Oak was "the masterpiece of his career".
In April of 1972, the iconic Audemars Piguet Royal Oak was launched at the annual Swiss Watch Show (now known as the BaselWorld). It was designed after the traditional diver's helmet, slim and mainly made of steel, along with the complex stainless steel bracelet. The movement used was Calibre 2121 beats at 19,800 vibrations per hour and with an anti-shock system that's particularly suitable for a sports watch.
Moreover, Royal Oak's name is nautical-related in line with the design's theme inspired by a diver's brass helmet. The name Royal Oak comes from a series of eight vessels of Britain's Royal Navy. Such a name was also used initially to pertain to the hollowed oak tree wherein King Charles II of England hid to escape the Roundheads.
Best Affordable Audemars Piguet Royal Oak Alternatives
CasiOak G-Shock (GA-2100-1A1)

The G-Shock CasiOak features that signature octagonal bezel, which nicely complements its rugged aesthetic. Featuring a 45.4mm diameter black resin case with carbon fiber construction, this G-Shock watch model looks as tough as it seems.
In addition to the integrated bracelet, the G-Shock Royal Oak is pretty much a mirror image of Audemars Piguet's classic watch collection but with a harder edge to it. The G-Shock GA-2100-1A1 is surprisingly sleek once worn on the wrist despite the larger case size.
The build of this timepiece also provides it with solid 200-meter water resistance. This aspect of the watch means you can use it for swimming and diving. Seeing as this is a G-Shock watch, that feature is not that surprising at all.
We did have some issues with the all-black dial, as legibility might be an issue for some. Fortunately, this G-Shock Royal Oak watch comes in various models like the GA-2100-1AJF, which features white indices for better readability.
The CasiOak also features analog-digital displays and utilizes the Casio 5611 module. You can expect this to bring all the standard G-Shock capabilities to the table when it comes to features. The CasiOak comes with a stopwatch, countdown timer, perpetual calendar, five daily alarms, and a world time.
Battery life has a length of three years. If you love the aesthetics of the Royal Oak watch, but in a more robust and tactical form – the G-Shock GA-2100 model is a great choice.
Casio G-Shock Octagon Camo Bezel (GA-2100SU-1A)

G-Shock Japan unveiled another series of entries to the CasiOak series last year, with the Camo model being one of them. Featuring a similar case and bezel shape to the Royal Oak collection, the GA-2100SU-1A takes it differently in terms of aesthetics.
The GA2100SU model delivers a more rugged military appeal with its camouflage bezel. That said, the overall construction provides the same level of durability as other G-Shock watches.
The resin and carbon fiber case come in with a girthy 48mm diameter, and over at the back is a stainless-steel panel. The dial also has durable mineral glass to keep it protected from scratches.
This CasiOak offers your standard G-Shock functionalities as well. Expect access to a stopwatch, countdown timer, world time, and a 12/24-hour format. In addition, there is an LED backlight on the dial, while the structure of the case provides it with solid 200-meter water resistance.
You can check out the entire official CasiOak collection right here. If you wish to have something more unique and personalized, might we direct you towards the bold and compelling CasiOak IFLW Edition series?
Timex Essex Ave Watch

The Timex Essex Ave also offers a 50-meter water resistance which means it can survive brief immersions and splashes. We genuinely love Timex's approach with Essex Ave – a classy, professional, and affordable alternative to the Royal Oak.
The Timex Essex features a smoother octagonal case compared to other entries in this list. This design choice gives Essex Ave a more refined charm. The 44mm silver-tone, low-lead brass case comes with a mineral crystal glass for solid durability, lightweight, and scratch-resistant construction.
The black dial features luminous white hands and Arabic numeral hour markers. Extra features include the day and date display at the 3 o'clock position. The silver-tone case is also complemented quite nicely by the brown leather strap.
Festina Chrono Analog Quartz Watch (F16757/2)

The Festina Chrono Watch is another great alternative to the Royal Oak. It also comes with chronograph features which further adds to its overall functionality and style. The stainless-steel case has a 41mm diameter, which is suitable for most wrist sizes.
The blue dial is quite impressive and nicely uses the silver-tone luminous hands and hour markers. There are also the three sub-dials that display hours, minutes, and seconds. Underneath lies a quartz movement which allows this stunning timepiece to retain an affordable price tag.
The construction of the case gives the Festina Chrono a decent 50-meter water resistance. Additional features include a date display at the 4 o'clock position. We are impressed with the classy simplicity of the Festina Chrono and see it fit well with both casual and formal attires.
D1 Milano Watch (ATRJ02)

Featuring a modern minimalistic aesthetic, the D1 Milano manages to enhance the overall classiness of the Royal Oak watch's classic design. The brushed black stainless steel adds a rugged appeal to the D1 Milano, which is counter-balanced by the refined octagonal-shaped case.
The D1 Milano did not skimp on quality as it uses high-grade materials and construction. The 41mm case is made from stainless steel and has a scratch-resistant sapphire crystal dial window.
This timepiece also features a Swiss automatic movement with an analog dial display, and a date display is also positioned over at the 3 o'clock hour marker. The black dial is classy and straightforward, with gray hands and hour markers that provide adequate legibility.
Other notable aspects about the D1 Milano include the flexible black rubber strap, enhancing comfort. It also has a 50-meter water resistance rating, which can withstand the occasional splashes and brief submersions in water.
Bulova Watch (96D138)

The Bulova Watch model number 96D138 adds a certain level of luxury to the classic Royal Oak design. The midnight blue dial enhances the silver-tone aesthetics while the diamond-studded hour markers top off that deluxe charm.
A lot is going on in the dial with its 6-hand chronograph sub-dial and diamond markers. Combine that with the stunning blue dial, and you have yourself quite an eye-catching timepiece.
We haven't even included the 44mm stainless-steel octagon case and bracelet. The 96D138 certainly has a certain sophistication that only the Bulova can deliver. Another notable element is its 100-meter water-resistant construction, which means it is suitable for swimming.
Bulova Analog-Quartz Watch (98D142)

If you liked the look of the Bulova 96D138 but prefer a sleeker and somewhat mysterious charm – then you can check out the all-black version, the 98D142. This Bulova watch features an identical build and design; the 98D142 incorporates a brushed black stainless-steel appearance.
The black octagonal case measures 44mm in diameter, which might make it a bit large for those with smaller wrists. Over on the dial, we have the diamond-studded hour markers and the sunray sub-dials.
This Bulova timepiece utilizes a Swiss quartz movement with its analog dial build. The 98D142 also offers a 100-meter water resistance construction.
Casio Edifice Quartz Watch (EFR-S567D-1AVCR)

The Casio Edifice has some similarities to the Royal Oak timepiece in its presence. However, while it does lack the signature octagonal case, it manages to deliver a somewhat similar aesthetic with its professional yet rugged design.
The Casio Edifice watch is also packed with features and presents a premium quality build. Featuring a flat bezel design with a mineral glass dial window, the Edifice certainly feels like a high-end timepiece.
The black dial accentuates the silver-tone case with bold red accents. The sub-dials further enhance the overall performance of this watch without overloading you with information.
Please take note that the Casio Edifice comes with a 48.9mm case, making it incredibly large with an almost tank-like appearance. That said, the size fits nicely with its heavy-duty masculine charm, and the quartz movement within helps keep everything accurate as well.
Maurice Lacroix Aikon Gents Automatic Watch

Luxurious and stylish, that is what the Maurice Lacroix Aikon brings to the table. Also pays respect to the AP Royal Oak with its Guilloche dial, baton-style hands, and date feature at 3 o'clock.
However, it shuns away from the octagonal bezel and screws so as not to be another look-alike. This fantastic timepiece features a classic and timeless design accentuated by top-notch performance. The blue dial is the main star of this show with its detailed anthracite and rhodium design.
The blue leather strap highlights the beauty of the polished 42mm stainless-steel case. This luxury timepiece is an automatic 26-jewel caliber ML115 movement with a 28,800VPH to bring forth top-tier precision.
Additional notable features include a date display at the 3 o'clock position, a 38-hour power reserve, and a 200-meter water resistance rating. This timepiece not only looks nice, but it is incredibly well-made and durable as well. Read more about Maurice Lacroix watches here.
Citizen Eco-Drive Signature Octavia (BL5460-51E)

Another older alternative watch is the Citizen Eco-Drive Signature Octavia BL5460-51E. It is also a stainless steel timepiece, loaded with features such as the perpetual calendar, chronograph, alarm, and date function.
It also has a hexagonal bezel yet with softer angles, making it almost circular. Yet, you would still see eight screws marking each apex. Aside from the features mentioned above, its black dial comes with luminous hands, and it uses an anti-reflective sapphire crystal as the dial window. For the movement, it comes with Japanese quartz. Despite this, since it uses Eco-Drive technology, it doesn't need any battery as any form of light is enough to power it. This watch is also water-resistant to 100 meters.
Bulova Silver Diamond Dial (98D103)

Although a brand new Bulova Royal Oak is already obsolete, there are AP Royal Oak alternatives from the brand that you may also consider.
One of them is the Bulova 98D103. This one's very much affordable yet also stylish and sleek. It still comes with a stainless steel case and bracelet. However, its bezel deviated from the octagonal design as it comes with a dodecagonal (12-sided) bezel with eight screws.
The case measures 44mm with a mineral crystal window. The dial is black, with silver-toned hands. However, the hour markers are primarily hand-set diamonds except for the 3, 6, 9, and 12 that are marked only with silver-toned thick indices. It also has a date feature at 3 o'clock position. Its movement is Japanese quartz, and it is water-resistant to 100 meters.
Baume & Mercier Ladies Riviera (8729)

Now, this particular timepiece is the choice for our women readers.
Yes, Baume & Mercier Riviera is a stylish sports watch for women. It comes with a stainless steel case and a black sleek rubber strap with a deployment clasp. This one also has a dodecagonal bezel with four diamond accents (instead of screws). The black dial is smoothly marked with geometric lines. It also has a date window at 6 o'clock and luminous watch hands. It uses the Swiss-quartz movement and is water-resistant to 50 meters. Read more about Baume & Mercier here.
Omega Constellation

This next AP Royal Oak alternative is another timepiece designed by Gerald Genta. As such, one notable similarity is its integrated bracelet.
The Omega Constellation is another sleek steel watch. Its case, bezel, and bracelet are all made of stainless steel. Its circular bezel is marked with Roman numerals instead of the Royal Oak's screws. Its dial is silver-toned and comes with silver-toned hour markers and luminous hands.A scratch-resistant anti-reflective sapphire crystal then covers the dial. It uses a quartz movement and is water-resistant to 100 meters.
IWC Ingenieur

If you have quite a more flexible budget, the IWC Ingenieur is an AP Royal Oak alternative that is stylish and of premium quality build. It's not surprising that this is also designed by the Royal Oak designer, Gerald Genta.
It is mainly made of polished stainless steel for the case, bezel, and bracelet. The bezel may not have screws on it, but you'd notice five small circular markings. Its dial is black with luminous markers and hands. It also features 24-hour Arabic numeral marking on the dial's outer rim. At 3 o'clock is a date window. It uses an automatic Swiss movement. The whole dial is protected by sapphire crystal glass. Its water resistance rating is up to 120 meters.
Bulgari Octo

Last is another high-end alternative, the Bulgari Octo. It also pays respect to the AP Royal Oak, but its dial is the octagonal one instead of the bezel, and a circular bezel then surrounds it. Its dial also has a date window simple hour and minute markers with Arabic numerals at 6 and 12 o'clock. Under the titanium, this watch is powered by a self-winding automatic movement with a power reserve of up to 50 hours.
Bulova Royal Oak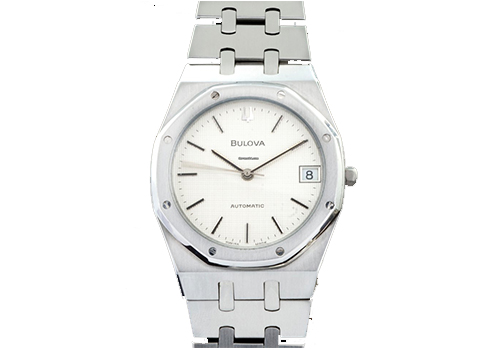 Undeniably, the Bulova Royal Oak is a great AP Royal Oak homage. Despite being launched years after, there are rumors that it was designed before the AP Royal Oak, considering that the designer Gerald Genta worked in Bulova before transferring to Audemars Piguet. Regardless, Bulova is known for manufacturing the best homage watches such as this one.
The Bulova Royal Oak is very similar to the AP Royal Oak in most aspects. It is also primarily stainless steel and features an octagonal bezel with eight screws. The movement is automatic ETA 2892, and on the white dial are baton-style hands and a date window at 3 o'clock. The bracelet is also integrated. The only notable difference is the case size, wherein Bulova Royal Oak only measures 36mm while the AP Royal Oak measures 39mm.
As mentioned in this discussion, only a few units of the Bulova Royal Oak were made; but you may still see some Bulova Royal Oak on eBay.
Didun Royal Oak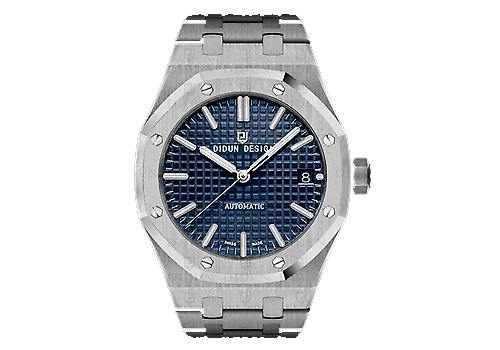 Another recommended AP Royal Oak homage from this watch forum discussion is the Didun Royal Oak.
It also looks very similar to AP Royal Oak with its stainless steel case, octagonal bezel with screws, and integrated bracelet. It's 44mm case, however, is quite a bit bigger than that of AP Royal Oak. It also comes with a date feature at 3 o'clock, a sapphire crystal window, and an automatic self-winding movement. Its water resistance is up to 100 meters.
Overall, it exudes a luxurious look as well, yet it is, in fact, very affordable.