Our team at The Watch Ranker spends a lot of time researching all sorts of watches, from luxury, sports, casual wear to vintage timepieces, you name it and our eyes must have run across them to present all that you need to know about the best watch collections. Baume & Mercier is a brand we had to include on our site as it has been winning hearts of watch aficionados for 190 years!
A part of Cie Financiere Richemont SA since 1988, Baume & Mercier stands equal in popularity with other renowned brands owned by the company, including Cartier, Montblanc, A. Lange & Sohne.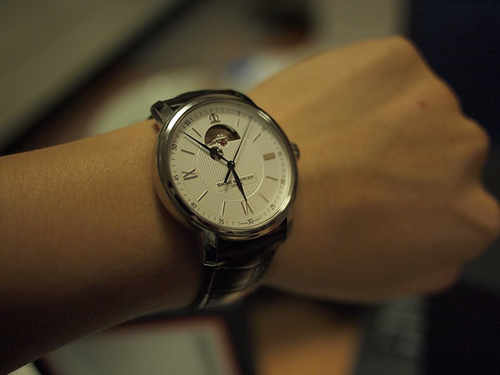 But don't let the splendor of Baume & Mercier fool you into thinking that it only manufactures watches with the hefty price tag. The brand has been introducing stylish models of watches under the collection "My Classima", which are sophisticated timepieces priced under $1000. This provides an opportunity for people to try a luxury brand at an affordable price.
Baume & Mercier History


The watch company has its humble beginnings in 1830 in Les Bois, which is a village in the canton Jura of Switzerland. It all started as a watch dealership owned by two brothers, Celestin Baume and Louis-Victor, having the ambition to produce premium excellence. After establishing a thriving business in the country of Switzerland, a new branch was launched in the city of London in 1851, by the name of "Baume Brothers" to further expand the watchmaking business in the international market.
Extending the business internationally proved to be very beneficial for Baume & Mercier, as it gradually increased the popularity and demand of the brand throughout the British Empire. Not only that but by winning hearts and competitions for its unmatched time accuracy, the company was awarded 7 gold medals in multiple exhibitions held worldwide and 10 Grand Prix awards.
In 1892, a model of Baume chronometer pocket watch that had a tourbillon movement won the competition organized by Kew Observatory. For over ten years, this model of Baume's watch remained unbeatable in terms of accuracy and precision.
The Early 1900s
The director of the company William Baume joined hands with Paul Mercier in 1918 to launch the Baume & Mercier. The brand is rooted in Geneva since then and following the year of its launch, it won the highest international distinction of its time in 1919. The Geneva Seal or "Poincon de Geneve" was awarded to Baume & Mercier for achieving supremacy in watchmaking.
During the late 1900s, the brand revolutionized the watch models and introduced a collection for women. This step became a cornerstone for developing elegant designs of wristwatches for women, which were not a mere spin-off of their masculine counterparts, but involved quality and comfort too.
Later; Marquise, one of the most successful models of watches by Baume & Mercier was introduced during the late 1940s, following which the brand launched several chronographs equipped with characteristics like moon phase and triple date displays. These features later became a part of many models of watches by Baume & Mercier, most of which are still popular.
The Late 1900s
In the 1960s, the company's search for perfect balance and innovation led them to the development of the archetypal traditional round watch.
Another feather in the brand's cap is the introduction of the first steel sports watch in 1973, named Riviera that inspired further designs like Stardust and the Galaxie.
It was in 1988 that the brand decided to become a part of Vendome Group, now known as Richemont, which led to the release of innovative watch designs that are now recognized as the signature style by the brand.
In 2015, Baume & Mercier collaborated with the distinguished American race car making company, Carroll Shelby International which led to the enhancements in sports watch collection by the brand. Ar present, you can still find a limited edition of "Shelby Cobra" wristwatches by the name of Clifton and Capeland.
Baume & Mercier Watch Collections
Baume & Mercier is among the very few watch brands that conduct in-house production of their watches. From the sketching of the watch design to finishing and testing the accuracy of the timepieces, everything is centralized in Switzerland.
The design and development of products are handled in the Geneva headquarters. As for the assembly and production of the watches, it is carried out in various workshops located in the Swiss Jura. The brand ensures to hire only the expert watchmakers to be a part of their team to produce Baume & Mercier wristwatches with Swiss excellence.
Each Baume & Mercier watch collection has its own distinctive movement, features, styles, dial sizes, materials, and band type.
With equal diversity offered in watches, you can easily find a watch best suited for your requirements and budget.
Clifton Collection
Read Amazon Reviews | See on eBay
Clifton Baumatic is one of the very popular collections of the brand as these watches feature the new Baumatic movement. This is a self-winding movement, with an autonomy of 120 hours and less frequent need of maintenance i.e. once every 7 years. These watches are highly precise, featuring a traditional round dial shape with a case made of steel or gold. A few of the watches in this collection carry the signature Baume & Mercier blue background with an alligator or a steel strap.
On the other hand, Clifton club watches mainly feature dress watches for men, where the variety of sports watches are also present with their modern designs that are recently added to the collection. The watches either have Quartz or an automatic movement with a power reserve of up to 48 hours. Different sized dials are available with the company logo for the 12 O-clock markers, as well as dials with the signature blue color. You will find some incredible color choices in the Clifton club sports watch series like orange and blue accents with different strap materials that make this timepiece a true luxury.
Classima Collection
Read Amazon Reviews | See on eBay
Classima is known as a timelessly styled versatile collection priced under $1,000. They are pretty solid quartz watches under this price bracket and look somewhat like the IWC's earlier mechanical wristwatches like Portofino Automatic. The collection was launched in 2016 and since then a lot of designs have been launched making it the widest and diverse collection of Baume & Mercier.
You can find Classima in three sizes: 40 mm on a black leather strap or bracelet, 31 mm and 36.5 mm on blue leather or bracelet. All these straps are made of stainless steel with a folding clasp which is secured by push-pieces. One can tell these bracelets have quite a few things common with the more expensive models of the brand; hence this collection is above the competition in this price bracket.
Promesse Watches
Read Amazon Reviews | See on eBay
Promesse is a classic watch collection designed for women keeping in view a feminine aesthetic. The collection has watches featuring Quartz and automatic movement with small or medium-sized dials that feature a flattering appeal.
Most of the critics call it a nod to the brand's history for its oval bezel that surrounds a round dial. But Promesse is not only homage to 1970s watches as its one of the most modern and stylish watch collections that the brand developed especially popular among those looking to get affianced.
Hampton Collection
Read Amazon Reviews | See on eBay
The Hampton collection is characterized by its non-traditional, rectangular-shaped dials. It would be right to call this collection a treat for vintage watch collectors because the design has all the likes of a vintage timepiece.
These watches either have a Quartz movement or a self-winding mechanical movement, offering the variety in both steel and leather straps. Hampton Collection has an Arabic numeral display and the timepieces designed for women are adorned with diamonds.
The good part? There are no complex features, just regular watch mechanics with a classic design.

Baume & Mercier Brand Reputation
Watch enthusiasts and collectors rank Baume & Mercier among Top 25 luxury watch brands in the world. This says a lot about the quality of the watches and the excellence of their designs. Considering there are hundreds of competitors and the brand is still able to rank in the Top 25 shows that all the hard work of 190 years put into evolving the brand has not gone unappreciated.
For instance, when we compare the brand with the likes of Maurice Lacroix, Baume & Mercier, many would say it has a better reputation in terms of quality, although the two brands do compete at a similar price bracket for mid-ranged price watches.
Baume & Mercier is renowned for offering a complete diversity when it comes to design. Their vintage timepieces are as loved by watch collectors as their modern-looking wristwatches; like dive watches, especially the mid-range priced Riviera and Clifton collection, are very much sought after for their features and comfort.
The brand offers ranges from sporty to strictly formal collection so there are chances we will see the watch movements taking some innovative looks in the future; and even if we don't, Baume & Mercier watches already feature an impressive success and upbeat designs.
As the watch buyers are becoming increasingly value-conscious, Baume & Mercier offers them a technically impressive watch at a reasonable price which is a major catch for a large clientele.

Is Baume & Mercier A Good Brand?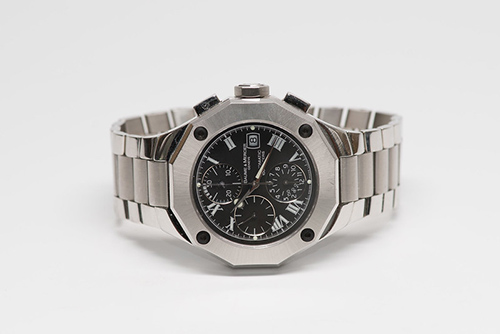 Investing in a luxury watch brand might not be convenient for everyone, so you might ask if Baume & Mercier is worth the purchase? If affordable luxury is what you seek and you want all the functions that a more expensive watch brand offers, but at a price you can afford, Baume & Mercier should easily be a brand of your choice.
Buyers of the brand recommend that in terms of quality, design, and function, Baume & Mercier is in competition with more extravagant brands. You can compare a watch from Baume & Mercier that will match the qualities and style of a watch from a brand like IWC at a cost 3 times less than its expensive counterpart.
For many watch buffs, the first impression of Baume & Mercier watches is of well designed, practical and easy to wear wristwatches ideal as every day, long term companions. These watches have decent performance with an automatic modern mechanical movement and design that looks like something from yesterday. But the brand's mission is not done yet as there is a lot of room for them to push themselves and come up with contemporary watches made to fit movements and calibre like BM12-1975A.
You should also know that watches with basic mechanical movement and Quartz movement from the brand are prioritized over complex automatic watches. The reason is that some people found a few issues with the range of automatic watches offered by the brand.
Baume & Mercier is often compared with the giants of the watch industry for the extravagance it provides at an affordable cost. These brands include Rado, Cartier, Tag Heuer, Longines and Oris.
For Swiss watch brand lovers, Baume & Mercier watches are definitely coequal to timepieces from Hamilton, Tissot, Victorinox, Omega, and others.

Baume & Mercier Watch Warranty
Baume & Mercier believe in perfection and make the collections available after carefully analyzing it for defects. All Baume & Mercier wristwatches come with the guarantee that they are free from all types of flaws.
But, in case of any defect, the user can claim a 2-year warranty for the brand to fix or replace the watch. An extended warranty of up to 1 year is also offered on certain models, such as the Clifton Baumatic which can be availed through registration.

Where to Buy Baume & Mercier Watches?
A complete collection of Baume & Mercier watches and their variety is present at their Online Store. You can also shop brand new, as well as pre-owned Baume & Mercier watches from trusted web stores, such as eBay, Amazon, Ashford, and Betteridge.
For those who prefer shopping in-store and examine the watch before making a purchase, Baume & Mercier has hundreds of stores and official retailers located worldwide, with a complete list of locations accessible here.