Victorinox has been around for over 130 years and continues to be one of the most trusted Swiss watch companies today. This article will let you in on the company's colorful history and provide you with information on some of its best watches.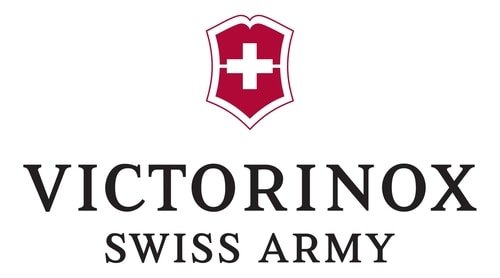 Victorinox: History
Founded by Karl Elsener, Victorinox was established in Schwyz, Switzerland, in 1884. Elsener's workshop, located in Ibach, made soldier's knives supplied to the Swiss Army.
In 1908, Victorinox and Wenger (another Swiss watch company that produces Swiss Army Knives) supplied knives to the Swiss Armed Forces. This contract split allowed the competitors to share distribution—half of the knives were made in Schwyz, the German-speaking part of Switzerland, and another half in Bern, the French-speaking part of the country.
To avoid conflict between the two brands, Victorinox marketed their knives as "Original Swiss Army Knives," and Wenger marketed theirs as "Genuine Swiss Army Knives."
In 2005, Victorinox took over Wenger, which was able to develop its product lines further. We discussed this acquisition in our article about Wenger watches, which you can read here.
Today, Victorinox has a total of five product categories. watches, namely: Swiss Army Knives (its core product), Household and Professional Knives, Watches, Travel Gear, and Fragrances. Comprehensive information on these products is available on the official Victorinox website.
In 1989, the company officially started producing timepieces in the United States under the name "Swiss Army." These will be the focus of this article—we will take a closer look at all of the brand's watch collections.
Where Are Victorinox Watches Made?
On its website, Victorinox states that the majority of their watch products (as well as their Swill Army Knives, Household and Professional Knives, and Fragrances, are manufactured in Switzerland: "Victorinox guarantees that its products meet the highest standards in all areas and quality is never compromised, regardless of the production site."
Victorinox's Reputation
Victorinox produces some of the best Swiss Army Knives globally, and the brand makes sure that they put in the same dedication and care in the production of its watches and other products.
The brand has a generally good reputation, appreciated by watch enthusiasts—this thread has feedback from customers, highlighting the brand's good quality and value for money.
Victorinox assures "mechanical excellence, on-point aesthetics, and relentless accuracy" in their timepieces, promising customers that the watches have the famous Swiss precision.
One of the brands that are commonly compared with Victorinox, apart from Wenger, is Tissot. They are similar in the sense that they are both considered by many as entry-level swiss watches due to their price points, and both are Swiss-made.
Design-wise, however, Victorinox is considered to have designs that are more sports-friendly. If you'd like to learn about the two watches side by side, you can follow this forum that has input from watch owners (Tag Heuer and Seiko are discussed as well).
Victorinox Watch Collections
Below, we will zero in on Victorinox's different collections and some of its best watch models. We'll also provide some links and videos for readers who want to explore the watches further.
Victorinox Swiss Army I.N.O.X. collection

The watches under the I.N.O.X. collection are made for extreme conditions, perfect for those who engage in sports and adventures. Available in quartz and mechanical movements, these watches have models for big and small (men and women) sizes.
Check current prices on Amazon for Victorinox Swiss Army Men's I.N.O.X.
The classic I.N.O.X. watch start at $495 on the Victorinox website. One thing that makes these watches unique is the extremely durable paracord strap, which was initially used for parachute suspension lines. This strap has a breaking point of 250kg, and the nylon cord has an outer sheath and strands that you can use for functions like replacing shoelaces or making a fishing net. Some models have a rubber strap. See the complete collection here.
The Victorinox Swiss Army Men's I.N.O.X. Carbon watch made it to our list of the Best Tool Watches for Every Budget, which you can read here.
Another watch line that stands out from this collection is the powerful I.N.O.X. Professional Diver, which adapts to saltwater and withstands the elements. These watches are water-resistant to 200m and have met the N.I.H.S. 92-11 Swiss watchmaking standards.
The watches also "has withstood a total of 130 tests specifically developed to guarantee resistance and functionality," Victorinox says on its website. This line also has Superluminova technology, which will make it easy for the diver to read even when in the dark and underwater.

Victorinox Swiss Army Airboss collection

The Airboss collection is for an aviator watch that provides accurate time. The inspiration for this watch came from the air boss, the countdown commander of an aircraft whose job requires an accurate timepiece.
These start at $995 on the Victorinox website, and the more high-end models are at over $2000. These also have Superluminova technology giving the watch hands superior luminosity, automatic mechanical movement, and strap material such as leather and stainless steel. See all of the models here.
One of the most popular watches from the collection is the Airboss Mechanical Chronograph.
This mechanical watch is equipped with a Swiss-made automatic movement E.T.A. and a 38-hour power reserve. It also has military time and a Superluminova technology that assures readability in the dark.

Victorinox Swiss Army Alliance collection

The Alliance collection has a wide range of watches for men and women. This line has watches that Victorinox describes as the "strong, silent type. It flew under the radar and it never makes a fuss," but a closer look shows the brand's meticulous design and top-notch technology. Some of the most popular women's pieces from this collection are the Alliance X.S., elegant 28mm watches available in various straps (leather, stainless steel), and dials (mother of pearl, white, dark gray).
There are also bigger models, such as the Alliance Mechanical (40mm) and the Alliance with Pioneer Swiss Army Knife (44mm, paired with a Swiss Army Knife when one purchases it on the Victorinox websites).


This line also has the Alliance Sport Chronograph with features including a tachymeter, a screw-in caseback, and a scratch-resistant anti-reflective sapphire crystal.
Victorinox Swiss Army Maverick collection

The Maverick collection has versatile watches in design and function, and one can wear these in the office or outdoors, as everyday wear or during a night out. Available in sizes for both men and women (43mm and 34mm), this line has a classic, refined look that can look both elegant and sporty at the same time.
The Maverick model (a dive watch) has a stainless steel case and a quartz movement. These have a unidirectional rotating bezel, screw-in case back, crown protection, and water resistance to 100m. There's also a chronograph variety, which is significantly more expensive (the Maverick is at around $450, and the Maverick chrono is at $725).
Those with smaller wrists can also check out the sleek Maverick Small models, with a wide array of strap materials and dials. These have a Swiss quartz movement, an anti-reflective sapphire crystal, and a 100m water resistance.
Victorinox Fieldforce collection

Inspired by Swiss Army design, the Fieldforce collection of big (42mm), handsome watches with legible hands and numerals have the Superluminova technology. These watches are scratch-resistant and have a triple-coated anti-reflective sapphire crystal, and have leather and stainless steel bracelets. Like the Army Maverick collection, these watches have a sporty and elegant look, so it's very versatile.
This watch has received a number of good reviews, getting praises for its price. This review, for instance, highlighted the construction and design that could cost more in other brands. It also mentions that the Fieldforce is a "humble" timepiece and a "great entry point into watches with real heritage."
The collection also includes chronographs like the Fieldforce Chrono, which are about $150 more expensive than the classic Fieldforce. The Fieldforce models also have a red second hand and a Swiss Army Knife-shaped counterweight. See all the models here.
Victorinox & Firefighters
Here's an interesting story about Victorinox: the company has a close relationship with firefighters in places like Switzerland and the United States. Four decades ago, the brand formed its own crew of firefighters (a team that includes their C.E.O.)—men who require extremely durable material for their job.
One of the products that came out of this partnership is this Rescue Tool, a Swiss Army Knife for firefighters.
This tool has since become a part of the tools used by these men from other parts of the world. Another item that has sprung out of the partnership is the special I.N.O.X. Firefighter Edition, which the brand says is the strongest watch on the market: "This watch had to withstand, including falling from a three-story building, withstanding the weight of a fire truck, surviving boiling water and a washing machine as well as being frozen into ice."
This watch sold out within days of being released, although you may still find some on eBay.
Since then, Victorinox has come out with the I.N.O.X. Carbon, a watch capable of withstanding temps of 1,260 °C.


Read more about the partnership and products here. You can also learn about the tests that the watches are subjected to here.
Click here to see other watches fit for firefighters.
Where to buy Victorinox watches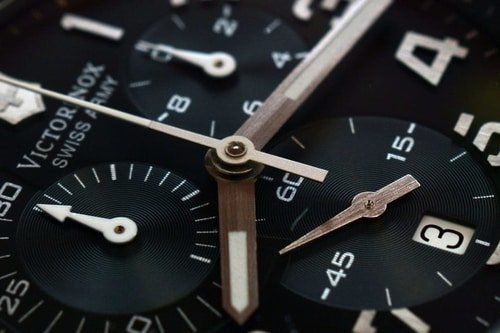 You can buy Victorinox watches (and their other products) on their official website. The United States store offers free two-day shipping on all orders over $30.
Each item also has a link that leads customers to a Store Locator page, where you will be able to locate Victorinox stores, authorized retailers, and repair centers all over the country—enter the location that you want. You will be led to a page with all nearby Victorinox shops.
You can also purchase Victorinox watches on Amazon and buy second hand and brand-new Victorinox watches on eBay.
These, however, may not be able to cover the company's warranty, which we will discuss further below.
If you're convinced that this is a good watch brand but can't decide on the model, check out our list of best Victorinox watches here.
Victorinox Warranty Policy
Victorinox announced on its website that the brand's Swiss Army watches purchased from authorized retailers are eligible for a five-year limited warranty (it used to be only three years) effective January 1, 2019. Called the 5-Year Warranty +, this new rule will cover "overs manufacturing and material defects that appear under normal use in the five years after the date of purchase" and will include a free change of battery in the first year of purchase if it's found that the battery has lost charge.
The limited warranty is applied to watches that were purchased from an authorized Victorinox retailer. This page discusses details about coverage and exceptions.
If your Victorinox watch is no longer valid for the five-year warranty, the company said they offer services at a reasonable price. If the evaluation of the watch shows that it's beyond repair, they will give suggestions on other alternative options.
The Victorinox website has a lot of helpful pages that allow users to learn more about how to take care of their watches. This page has information on watch care, this page has instruction movies, and this page has PDF files of watch manuals.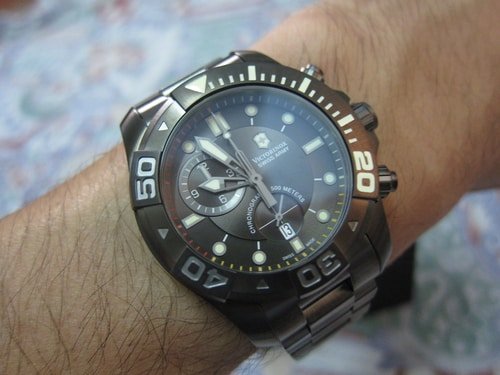 Thanks for reading!
We hope this article allowed you to learn more about Victorinox watches. While the company is famous for their Swiss Army knives, they have also established itself as a trusted maker of durable and stylish timepieces.