Victorinox is a Swiss watchmaker company that, interestingly enough, started in a completely different industry. Victorinox began as a manufacturer of army knives, the reputable Swiss Army Knives. The company was founded back in 1884 by Karl Elsener. Victorinox's ability to craft high-quality blades for the military helped land them contract as one of the suppliers of army knives for the Swiss Armed Forces in 1908.
Victorinox did not start manufacturing its timepieces until 1989. The company applied the same thought process they implemented with their army knives into their watches, and the results speak for themselves. Their timepieces provide top-notch functionality, excellent durability, and a highly robust design. This made Victorinox watches highly sought-after in the outdoor watch market. To this day, Victorinox continues to produce some outstanding watches along with their world-famous Swiss Army Knives and a bunch of other products ranging from professional-grade cutlery, travel accessories and even perfumes.
When it comes to their watches, Victorinox not only focuses on durability but also on accuracy. Their watches feature the use of both quartz and mechanical movement. While primarily a tactical and military watch brand, Victorinox is also known for producing fancy and classy timepieces that can also be considered a dress watch. As for pricing, Victorinox watches sit firmly in the entry-level Swiss watch brand category due to their accessible price tags.
The Victorinox brand's reputation is well-earned and is one based on dependability. The watchmaker also has no qualms in experimenting with their watch designs, as you can see Victorinox watches that utilize high-grade stainless-steel and titanium in the development of their watch cases. If you wish to learn more about Victorinox watches, see our in-depth review of the Swiss watchmaker.
Best Victorinox Watches
Victorinox INOX Watch
Let's start with one of Victorinox's flagship models, the INOX collection. This timepiece series comes in various versions ranging from models that feature stainless-steel bracelets to leather straps and even rubber bands. INOX watches also come in several dial color variants for those looking to personalize their attire. However, the Victorinox INOX watches' strength does not lie in the variety of designs that they provide. Although that is a factor, it is in the performance wherein this timepiece truly shines. The INOX watch is designed for use in the harshest of environments. There is a reason why this particular Victorinox watch is often attributed to the firefighting service.
The Victorinox INOX watch has also been tested to withstand around 130 endurance homologation tests, which is quite impressive and showcases the watch's durability. The INOX watch is also designed to deliver up to 200-meters of water resistance, making it a suitable companion for swimming and some light scuba diving activities. INOX is also packed with excellent features such as a date display, military time format, a removable protection bumper, and an end-of-life (EOL) indicator. The solid water resistance rating is thanks in huge part to the use of screw-down crowns and back case. At the same time, the sapphire crystal window completes the exceptional protection of this timepiece from external elements. We would also like to note that the Victorinox INOX, while appearing to be bulky, is quite sleek with its 42mm diameter size.
Victorinox Original XL Watch (249087)

Simple and effective, this perfectly encapsulates what the Victorinox Original XL watch is all about. Given its incredibly affordable price tag, you can't expect premium-grade materials to be present as one of this timepiece's main components. That being said, the overall build of this Victorinox watch more than makes up for that limitation. The OG XL incorporates a durable plastic case equipped with a mineral crystal window and a diameter of 43mm. The case uses a flexible nylon band with buckle closure, providing good comfort for the wearer. The dial's design is rudimentary with its black tone with bold white hour markers and hands. Both markers and hands have a luminous finish to improve visibility in the dark. There is also a date display that takes up the spot of the 3 o'clock marker.
Inside the Original XL Watch is a Swiss quartz movement that offers excellent precision in timekeeping. The case is also designed to offer a decent 100-meter water resistance which allows this watch to be worn during recreational water-based activities like swimming, but keep in mind that it is not designed for scuba diving. The Victorinox Original XL is a lightweight yet scrappy timepiece for those looking for a high-quality outdoor Swiss watch at this price.
Victorinox Maverick Chrono Black Edition

Next up we have another of Victorinox's best-sellers, the Maverick series. We chose the Chrono Black Edition specifically due to its incredibly sleek and stylish aesthetic. Not only does it look sweet, but the Chrono Black also delivers top-notch functionality and dependability. We also liked how the polished black appearance works well in both casual and formal attires. Victorinox also went a step beyond with the stainless-steel construction of this timepiece as the material is a hypoallergenic variation to avoid skin irritation. There is also the sapphire crystal window known for its scratch-resistant properties, enhanced further with an anti-glare coating.
Other notable features include a unidirectional rotating bezel, date window, count-up scale, end-of-life indicator, and a military time format display. The Maverick Chrono Black features all the signature elements of what made Victorinox a staple in the industry, and it does so in an incredibly stylish fashion.
Victorinox Swiss Army Alliance Chronograph Watch (241748)

The Victorinox Alliance Chrono utilizes a professional and low-key approach with its design, as one would expect from this reliable and affordable Swiss watchmaker.
There aren't too many bells and whistles here, just good old-fashioned reliability. Despite this, we liked the minimalist approach to Victorinox's design for the Alliance Chrono. With its 44mm stainless-steel case, this timepiece is best suited for those with average to larger-sized wrists. The case has a monochromatic finish that adds a certain degree of rugged finesse to the aesthetics we liked.
Over on the dial, we have a highly organized and symmetrical dial and sub-dial formation that keeps all the information on display tidy. The hands and hour markers also incorporate a luminescent finish for improved readability in the dark. The dial is also well-protected underneath a tough and scratch-resistant sapphire crystal window. The versatility in design also allows the Alliance Chrono to pair nicely with casual and formal attires. This Victorinox watch utilizes their tried and tested Swiss quartz chronograph movement in terms of reliability.  
Victorinox Swiss Army Chronograph Classic Watch (241498)

Victorinox is not just about rugged outdoor and sports watches, the watchmaker company also knows how to throw in some nifty and classy-looking timepieces in there as well. Case in point the Swiss Army Chrono Classic. This timepiece features a refined guilloche dial and nicely rounds off the design with a gunmetal finish. This gives the Swiss Army Chrono Classic a very subdued appearance while keeping its signature toughness just simmering underneath the surface. As such, don't let the exquisite aesthetic fool you; this is just as tough as any of Victorinox's watches.
This chronograph watch once again utilizes a 40mm hypoallergenic stainless-steel with its case construction, eliminating the risk of adverse reaction from those with extra-sensitive skin. The case uses sapphire crystal glass for its dial window for enhanced durability and excellent scratch resistance. Over on the dial, we have luminous hands and hour markers. There are also sub-dial displays that track hours, minutes, and seconds. Additional features include a tachymeter rotational bezel and a date display at the 6 o'clock marker. This timepiece once again features Victorinox's Swiss quartz chronograph movement, which delivers excellent accuracy at all times.
Victorinox Fieldforce Watch (241848)

The Victorinox Fieldforce features a classy leather strap with a fine-grain texture incorporating a more laid-back aesthetic. The combination of classic leather bands with a sleeker and modern case design encapsulates Victorinox's signature blending tradition with modernization. The Fieldforce features an aluminum bezel which helps it retain its lightweight build. As with other Victorinox watches, this timepiece also utilizes high-quality hypoallergenic stainless steel as its main component in the 42mm case construction. The dark blue dial features a lovely monobloc stamp, giving it a smooth velvet surface appearance.
The dark blue dial is accompanied by hands and hour markers that feature Luminova technology for optimum readability at all times. This is further improved by the anti-glare coated, scratch-resistant sapphire crystal window. The Victorinox Fieldforce's sleek case build also makes it a viable option for a dress watch. This modern and sleek timepiece is simple, reliable, and durable that also adds a dash of professionalism to your attire.
Victorinox Swiss Army Night Vision Watch (241595)

As the name implies, this Victorinox watch is specifically designed for use in low-light conditions. This is why we highly recommend this particular model for hikers or even night owls. With its 42mm stainless-steel case, you can be forgiven for thinking that it comes with a fairly rudimentary construction. However, within its compact appearance lies several illumination features designed to combat the dark and provide absolute readability. It comes with a dial illumination, extended light mode, and even an SOS signal feature. The case is attached to a highly durable and flexible rubber strap for better comfort and stability. The case structure also gives the Night Vision watch a decent 50-meter water resistance rating.
The black ice PVD coating on the case also adds a rugged charm to the Swiss Army Night Vision. This Victorinox watch is also available in seven variations that add to the timepiece's versatility. The analog dial is operated by a Swiss quartz movement that provides it with consistent precision. All in all, this is a Victorinox watch that will perfectly complement outdoor enthusiasts as well as those who tend to stay up late into the night.
Victorinox Airboss Mach 9 Watch (241716)

The stunning and no-nonsense style of the Airboss Mach 9 watch is one of its best traits. It features a highly professional build with an emphasis on practicality and functionality. The mechanical design of the Airboss Mach 9 can even be described as somewhat intimidating, but it is certainly a timepiece that you will be glad to be on your side. It is also one of Victorinox's more stylish entries that will surely be an eye-catcher wherever you are. This rather daunting presence of the Mach 9 is further accentuated by its 45mm case frame. This is one timepiece designed for those with larger wrists.
The Airboss Mach 9, despite the name, is built with a 100-meter water resistance rating. This makes it suitable for some recreational swimming here and there. Of course, this timepiece is designed for the sky, as such, it comes with a tachymeter, chronograph feature that displays hours, minutes, and seconds, and a date window. The dial and sub-dials operate via Swiss automatic chronograph movement which guarantees precision.
Victorinox Alpnach Automatic Chronograph Watch (241194)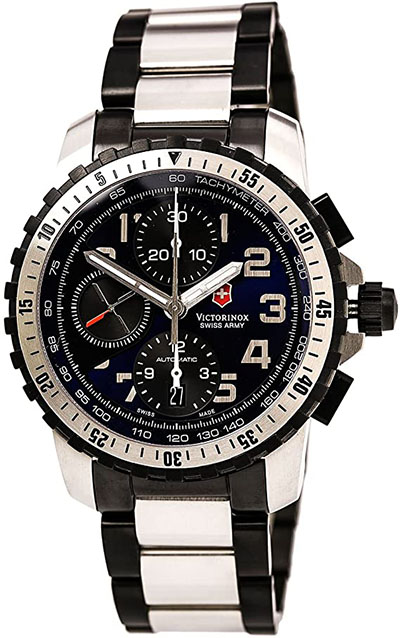 Another Victorinox timepiece that sums up every element that brought the Swiss watchmaker brand to the dance, the Alpnach Automatic Chrono is a highly refined, classy, and a functional modern wristwatch. The Alpnach comes with a brushed stainless-steel 43mm case that is further emphasized visually with a midnight blue dial and a black and white strap. This flash of style is not just for show, though, as this is a Victorinox watch, you can expect top-tier durability as well. Notable features include a tachymeter bezel, chronograph functionality, date display, and 100-meter water resistance.
The Alpnach is also equipped with a high-quality Swiss automatic movement that assures absolute accuracy at all times. The automatic movement also offers up to 46-hours of power reserve, eliminating the risk of the watch inadvertently running out of juice.
Victorinox Carbon Composite INOX Watch

One of the most unique looking timepieces around, the Victorinox INOX Carbon Composite watch features paracord wrist straps which is a first in the market. While this use of a uniquely designed strap did cause us to fumble a bit initially, we can't deny the comfort and stability that this design choice delivered. The paracord strap is incredibly durable and flexible, making it an ideal timepiece for outdoor use. The 43mm carbon composite case and paracord strap are built for rigorous use, so you can expect both to avoid wear and tear damages. The case uses a hardened mineral crystal as its dial window. While not sapphire crystal, hardened mineral is a good alternative that provides a near identical level of durability.
Since this is a variation of Victorinox's excellent INOX watch series, you can expect the same level of durability with the carbon composite version but with a lighter weight. The Carbon Composite models weigh in at 3.4 ounces, compared to standard INOX timepieces that weigh 4.16 ounces. The Carbon Composite INOX timepiece is designed and ready for tough environments at all times.