A reliable and rugged watch is a must for those who prefer the great outdoors to chilling in the safety and security of their humble abode. These outdoor watches are made differently than your standard timepieces as these are typically more durable, lightweight, multi-functional, and feature a 'sporty' or tactical aesthetic.
The number of good outdoor watch options available can be overwhelming for first-timers. Choices range from traditional robust outdoor timepieces to high-tech modern smartwatches packed with weather tracking, GPS features, and outdoor sports profiles. All of these watches are rugged and built to take a beating in the great outdoors.
Of course, the more advanced the features, the higher the cost. For this list of top watches, we've also taken price into consideration and included several budget picks.
The list includes everything from military spec smartwatches to full-featured adventure multisport GPS smartwatches with virtually unlimited battery life. We're sure you'll be able to find your next watch on this list that fits your budget and outdoor lifestyle needs. 

Quick Recommendations:

Whatever outdoor activity you decided on the undertaking, it is best to be well-prepared at all times. One of the best accessories to have in these types of activities is an outdoor watch. To help you in your search, we have compiled a list of the best outdoor watches in the market today.
This comprehensive list covers functionality and price, so we are confident you will find one that fits your specific needs and budget. Well, then – let us begin.
Best Outdoor Watches
Garmin Fenix 6X Pro Solar – Top Pick

Garmin is well-known for its multi-functional smartwatches, and they certainly met and surpassed expectations with the Fenix 6X Pro Solar.
First of all, this outdoor digital watch comes equipped with solar-powered technology, making it a perfect companion outdoors.
The watch also provides decent readability thanks to the 1.4-inch display, advertised as about 36% larger than previous Garmin Fenix watches. When it comes to features, you can bet the Fenix 6X Pro Solar will be able to deliver in spades.
You can expect several features with this Garmin outdoor watch, including the Pulse OX monitor, which keeps track of your sleep, altitude acclimation, and heart rate. It also has a PacePro training program to help you optimally develop your regimen.
It also provides excellent navigational capabilities thanks to its GPS that utilizes GLONASS, Galileo, and GPS satellites. The Fenix 6X also has TOPO maps and several ski maps (2,000) built into its memory. The navigational system used here also comes with a barometer, altimeter, gyroscope, and 3-axis compass.
Additional features also improve overall convenience, such as the Garmin Pay support, allowing users to utilize contactless payment. The Fenix 6X also hits the mark regarding its multimedia features as it is compatible with popular music streaming services.
As for battery life, the Fenix 6X Pro Solar can last up to three days with adequate solar charging. If you find the Fenix 6X Pro's price a bit steep, we recommend checking out the previous model, the Fenix 5X Plus. The Fenix 5X comes with almost similar features but with less memory and a bulkier build.
Timex Ironman R300 GPS Smartwatch 

For those who are a bit taken aback by the costs of the outdoor watches that we have so far included in this list, don't fret as there are great budget-friendly alternatives as well. One such affordable option is the Timex Ironman R300 GPS Smartwatch.
The Timex Ironman R300 is an excellent outdoor and adventure watch and comes packed with features without having a bank-breaking price tag. We also find the rather retro-looking digital display to be one of its more charming qualities.
This outdoor timepiece utilizes third-party apps like Strava that will allow you to go more in-depth with your activity tracking data. We also liked the super user-friendly UI, which offers you all functionalities at your fingertips from the get-go.
Of course, the affordable price tag means that the Ironman R300 will lack modern features such as Bluetooth connectivity and snazzy touchscreen controls. However, it does offer all the essential functionalities you will most likely need on your adventure and comes in a pretty robust build.
Casio Pro-Trek Bluetooth Connected Titanium Strap (PRT-B50T-7CR)
The Casio Pro-Trek watch line is one of the most reliable outdoor timepieces that you can get your hands on today. The Pro-Trek series has proven itself to be as rugged and dependable as they come regarding outdoor functionalities.
Built to last with a slew of functionalities in tow, the Casio Pro-Trek is undoubtedly a highly recommended timepiece for outdoor enthusiasts. Features that you can expect include Casio's signature Quad Sensor design.
The Quad Sensor feature provides wearers with an altimeter/barometer, thermometer, digital compass, and pedometer. This particular Pro-Trek watch also comes with Bluetooth support which further enhances its capabilities.
Once connected to a smartphone, the Pro-Trek Connected will provide extra features such as an Activity Tracker and World Time. Even without Bluetooth, this Pro-Trek watch is still an impressive beast.
As for the build of the Casio Pro-Trek, this watch is built for the rough outdoors. The case comes with a low-temperature resistant design and offers up to 100-meter of water resistance. This outdoor watch also comes with essential functionalities such as a stopwatch, countdown timer, alarm, full-auto calendar, and World Time.
Suunto Core Outdoor Sports Watch

Next up, we have the Suunto Core.
Suunto is another prominent brand in the high-tech smartwatch market along with Garmin so that you can expect top-tier quality and functionality with their watches as well.
When it comes to features, you can always bet on Suunto to deliver the goods. Nowhere is this best displayed than with their Suunto Core series.
The Suunto Core is filled with features designed to support specific outdoor needs, such as an altimeter, barometer, and compass. It also comes with a nifty Storm Alarm that will give you a heads up of any nasty weather approaching.
Other notable features include alarms, stopwatch, countdown timer, date display, sunrise/sunset forecast, and dual time. The Suunto Core also has a unique build that makes it a suitable watch for other sports, exercise, and working out in the gym.
Casio G-Shock Mudmaster (GG-1000)

Leave to G-Shock to appear in any list about durability and the outdoors.
We chose the G-Shock Mudmaster (GG-1000) for this entry, which features a construction designed for conquering challenging trails.
As the name implies, the G-Shock Mudmaster comes with a mud-resistant build that prevents mud and dust from getting into the watch. Add the signature shock-resistant construction, and you have yourself a highly dependable outdoor timepiece.
When it comes to its usefulness when taken outdoors, the Mudmaster manages to hit all the right marks. It features a digital compass, thermometer, 1/100-second stopwatch, countdown timer, auto-calendar, and World Time.
In addition, the watch also comes with an LED backlight with afterglow for optimum readability even at night. This watch provides a solid 200-meter water resistance making it suitable for many water-based activities such as swimming and snorkeling.
Garmin Instinct Solar-Powered Rugged Outdoor Smartwatch

The Garmin Instinct Solar tries to throw a wide net with its functionalities without stretching the watch too thin. The Garmin Instinct provides top-tier features efficiently and with a user-friendly UI.
This advanced device is not just an outdoor watch but also a reliable fitness tracking timepiece. The Garmin Instinct comes with the essential altimeter, barometer, and compass feature, which will assist greatly during hikes and camping trips.
This high-tech watch also comes with multiple GPS to provide an accurate location at all times. In addition, the build of the Garmin Instinct meets the U.S. military standard 810G, which makes it shock and thermal resistant.
As for battery life, this timepiece can last up to 14 days straight with a single full charge, and this is with the GPS turned on. The Gamin Instinct infuses old-school rugged construction with some advanced features to deliver one of the most well-rounded outdoor watches to date.
Polar Grit X GPS Watch

Durable and multi-functional, this modern digital watch by Polar is designed to tackle the great outdoors.
The overall build of the Polar Grit X also meets the U.S. military standard 810G, which makes it highly resistant to impacts, temperature drops, and moisture.
When it comes to features, users will have access to an altimeter, barometer, and compass along with a built-in GPS. The Polar Grit X also automatically detects elevations, allowing you to track data such as speed, distance, and altitude during your hike.
Additionally, this timepiece also features a weather forecast which will be pretty handy for those who love camping for multiple days.  
Tissot T-Touch Expert Solar II Titanium Watch

Tissot is a high-end brand that makes some of the most stylish and accurate sports watches in the market. They also dabbled in outdoor timepieces with one of their flagship models, the T-Touch Expert Solar II, bringing Tissot's signature aesthetics to the fold.
The Tissot T-Touch Expert Solar II incorporates some premium-grade components such as a scratch-resistant ceramic bezel and a high-precision Swiss quartz solar tactile movement.
The 45mm titanium case features an antimagnetic construction and a black PVD aesthetic. The dial also utilizes Super-LumiNova finish for enhanced readability even in low-light environments.
As for features, the T-Touch Solar II comes with an altimeter, barometer, compass, countdown timer, alarm, dual time zone, perpetual calendar, day/date display, and 100-meter water resistance. If you are looking for an outdoor timepiece with a deluxe appeal, Tissot might be the brand for you.
Coros Vertix GPS Adventure Watch with Heart Rate Monitor

Feature-rich and built to last, the Coros Vertix Adventure Watch stays true to its moniker. With a case made from grade 5 titanium alloy and sapphire crystal window, the Coros Vertix is both durable and lightweight.
It is also designed specifically for use outdoors with a multitude of functionalities. The Coros Vertix comes with a built-in GPS, barometer, altimeter, accelerometer, compass, gyroscope, and thermometer. Several fitness tracking features like the heart rate and sleep monitor and a calorie and step tracker are also included.
This watch packs a solid battery life that can last up to 45-hours using standard features while up to 60-hours with the GPS on. This timepiece also has an outstanding temperature resistance and can operate efficiently under -20 to -30-degree Celsius environments.

Apple Watch Series 6 

The Apple Watch Series 6 is not exactly the first thing that pops into your mind when it comes to outstanding outdoor watches, but you would be surprised at what the Apple Watch can offer. The Apple Watch is also surprisingly durable, considering its construction.
This tech-savvy watch comes in at a sleek 40mm aluminum case with rubber straps. This aspect gives it a lightweight build and means you should take extra care not to put it through the wringer.
Where the Apple Watch Series 6 excels is with the cavalcade of features that it offers. It comes with features such as a built-in GPS, health monitor, and blood oxygen sensor. These features are just the tip of the iceberg of what you can access once you have connected to the WatchOS app.
Additionally, the Series 6 comes equipped with a more advanced technology that gives it lightning-fast operational speeds.
Garmin Quatix 6 Multisport Marine Smartwatch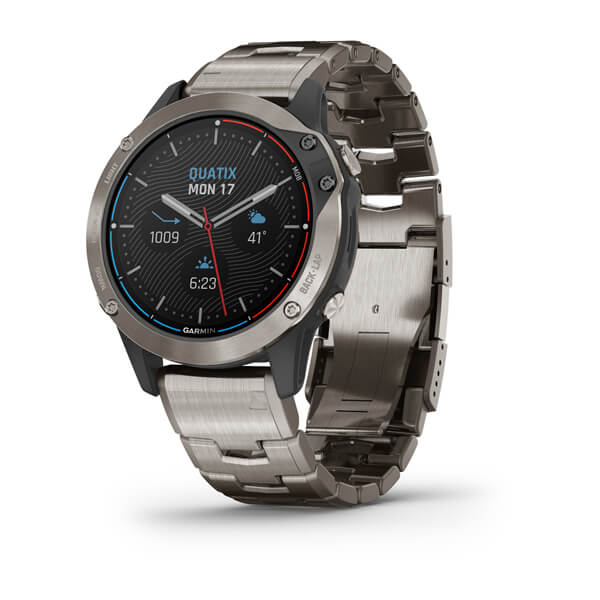 Garmin once again makes an appearance, and once you see what the Quatix 6 offers, you'll know precisely why this is the case. Garmin has always been at the forefront of GPS watches, for starters, and the Quatix 6 continues this trend.
The Garmin Quatix 6 utilizes a comprehensive GPS and is compatible with Garmin's chart plotting programs. The Garmin Quatix 6 also has an impressive and robust build that also takes comfort into account.
This outdoor digital timepiece is designed mainly for sailors; as you can see from the next feature, we will touch next. The Quatix 6 has a sail racing assistance app that provides users with data regarding the starting line, distance, countdown timer, and path tracker. Quite a specific feature.
The Quatix 6 also comes with your typical barometer, altimeter, and compass functionalities. Overall, this is undoubtedly our most recommended watch for those who love sailing and fishing as it provides features that will enhance the convenience of these activities.
The Quantix 6 is one of the best sailing watches on the market 
Suunto Traverse Alpha

The Suunto Traverse Alpha is our top pick for hunters, thanks to its shot detection feature in its GPS. This function allows you to keep track of your prey during hunting more precisely. It also features a red backlight for improved stealth at night.
The Suunto Traverse Alpha also utilizes two satellite navigation systems, the GPS and GLONASS, which help improve the overall reliability of this feature. As for durability, the Suunto Traverse is designed to handle all sorts of weather conditions and is shock-resistant to boot.
Again, we cannot stress how helpful we found this watch during hunting and if you fancy yourself to be quite the hunter – this is the watch designed for you.
Luminox Bear Grylls Watch Survival Master Series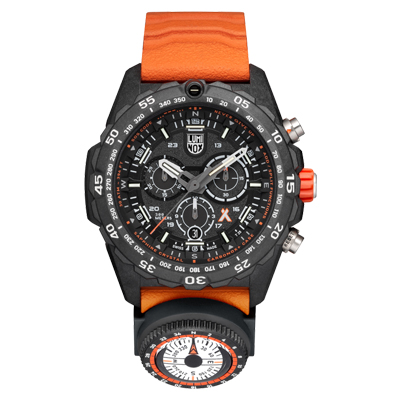 Luminox and Bear Grylls join forces to deliver one of the most well-rounded and reliable outdoor watches in the market today.
The Luminox Bear Grylls Survival Master Series watch focuses on providing all essential features that would help you overcome the challenges of the wilds.
In terms of toughness, the Luminox Survival Master is legit. It features a Carbonox case with a water resistance of up to 300-meters. The case comes with a unidirectional bezel and an anti-glare sapphire crystal window.
Additionally, this watch comes with a built-in secondary traditional compass for those who prefer using a physical map to keep track of their location. This Luminox timepiece is a rugged and highly reliable accessory that will prove to be highly valuable outdoors. See all of Bear Grylls' watches here.
Seiko Prospex Arnie Urban Safari Solar Sports Diver Watch

The Seiko Prospex Arnie Urban Safari is another excellent outdoor watch with a solid reputation. This Seiko watch line is best known within diver's circles and has proven itself quite dependable for aquatic activities.
When it comes to features, the Seiko Prospex focuses solely on aspects that would be pretty helpful for divers and swimmers. The watch comes with solid 200-meter water resistance, making it suitable for swimming, snorkeling, and even some light scuba diving.
There is also a chronograph feature, unidirectional bezel, daily alarm, full-auto calendar, and an LED backlight.
Marathon TSAR (Tritium Search and Rescue) Watch

Designed to meet U.S. military specifications, the Marathon TSAR is undoubtedly one of the most durable on this list. This model was issued to the military personnel during the Afghan and Iraq war, so you know it can handle a rough situation.
The main feature here is the always illuminated dials, thanks to the use of tritium gas tubes. These luminous tubes do not require external light sources and will generate a glow for up to 26 years.
Along with that helpful feature, the Marathon TSAR is also incredibly tough with its 36mm stainless-steel case and scratch-resistant sapphire crystal window. Additionally, the build of the case gives the TSAR a 300-meter water-resistant rating.
Not only is the Marathon TSAR an outstanding timepiece for outdoor use, but it is also a dependable watch for first responders.
Outdoor Watch Buyer's Guide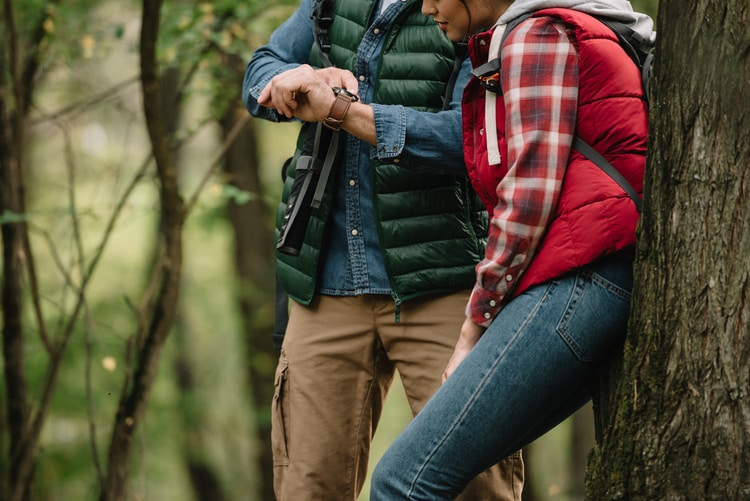 There are key features to look out for if you want to land on the best outdoor timepiece available. The good news for you is that we will give you the lowdown on these integral elements. Once you narrowed down your search using our buying guide below, you are most likely to get your hands on the best option available.
The ABC – Altimeter, Barometer, and Compass
One of the essential features of an outdoor watch is its ABC (altimeter, barometer, and compass) functionalities. Each is crucial when tackling the great outdoors; having all three available into one multi-functional tool provides fantastic convenience.
An altimeter is a tool that measures the atmospheric pressure via the barometer and evaluates your current altitude or elevation. When used and read correctly, these two tools can forecast short-term weather changes in your area as well.
The third tool in the list is the compass. This feature is a mandatory tool for when you plan on doing serious outdoor activities such as hiking and camping. Even more so if you are going somewhere that you are still unfamiliar with the layout of the land.
It would help to know that a digital compass can drain your watch's battery quite fast. We recommend you pick a timepiece that allows you to turn off the digital compass when not in use.
Build Quality
Another critical aspect of an outdoor watch is the build quality. Not only does it have to be tough, but it should also be comfortable to wear.
Comfort and size are common concerns in regards to this type of timepiece. Keep in mind that standard watches designed for the outdoors tend to be quite bulky and oversized to accommodate the harsh environment they will most likely operate in.
Please consider the timepiece's dimension before purchasing to ensure it doesn't feel too heavy or cumbersome on your wrist.
Durability is another crucial factor to consider, as you will most likely be putting this watch through the wringer. Fortunately, you can still find extremely tough watches, no matter their price tag. We suggest you go with outdoor timepieces that meet the military standard 810G rating.
Right next to durability would be its water resistance rating. This feature is vital, especially for those who love sailing and fishing. A great outdoor timepiece should be able to provide 200-meters of water resistance.
GPS Functionality
Another helpful feature that will assist you in conquering the challenges of hiking and camping is the GPS functionality. This element is a modern feature that has become a standard in newer outdoor watch models.
The GPS feature will be of great assistance for those who plan on making multiple-day camping trips or off the trail hiking. For this feature, we recommend you look for watches that incorporate both GPS and GLONASS satellite systems.
Topo Maps
Topography map, or Topo maps for short, is a feature that enhances altimeter accuracy. This feature displays the Earth's surface in three dimensions and gives you a good grasp of your surroundings. As you would have surmised, this feature is beneficial if you are hiking or in mountainous/elevated areas.
Battery Life/Solar
Another crucial factor to consider is the battery life of the outdoor watch, specifically, the outdoor smartwatch. At the very least, these advanced and multi-functional timepieces should provide a solid 24-hour battery life.
There are ways to prolong the battery life of these tech-savvy watches, such as putting them on power-saving mode. Solar-powered watches will also help keep your mind at ease and ensure that the timepiece keeps on ticking while you are outdoors.
Just consider the duration of your trips and pick the right timepiece accordingly for the job.
App Integration
This factor is a relatively new element to consider in your outdoor watch. The ability to connect with your smartphone will further expand the capabilities of your timepiece. Adding the ability to utilize fitness/health tracking apps to enhance outdoor functionality with weather forecasts and other vital data are just a few of the advantages.
Having access to a couple more extra features is always a plus in our books.