With the full name Edward Michael Grylls, Bear Grylls is a well-known adventurer from London, England. He is also a TV personality, writer, and businessman. He gained popularity when he hosted the TV series Man vs. Wild which aired for 5 years.
In addition, he appeared in other wilderness survival television series in both the UK and US, including Running Wild with Bear Grylls, The Island with Bear Grylls. He also released the You vs. Wild interactive series on Netflix, and World's Toughest Race: Eco-Challenge Fiji.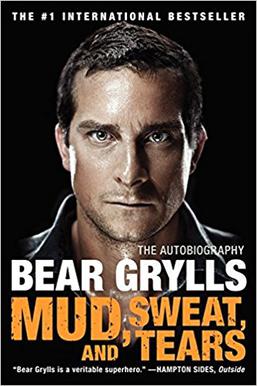 As a natural adventurer, among his notable expeditions include being able to climb to the summit of Mount Everest in Nepal at the age of 23, and being the youngest Briton to climb Ama Dablam (a mountain in the eastern Himalayan range in Nepal). He also went on powered paragliding in the Himalayas near Mount Everest.
He led the Journey Antarctica in 2008, wherein his team of four climbed one of the most remote and unclimbed peaks in the world intending to raise charitable funds for Global Angels and promote the use of alternative energies. To raise more funds for Global Angels and to raise awareness on the effects of global warming, Grylls also led the Northwest Passage expedition wherein his team of five took a rigid-inflatable boat (RIB) through 5,700 nautical miles of the Northwest Passage which is covered with ice.
Seeing this lifestyle, many in the watch circles are curious about the watches he wears. If you are one of those, here are a few that we've gathered.
Luminox Bear Grylls Survival Collection
The first thing you should know is that Luminox has partnered with Bear Grylls. Considering the watch's brand reputation for producing tough watches designed for pilots, divers, and the US Navy SEALs (you may read our separate brand review of Luminox watches here.), it just makes sense to partner with the guy who has been into different kinds of adventures and experienced various kinds of environments.
In fact, Grylls shared that "I've been wearing Luminox since my early adventuring days, so it's great to now be part of the family." 

As a result of their collaboration, the Luminox Bear Grylls Survival Collection offers watches that are tough and packed with features that will help you survive even through the harshest environments. Each timepiece bears Grylls' motto, "Never Give Up" on the dial and caseback. Along with the motto, Gryll's signature is also engraved on the caseback. More so, as with other Luminox pieces, the Bear Grylls Survival watches are also equipped with the Luminox Light Technology (LLT), making the dial readable in any lighting condition and will last for 25 years.
The Luminox Bear Grylls Survival Collection offers four series to choose from – Air, Master, Sea, and Land. In fact, one of its models has been listed in our post on Best Luminox Watches.
Luminox is the wristwear brand trusted by the US Navy Seals. Now, it has partnered with @BearGrylls on a set of tool watches… https://t.co/BHXG477C0M

— British GQ (@BritishGQ) January 15, 2020
Bear Grylls Rule of 3 Sea Series (Limited Edition) 
The Luminox Bear Grylls Rule of 3 is a limited edition timepiece from the Sea Series with only 333 pieces produced. It has a removable sleeve that indicates the "Survival Rule of 3". The Survival Rule of 3 states that a person can survive without air for 3 minutes, shelter for 3 hours, water for 3 days, and food for 3 weeks. Grylls himself lives and operates by these rules to survive through the extreme conditions he is in.
The watch is designed with blue and orange accents, and an enlarged numeral "3" with Super-Luminova glow. The hands and the hour markers at the outer rim are also luminous. The Bear Grylls Rule of 3 watch is Swiss-made equipped with a Ronda 515 HF 6 movement. Its case and unidirectional bezel are both made of Carbonox. The case back and crown are of 316L stainless steel while the crystal is of hardened mineral. The 24mm strap is made of rubber with a stainless steel buckle. Its water resistance is rated 20 ATM.
Bear Grylls Survival Chronograph 3749 MASTER Series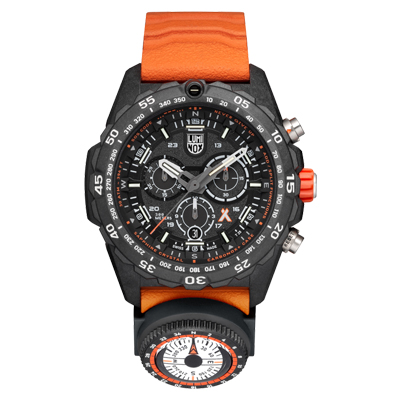 Luminox Bear Grylls Chronograph 3749 Master Series comes in a black-orange color scheme. In addition to chronograph and date functions, this timepiece has an SOS in Morse code feature and a compass. Its water resistance of 300 meters is also quite higher compared to those of other series in the Bear Grylls collection.
Its case and uni-directional rotating bezel are made of Carbonox, while the case back and crown are of 316L stainless steel. Its glass is made of sapphire crystal with an anti-reflective coating. The 24mm orange strap is made of rubber with a stainless steel buckle, which may be swapped with a black rubber or a black-and-white webbing strap. For the movement, it has a Swiss-Quartz 5030.D. It is also equipped with night vision tubes that keep the watch at constant glow for 25 years. Its hour markers, hour and minute hands, and chronograph hands also have Super-Luminova glow. With all these functions and durable materials, the Bear Grylls Chronograph 3749 can surely withstand even the harshest environments.
Bear Grylls Survival AIR Series 3762 GMT Watch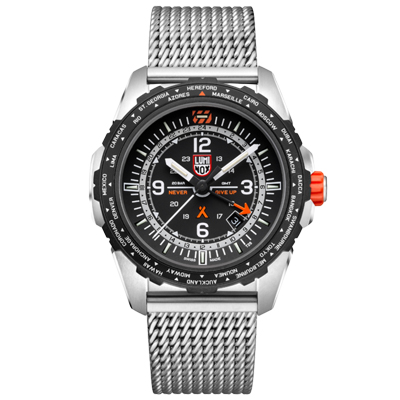 From the Bear Grylls Air Series, we have the Air 3762 GMT Watch. This timepiece is great for adventurers and frequent travelers because of its rugged built and GMT bezel. As with other watches from the Luminox Bear Grylls collection, the 3762 GMT Watch is masterfully crafted using premium materials – Carbonox bezel, 316L stainless steel case, crown, and case back, and a sapphire crystal glass. It is powered by a Swiss-Quartz Ronda 515 HF 5 movement and promises to always be visible in any light condition for 25 years. More so, its second and minutes hands; 3, 6, 9, 12 numerals; and outer rim hour markers are designed with Super-Luminova glow making them stand out even in the dark. This timepiece is also water-resistant up to 200 meters. The dial and bezel are black with white details and orange accents.
As a GMT watch, its bezel is bidirectional with timezone indicators. At one glance, you can easily see up to 3 timezones. It also has a date window located between 4 and 5 o'clock.
Bear Grylls Survival 3798 LAND Series (Limited Edition)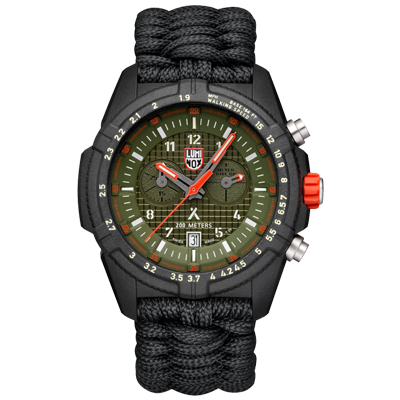 Last for the Luminox Bear Grylls collection is the limited edition Survival 3798 watch.
This one comes in a black-green color scheme and features a unique nylon paracord strap with stainless steel buckle. There are also orange accents on the dial. For the functions, it has a walking speed scale, a chronograph, and a date. All these are powered by a Swiss-Quartz Ronda 5021.D movement. It has a water-resistance rating of 20 ATM.
As with the other watches in the collection, its 45mm case and fixed bezel are also made of Carbonox while the crown and case back are made of 316L stainless steel. Its crystal, moreover, is made of hardened mineral. It also promises to have a constant glow for up to 25 years with its self-powered illumination. Its hour and minute hands, and markers at 3, 6, 9, and 12 also have Super-Luminova glow.
Bear Grylls' Watch Collection
Breitling Emergency Beacon Black Volcano Titanium V76325I2/BC46-156S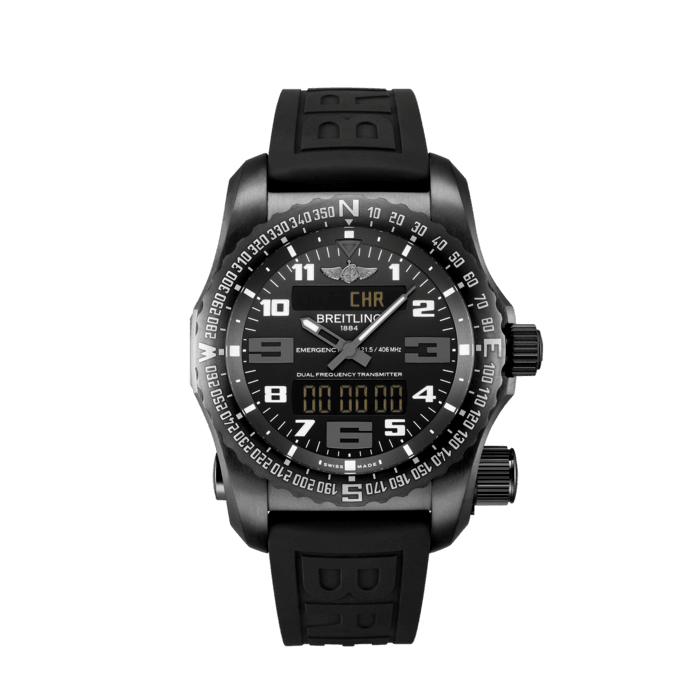 In a tweet (shown below), Grylls flaunted his new Breitling Emergency.
Prior to this, he has already been seen wearing a Breitling Emergency with a yellow dial in several episodes of the TV series Man vs. Wild. The Breitling Emergency is a high-end chronometer fully loaded with features that are useful for various emergencies. In fact, the Emergency series of Breitling is the first wristwatch equipped with a dual-frequency distress beacon, which is indeed useful for adventurers like Grylls.
Additionally, it is powered by a SuperQuartz Breitling 76 movement, has chronograph functions, a perpetual calendar, and dual timezones. The Breitling Emergency comes with either a titanium or a DLC-coated titanium case, and a black rubber strap with a push-button folding clasp.
Loving the new emergency Breitling! Thanks team @BreitlingNews pic.twitter.com/YC0WZ9AbHM

— Bear Grylls (@BearGrylls) March 4, 2016
Bremont Supermarine Chronometer S500 Blue Dial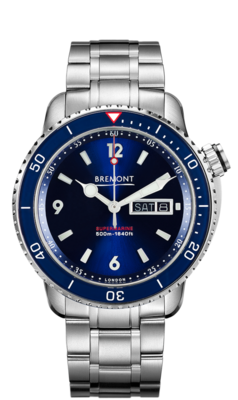 Next on the list is the Bremont Supermarine Chronometer S500.
Compared to the previous watch we listed, this one looks rather simple and basic. Yet, beyond its look, it is built to survive various abuses as well.
The Supermarine S500 is the first dive watch with a 43mm case and is powered by a BE-36AE automatic chronometer with a 38-hour power reserve. Its case is made of stainless steel Bremont Trip-Tick with a scratch-resistant DLC-treated case barrel. Inside, it also has an anti-magnetic Faraday cage and a patented anti-shock mount to protect the movement. The strap can either be stainless steel or integrated rubber.
Casio Dynamic Wave Ceptor WVQ-620DBE-1AVER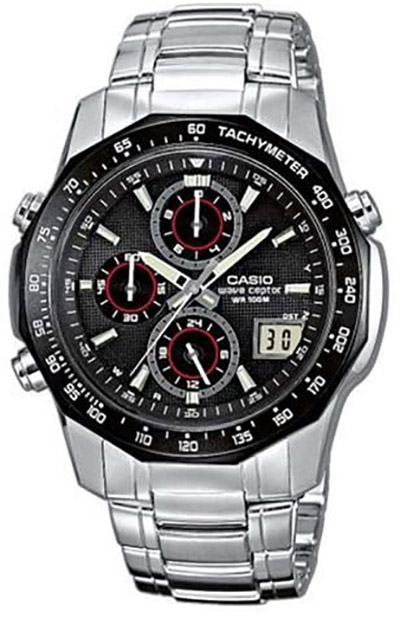 In other seasons of the TV series Man vs. Wild, many have noticed that Grylls was wearing a much cheaper timepiece (compared to his Bremont and Breitling) – a Casio watch. Although not as luxurious as the previous two, the Casio Dynamic Wave Ceptor proved that it can take the abuses that its wearer may face in the wild.
This watch is also loaded with features such as a built-in radio signal receiver, dual timezones, a stopwatch, a daily alarm, a full perpetual calendar, a date display, and auto daylight savings time.
It is also equipped with a bright lume and fully automatic LED backlight which instantly lights up the display when you twist your wrist under poor light conditions. Grylls' Casio Dynamic Wave Ceptor is primarily made of stainless steel – for its 45mm case and bracelet. It also has a safety catch that prevents the strap from being opened unintentionally. More so, aside from its CTL 1616 battery, the timepiece may be powered by solar energy.
Casio G-Shock Tough Solar AWG101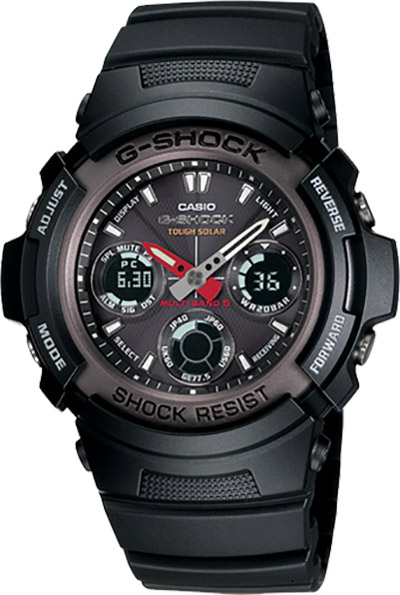 Grylls was again spotted wearing another Casio watch in another season of Man vs. Wild. This time, it's a Casio G-Shock Tough Solar AWG101.
This analog-digital display watch is equipped with multi-band atomic timekeeping. Similar to the Wave Ceptor mentioned above, it also has chronograph functions, an automatic LED backlight, and uses solar power. As such, it packs around a 7-month power reserve. It is also waterproof up to 200 meters. It is still very much affordable yet seemingly indestructible with its stainless steel case, mineral crystal protected by its bezel and plastic bits, and resin strap.