When buying an automatic watch, one of the important specifications indicated is the power reserve feature. This normally ranges from 36 to 48 hours although there are even some affordable automatic watches with 80-hour power reserves, such as the Powermatic 80 by Tissot. There are some high-end luxury models, that we detail below, that go up to hundreds of hours.
While quartz watches use batteries to provide power (when it runs out, simply replace it with a new one), mechanical or automatic watches need to be either manually or automatically wound, and are powered by the wearer's movement. Manual-wound watches need to be wound to maintain power, while automatic ones are powered by a rotating disc that turns while the wearer moves.
In this article, we will talk about power reserve—its history, how it works, and some examples of watches that have the longest power reserves.
What is Power Reserve on an Automatic Watch?
The first watch with a power reserve indicator was introduced by Breguet in 1933. This technology was first introduced as maritime chronometers, allowing the wearer to track latitude and longitude via the clock's accuracy.
The Breguet model, however, was a prototype, and only one watch was fully assembled. In 1948, Jaeger-LeCoultre released watches with a power reserve indicator—they were called the Powermatic and used the Jaeger-LeCoultre caliber 481.
The term "power reserve" is the energy stored in the mainspring of the watch. Mechanical watches are powered by a wound spring. As the watch runs, this spring unwinds, running the hands and date features. Once the spring has fully unwound, the watch will lose power and stop.
The power reserve indicated in the watch specifications is the amount of time that the watch will run after it has been fully wound.
Having a power reserve display means that the wearer does not have to guess how long the watch can run without winding.
Some people describe it like a car's fuel gauge—giving one an idea when it's full, and when it's empty.
It should be emphasized that the watch winds while you wear it, so it's not always fully wound while worn. Also, the rate of the winding depends on how much the wearer moves their wrist. This means that if the watch has a power reserve of up to 42 hours, it does not mean that you have exactly 42 hours before you need to reset it.
Buying Automatic Watches – How Much Power Reserve is Enough?
An excellent power reserve is around 48 hours—this means that the watch, when fully wound, can last for two days without winding. There are a number of luxury watches, however, that have power reserves that go beyond two days. Below, we will enumerate some of the world's best models, from relatively affordable luxury models to limited editions.
How to Test Watch Power Reserve?

A Power Reserve Indicator is not always present in automatic watches. If your watch does not have one, there are ways to test it.
One way to know the power reserve of the watch is to manually wind it and see how long it will run. This requires observation (and maybe some note-taking), but this will allow you to get an estimate of how long the watch can go without winding.
It's a very basic test really, after making sure the watch is fully wound you would leave the watch without wearing it and just let the power reserve get depleted. The watch will eventually stop, note the exact time that it stopped and calculate the time that passed since you started the test.
Of course, you want to make sure that the power reserve is fully charged before starting the test. To do so you can manually wind it until it's fully wound, take note of the time that you stop wearing it, and then check every several hours to see when it stopped.
Notable Watches with Good Power Reserve
Having a high power reserve means that the watch does not need to be worn or wound frequently. Below are some of the best watches that have excellent power reserves. Because of the technology, they're more expensive than most automatic watches, but we'll also provide some relatively affordable ones.


This aptly named "Jazzmaster Power Reserve Auto" by Hamilton has an impressive 80 hours of power reserve. It also has one of our favorite designs for the power reserve indicator. The modern and sweeping graphic that ends in a sliver of red paint on the dial to indicate the low power range complements the minimalist dial.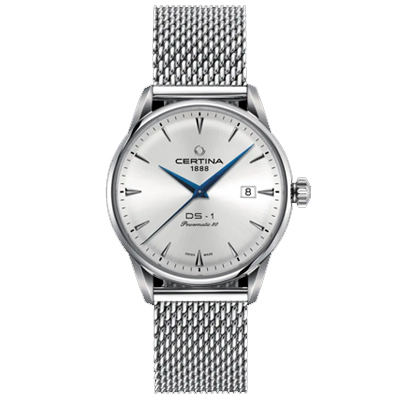 Certina DS-1 – The  DS-1 by Certina is equipped with an 80-hour power reserve. Available in a number of colors and styles (leather strap, two-tone stainless steel strap, mesh strap), this line was inspired by the first DS concept produced by the brand in the1960s. This model can be left unwound for more than three days.


Glashütte Senator Excellence – German watch company Glashütte made the Senator Excellence watch, a 40mm model with a stainless steel case and a leather calfskin black strap. Powered by Glashütte's original manufactory movement (caliber 36-01), this automatic model has a power reserve of up to 100 hours.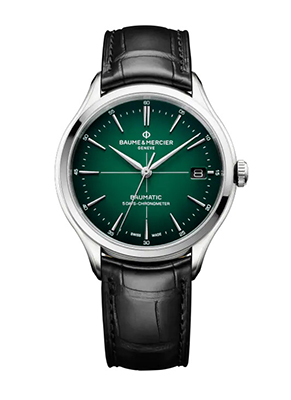 Baume & Mercier Clifton 10592 – Swiss watchmaker Baume & Mercier has the Clifton line, featuring a wide range of mechanical watches (both manual and self-winding) and different watch complications. The watches under this collection are simple yet powerful, combining classic and contemporary design.
One of the new releases is the COSC-certified Baume & Mercier Clifton 10592, a chronometer with a power reserve of up to 120 hours or five days. This is a self-winding 40mm model with a green dial and an alligator strap. See the different options on the Baume & Mercier website.
C65 Trident Diver SH21 – The C65 Trident Diver SH21 is a limited-edition watch by British watchmaker Christopher Ward. Powered by the brand's in-house movement (caliber SH21), this model has a power reserve of up to 120 hours, The watch, which has a stainless steel case and a matte dial, has a small seconds subdial at 6 o'clock, as well as a power reserve indicator at 9 o'clock. It's also powered by SuperLuminova and has an anti-shock system. This model is limited to 150 pieces.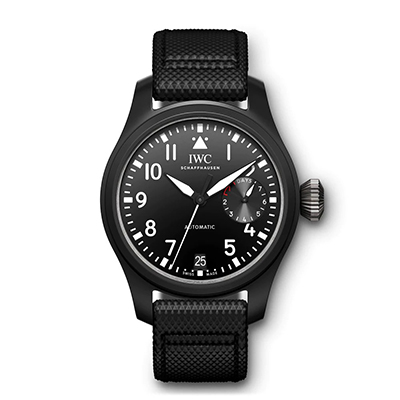 IWC Schaffhausen Big Pilot's Top Gun – The Big Pilot's Watch Top Gun by IWC Schaffhausen has a power reserve indicator on its dial. This model, which is powered by the brand's self-winding in-house movement (Caliber 51111) is one of their biggest and most powerful, allowing it to have a power reserve of up to one full week or 168 hours. The power reserve indicator is located between 2 and 4 o'clock, and there is a date window at 6 o'clock. The watch has a ceramic case black calfskin strap, and a black dial with luminescence.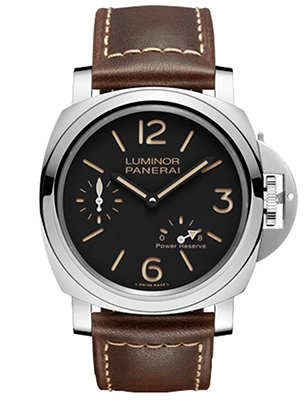 Panerai Luminor 8 Days – Italian watchmaker Panerai has the Luminor 8 Days watch, which has a power reserve of up to eight days. This, too, has a power indicator on the dial. This watch, which has the brand's iconic crown guard at 3 o'clock, has a hand-wound movement (Panerai's P.5002 caliber), with a black dial with large, luminous Arabic and index hour markers. Aside from the power reserve indicator at 5 o'clock, it also has a small seconds feature at 9 o'clock. It's has a 44mm case, polished steel bezel, and a calf Ponte Vecchio brown strap.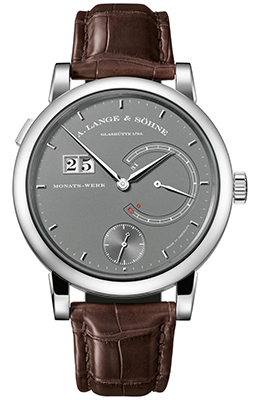 A. Lange & Söhne Lange 31 – Then there's the Lange 31 by German watchmaker A. Lange & Söhne. This one is extremely special, as it was the world's first mechanical wristwatch that has a power reserve of up to 744 hours, or 31 days. On its website, the brand explains that in order to have a power reserve this high, the movement needs to be able to store a large amount of energy, and this is made possible by two mainsprings about ten times as long as watches with conventional power reserve (about 1850mm). Introduced in 2017, the 45.9mm watch has a white gold case, solid silver dial, and solid gold appliques. This was a limited edition release, with only 1,000 pieces total.
Hublot MP-05 La Ferrari – Another rare model is the MP-05 La Ferrari by Swiss luxury watchmaker Hublot, which has a whopping 50 days of power reserve. This timepiece holds a world record of the highest power reserve for a hand-wound tourbillon wristwatch.
As the product name suggests, this model was created by Hublot watchmakers and engineers as a tribute to La Ferrari, developing the watch in parallel with the world-famous car. The watch has a number of limited-edition versions—MP-05 LaFerrari, MP-05 LaFerrari Aperta, and MP-05 LaFerrari Sapphire. The La Ferrari Sapphire has a solid crystal case, a skeletonized dial, where you can see the power reserve indicator and the suspended vertical tourbillon. Learn more about it here.