Luminox is one of the leading brands when it comes to tactical watches. The watch brand has collaborated with U.S. Navy SEALs,  Air Force pilots, law enforcement, search and rescue teams, and celebrity survival and outdoor experts.  Luminox watches are known for its bestselling original Navy SEAL watch and its propriety "Always Visible"  tritium illumination . All Luminox watches are Swiss-Made, this combination of rugged tactical build and swiss watchmaking is unique in the watchmaking industry and sets the brand apart from the competition.
After more than three decades, Luminox has repeatedly proven that its watches are high quality. However when it comes to deciding whether or not to buy one of their watches, there are several factors to consider. If you do decide to puchase a Luminox watch, the next step is deciding whether you want one of their classic models – like the 3000 series or one of the most recent collaborations that have resulted in feature-packed tactical models or the Atacama line a traditional field watch.
In this detailed buyers guide, we'll cover some of the history of the Luminox brand and discuss some things to consider and help guide you to finding your next watch.
If you're curious about Luminox, this article is for you.
History of Luminox Watches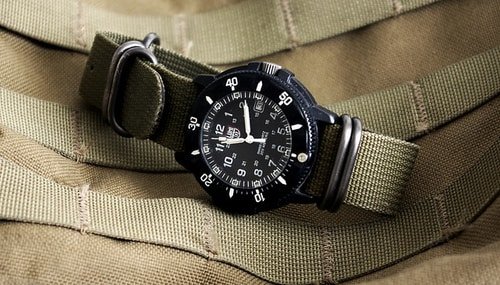 Luminox, which in Latin means "light" (lumi) and "night" (nox) in Latin, was introduced in 1989 by watch industry veteran Barry Cohen. He partnered with his friend Richard Timbo with a commitment: "to offer cutting-edge luminescence and readability in its line of high-performance sports watches."
Cohen wanted to create a watch that could handle low light (or no light) settings. Since the brand's launch, they have referred to this illumination technology as the Luminox "Always Visible" Light Technology, which we will discuss further below.
Soon after Cohen and Timbo launched the brand, they were discovered by Nick North, the officer in charge of procurement for the US Navy SEALs in a trade show. This meeeting eventually led to the Luminox 2001 Original Navy Seal watch that was launched 1994. This was only the beginning—the brand soon got calls from other elite units worldwide, such as the New York City Police, the Singapore Air Force, and the Special Military forces in Israel.
Below, we will take a closer look at the Navy Seal watch, as well as the brand's other collections.
Luminox has continue to collaborate with other elite military units., Search & Rescue teams, and well-known survivalists and adventurers. The brand shas also collaborated with nonprofit organizations such as Folds of Honor and #TIDE collected plastic waste.To learn more about the brand's history and partnerships, visit this page.
Luminox Light Technology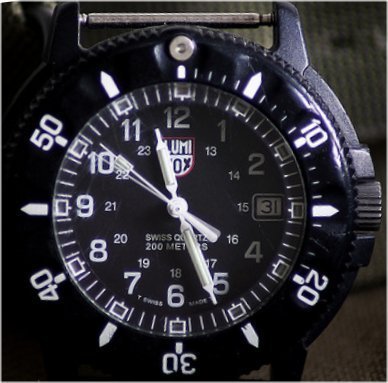 Luminox is known for its self-powered illumination system, this proprietary lighting system uses micro gas light tubes (borosilicate glass capsules containing Tritium). With this techology you do not need to expose them to a light source or press a button for illumination like other conventional watches.
This illumination feature, that last for 25 years and is the feature that Luminox watches are most famous for. All of the brand's watches use the "Always Visible" feature, making them readable in all types of conditions. This is why this is one of the most trusted brands by the United States Navy SEALs and other professionals (such as pilots and professional divers) whose job requires the best watch visibility in the toughest environments.
Because of this,  Luminox consistently appears on our list of Best Luminous Watches and are some of the best tritium watches on the market.
Where Are Luminox Watches Made?
Luminox's headquarters is located in San Rafael, California, but the watches are all Swiss-made. The strict regulartions behind the "Swiss-Made" designation were made even more restrictive in 2017 but Luminox continues to meet or exceed those on all of their watches.
In 2006, Swiss watch brand Mondaine purchased a fifty percent stake in Luminox. Now, the brand has expanded to more than 30 countries worldwide.
In terms of accuracy, the Luminox Quartz movement has variations between -05. and +0.7 seconds per day, and the Mechanical movement has average precision tolerances between -10/+40 seconds a day.
Luminox Watch Collections: Sea, Air & Land 
Luminox has three main series for its watches: Sea, Air, and Land, which we will discuss below.
Luminox Sea Series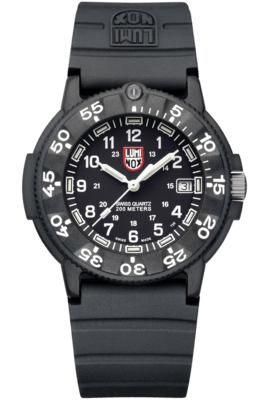 Luminox took a blunt and direct approach when it comes to the naming process, the main thing to consider here is the high level of water resitance. This along with the luminositiy make the Sea collection a perfect match for night diving and deep divers.
The Luminox Sea models are designed to deliver 200 to 500-meter water resistance. The Original Luminox 3001 has evolved into different models since it was introduced more than two decades ago.
The Luminox Sea series also holds several outstanding timepieces such as the Navy Seal Chrono series which feature chronograph functionality, further enhancing its functionalities. If you want a more robust and rugged dive watch, check out the Navy Seal 3500 series as these models come with a girthy 45mm case. For those who are working with a rather tight budget, the classic Luminox 3001 series is a viable option with its under $400 price tag.
Overall, the is Sea collection has versatile dive watch option that blend the build quality of a tactical watch with the waterproofing needed for marine activities.
The Luminox 3001 featured our article on the Best Dive Watches Under $500.
There's also the Navy Seal Foundation Exclusive Sea Series, which is a commemoration of the brand's partnership with the Navy SEALs.
The watch sets have a Navy SEAL Colormark or an ANU model. A part of the sales proceeds of this collection will go to the Navy SEAL Foundation.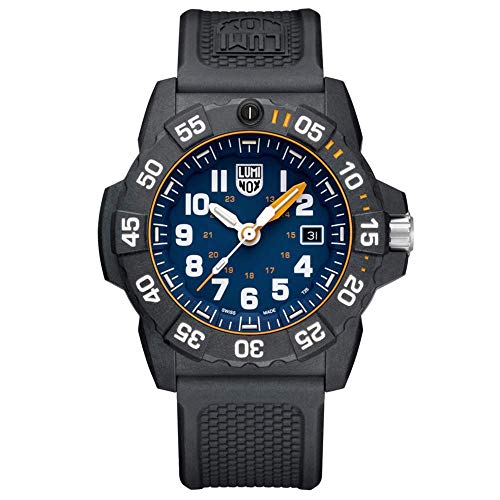 Visit this page for stories and specs of the complete Luminox Sea series.
Luminox Air 
For the design and development of the Air series, Luminox partnered with the Lockheed Martin Corporation, the largest defense contractor in the world.  Designed for aviation and air travel, the Luminox Air is the brand's impressive entry into the pilot watch category. 
Luminox supplies elite pilots of Air Forces all over the world. One of the watch collections under the series is the F-117 Nighthawk 3400, created after the US Air Force approached Luminox and asked them to make watches that fit their specifications.
The F-117 Nighthawk is the second version of the series, which has the same black stainless steel case but has been updated with a larger and more angular design. There's the 6422 model, a 44mm with a 2nd timezone (24-hour), water-resistance up to 200m, and of course, the illumination night vision tubes that last up to 25 years.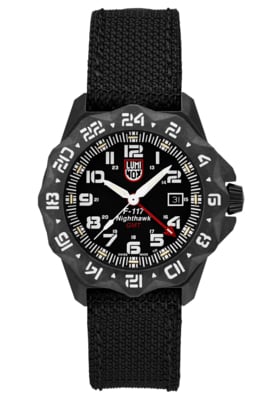 Another series under the air collection is the 44mm F-22 Raptor 9240, which uses titanium, making it significantly lighter. This one is a tribute to Lockheed Martin's Stealth Fighter—the design was inspired by the F-22 jet, and the dial was inspired by its instrument panel. This watch has a Big Date function, with a case, bezel, and strap, all made of durable and light titanium. The water resistance is also up to 200m.
Luminox Land 
The Land series features a vairty of excellent tactical style timepieces designed for outdoor enthusiasts as well as the special forces, law enforcement around the world. One of the most well-known entries into this series is the Luminox Recon which is designed in collaboration with Andrea Micheli, a former Swiss Army Military Security NCO, and military journalist. Becuse these watches were originaly intended for military personnel they have a wide carity of useful tools including built-in compass, tachymeter, several navigational tools, and even a second countdown timer.
For those of you looking for a classic field watch, we highly recommend taking a close look at the Atacama Series that forms part of the land collection.
The Atacama Field Watch is also inspired by the classic field watches of days past with the build and quality of a modern Swiss-made watch.   We like the Atacama lines so much we've included two separate models on our list of best field watches.
The watches under the Atacama Field Automatic Series have 44mm stainless steel cases and different straps (black leather, stainless steel, and green webbing).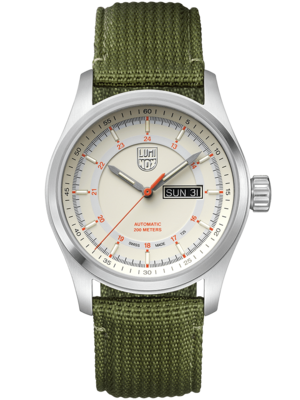 Partnerships  
Luminox partnerships do not end with Navy Seals and other military groups.
Another big partner is obstacle race and endurance brand Spartan USA. This partnership shows the brand's flexibility—the watches continue to be used by military groups and have recently become part of sports events and races. As the official watch and timing partner, the brand is present in Spartan's destination events, namely the Stadium Series, Honor Series, and The Spartan World Championship in the US, the Trifecta World Championship in Greece, and the 24-hour Ultra World Championship in Iceland.
Bear Grylls Survival series – Famous British adventuer and TV personality known for his survival skills collaboarted with Luminox to develop a whole line of watches.  These feature-packed watches are part of the Land series and include survival features such as a loop compass incorporated on the watch strap.
#TIDE Recycled Ocean Plastic – This collaboration was done as another collabpoartion with Bear Grylls to use upcycled plastic material collected from waste found in the ocean. The idea is to bring awareness to the ecological issue of plastic waste and micro-plastics in the ocean while reusing collected waste into a more ec0-friendly watch.
ICE-SAR – This collaboaration with the Icelandic Association for Search And Rescue, a volunteer group with 8,000 participants in Iceland that helps those in need of urgent help due to sea storms, avalanches or other outdoor rescue. The result is a collection of four adventure watches.
Past collaborations have also been done with adventurer Scott Cassell and veterans groups such as Volition America.
Are Luminox Watches Good?
Deciding if a watch brand is "good" can be very subjective depenidng on personal taste, budget and priorities. However, if you are searching for a high-quality tactical watch and have a budget of more than $300, Luminox is a very strong watch brand that deserves your attention.
Luminox watches are Swiss-made and have the backing and collobation of world-class militart, law enforcement and search and rescue teams. The brand's 30+ years of developing tactical watches while collaborating with the best in the field is a testament to the quality of Luminox watches. Apart from the wold-class partnerships (from Navy Seals, to NYPD to Icelandic Search & Rescue) and celebrity endorsments, consumers worldwide seek out Luminox watches for their rugged build qualitya and propritary lighting technologies that consitently find them ranked at the top of their class for luminosity.
If you search reviews and watch forums, you'll find many owners that swear by Luminox as a good brand. Many wear the brand as their daily beater or everyday carry. The majority of reviews confirm that the watches are well built, sometimes even after wearing them for a decade they survive a lot of abuse. The luminosity is one of the most appreciated features as well as the relatively light weight considering the rugged build quality.
Of course, any balanced review will have some negatives and any watch brands we've researched has some critics. One of the biggest complaints against Luminox is the stock rubber straps, with many people saying these eventually break – and they would have hoped for a better strap, epecially considering the price point. Another complaint is that not all of the second hands on Luminox watches have the brand's luminos gas tube (compared to the hour and minute hands). Some of the newer models do have small tubes on the second hand, so if this is critical issue – you'd need to research the specific model.
Another main negative that some buyers bring up is price. It's true the the entry level price point ($295 for the cheapest model at the time of publishing) is high for a tactical watch. This is a valid point – there are competing watch brands that have feature-packed watches that also have a rugged build quality for a third of the price (i.e. $100 G-shock). But when it comes to price, keep in mind that all Luminox watches are Swiss-Made, have impressive water-resitance and all of the brands watches have the "Always Visible" technology that so many consumers love. If you're satisfied with a push-button illumination like you'd find on a Casio and want a budget watch – you may want to check out this post – G-Shock vs Luminox.
Where to Buy Luminox Watches
You can buy Luminox watches on the brand's official website.
Here, customers are provided with great deals and discounts, as well as warranty and money-back guarantees.
The brand is also active on social media, having a constantly-updated Instagram account, where Luminox users can buy watches and be featured—all you have to do is tag the brand and use the #timepiecetuesday hashtag.
You can also buy Luminox watches on Amazon.
If you would like to purchase a Luminox watch from a store, you can quickly locate branches of authorized dealers and retailers using the brand's store locator on its website. The addresses are provided and are even linked on Google Maps.
Are Luminox Watches Worth the Money?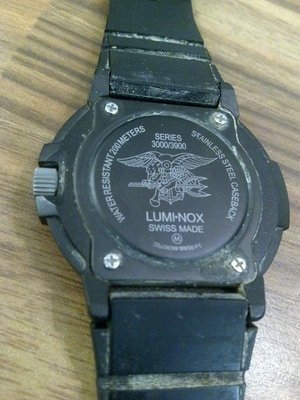 Now that we've covered the essentials, we'll answer the article's central question: are they worth your money?
On its official US website, Luminox watches range from $275 to $1,400. Considering the technology and durability of these watches, the prices are reasonable.
These timepieces are built to endure the toughest environments, so if your job entails being in the field (as well as being in extremely dark environments), a Luminox watch is an excellent investment.
We've recommended the brand in a number of our articles before, such as this one—the Best Watches For Paramedics & EMTs or this piece, which recommends the best watches for hunting. The Luminox Light Technology is what makes the brand unique and popular among the groups we discussed above, so if you need to have a watch that stays bright at all times, this brand is one of your best bets.
You don't need to be a member of the military or be a Navy SEAL to utilize Luminox watches. If you like the outdoors or need a durable watch to wear every day, these would do the job—they look great and can take a beating.
Luminox has a wide variety of watches styles and at different price points. If you're looking for some recommendations, we've narrowed down our top Luminox watches here.
Luminox Warranty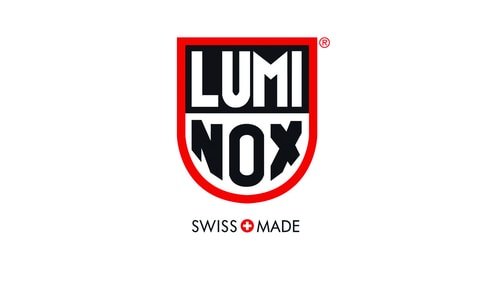 All Luminox watches have a two-year warranty from the date of purchase. The company's policy states that they will cover "any malfunction in materials and workmanship during the warranty period of your watch," which will be repaired for free if you present the warranty certificate.
Luminox adds: "Any damage resulting from inappropriate use is excluded from the warranty, as is the battery, crystal, and wear to the case and strap or bracelet."
For more details on the brand's warranty terms and how to ship to the Service Center, visit this page.
Regarding returns and exchanges, Luminox will replace the defective/wrong item within five days of receiving the watch free of charge. If you would like to return a watch you purchased, the company will accept it for free, as long as it's within 30 days. Customers must make sure that the watch is unused and does not have signs of wear. All watches should also be returned/exchanged with their original packaging.
We hope this article was helpful and addressed your questions about Luminox. Good luck with your search!