Tritium, or hydrogen-3, is a radioactive isotope of hydrogen. It's a type of gas that produces a glow-in-the-dark substance—when combined with phosphorous in a sealed glass tube, it creates a luminous radioluminescent light source that can last for up to 25 years. This illumination technology is used in watches, especially outdoor or tactical watches.
MB Microtec, a Swiss company, developed the tritium gas tube illumination. The company supplies watch companies with these tubes and also makes their own line of watches marketed under the brand name "Traser."
The brand first launched in 1989 with the watch model P6500 Type 6, dubbed "The Original" it was the world's first self-illuminated watch built to US military specifications (MIL-W-46374F). Since then, Traser has supplied the US Army with over 300K watches. The H3 model is worn by Navy SEALs, including Marcus Luttrell, known for co-authoring the book Lone Survivor:
The difference between this and other illumination technologies like SuperLuminova (a term normally encountered when talking about watch illumination) is that it does not need to be recharged.
One common worry among watch buyers when discussing tritium is the question of radioactivity. In certain forms or quantities, tritium can be harmful. It is, however, not the case when with watches.  According to studies, the energy produced by tritium in a watch will not be strong enough to go through human skin. Thus, tritium watches will not pose harm to the wearer.
We've featured watches with bright lumes on the site, but we'll focus on those specifically using tritium illumination this time around. We'll take a closer look at the illumination features and talk about the brands.
Below, we'll highlight some of the best tritium watches starting from budget models and working our way up to luxury tritium watches.
Best Tritium Watches
Luminox Navy Seal  – Classic Tactical Watch

This is a robust 45mm watch by Swiss brand Luminox. The case is made from a carbon compound, with a unidirectional bezel and a tempered scratch-resistant mineral crystal.
This Luminox Navy Seal 3501.BO, which is off the new generation of the popular Luminox Navy Seal 3500 Series, uses tiny tritium gas tubes on the markers and has water resistance to 200m.
Luminox CARBONOX™, which is trademarked, is an innovation by the brand. This technology is a carbon compound material that is lightweight and durable. This makes the brand popular among those who use the watch in the outdoors, as well as elite professionals.
We picked the 3501 model because we like the stealth look of this all-black version but if you're looking for a quality tritium watch, the whole Luminox catalog is at your disposal. Luminos watches, specifically, those using Tritium are where the brand excels. It's what they do best.
The propriety "ALWAYS VISIBLE" function is used on every one of their watches. This innovative technology uses Luminox Light Technology (LLT). This self-powered illumination system uses tiny tritium gas tubes.
This watch model is a classic tactical watch but if you want to research the brand further, we highly recommend you start with our review of Luminox watches. If you want to cut to the chase you can look at our list of best Luminox watches or individual feature articles we've written such as the Bear Grylls watches – a line of tactical survival watches designed through a collaboration with the brand.  To read more about the proprietary tritium technology that Luminox uses, check out this article on their website.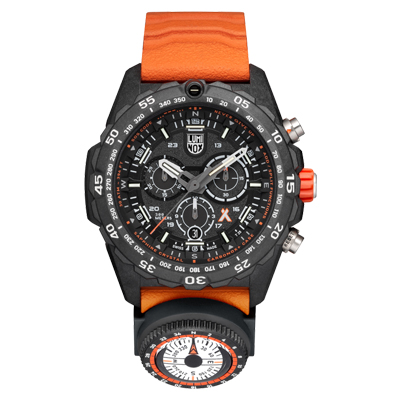 Deep Blue DayNight 45 Tritdiver T-100 – Pepsi Style Dive Watch

The powerful tritium illumination technology in watches is waterproof, so it's a popular feature in dive watches. The Deep Blue DayNight Tritdiver T-100 is an automatic stainless steel dive watch with tritium tubes for illumination.
The watch has a blue and red bezel, also known as Pepsi-style. The case and bracelet are made of stainless steel, with a 120-click unidirectional bezel.
This 44mm dive watch is water-resistant to 500m and runs on a Seiko NH 35 automatic movement.
There are two orange tritium tubes at 12 o'clock, two green tubes on 3, 6, and 9 o'clock, and one green tube on the rest of the hour markers. The hour, minute, and seconds hands all have green tubes. The case has a sunray dial with a scratch-resistant sapphire crystal.
Isobrite ISO100 Ultra Bright T100

The Isobrite ISO100 Ultra Bright T100 is a dive/tactical watch by Armourlite. These watches have tiny glass tubes filled with tritium gas and sealed hermetically. The radioluminescent light source created by the gas and phosphorescent paint can last without help from external light sources for up to 50 years.
This model, which has a combination of Arabic numeral and index markers, has a scratch-resistant sapphire crystal, an ultra-lightweight case, and a silicone band.
This watch has the latest technology in tritium watches that are more powerful and legible, allowing the wearer to see the time much better in dark environments. The brand highlights that their T100 watches have a higher volume of tritium gas, making them last longer than T25 watches from brands like Luminox and Traser.
Nite Watches Alpha 209 T100 BLUE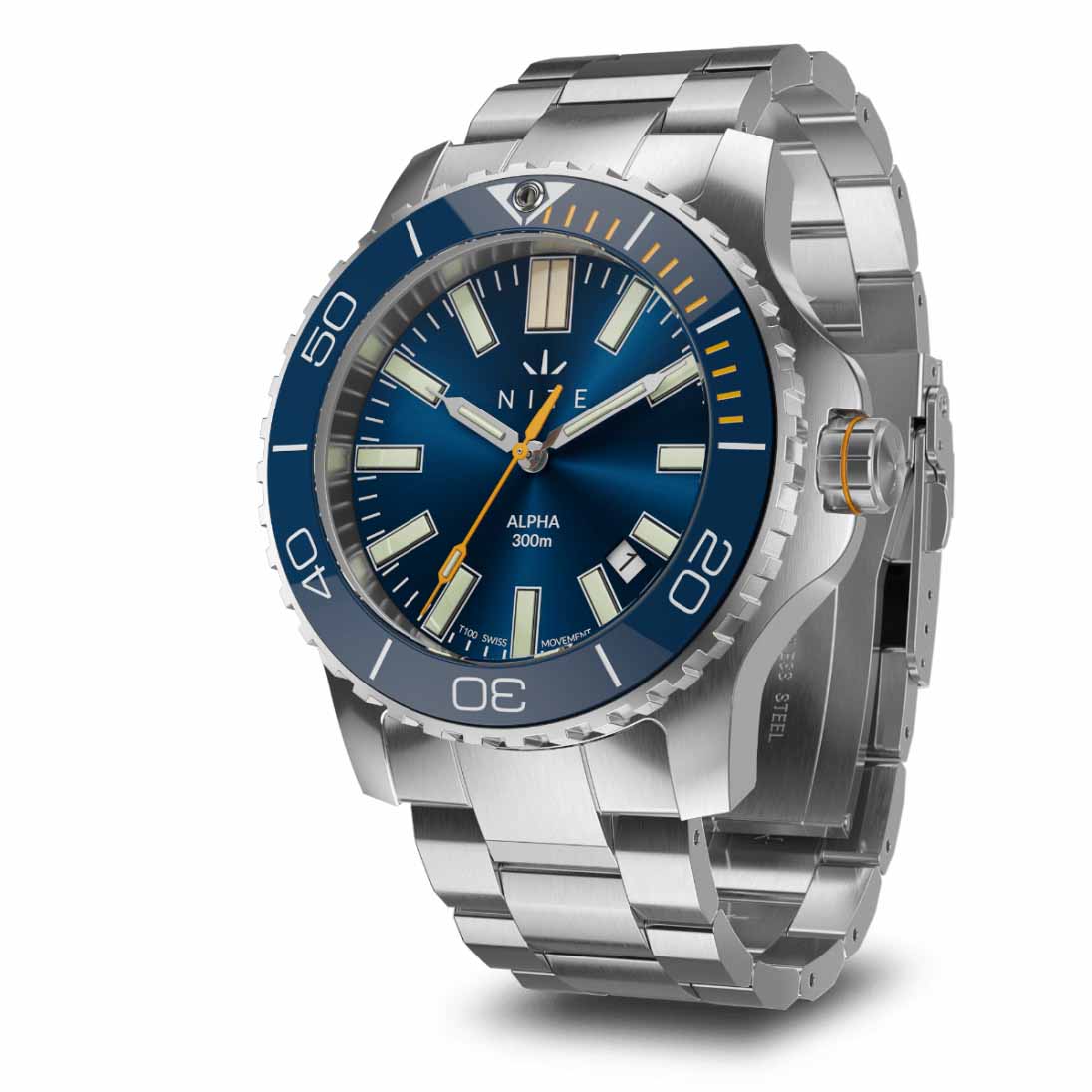 Nite watches is an independent British watch company founded in 2003 by Roger Green, who saw the power of tritium illumination technology. This watch is off the brand's Alpha series, a take on the classic dive watch.
The 42mm Alpha 209 T100 watch, which runs on the Swiss-made Ronda 715Li movement, has a black sunburst dial on a 316L brushed stainless steel case, screw-down crown, and a sapphire crystal.  It has a unidirectional bezel with a ceramic insert, and the strap is a black polymer.
The watch has the T100 tritium illumination technology and does not need a power supply. All Nite watches have this feature—supplied by MB Microtec, which we talked about in our introduction.
Nite watches come in different tritium colors like green, blue, and orange. This particular model has T100 blue and orange varieties.
The Alpha line has a wide array of watch models equipped with tritium technology. Check out this page to see all of them.
P68 Pathfinder Automatic Black

MB Microtec, which we talked about in the introduction, also has its own watch company—Traser (stylized as "traser"). Founded in the 1980s, the company invented  "trigalight", a self-powered illumination technology that works similar to a cathode ray tube that were used on vintage television sets. This is the smallest possible gaseous tritium light source.
These watches are designed and assembled in Switzerland, and the illuminating tubes are also supplied to different watch brands worldwide. You can read more about the brand here.
The P68 Pathfinder Automatic Black (model 107718) is powered by a combination of the brand's trigalight technology (on the hands and index markers) and SuperLuminova (for the direction indicator on the compass ring, the glass seal, and the numbers on the dial).
The 46mm case has PVD-coated stainless steel, a luminous glass seal, a screw-down crown, an anti-reflective sapphire crystal, and a NATO strap. The water resistance is up to 100m, and the power reserve is up to 42 hours.
Isobrite ISO711 Executive Series

The Isobrite ISO711 is another Isobright watch that uses the  T100 Tritium Illumination on the Arabic and index hour markers.
The Isobrite ISO711 Executive Series is a battery-less watch that runs on a Swiss-made (ETA 2824) mechanical movement. The 49mm case has a black dial made from a 316L stainless steel and scratch-resistant sapphire crystal. There is a large date window at 6 o'clock and a see-through case back. The water resistance is up to 200m.
The strap is made of genuine leather, with a stainless steel buckle. The unidirectional bezel is a ratcheting diver style with a tritium-elapsed marker.
Marathon Watch Large Diver's Quartz (TSAR) WW194007
Marathon Watch company designs its watches in Canada and makes them in Switzerland. The brand has been making timing instruments for the Allied Forces since the 1940s, manufacturing durable and precise timepieces.
One of these is the Marathon Watch WW194007 TSAR (Tritium Search and Rescue), with a 41mm case of 316L stainless steel and a vulcanized black rubber strap (stainless steel and rubber straps are also available).
The watch, which is manufactured in accordance with the United States Government specification and designed for Search and Rescue missions, has tritium gas tubes that will stay illuminated for up to 25 years.
The watch has a black dial and bezel, with a date window between 4 and 5 o'clock. The tritium lights are placed on the hour markers and the hour and minute hands. The movement is high torque quartz with an end-of-life indicator for the battery, and the water resistance is up to 30m.
Ball Fireman NECC IAAI

Ball Watch Company is a Switzerland-based Hong Kong brand that produces high-quality luxury watches—a favorite among watch collectors and enthusiasts.
In making the Ball Fireman NECC IAAI watch, the brand partnered with the IAAI, or the International Association of Arson Investigators, a non-profit group that focuses on educating in fire/arson investigation. Ball produced a limited edition watch for firefighters for the collaboration – the IAAI Ball Watch NECC). Ball also collaborates with the Navy Expeditionary Combat Command, which ensured the training of special forces (you can read more about the partnerships here).
Ball developed a watch that would be part of the Special Forces gear. What came out is a robust timepiece with features such as 5,000Gs anti-shock capacity, antimagnetic protection to 4,800A/m, and tritium gas tubes that would last for more than two decades.
This 41mm stainless steel watch with a stainless steel bracelet and a unidirectional rotating bezel comes in three types: black, white, or blue dial. All of these run on an automatic caliber BALL RR1103 movement. The watch is water-resistant to 300m.