For firefighters, the key features to look for in a watch would be durability and water resistance.  When it comes to the water resistance, an indication in meters; atmospheres; or bars are placed either at the face of the watch or the back of its case that can tell to what extent you can get the watch wet.
But it doesn't really mean that an indication of 30-meter water resistance will allow you to swim with it. Though if by chance the watch gets wet when dealing with fire suppression, it won't cause any damage. While 30-meter water resistance is only splash-proof, higher water resistance of 300 meters will allow submersion in water, as in the case of water rescue.
The Master of G Mudmaster Series from Casio's G-Shock lineup manages to tick the boxes on all of the above, these watches are rugged, water-proof, and can take a beating on the job.
A budget watch like the Timex Expedition Rugged Metal Watch is another great option if you're looking for a reliable watch that can take a beating.
Quick Recommendations

If neither of those sounds like a good match, continue below, we've included several other watches for firefighters including some higher-end search and rescue, military-spec watches and a great gift watch commemorate a retiring firefighter.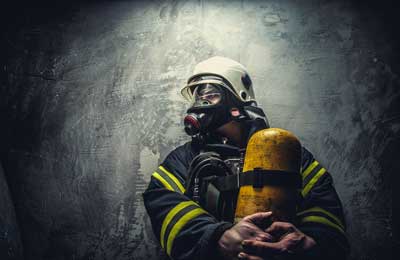 Best Watches for Firefighters: 
Timex Expedition Rugged

Functionality meets affordability. Due to the strenuous activity that the firefighters occasionally go through, most firemen (and firewomen) usually take the practical choice of wearing a less expensive watch but durable as well when they go on duty. Given the possibility of a watch getting broken on duty, it is sensible to go for a cheaper option.
A watch manufacturing company reputed to manufacture quality affordable watches is Timex, as their slogan goes, "It takes a licking and keeps on ticking." They, indeed, have proven their watches' durability.
Back in 1958, they even attempted to destroy their watches in any possible way on live television, yet despite all efforts, their watches remained functional. To date, a lot of firefighters actually swear by this brand. Despite its cheap price, firefighters say that they've had their Timex watches for several years, and their watches had only minimal to no damage at all.
If you like the reliability of Timex but don't want a leather strap that may get wet, you could upgrade to the all-metal version of the Silver-Tone Timex Expedition with a stainless steel band. This classy-looking unisex watch also makes an elegant yet durable accessory for female firefighters.
Casio G-Shock Mudmaster

It's not surprising how out of the seven watches on our list, two are actually from one of the watch lineups most sought-after by firefighters, the G-Shock from Casio, under the Master of G Mudmaster series.
G-Shock has gained popularity for its remarkable durability that all started with a dream of its developer, Mr. Ibe, of "creating a watch that never breaks". That dream was then, profoundly realized into the state-of-the-art innovative watch lineup that has become all the rage among watch enthusiasts.
But still, they continue to come up with new innovations. Furthermore, the Master of G Mudmaster series is one of Casio's skillfully designed technological advancements specially tailored for specific professions and activities with respective categories, such as land; sea; and air.
The Master of G Mudmaster Series boasts its mud resistance technology as its main feature. A firefighter's work can literally get down and dirty. Its mud-resistant characteristic is very beneficial for them, as their job may take them to areas surrounded by mud and debris.
According to a popular Fire and Rescue site, the main reason the Mudmaster is one of the best for firefighters is that the watch is: Shock-proof, water & mud resistant and has a bright display that is easy to read in low light (or through a mask).
The series is also composed of several other features that make the watch ideal for firefighters. It's a given that an ideal watch for firefighters is one that is water-resistant, and the water-resistance of the watches in this series is up to 200 meters. The watches are secured with Alpha Gel, a registered trademark of Taica Corporation, around and under the module, which makes the watches vibration-resistant.
The presence of the Alpha Gel protects the watches from damage that can be caused by vibrations. Different sensors are also included in the series, such as a compass; barometer/thermometer; and altimeter. They come in handy for instant access during adverse circumstances.
Two LED lights provide illumination in the watch for easy reading in the dark. And the case back protectors attached where the band meets the case gives a snug fit and makes for comfortable wear. Those are basically some of the features found in the watches of the said series.
As a triple sensor model, the Mudmaster GWG-1000-1A has the compass; barometer/thermometer; and an altimeter all-in-one. Also, there are more added features in this model. It is designed with another breakthrough innovation from Casio, the Tough Solar which is their original solar-power charging system that not only allows their watches to store energy from sunlight but also even from the smallest amount of fluorescent light. One more notable feature in this model is that it is radio-controlled, so it assures a consistently accurate time display according to the time calibration radio signals it receives.  
The second watch from the Master of G Mudmaster series that we have on this list is a twin Sensor which is the Mudmaster GG-1000-1A5.
It has a compass and a thermometer. This is a more affordable watch in the G-Shock lineup. 
Citizen Thin Red Line Watch Chronograph

This Stainless Steel Citizen Nighthawk Chronograph features 200-meter water resistance and a tachymeter scale. As part of a special limited edition line of watches, Citizen created this Eco-Drive Choro series to honor the bravery and dedication of firefighters. Solar power provides a 210 day power reserve when fully charged. This special series was created to honor firefighters.
The watch features an iconic "Thin Red Line" horizontally across the dial from nine o'clock to three o'clock mark, as well as a custom insignia on the engravable case back.
G-Shock DW6900

This  G-Shock DW6900 model delivers the rugged construction that you'd expect from a classic G-shock at an affordable price. This classic model has been a bestseller for years and top choice amount military and first responders for its tough construction and no-nonsense design.
It offers the durability of a tactical G-shock without a lot of unnecessary features but still offers great value for the price.  This model was first marketed in the 90s, so it is quite fun to see this watch design come back into style.
The DW6900 model features a 48.5 resin case and comes with solid features LCD backlight, timers, alarms, and an auto-calendar. Overall, this is a choice for those looking for a budget-friendly G-Shock watch compared to the higher-end model we recommended above.
Marathon Tritium Search & Rescue Watch

Getting this watch wet is not a worry as its water resistance for watches is 300 meters. This level of water resistance allows submersion in water and is usually used in water sports, such as scuba diving; snorkeling; and jet skiing.
That being said, it is very much safe to use a 300-meter water-resistant watch during situations of fire suppression and water rescue. A 300-meter water-resistant watch we have chosen for our list is the Tritium Search and Rescue (TSAR) watch from Marathon.
This was built to certified military specifications,  in accordance with US Government Specification. Issued and worn by troops in Iraq and Afghanistan. The Self-illuminated 24/7 tritium gas tubes last for up to 25 years and are a key feature for any first responder where visibility in low-light could be a major concern.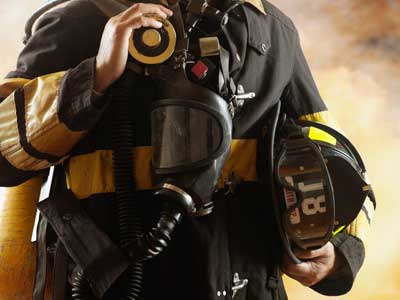 Marathon is known for its military durability skillfully crafted with advanced Swiss engineering. It is a family-owned company that has been manufacturing timing instruments for the Allied Forces since 1941.
And to date, the fourth generation of the family carried out the tradition with temperature and distance measuring instruments, in addition to the timing instruments the company has been supplying since 1904.
Although this watch was actually designed for Search and Rescue (SAR) divers, this watch is also perfect for firefighters. This heavy-duty watch has even actually been issued and worn by US troops in Afghanistan. Marathon also made it on our list of top watches for special forces.
Made with a 316L surgical grade stainless steel case; scratch-resistant sapphire crystal glass; 3 jewels that aid in the reduction of wear and tear in the module, and self-illuminated tritium gas tubes that last for up to 25 years, this watch is built to last and defy extreme conditions.
Fireman Storm Chaser Pro
Luxurious Rewards For Hard Work


The Fireman Storm Chaser Pro CM3090C-L1J-BK and the Fireman Storm Chaser Pro CM3090C-S1J-WH make good accessories for watches. But there's more to these watches than just the glitz. Ball Watch adheres to its slogan, "Accuracy under adverse conditions." Aside from its reliable system in time measurement, our chosen ones from the said brand are very much capable of tolerating the work environment of a firefighter.
The job of a firefighter isn't easy. As a matter of fact, it can also be dangerous, but the dedication of the courageous firefighters could go to the extent of putting their own lives on the line just to serve the community. With all that hard work they do, they deserve to be rewarded.
And these high-quality luxury watches from Ball Watch would make a great gift for themselves, as a good investment for them, or perhaps, a retirement gift in commemoration of a firefighter's service.
The Fireman Storm Chaser Pro is actually specially designed for those who work with extreme weather, but its features will also serve well in the extremities firefighters occasionally face. It's composed of a durable stainless steel case, a scratch-resistant sapphire crystal glass, 25 jewels, and it is water-resistant for up to 100 meters.
The two models of the Fireman Storm Chaser Pro mentioned all share the same features. But for someone who prefers a leather strap, there's the Fireman Storm Chaser Pro CM3090C-L1J-BK that has a black leather strap; and for someone who opts for something with a little more flair, there's the Fireman Storm Chaser Pro CM3090C-S1J-WH with a stainless steel bracelet.
From toiling among all the dirt and rubble, it's fair enough that they can have for themselves, some flash and bling that they can wear either on duty or off duty as a dress watch.
Aquaforce Firefighter Watch
The Dress Watch That Can Impress


Who says firefighters can't have some bling?
Firefighters usually have an on-duty watch, one that is designed to endure the elements that they are exposed to on duty, and an off-duty watch, one that is more chic and presentable for them to wear when not on duty. But it can also be possible for a firefighter to have some shiny bling during work hours that they can also wear outside of work.
A firefighter will no longer need to always switch watches with this Aquaforce 54Y, Rose Gold & Black Firefighter Dress Watch.
As impressive as the Rose Gold & Black Firefighter Dress Watch's stylish appearance may be, with its brushed 18k rose gold plate and matte black finish and rose gold and black face with a Maltese Cross, so are all the functions it is capable of. Its strong brass case guarantees corrosion resistance. The efficaciously sealed stainless steel back prevents moisture and dust to build up within. And it's water-resistant for up to 30 meters.
The job as a firefighter is impressive enough, to begin with, but this durable watch that also makes a bold accessory can be worn proudly by a firefighter, which will go along well with their uniform; suit; formal attire; or casual attire. What's more, is that it comes at an affordable price.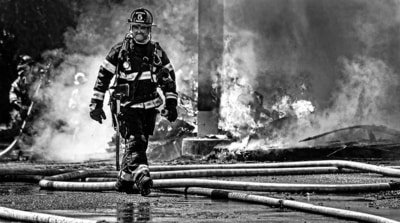 Firefighters can be considered our modern-day heroes. Their heroic work requires bravery, strength, and a lot of skill.
As their work entails facing arduous to even dangerous and catastrophic situations, the dutiful firefighters are well trained in performing operations starting from the firefighting training academy or training courses and throughout their whole career to be maintained and kept fit for the job, especially in the technologically advancing world.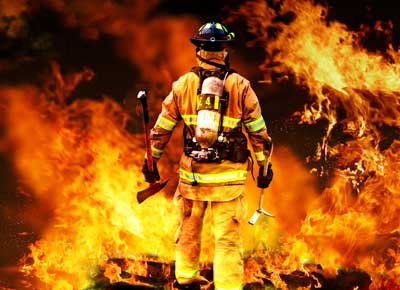 Although at times, they may just be on standby at the station, either doing some cleaning and some papers or maybe sharing their knowledge about fire safety in the community, they are well equipped and prepared for the unpredictable. While dedicatedly doing their heroic deeds when the situation calls for it, such activities will also require a watch fit for the modern-day hero.
Right from the beginning of this article, we have stated that the important features to look for in a watch for firefighters are durability and water resistance. Apart from that, there's also the mud resistance technology that was developed by Casio and found only in their Master of G Mudmaster series. Firefighters should know all of these and take them into consideration when buying a watch.
There are various watch manufacturing companies that cater to certain professionals, especially those with specific needs in accordance with the activity and work setting such as army; police; nurses, among several others, aside from firefighters. A lot of wristwatches made particularly for firefighters are available in the market.
Moreover, there are also some that may have not been specifically designed for firefighters, but if their features are evaluated, they may also be convenient to wear for firefighters during their duty. What is important is all the necessary features are found in the watch, and the choice is really up to them according to their liking and budget.
Imagine a structure being devoured by a huge fire, growing bigger and bigger, destroying everything in a matter of minutes, as it is encompassed with dark suffocating smoke emitted from the devastating fire. That disastrous scenario is just one of the challenging circumstances firefighters have to deal with. You can only imagine what they go through in a day's work.
Here in this video, you can get an up-close look of firefighters at work.