The United States Special Forces are among the most highly trained and uniquely capable military personnel of any nation on earth. Each branch of the military has its own division that is "organized, trained, and equipped to conduct and support special operations." Today's Special Forces must possess equipment that has been as rigorously produced and thoroughly tested as they are. Operations can take place in any climate and in all manner of hostile environments.
For this reason, it's a safe bet that the watches these elite soldiers wear into the field will meet the demands of some of the most arduous and unfriendly locales on earth.
If you look at the wrists of special force members, you're most likely to find an affordable G-Shock tactical watch or a Luminox Navy SEAL watch. You may also find someone in the special forces wearing a watch that's designed to military specifications (MIL-SPEC) from brands like Marathon.

Brief History of Military Watches
Here's something you might not have known: wristwatches only became a men's fashion accessory because of World War I.
Before the Great War, wristwatches were thought of as solely the fashion choice of women. Men would carry pocket watches instead. For the battlefield, though, soldiers began converting those pocket watches to be worn around their wrists for convenience and ease of access.
It wouldn't be until World War II that the military began issuing standard watches for their personnel, though even then, enlisted soldiers and officers tended to prefer their own. The field watches that were issued by the military had little flash and style, for obvious reasons, and instead were manufactured for uncomplicated use and quick synchronization.
Military Watch Specifications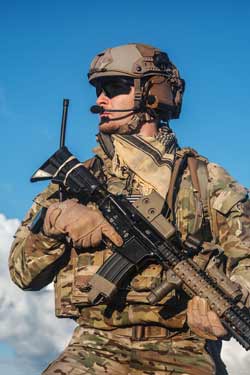 In today's military, function is still considered above fashion. The MIL-W-46374, originally issued in 1964, is the official specification for military watches and has been revised seven times, most recently in 1999. The specifications cover a range of details, from the case materials to standards for magnetism and water resistance. There are also separate specifications for watches that are intended primarily for navigation or for diving.
Those first 1964 specifications made it clear that these watches weren't supposed to be of the highest quality or intended to last forever. The statement of scope laid it out plain, saying that the watches were not meant for use where "a high degree of accuracy" was required and that the watches were not intended to receive maintenance support. In other words, these watches weren't expected to last forever.
These original military watches could be counted on for the minimal amount of water and shock resistance. As long as they could tell the wearer the (approximate) time, day or night, they were sufficient as far as the military was concerned.
In the years since those initial specs were passed down by the military brass, the revisions have upgraded what can be expected from a military watch. In 1999, stricter military specs were published (MIL-PRF-46374). These days, for a watch to be considered viable for use by the military, it has to be able to survive conditions that can range from harsh deserts to barren tundra.

The Marathon Military Navigator is made according to these most recent Type III, Class 1 US Government Specifications. The watch was originally designed by Marathon as requested by officials at the Kelley Air Force Base who wanted a watch for their pilots that could withstand extreme changes in temperature, pressure, and altitude.
Canadian watch brand Marathon has been partnering with the military since 1941.
The Marathon Navigator is issued by the government and has been worn by troops in Afghanistan and Iraq. This high-end watch is rugged and well designed, as you would expect considering it was designed to be sent into battle. The Swiss-made military watch with quartz movement and special fiber casing makes it durable and accurate. It's water-resistant to 200 feet and impact-resistant.
The words "U.S. Government" are printed on the watch's face as shown in the photo.
The current specifications detail different classes of watches, some intended to be maintainable while others are still non-maintainable, like the original 1964 variety. Mechanical and electrical (battery-powered) watches are both acceptable. The biggest concern for the military is, will the watch function when it's needed.
Watches Used by Special Forces?
The U.S. military does still issue watches, but military personnel is permitted to provide their own as long as those watches meet the official specifications.
On any list of Special Forces approved watches, you will see the same name come up again and again: the Casio G-Shock.
G-Shock
There are a number of variants on this popular line of Casio watches, but the one issued specifically by the Navy SEALs is the G-Shock DW-6600.
This has since been replaced by the G-Shock DW-6900. This watch features "multi-band 6" atomic timekeeping and gives world time in 12 and 24-hour (military time) formats and a solar power battery. It also has a daily alarm with snooze. It is accurate to +/- 15 seconds per month and is water-resistant to a depth of 660 feet (200 meters). Another nice feature is the LED EL backlight that automatically turns on just with a tilt of your wrist.

There are a number of other G-Shock models other than the DW-6600 which are also used by Special Forces.
The G-Shock DW-9052, as well as the GD-120 are also popular models with similar functions and styles as the 6900.
The last time we took a look at the 6600 on Amazon it was no longer available. There's a reason for that.
This watch came out in 1994 and we have not seen it available for some time. Casio has also removed the watch from their site. You may occasionally find a 6600 on eBay.
The DW-6600 is lightweight, water-resistant up to 200 meters, has shock protection, and is backlit with afterglow for easy visibility. Another plus from the military's point of view (and yours if you're in the market) is that it is low cost.
All of those factors are why, in many pictures of Navy SEALs, you will see a G-Shock DW-6600 (you can also see them in the 2014 film, American Sniper).
All of these watches are durable, practical, and long-lasting, which is why you'll find many former soldiers still wearing the watches in their civilian lives.
If you are considering one of these, See our full list of Top Military G-Shock Watches.
If it's not broken, why fix it? And if you own one of these Casio watches, chances are, it isn't broken.
Luminox

While the G-Shock line is unquestionably the most popular choice for Special Forces, it is hardly the only one. Luminox, Seiko, and Timex, among other brands, all produce watches that are used by those in the military.

Luminox is a close second to G-shock Luminox. In 1992, the brand made a watch that was specifically commissioned by the Navy SEALs, and from the project, the original Luminox Navy SEAL watch was born. Through that 30 year collaboration, Luminox has continued to add to its line of watches that are tough enough for members of special ops. The classic all-black Luminox 3051 is commonly referred to as one of the top consumer military watches.
If you're considering investing in this watch, check out our detailed Luminox brand review here.
Also, be sure to see our list of best Luminox watches here for other options.
The all-black design (carbon reinforced black polyester case with a black rubber strap) and the dial features a black polymer bezel that turns in either direction.
While Luminox is known for its collaboration with the Navy, the Air Force also asked Luminox to develop a watch specifically for F-117 Nighthawk Stealth pilots, the end result of which is the F-117 NIGHTHAWK 6400 Series
This is a very high-end watch with a price tag to match!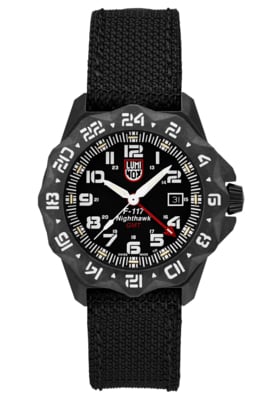 Luminox has special lines of watches for Sea, Air, and Land. Another interesting collaboration is the one that Luminox has done with Scott Cassell, an expert counter-terrorism operative, underwater filmmaker, and passionate diver.
Some of the proceeds from the sale of this last watch help fund the Sea Wolves and Underwater Voyager Project.

Seiko is another brand that comes up a lot. If you see the video below, they came into the mainstream US market after soldiers brought them back from the Vietnam war.
If you're looking for a sleek-looking face reminiscent of the earlier military-style face with clean design and automatic movement, something like this Seiko 5 Automatic Stainless Steel Watch might be a good match.
Its simple analog black and white dial with matching black canvas strap looks the part and you get the accuracy of the Seiko Caliber 7S26 automatic movement.
It's water-resistant (100 feet) and the face is protected with scratch-resistant Hardlex crystal. The Seiko 5 was good enough to make our list of Best Field Watches and is one of the most affordable options on that list.
Which Watch To Choose?
In fact, you are no more likely to get a consensus on the one best military watch than you would be to get one for the best weapon or the most comfortable pair of boots.
Watches are the kinds of items that tend to get imbued with deeper personal meaning because they go through hell with their wearers.
That said, when looking for a military-approved watch, you are definitely going to want to listen to what the people who have tested them in the field have to say. As one former military reviewer put it, there are three important factors they consider: accuracy, durability, and low cost.
Vietnam Era Special Ops Watches: Video
If you're interested in what special ops guys wore during the Vietnam War, here's a detailed look. Seiko watches such as the Seiko 6619 model are what they wore. The video also explains why they opted for these watches and why we really didn't see Seiko watches in the US before then the war.
The book he mentions is fascinating, if you're into war history and photography-but, unfortunately, there aren't a lot of copies left in circulation so it can be hard to find or resold at pretty high prices: Check availability on Amazon: Running Recon By Frank Greco: A Photo Journey with SOG Special Ops Along the Ho Chi Minh Trail
Famous Special Ops Members & The Watches They Wear
David Goggins – Kobold Transglobe Dual Time Watch

David Goggins is a retired U.S. Navy SEALS and former U.S. Air Force Tactical Air Control Party member who served during the Iraq War.
He is now a best-selling author of the book "Can't Hurt Me" – a very motiving book by the way.
Apart from that, he is a public speaker and marathon runner. That is pretty much the epitome of the 'Man of Action' right there.
Goggins was initially a U.S. Air Force Tactical Air Control Party (TACP) from 1994 to 1999. He trained and graduated to become a member of the SEAL Team Five in 2001, being deployed to Iraq shortly after.
David Goggins is also known for his charity work with the Special Operations Warrior Foundation. This foundation aims to provide college scholarships to the children of fallen special operations soldiers. Goggins has a close connection to this foundation as several of his friends perished in Afghanistan when the helicopter that they were in crashed in 2005.
When it comes to watches, David Goggins wears a Kobold Transglobe Dual Time Watch. Unfortunately, this particular model is no longer available.
---
Check out other famous special ops veterans and their watches here – What Watches Do Navy SEALs Wear?
---
However, the Kobold Phantom Black Ops is a great alternative and comes with that rugged tactical design. Search for this watch on eBay here.
The Kobold Transglobe Dual Time features a classier aesthetic with its genuine brown leather strap. This timepiece comes with a 44mm stainless-steel case and a black dial with white accents that help improve legibility.
Underneath lies a Swiss automatic ETA caliber 2892-A2 movement with an analog dial display. Other notable features include a Super LumiNova equipped dial, domed sapphire crystal window, and water resistance of up to 300-meters. Visit koboldwatch.com to see their full line of watches.
The Special Forces Style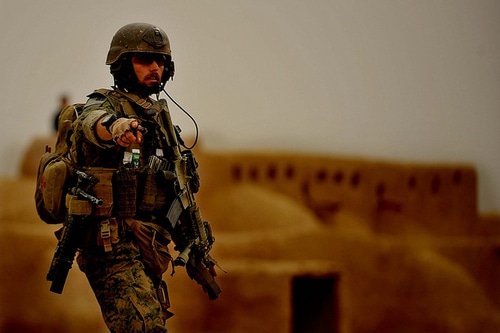 If you aren't in the military, you will likely never face the kinds of grueling scenarios that they see in the line of duty, but that doesn't mean you can't still benefit from the reliability and durability of a military-style watch.
Maybe you are a mountain climber, a cross-country biker, or a scuba diver. Or maybe you just like how those drab colors look against your skin.
Whatever your reason, almost every watchmaking company has its own version of a durable, military-approved watch and, because they are intended for servicemen and women, they are generally quite affordable.
It doesn't matter what your lifestyle is, we can all appreciate reliability.