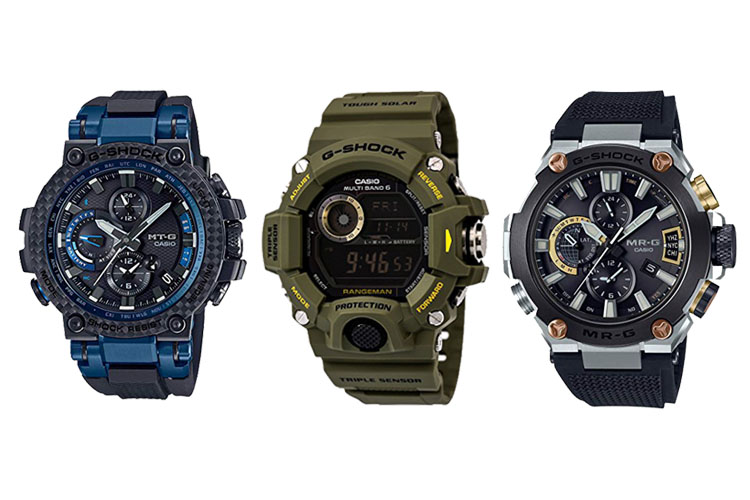 G-Shock is one of the flagship products of the Japanese electronics manufacturing company, Casio. Best known for its extreme durability, G-Shock first made its mark in the market back in 1983. The G-Shock watch line is aimed at the thrill-seeking crowd, sports, and outdoor enthusiasts. This is also reflected in the watch line's overall sporty and colorful aesthetics. G-Shock watches are also developed using the Triple 10 concept. The Triple 10 design incorporates the three '10s' – basically, a 10-meter freefall impact resistance, 10-bar water resistance rating, and a battery life of up to 10 years.
Even the most affordable G-Shock watches also come with a stopwatch, countdown timer, and alarms – further pushing forth their outdoor and sports watch reputation. Throughout the years, G-Shock has continued to evolve and include more signature features. Two of the main elements that have recently become a staple of this watch line are the atomic clock timekeeping synchronization and Tough Solar technology.
In this article, we will be shining the spotlight specifically on the atomic solar-powered G-Shock watch. But before we do so, what exactly are these two timepiece technologies, and are they worth the price of admission?
Atomic Timekeeping
A watch with atomic timekeeping is considered as one of the most accurate timepiece movement in the industry. The high accuracy is achieved by utilizing radio signals received by the watch movement which it then uses to automatically adjust in real-time. The atomic timekeeping is so reliable that this is used by NASA as their countdown timer during liftoffs.
When it comes to reliability, it is said that an atomic timekeeping watch loses one second every 15 billion years! Obviously, nobody would be able to prove that claim, but based on actual data that we have right now, this is highly probable. When it comes to precision, you can never go wrong with an atomic watch.
Solar-Powered Technology
G-Shock is also known for utilizing Casio's Tough Solar technology, further boosting its capabilities in regards to outdoor use. Solar-powered watches, as the name implies, uses the sun to charge their batteries. Modern solar-powered devices can actually utilize both natural and artificial light which is absorbed by a solar panel and converted into electrical energy for the mechanism. Solar-powered devices can also store energy which allows them to keep on ticking during the night.
The advantage of having a solar-powered watch is manifold. This type of technology is eco-friendly, low-maintenance, and highly reliable. You can expect Casio to continuously push the envelope with this technology during the next couple of years and beyond. Here is a full introduction to Casio's Tough Solar technology to further give you a clear view of its capabilities.
Best G-Shock Atomic Solar-Powered Watches
G-Shock MR-G Ble 'Fluoro', Black (MRG-G2000R-1A)
Considered to be the King of G-Shock watches, the MRG-G2000R-1A certainly looks like it is on a league of its own at first glance. With a premium-grade aesthetic and features that incorporate the best that G-Shock has to offer, the MRG-G2000R-1A model earns its 'King' moniker. This is a high-end G-Shock watch and features intricate aesthetics, especially with its band that incorporates a Bishamon Kikko textured pattern. One word to describe this G-Shock model's visual flair is exquisite.
This G-Shock model also uses a titanium case that underwent a meticulous hardening process to maximize durability. The titanium case is also treated with titanium carbide for enhanced scratch resistance. In fact, every single exterior component of this watch is abrasion-resistant.
This timepiece did not skimp when it came to performance. It features atomic timekeeping which auto-receives radio updates six times daily, ensuring it remains as accurate as possible. The dial features Neobrite coating for enhanced visibility in the dark. If that is not enough, this watch also comes with a Super Illuminator backlight with afterglow.
Notable features include a World Time (39 time zones and cities), daylight saving mode, countdown timer, stopwatch, and Tough Solar technology which provides the MRG-G2000R-1A with a 23-month (power-saving mode) battery life when fully charged.
See Full Specs on G-Shock's website
G-Shock Frogman Black Solar Atomic (GWF1000)
The G-Shock Frogman GWF1000 features a dual display with the top section displaying the moon graph which shows the current moon phase. Over at the main display screen is where you will find the time and day of the week. What we like about the Frogman series is the level of customization that it offers to users. You can easily pick which information you want to be displayed on the screen with a press of a button. Once you get used to the controls, the GWF1000 model is one of the most functional G-Shock watches around.
Due to the tide graph and moon data feature, the Frogman GWF1000 is best suited for swimmers, sailors, or those who live near the ocean. With its atomic timekeeping, the GWF1000 also comes with a nifty World Time that can display up to 31 different time zones. It also comes with Tough Solar technology along with the staple G-Shock features (stopwatch, countdown timer, etc.). If you are looking specifically for a reliable G-Shock dive watch, the Frogman series is certainly worthwhile to check out.
See Full Specs on G-Shock's website
G-Shock Rangeman GW9400
G-Shock's Rangeman series is one of their most durable, and that is saying something. We liked the rugged build of the Rangeman GW9400, especially the prominent buttons which makes operating this watch quick and easy. This is a true outdoor watch as it is designed to prevent mud, dirt, and water from leaking into the case. The 200-meter water resistance is suitable for recreational swimming and snorkeling. This watch also has decent resistance to temperature and can withstand -14 Fahrenheit without any issues.
Besides atomic timekeeping and solar-powered batteries, the Rangeman GW9400 is also equipped with Casio's Triple Sensor design. This means this G-Shock has a built-in compass and thermometer as well as an altimeter/barometer.
This is an excellent outdoor watch that will help you keep track and navigate your way through any environment.
See Full Specs on G-Shock's website
G-Shock MT-G Connected MTGB1000XB-1A
The G-Shock MT-G Connected is a perfect example of a premium-grade outdoor watch. The heavily mechanized design is not just for show as each component lends to the overall impeccable build and performance of this stunning rugged G-Shock watch. Checking the case from the side, you will notice a thin red layer that is in-between the bezel and core guard plate. This is the secret to the MT-G Connected model's outstanding shock resistance. The red layer is actually reinforced polyurethane material which acts as the shock absorber for the two primary stainless-steel components.
The overall capabilities of the MT-G Connected is also further enhanced by its Bluetooth connectivity. It also features an in-house 5544 module atomic timekeeping to help keep this watch up to date and precise. The Tough Solar technology caps off its impressive list of features which gives this G-Shock watch an almost unlimited energy source. If you want something that fully displays its no-nonsense personality with a performance that passes all tests with flying colors, the MT-G series is worth a look.
See Full Specs on G-Shock's website
G-Shock MR-G Mid-Size Titanium DLC Bezel (MRGB1000D-1A)
Looking for something sleeker than the MT-G model? The MR-G perfectly fits that bill. It has similar aesthetics to the premium-grade G-Shock watch but with a slightly more compact size. It features a multi-band 6 atomic timekeeping and Tough Solar technology. The build still manages to capture that high-end appeal though with diamond-like carbon (DLC) coating on the bezel. The dial also features a scratch-resistant sapphire crystal window with an anti-glare finish.
As for its overall capabilities, it is equipped with all the stale G-Shock features along with Bluetooth connectivity that considerably boosts its function by a mile. Overall, the G-Shock MRGB1000D-1A is a great and accurate timepiece that is perfect for those who love the look of the MT-G series but is looking for something slightly smaller and more affordable.
See Full Specs on G-Shock's website
G-Shock Unisex Tough Solar AWGM100B-1ACR
The G-Shock AWGM100B-1ACR hits the sweet spot when it comes to its build. Coming in with a 46mm diameter resin case, this G-Shock model is perfect for both men and women. Despite the slimmer build, the AWGM100B model is still designed to handle harsh and challenging conditions with a smile on its face.
The most prominent feature of this particular G-Shock watch is its hybrid dial which features both analog and digital display. Fortunately, despite the smaller size, Casio managed to prevent the dial from looking cluttered – a common issue with dual-display dials. This is an incredibly reliable and precise timepiece that also happens to be one of the toughest around. Add the atomic timekeeping and solar-powered battery and you have yourself a must-have timepiece for outdoor enthusiasts.
See Full Specs on G-Shock's website
G-Shock Radio Solar MTG-B1000XBD-1AJF
The MTG-B1000 model series is known for its uses of carbon fiber bezels and a premium-grade stainless-steel and resin design. This model comes with a striking black with red accent color tone which emphasizes a more rugged and aggressive vibe. The bezel is also something special with its use of a detailed 3D-molded colored glass-fiber-reinforced plastic.
Despite the rather intimidating and somewhat bulky build, the MTG-B1000XBD-1AJF is surprisingly lightweight. It also comes with all the essential G-Shock features and functionality that pushes it to the top of our most recommended outdoor timepieces in the market today.
See Full Specs on G-Shock's website
G-Shock Adrenalin Red Series Connected Limited Edition (GWB5600AR-1)
This limited-edition square G-Shock watch features a retro-look that harkens back to the first-generation G-Shock watches of the 80s and 90s. While the design certainly looks old-school, the G-Shock Adrenalin Red Series Connected definitely comes with all the new toys of a modern G-Shock timepiece.
The matte black resin case, which measures in at a sleek 42mm, is partnered up with a bright red dial that is simple yet visually striking. The minimalistic design of the Adrenalin Red Series model will certainly make it appeal to the modern urbanite explorer. As we have noted, this limited-edition G-Shock watch comes with some excellent modern features which include a multi-band 6 atomic timekeeping, Tough Solar technology, and Bluetooth connectivity.
Full Specs on G-Shock's website
G-Shock Gold One Size (GMW-B5000GD-9CR)
A luxury dress watch is probably the last thing that comes to mind when describing the G-Shock series, but here we are. This G-Shock watch may look like something you would wear to a fancy party, but make no mistake, this is still a tough-as-nails G-Shock watch underneath all that glitz and glamor.
Despite the appearance, the GMWB5000GD-9CR still features the tried and tested G-Shock build. It features a 43mm diameter resin case with a polished gold-tone finish. To complete the luxury look, this model instead uses stainless-steel gold-tone bracelets. Being equipped with all the standard G-Shock features along with atomic timekeeping and Tough Solar technology, this is a timepiece that will suit both gentlemen and adrenaline junkies alike.
See Full Specs on G-Shock's website
G-Shock MR-G Titanium Sapphire Crystal Tough Solar (MRGG2000HB-1A)
Finally, we get to the final entry of our list. This spot is earned is well-earned by the MRGG2000HB-1A model. It packs a slew of fantastic advanced features and a high-quality build that complements its reputation quite well. The MR-G series is the cream of the crop in the G-Shock hierarchy and it is easy to see why. This is the premier G-Shock watch line that showcases everything great about this popular timepiece.
One of the most notable aspects of this particular model is the chiseled pattern on the case which resembles a dragon scale. Along with a stainless-steel build, this G-Shock model is as 'metal' as you can get. Along with jaw-dropping aesthetic is the signature G-Shock durability. It also features a 3-Way Connected Engine that provides excellent timekeeping accuracy wherever you may be in the world.