G-Shock is one of the more popular watch brands by Casio. First introduced in the 1980s, G-Shock took the watchmaking industry by storm with its exceptional durability, functionality, and eye-catching aesthetics. G-Shock stands for Gravitational Shock which is a design built around extreme resistance to shock, impact, and mechanical stress.
The G-Shock watch was designed by Kikuo Ibe. Ibe aimed to deliver a highly reliable timepiece that can withstand the roughest uses while keeping the price tag relatively low. The G-Shock was definitely hit the ground running with its tank-like modern design which is a breath of fresh air in a market dominated by sleek and traditionally designed timepieces. It's rough and tumble build and vibrant color scheme made it extremely popular with younger consumers as well as outdoor and sports enthusiasts.
Some of the main characteristics of a G-Shock watch include a high level of resistance against impacts, electric shocks, water, and low-temperature environments. The impeccable design of the Casio G-Shock also gave it the recognition of being the "Toughest Watches of All Time", which it certainly earned based on its performance and popularity.
The G-Shock's amazing durability is its foundation and is a feature that is at the core of each G-Shock model in the market. While its design won't be getting any praises from watch traditionalists, it is definitely in a league of its own with its modern sporty vibe. In fact, it is quite common to find G-Shock watches being worn by outdoor enthusiasts, athletes, as well as military and sports personnel.
As for staple features found in this tough-as-nails watch, G-Shock watches tend to incorporate five specific features with every model. These include a legible LCD display, tilt-sensor, solar-powered batteries, power-saving mode, and an auto-illuminator feature. These five features deliver a performance level specifically designed for outdoor usage.
Are G-Shock watches worth it? Definitely. Whether for casual everyday use or for adventures, the G-Shock watch is one that you can definitely rely on through thick and thin. If you are interested in this super-tough watch line by Casio but do not have the budget for the higher-end models, we suggest these entry-level G-Shock watches.
While these G-Shock models are on the lower end of the price spectrum, don't mistake them for being the runt of the litter. These budget-friendly G-Shock watches are still incredibly tough, are as reliable as their more expensive siblings, and can easily last for a decade with proper care and maintenance.
Best Budget G-Shock Watches
G-Shock DW9052
The G-Shock DW9052 has been around for quite some time now and is considered a classic G-Shock model that can still keep up fairly well to this day. Consider the DW9052 model as an old lion that is still quite a formidable force even after decades in the jungle.
While you shouldn't expect some advanced features in the G-Shock DW9052, it manages to balance this out with its fantastic durability. The barebones feature is actually more than enough to handle outdoor use. The DW9052 comes with a legible LED display, backlight, timer, alarm, stopwatch, auto-calendar, and an hourly time alert. The DW9052 features a 48.5mm resin case and a build that provides it with decent 200-meter water resistance.
G-Shock DW5600E-1V
The G-Shock DW5600E-1V is a homage to the first-gen G-Shock watches with its square and robust design. It comes in with a relatively compact 43mm diameter square resin case. The smaller design makes the DW5600E-1V model a suitable choice for those with smaller wrists. It also gives this G-Shock model better overall comfort.
When it comes to entry-level G-Shock watches, the DW5600E-1V is typically at the forefront of discussions. It comes with all the classic G-Shock traits but is sleeker and lighter. This model is not only shock-resistant but also comes with an ISO 764 class magnetic resistance rating. On top of all that is a 200-meter water resistance which makes it suitable for a lot of marine-based activities.
G-Shock G100-1BV
For those who prefer analog dials instead of digital ones, the G-Shock G100-1BV might just be for you. This analog-digital hybrid watch is also equipped with staple features such as a stopwatch and alarm functionality. In addition, this G-Shock watch also comes with a dual-time feature making it even more ideal for traveling. Other notable features included in the G100-1BV's design is a backlit LCD display at the bottom, a 200-meter water resistance, 3-year battery life, and excellent magnetic resistance.
G-Shock DW9052-2
This is a variation of the G-Shock DW9052 which adds some vibrant color to the mix. The playful and energetic color scheme makes one of our top picks for kids. The 45.5 rubberized case might seem a bit too large at first, but the lightweight construction counterbalances the bulky build.
As for features, you can expect the DW9052-2 to be equipped with everything the OG version has. This colorful G-Shock watch features an LCD display with backlight, a timer, alarm, stopwatch, auto-calendar, and hourly alarm. The watch also has a 200-meter water resistance which makes it a suitable companion during recreational water activities.
G-Shock G2900F-1V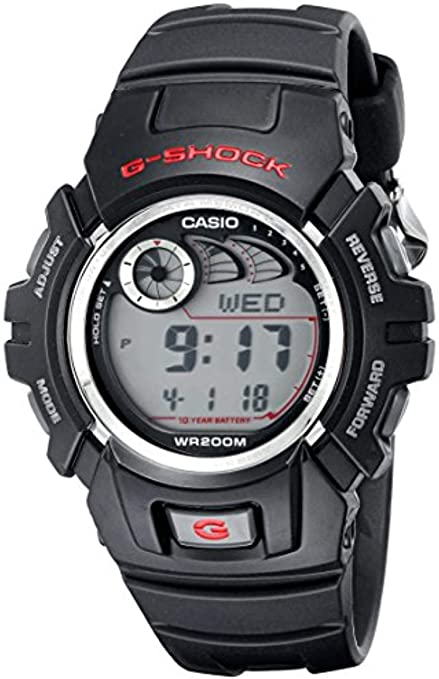 Looking for an affordable G-Shock watch that comes brimming with extra features? The G-Shock G2900F-1V is definitely a worthy contender for this spot. Longevity is the name of the game with this slick black and red G-Shock watch as its battery life is estimated to easily reach 10-years. Not only does it have an exceptionally long battery life, but it also comes with a slew of watch features that will enhance its overall functionality.
The G2900F-1V is equipped with a GMT mode which can display up to 29 time zones and 27 cities. It also allows users to set up to 4 daily alarms. The G2900F-1V is also equipped with a nifty password protected E-Data Memory which can store up to 40 data sets. With outstanding battery life and with some additional bells and whistles, the G-Shock G2900F-1V is certainly one to keep your eyes out for in the market.
G-Shock DW6900
Featuring the signature resin case design, the G-Shock DW6900 is another excellent choice for those looking for an affordable G-Shock watch. It also comes with a fantastic retro design which brings back the triple seconds sub-dials from yesteryear. This watch is like a blast from the past for 90s kids such as myself, which gives the DW6900 a special place in my heart.
This budget-friendly G-Shock watch comes with a 48.5mm diameter resin case. This is pretty much a standard G-Shock size and will fit nicely with most wrists. As for features, the DW6900 comes with a backlit LCD display (which is operated via a button located at the front), timer, alarm, stopwatch, auto-calendar, and an hourly alert. As with all G-Shock watches, the DW6900 model also comes with a 200-meter water resistance rating.
G-Shock DW9052V-1CR
We have another DW9052 variant in the form of the G-Shock DW9052V-1CR which offers a sportier look and a lighter and more comfortable design. The main difference here is with its use of a flexible yet highly durable nylon strap. This gives the DW9052V-1CR a lighter weight. The nylon strap also gives it a more tactical look.
Other than that, the 1CR model is virtually identical to the DW9052V model. It comes with a backlit LCD display along with the standard stopwatch, alarm, timer, auto-calendar, and hourly notification. It also has a 200-meter water resistance rating as well. We threw this one in here for those who want an alternative to the rubber band strap version that is the norm with G-Shock watches.
G-Shock DW9052GBX-1A9CR
One thing about the G-Shock DW9052GBX-1A9CR model that is quite impressive is its build. For a G-Shock model with a highly affordable price tag, this one has an incredible construction that surpasses most outdoor timepieces in the same price bracket. We also like the black and gold color scheme which gives this G-Shock model that premium-grade charm.
This is one of those G-Shock watch models that you can wear in both the outdoors and party scenarios. That's a Win-Win in our books. This G-Shock watch is also built to last for quite a long time. With proper care and maintenance, we can see the DW9052GBX-1A9CR to last for over a decade. As for features, this robust watch comes with a quartz movement for its digital display. It also sports a dual-display that indicates both date and time. The LCD display is also equipped with an electro-luminescent backlight for optimum visibility even in pitch-black environments.
G-Shock GA100-1A1
The G-Shock GA100-1A1 features a more military watch approach with its design. It features an all-black color scheme and a robust build. We also enjoy its industrial and stealthy aesthetics This G-Shock model also goes a step beyond when it comes to its features. That said, this thing is built like a tank and looks like one as well. It has a 51mm diameter case which is quite substantial, especially for those with smaller wrists.
This watch also comes with a dual-time GMT feature that can display up to 48 city time zones. You can also expect a stopwatch, alarm, timer, auto-calendar, and hourly alert as is typical of G-Shock watches. The LCD does come with a backlight, but looks dimmer than expected. It also comes with a 200-meter water resistance that completes its basic outdoor features.
G-Shock G120MB
If you enjoy the military or tactical appeal of the G-Shock GA100 series, but want a little something more in terms of design then you should definitely take a look at the G120 series models. In particular, the G120MB comes with the G-Shock OG design of triple rings that tracks/counts seconds. Bring back that 90s flavor but fuse it with the rugged charm of the G100 model and you have yourself a tough-looking retro G-Shock watch.
As for features, it is equipped with standard G100 model qualities such as a 48-city world time, dual-time display, stopwatch, timer, auto-calendar, and an hourly alert notification. In addition, this G-Shock model also allows wearers to set up to 5 alarms. To top things off, it delivers a decent 200-meter water resistance rating.
G-Shock GD350
Here we have another fantastic budget-friendly military-style G-Shock watch. This particular model certainly has the heft and girth with its 53mm diameter case. We threw the word 'tank-like' a lot when describing G-Shock watches, but this one takes the proverbial cake. What's most impressive though is how stealthy the GD350 model is in comparison to other watches.
In particular, the GD350 model is equipped with a vibration alarm. This allows wearers to mute the watch while still alerting them via vibrating. This is a highly valued feature not only for military and policework but also during hunting activities. Other notable features include a hands-free backlight and a timer button for countdowns. Oh, and don't worry about using the watch in areas with water as it comes with 200-meter water resistance as well.
G-Shock GWM500A-1
With its sleek design, the G-Shock GMW500A-1 is a perfect fit for sports enthusiasts. Underneath its 46mm diameter resin case lies a multi-band atomic timekeeping movement. It is also equipped with the Tough Solar Power technology which further prolongs its battery life. This is an excellent sports watch that comes with the signature toughness of G-Shock timepieces.
As for features, the GMW500A-1 is flush with them and will surely deliver top-notch performance. It comes with a stopwatch, timer, auto-calendar, and the ability to set up to 4 daily alarms. Some of its more unique features include an auto EL backlight with afterglow, world time display, and a power indicator for its solar-powered battery. The battery can last up to 9 months without exposure to sunlight, so it is practically impossible to drain it unless deliberately.
G-Shock DW6900BMC-1
Here we have a variant of the DW6900 model. While the OG model took a more tactical approach to its design, the BMC-1 model goes for a more casual and urban aesthetic. This is most noticeable with its use of bright neon accents. The G-Shock DW6900BMC-1 comes in with a 53.2mm diameter resin case. Underneath the robust yet lightweight case is a Japanese quartz movement with a digital display.
As for durability, you can expect the DW6900BMC-1 to bring all the signature features that are synonymous with G-Shock, such as outstanding impact resistance. Extra features include the typical sports functionalities such as a countdown timer, stopwatch, auto-calendar, hourly alert, and a nifty flash alert.
G-Shock GA200-2A
The G-Shock GA200-2A series is one of the snazzier looking models in Casio's popular shock-resistant watch series. This particular model features a carbon core guard design which gives it a surprisingly lightweight build while keeping G-Shock's signature durability in check. This is also an analog-digital hybrid watch which is a plus in its own.
The GA200-2A also has excellent visibility thanks to the dual LED lighting design for both the analog and digital display. We also liked the neat and organized design of the GA200-2A's face, something that is not as common as you think when it comes to analog-digital watches. As for watch features, the GA200-2A comes with a World Time which can display up to 31 time zones and 48 cities along with the standard countdown timer, stopwatch, auto-calendar, and hourly alert.
G-Shock GA110RG-1A
With its 51mm resin case and mineral dial window, the G-Shock GA110RG-1A definitely wears its signature G-Shock design on its sleeves. The black and copper-tone aesthetic gives it a more professional and executive charm, but make no mistake, this is a rough and tumble watch designed for the outdoors. Inside the robust case is a Japanese quartz movement that operates its analog and digital displays.
When it comes to functionality, this G-Shock watch brings the steak to its sizzle. It comes with a World Time feature that comes with 48 cities and UTC. There is also a multi-home time, countdown timer, and stopwatch to round off its performance. In addition, this G-Shock model also comes with the flash alert feature and 200-meter water resistance.