Analog-Digital watches (also referred to as Ana-Digi or Combination watches) are timepieces with a classic look of analog hands and a convenient digital display. These watches allow the wearer to easily separate the different functions of the watch in one glance, which explains why many models are inspired by outdoor activities and aviation.
Below, we'll feature some of today's best Ana-Digi watches. Our list includes new as well as some vintage models. There are plenty of affordable options, but we'll also cover models by luxury brands.
Best Analog-Digital Watches
Casio AQ-230A-7BMQ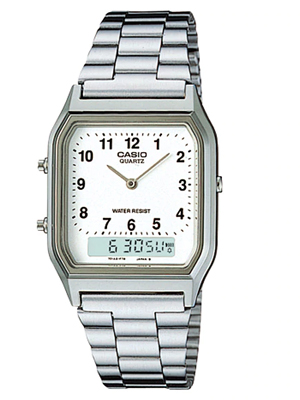 See on Casio | Read Amazon Reviews
We'll cover a number of Casio models in this article, as the brand is known for producing a wide array of Ana-Digi models. We'll start with simpler and more affordable ones and then move to pricier models.
The Casio AQ-230A-7BMQ is for those looking for an affordable and straightforward Ana-Digi watch. This is a vintage-style watch with a dual-time feature: an analog display with an index or Arabic markers, and a digital feature at the bottom, at 6 o'clock.
The resin and chrome-plated case have a stainless steel band and resin glass. This model has a daily alarm, auto calendar, and a 1/100-second stopwatch. It also has an am/pm display, a 12/24 hour format, and a 100m water resistance.
Casio Men's FT600WB-5BV Ana-Digi Forester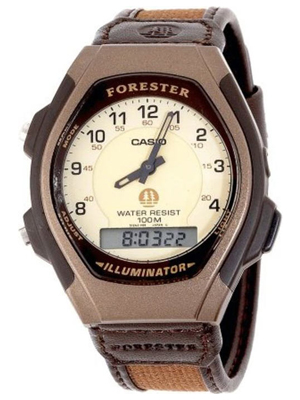 See on Casio | Read Amazon Reviews
The Casio Forester FT600WB-5BV is a 36.5mm watch with a rugged and vintage design, a beige dial, a brown stainless steel bezel, and a strap with a combination of canvas and leather. This model has a dual-time feature, with analog Arabic markers and a digital feature covering 5 to 7 o'clock.
Other features include day, date, and month displays, a 1/100-second stopwatch, and black watch hands. The water resistance is up to 100m.
Timex Men's Expedition Katmai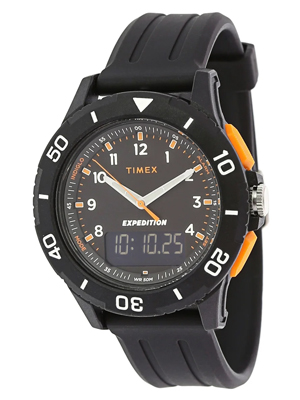 Timex is known for its durable and affordable watches, and its Expedition line is for those looking for functional yet straightforward outdoor watches. The Timex Men's Expedition Katmai Combo 40mm watch has analog Arabic and index markers and orange accents and has a digital screen at 6 o'clock.
This line has a variety of versions. There's khaki, resin, and fabric for the straps, and the dial has black and white versions. All watches have the Timex Indiglo backlight technology and are water-resistant to 50m.
Timex Tactic DGTL Combo Watch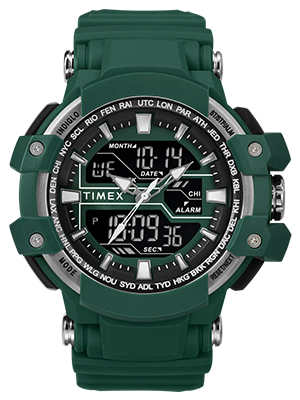 See on Timex | Read Amazon Reviews
This Tactic DGTL is an affordable tactical watch by Timex, a 53mm watch with a green resin matte case, strap, and stainless steel accents.
Other color combinations of the watch include black, grey and red; dark grey; and green-grey.
The Timex Tactic DGTL Combo watch features include a sports stopwatch, an alarm, and an Indiglo Light-Up watch dial. There are two time zones, a 24-hour military time mode, and a day/date/month calendar. The watch is water-resistant up to 50m.
Naviforce 9024-BBW Stainless Steel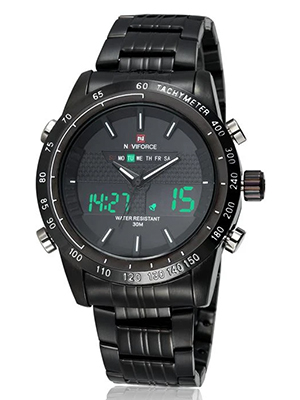 Naviforce has a variety of Ana-Digi watches in its catalog. The Chinese brand was established in Guangzhou in 2012, specializing in manufacturing watches like wholesale military timepieces.
This Naviforce 9024-BBW model is a 46mm analog stainless steel watch. The watch has an all-black design, with a 30m water resistance. The dial has index markers and digital screens on the 4 pm and 8 pm positions. This quartz model runs on a Japanese movement.
Timex Men's Expedition Pioneer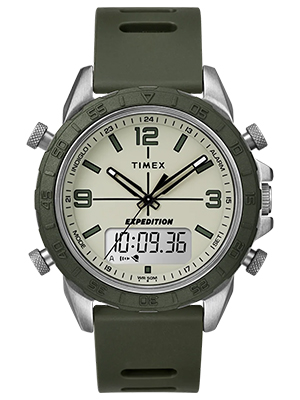 See on Timex | Read Amazon Reviews
The Expedition Pioneer is slightly pricier than the two Timex models featured above but is still relatively affordable, especially for its quality and functions.
The 41mm Timex Expedition Pioneer Combo is a rugged outdoor watch with a low lead brass, silver-tone case, and quick-release soft silicone rubber. The legible markers are a combination of Arabic and index, and the digital screen is placed at 6 o'clock.
Some of the main features include a Timex Indiglo Light-Up dial, a customizable alarm, and a water resistance to 50m. This model has a black dial, but a white dial and leather strap options are also available.
Casio Baby-G MSGS200-7A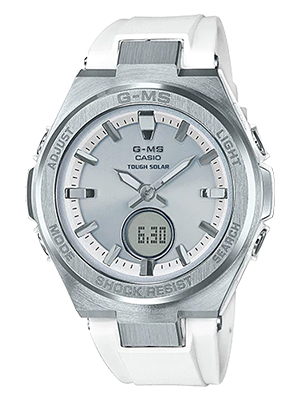 See on Casio | Read Amazon Reviews
This one is from Baby-G, Casio's shock and water-resistant models with a feminine design.
The 38mm Casio Baby-G MSGS200-7A has a resin and stainless steel case, index hour markers, and a round digital time display at 6 o'clock. This watch is solar-powered and water-resistant to 100m. This watch has a full auto calendar, daily alarm, countdown time, and a 1/100-second stopwatch. It also has a world time feature for 21 time zones, 48 cities, and a Super Illuminator LED light.
It also has Casio's Tough Solar feature, which converts light from sunlight, fluorescent lights, and other sources into power.
This is one watch off the MSG-200 line, which has all have the Ana-Digi features we mentioned above, but with different colors and strap materials.
Citizen Ana-Digi Temp JG2008-81E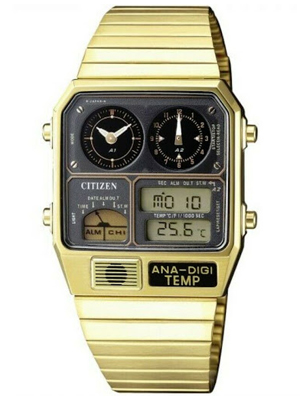 For those looking for a vintage watch with analog and digital functionalities, this 39mm Citizen square watch has a retro watch look with a stainless steel square case.
The black dial with dual time features a 1/1000-second chronograph, day and date calendar display, alarm function, and a low battery warning. The water resistance is up to 30m, and at the bottom of the watch is a digital thermometer display.
Another vintage Citizen watch is this vintage Ana-Digi watch, also available on eBay. This is a rare yachting quartz watch with a gold-plated case and a white 12-hour dial. You can learn more about nautical watches here.
Casio G-Shock Mudmaster GG-1000-1A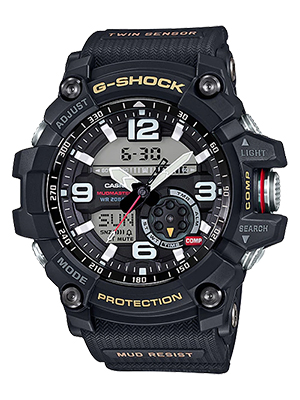 See on Casio | Read Amazon Reviews
The Casio G-Shock Mudmaster GG-1000-1A is one of the latest models of the Master of G Mudmaster series. G-Shocks are known for their durability, and this one is for those who are expecting a lot of action: as the name suggests, this is the watch one needs if there's a need for protection against mud and dirt.
The watch has gaskets that help keep the mud out. The case (56.2×55.3×17.3mm) is made of stainless steel and resin and is also shock-resistant. The analog feature has Arabic and index markers, and some of the digital functions include a compass and temperature readings. There are also five alarms, 31 time zones,  and a 1/1000 second stopwatch.
This watch is powered by an auto LED light—a high-brightness Super Illuminator. The water resistance is up to 200m.
Citizen Promaster Navihawk A-T JY8030-83E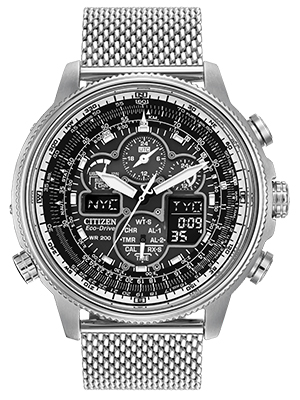 See on Citizen | Read Amazon Reviews
Citizen introduced the Citizen Promaster Navihawk A-T watch with the U680 Movement in 2017.
This has a busy dial with small prints, so it may not be for everyone, but many customers praise it for its accuracy and helpful aviation features.
This 48mm model has stainless steel, a silver-tone case, and a mesh bracelet strap. The functions include a synchronized atomic time clock timekeeping technology with synchronized time adjustment (43 world cities). It also has a 1/100-second chronograph, a perpetual calendar, Citizen's Eco-Drive technology powered by any light, and water resistance of up to 200m.
Hamilton Khaki Aviation Flight Timer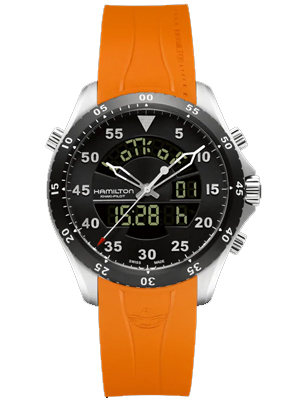 See on Hamilton | Read Amazon Reviews
The Hamilton Khaki Aviation Flight Timer is a 40mm aviation quartz watch. According to Hamilton, this watch has a dedicated pilot's logbook that can "record details of up to 20 flights and for each of the 99 landings."
The Khaki Aviation Flight Timer has a stainless steel case with a sapphire crystal and a water resistance of 100m.
Some of the main features of this watch include two time zones, chronograph, alarm function, countdown, perpetual calendar, and an ISA temperature display.
While this model is no longer in production, you can still find some for sale on websites like Amazon, like this stainless steel version.
Tissot T-Touch Expert Solar II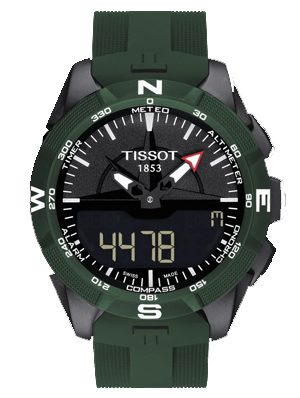 See on Tissot | Read Amazon Reviews
This touchscreen watch by Tissot is off its T-Touch collection uses solar power—there are tiny solar sensors in the dial that captures light. The energy needed to run the watch comes from natural and artificial light sources, so the watch can run for months without charging.
The T-Touch Expert Solar II has the brand's Tactile Technology, a feature that makes the watch intuitive. It allows the user to easily operate its many functions, including a chronograph, compass, alarm, and altimeter.
The round 45mm case is titanium with a tactile, scratch-resistant sapphire crystal. The bezel ring is made from durable ceramic, which means that the watch will not lose its shine. You can learn more about the watch and its technologies on the Tissot website.
Junghans Force Mega Solar
See on Junghans |  Read Amazon Reviews
Junghans is known for its simple, minimalist designs, which is why this Ana-Digi watch is impressive. The German watchmaker maintains its clean design even with the two functions.
A combination of radio technology with solar power, the Junghans Force Ceramic Solar watch has a mineral crystal dial, luminous hands, and a ceramic bracelet with a titanium folding clasp. It also has a multi-frequency, radio-controlled solar movement and a power reserve of up to 21 months. The wearer can adjust the settings using the official Junghans MEGA app.
This watch has several versions. Check out the Junghans site to see the different options for the Force Mega Line. You can also read this watch review on A Blog to Watch.
Breitling Aerospace Evo Titanium-Volcano Black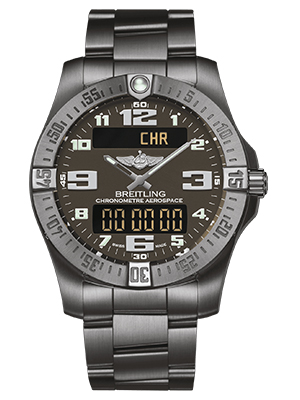 See on Breitling |  See on Amazon
This luxury Ana-Digi watch is by Swiss watchmaker Breitling, first introduced in 1985. The Breitling Aerospace Evo Titanium-Volcano Black watch is a multi-function chronograph with functions such as a day and date calendar, a countdown timer, alarm, minute repeater, and a second-time zone.
The case of this 43mm model is made of titanium and black titanium, with a unidirectional bezel and a sapphire, glare-proof crystal. The water resistance is up to 100m.
To learn more about Breitling and its watches, you can check out this article that we wrote about some of their best models—Best Breitling Watches To Add To Your Collection.
If the price tag on this one is too high, check out these more affordable Breitling Aerospace alternatives here.
Omega Speedmaster Skywalker X-33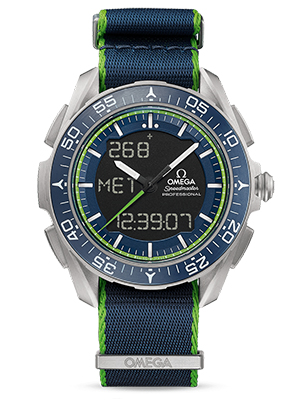 The Omega Skywalker X-33 watch is designed for space explorers. This model is an upgraded version of the Speedmaster Professional X-33 introduced in 1998.
This luxury Ana-Digi watch is a 42mm model with a brushed Grade 2 titanium case and bracelet, with a brushed fold-over clasp.  This has a liquid crystal display with electroluminescent backlight features. If the wearer wants a clearer digital display, you can disengage the watch hands.
According to Omega, this watch was approved by the European Space Agency to be included in its missions.
The black dial has a white index and hour markers, and the digital functions include three time zones and three alarms, countdown, chronograph, and perpetual calendar. Take a closer look at the watch and its construction here.