The luxury Swiss watch brand Breitling is a namesake brand, after its founder Leon Breitling. It was founded back in 1884 in the Swiss Jura Mountains. As a luxury brand, Breitling has quickly established its reputation because of the exceptional design and quality of its products. More specifically, the brand has become known for its close association in aviation.
One of the brand's impressive collections is the Breitling Aerospace, and yes, it is a range of aviation watches. After the feat of Chronomat and Navitimer collections, Breitling launched the Aerospace in 1985.
One of the most interesting features of this model is the overall dial design, which landed it on our list of best analog-digital watches.

It introduced electronic aviation watches fused with modern designs. The Aerospace collection is equipped with highly accurate chronographs and driven by quartz movements. Its build is also innovative – durable yet lightweight – because of its use of a titanium case. With all these impressive details, it is no wonder that it was quickly admired and welcomed by watch enthusiasts, aviators, and even celebrities such as Brad Pitt and Harrison Ford.
Some of the best Breitling watches cost several thousand dollars. There are several reasons why Breitling watches are so expensive, for many people the Swiss craftmanship and quality justify the price. However, we understand that many of our readers do not have thousands to spend on a watch, so we offer this list of more affordable watches for those that like the style and aesthetics of the Aerospace. None of these are in the same league as Breitling, but on a basic level do offer a similar vibe.
Best Affordable Breitling Aerospace Alternatives
Casio Edifice ECW-M300E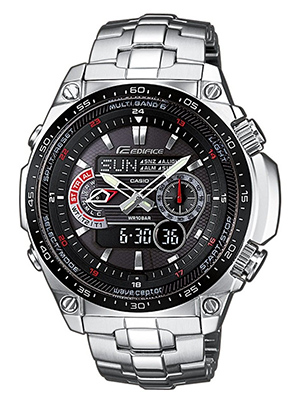 The Casio Edifice ECW-M300E comes with an analog-digital dial, similar to some of the Breitling Aerospace models. However, compared to Aerospace, the Edifice is packed with more functions.
The Edifice collection from Casio features advanced technology with its multi-function chronograph timepieces. More so, its design is impeccable and bold as the fine details and elements were given careful attention.
Casio Lineage LCW-M300D-1AJF
Another recommendation from this forum is the Casio Lineage LCW-M300D-1AJF.
Compared to the previous Casio model listed above, this one's quite more costly yet its black dial is simpler, making it look more similar to the Aerospace. It still has an analog-digital display and a subdial at 9 o'clock. For its analog display, it uses silver-toned index hour markers and two luminous hands. It also has a minute track around the rim.
This model is driven by a quartz movement and is solar-powered. It also has a multiband 6 radio reception function and a world time function. It also has an alarm, a full-auto calendar, a stopwatch, and an LED light. The case and bracelet are both made of stainless steel, and it has an inorganic glass dial window.
Timex Expedition Metal Combo T411019J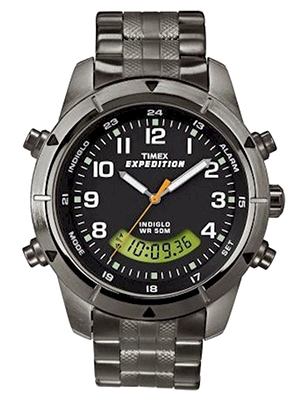 The Timex Expedition Metal Combo T411019J is also recommended on this forum. This model comes with a metal case, brass bezel, and a stainless steel bracelet. It also has a durable mineral crystal dial window to protect the elements of its dial. It has a bold analog display on the black dial and a digital display on its lower portion. The digital display has a day-date-month function. The whole dial is also equipped with an Indiglo night-light function. In terms of water resistance, this timepiece is good up to 165 feet.
Orient CVZ00001B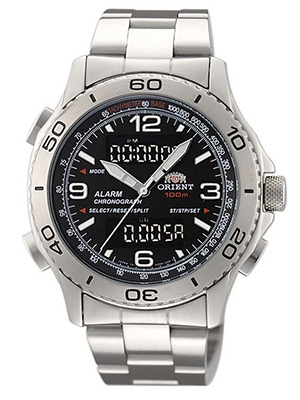 Next is the Orient CVZ00001B as mentioned in this discussion. This timepiece from Orient is a solid steel watch with brushed and polished surfaces and a unidirectional bezel.
Its matte charcoal gray dial also features analog and digital displays powered by a re-badged Miyota T241 movement.
The analog display is pretty easy to read with the combination of Arabic numerals and index hour markers. The hands are also luminous and there's a minute track as well as a tachymeter.
For its digital functions, you may choose between a 12-hour or a 24-hour display. It also has a perpetual calendar, a daily alarm, an hourly alarm (which you may turn off), a count-up and count-down calendar, and chronograph functions.
If you want to know what watch enthusiasts say about the Orient CVZ00001B, see this forum.
Junghans Aviator Chronograph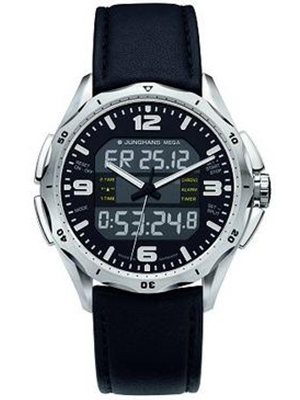 Mentioned on this forum as one of the best alternatives to Breitling Aerospace is the Junghans Aviator Chronograph. This particular model of Aviator Chronograph comes with a multi-frequency radio-controlled J615.07 movement suitable for its analog-digital display. It is also packed with technical functions including a chronograph with split function, countdown, alarm, automatic reception of time signal in Europe, the USA, and Japan.
Its case is made of stainless steel and it has a rotating bezel. The dial window is made of sapphire crystal while the strap is leather with a safety folding clasp. It also has luminous hands, numbers, and indices, and its water resistance rating is 10 ATM.
Citizen JT3034-57E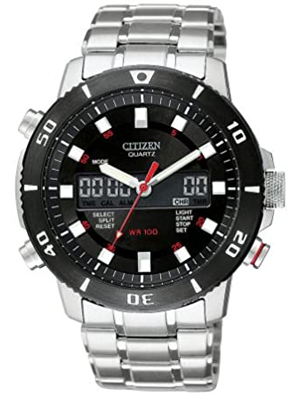 Another recommendation from this forum is Citizen JT3034-57E, which is a cleverly designed timepiece with an analog digital display.
It is driven by a Swiss Quartz movement with chronograph functions, and day-date-and-month functions on its black dial. Citizen JT3034-57E is built with a stainless steel case and bracelet, and a mineral crystal dial window. It is also water-resistant up to 330 feet.
Citizen JT3039-53E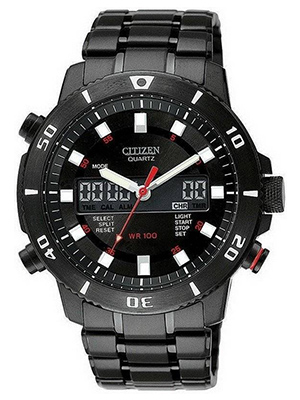 Also listed in this forum is the Citizen JT3039-53E. It's primarily a black timepiece with an analog-digital display on its dial powered by a quartz movement. The analog display uses white bars and indices and luminous hands. The digital display, on the other hand, is located horizontally through the 3 and 9 o'clock position. It has the chronograph function, stopwatch, split time, countdown, and a calendar.
It is built with a stainless steel case and bracelet, unidirectional rotating bezel, scratch-resistant mineral crystal glass, threefold, and push-button release clasp. It is water-resistant up to 100 meters.
Seiko Sportura SNJ005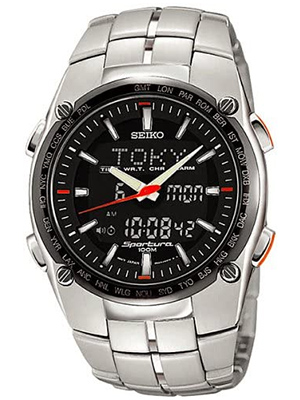 The Seiko Sportura SNJ005 showcases a basic analog display with sticks and indices, and a large LCD digital display behind it. This digital display makes the timepiece stand out compared to other models in its line and looks more expensive than it cost. It features world time, a time transfer function, a world time alarm, an automatic calendar until 2050, and a stopwatch.
For its build, Seiko SNJ005 is primarily made of stainless steel with a screw-down case back, a sapphire crystal dial window, and a double-locking clasp.
Victorinox Swiss Army 241300 Chrono Classic XLS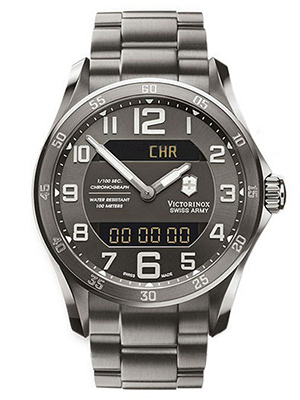 See on Victorinox | Check Amazon
One of the most recommended alternatives for the Breitling Aerospace is the Victorinox Swiss Army 241300 Chrono Classic XLS. It has been mentioned in this forum and again in this related discussion.
As you see this particular timepiece, it's pretty easy to understand why it has been highly recommended. Its sleek and sophisticated look indeed matches that of Breitling Aerospace. The Victorinox Swiss Army Chrono Classic XLS is made of a gunmetal stainless steel case along with a stainless steel bracelet. It also has a stationary black PVD steel bezel marked with a 60-minute scale and a scratch-resistant sapphire crystal. The dial is also gunmetal with luminescent hands Arabic numeral markers. Even the minute markers at the outer rim are also luminous. More so, on its digital display, you may access the countdown timer and a perpetual calendar. Both analog and digital components are powered by a Swiss quartz movement. It is also water-resistant to 100 meters.
Hamilton Khaki Aviation Flight Timer H64514181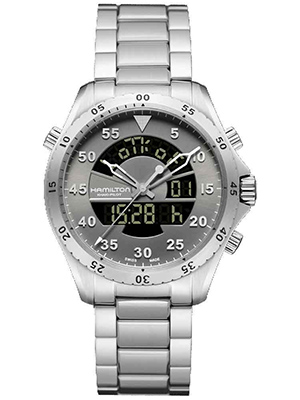 See on Hamilton | Read Amazon Reviews
Another recommendation from this forum is the Hamilton Khaki Aviation Flight Timer H64514181. Coming from a Swiss watch brand, you can expect that this timepiece is made of premium quality materials and parts.
This silver-toned watch comes with an analog-digital display and uses quartz movement. Its digital display can show the time, the UTC (especially included for pilots), day and date, alarm, chronograph, and countdown timer. It is also equipped with a perpetual calendar. The digital display also has an illumination mode so you can also use it in the dark. More so, its bezel, case, and bracelet are all made of stainless steel. It then uses a push-button deployment clasp. In terms of water resistance, it's good for 100 meters maximum.