This article will focus on some of today's best Seiko watches. Whether you're a watch collector or a first-time Seiko customer, you will find something for you here. We'll be featuring a wide array of watches with different designs and price points, and even some trivia along the way.
Seiko is a Japanese company that has been around since the 1880s, and its history is just as interesting as the watches that they make. Today, the company is one of the most respected watchmakers in the world. Seiko is often compared to Citizen as they both make affordable watches and their solar-powered watches (Eco-drive and Seiko Solar) compete directly against each other.
Seiko has hundreds of watches in its collection, from the best-selling and affordable "Seiko 5" series to luxury watches from "Grand Seiko". Whether you're looking for an elegant dress watch from their "Presage" collection, a professional "Prospex" dive watch, or a modern GPS watch from the "Astron" line, Seiko has a perfect match for your wrist. 
Quick Recommendations:

The Seiko catalog can get very overwhelming due to the sheer number of watch models they produce, so let us help you narrow things down. Here are our best picks, including options for every budget and style.

Best Seiko Watches For Men
Seiko Coutura World Time Japanese Quartz Watch (SSG020)

Incorporating a rather extravagant silver with gold-tone design, the Seiko Coutura is an exquisite timepiece with a relatively reasonable price tag attached to it. The Seiko Coutura certainly exudes a deluxe charm, and it delivers top-notch functionalities as well.
One of its main features is the Radio Sync Solar Dual Time functionality which automatically adjusts the time based on radio frequencies. This feature also helps keep the calendar part up to date. Also, the solar-powered technology gives this timepiece a solid 6-month power reserve when fully charged.
The two-tone silver and gold design of the Coutura is simply icing on the proverbial cake. There are Lumibrite coated hands and markers that accompany the bold blue dial. To top things off, the Seiko Coutura also provides up to 100-meters of water resistance, making it a suitable timepiece for water-based recreational activities such as swimming and snorkeling.
Seiko Recraft Series Automatic Watch (SNKM97)

With its tonneau-shaped case, the Seiko Recraft comes with a vintage charm that is a sure-fire hit for a particular group of customers out there. The very 70s aesthetic of the Seiko Recraft is given a somewhat modern twist with a stunning green dial with a gold accent design.
We also praise the fact that the Seiko Recraft features a rather deluxe aesthetic without being too expensive. Because of its well-balanced build, the Seiko Recraft is an excellent timepiece for those who want to add a visual flourish to their attire.
This Seiko timepiece does not just have a refined design; it also has an equally impressive watch movement. The SNKM97 incorporates a Seiko caliber 7S26 automatic movement that clocks 21,600VPH and a power reserve of up to 41-hours.
In addition, you get an excellent view of the Seiko 7S26 automatic movement thanks to the transparent back case. The level of quality presented in the Seiko Recraft SNKM97 makes it a great deal. However, the larger build of this Seiko watch might make it too cumbersome for those with smaller wrists.
Seiko 5 Automatic Stainless Steel Watch Green Canvas (SNK805)

The "5" in Seiko 5 is a reference to the attributes of the watch. All of Seiko 5 watches are automatic, have a day and date display, water resistance, a crown at 4 o'clock, and a durable case.
The Seiko 5 SNK805, with its clean dial and canvas strap, has become one of the best-selling affordable tool watches. The field watch-inspired timepiece has a black dial and Arabic numeral markers which are uniquely placed in two areas: the outer ring indicates the minutes and the hours in the inner ring. If you're looking for a watch with this military-inspired vibe, that is simple and utilitarian at this price point, it's hard to find a better quality affordable automatic.
Seiko Presage SARY055

The Seiko Presage line has a lot of models available, but we'll focus on the Seiko Presage SARY055, a 41mm watch. This is an excellent entry-level Seiko watch under the presage line.
Having a fine brush stainless steel finish and sapphire crystal with a date display on the 3 o'clock position, this watch exudes elegance, but won't break the bank. The case has a silver-white dial, which is complemented by blue hand/hour markers. It also has a scratch-resistant sapphire crystal and is water-resistant up to 100 meters.
If you're looking for a larger dress watch, this is something to consider. Both the case and the bracelet are quite thick and may overpower the watch itself but it can easily be swapped out based on your personal tastes.
Not sure about these designs? Check out the Seiko page to see other styles of the Presage.
Seiko 5 Sea Urchin Automatic Diver (SNZF17)

This is Seiko 5 is another men's model that you can consider if you're looking for a stainless steel watch. Because of the black case, this one can look a bit more casual, so you can use it as both a dress and an everyday watch.
The Seiko Black sports watch, nicknamed the "Sea Urchin", has a 44mm case with a stainless steel case, a skeleton case back, and a black dial. Like the previous watch, this one's 100m water-resistant so you can use it in the shower and do some pool swimming, but not deep diving.
It has a push-button deployant clasp, a Safety Lock feature, a uni-directional rotating bezel, and a day/date window at 3 o'clock.
Like other Seiko 5 models, the Seiko SNZF17 features a high-precision caliber 7S36 automatic movement with an analog dial display. This watch movement packs up to 41-hours of power reserve and clocks in an outstanding 21,600 VPN, which gives it top-notch accuracy.
Seiko Prospex "Great White" Diver (SRPD23)

Seiko Prospex has always been at the forefront of highly dependable entry-level to mid-range dive watches. If you are fond of this particular watch line and want something with a bit more aesthetic punch, might we recommend the visually striking Prospex Great White model?
This watch is a limited-edition Seiko Prospex timepiece, a huge selling point for collectors and enthusiasts, but what about its performance? In terms of build, this Prospex dive watch has a 41mm stainless-steel case designed to provide up to 200-meters of water resistance.
Other notable aspects of the design include a screw-down see-thru back case and a unidirectional rotating bezel. The blue dial features a unique ocean wave pattern design, while the luminous hour markers and arrow hands maintain excellent legibility.
The Prospex "Great White" Diver incorporates an automatic movement with a power reserve of up to 41-hours. The Prospex Great White is undoubtedly a dive watch that wears its theme proudly.
Seiko 5 Bottle Cap Automatic Root Beer Bezel Sports Watch (SRPC68K1)

We have another Seiko 5 watch model entry; this time around, it features another rather unique aesthetic in the form of the "Root Beer Bottle Cap" design. True to its name, this timepiece features a brown and rose gold-tone that emulates the appearance of a bubbly mug of root beer.
Like other Seiko 5 watch models, the SRPC68K1 also incorporates an automatic 24-jewel self-winding with hacking movement. Along with this archetypal traditional watch movement is an analog dial display enhanced with a luminous Lumibrite finish.
It also comes with standard features such as a unidirectional rotating bezel and a day/date display. This timepiece features a brown military-style nylon strap for optimum comfort and offers a solid 100-meter water resistance rating.
Seiko Solar Watch (SSC717P1)

The Seiko Solar SSC717P1 showcases an eye-catching aesthetic that helps separate it from the pack. This Seiko timepiece efficiently uses stunning colors to stand out, while its chronograph feature rounds off its performance and functionality.
Additionally, this is a solar-powered Seiko timepiece which gives it an indefinite power reserve. The stainless-steel case measures 43mm and provides 100-meters of water resistance.
Underneath the stunning blue and silver-tone design is a Seiko caliber V176 quartz movement that operates its analog and chronograph sub-dials. This timepiece also comes with a rotating bezel with a red accent.
The Seiko Solar SSC717P1 features a highly sporty aesthetic which gives it a slick and modern charm. Versatile and robust, the SSC717P1 exudes a bold design backed up by its technically savvy functionality.
Seiko Men's Excelsior Chronograph

Looking for something slightly bigger? This stainless steel Seiko Excelsior men's watch could interest you. The Seiko Excelsior solar chronograph is a 43mm watch that has received praise among new users and watch enthusiasts for its design, function, and price.
This is another dress watch that will look great on big wrists. There are three subdials (a second counter, a 60-minute chronograph timer, and an alarm), a date window at 3 o'clock, luminous hands and markers, and a sculpted stainless steel bracelet.
One of the best qualities of this watch is it's solar-powered, so there is no need to charge it. Like the previous watches we've featured so far, this one's also water-resistant up to 100 meters.
This handsome watch has a very distinct bracelet—if you're looking for a watch that's masculine-looking, this is an excellent choice.
Seiko King Turtle Dive Watch (SRPE07)

There are three variations of the Seiko King Turtle: green, black/silver, and blue/silver.
We chose the third one as it features a more visually pleasing aesthetic with its blue dial with wavy patterns that evoke the ocean quite nicely.
All three models feature the workhorse that is the Seiko caliber 4R36 automatic movement. This watch movement comes with a power reserve of 41-hours as well.
There is also the tonneau case which emulates a turtle shell shape. The Seiko King Turtle also hits all the right notes regarding a dive watch.
It features a unidirectional rotating bezel, bold luminous hour markers and hands, and a solid 200-meter water resistance rating.
Seiko Prospex Mechanical Dive Watch

We're moving on to dive watches. Here is another big watch (even a little bigger than the first one).
Nicknamed "Sumo", the Seiko Prospex diver watch is a mechanical, self-winding timepiece stainless steel bracelet that's waterproof up to 200m (suitable for diving). It's 44.5mm, has a date display at 3 o'clock, has a 50-hour power reserve, and has luminous hands and markers.
Like other dive watches, Seiko made sure that it concentrated on a dial with legible marks. If you need a big watch that has easy-to-read numerals and markers, this one is for you.
This model a bit more expensive than the rest of the watches we've featured so far, but it's still not ridiculously expensive, considering it's a dive watch. This is a good investment whether you're using it for sports or wearing it as a daily or dress watch–having a classic look and the trusted Seiko quality.
Seiko Men's Prospex X Padi Diver

If you want a more colorful model, we also highly recommend is the Prospex automatic watch.
This 44mm stainless steel watch has a blue dial color (with some splashes of red), Lumibrite hands and markers, and water resistance of up to 200 meters. This one is also a bit more affordable compared to the previous model.
The design is very distinct, known for the "Pepsi colors". For this watch, Seiko partnered with PADI, the world's leading scuba diver training organization, so you know you're in good hands.
Seiko Men's Automatic Watch with Rubber Strap SKX007K

This is one of the most popular Seiko dive watches.
This Seiko SKX007K automatic dive watch with a rubber strap is one of the most affordable dive watches on the market today, considering its features. Delivering in both design and functionality, this watch is luxurious and sporty and is very reasonably priced.
It also landed on our list of best dive watches under $500.
This watch, which is water-resistant up to 200m, is ISO 6425 certified, which is the standard that is used in diving watches. The design is simple and easy to read: black dial and white numerals (as well as a splash of red indicating water resistance), a day/date window at 3 o'clock, and a unidirectional bezel. It's sleek and handsome and could look way more expensive than it is.
Whether you're wearing it as an everyday work watch or as a dive watch you will not have difficulty matching it with your outfits.
Seiko 5 Avocado Automatic Watch (SRPD77)

With its rather distinctive textured green aesthetic, this Seiko 5 model most certainly earns its "Avocado" moniker.  The Seiko 5 Sports SRPD77 is a solid timepiece despite a rather rugged design.
As with other Seiko 5 watches, the SRPD77 features an automatic 24-jewel self-winding movement with an analog dial display. This type of watch movement will deliver outstanding precision and a traditional high appeal.
The textured green dial does appear similar to that of an avocado upon closer inspection. Other notable features on the dial include highly luminous hands and hour markers thanks to the Lumibrite coating.
The Seiko 5 SRPD77 also features a unidirectional rotating bezel, a Hardlex mineral crystal window, and a day/date display. Overall, the 42mm stainless-steel case makes this a good option for both men and women.
Seiko Men's Flightmaster Pilot Slide Rule Chronograph Watch

Moving on to another type of specialty watch, the Seiko Flightmaster Chronograph.
As the name suggests, this is a pilot's watch. One look would already show that it has functions other than telling time, such as the slide rule and compass scale on the bezel—this could be overwhelming to those who are just looking for a regular analog watch, but it's a very useful tool for pilots.
This sophisticated 41mm stainless steel watch, made our list of Best Pilot Watches.
The Flightmaster has a blue dial and stainless steel case and bezel. Some of the special features include a stopwatch from 1/20 seconds to 60 minutes and a slide rule that pilots can use to calculate flight data. The bezel is bidirectional, and the watch is 100m water-resistant.
The watch generally gets praise from users, but one of the most common qualities that may cause concern is the slide rule, some users say that these are not easy to read because the inner numbers are positioned behind the glass, and the outer ones are in front.
The price, however, is unbeatable. For the rest of the functions, as well as the quality of the material, this is something that watch enthusiasts will definitely appreciate.
Seiko Presage "Cocktail Time" Dress Watch (SSA343J1)

The Seiko Presage Cocktail Tim "Sky Diving" is undoubtedly an excellent timepiece for formal occasions with a classier and more refined aesthetic. We love the silver-tone case accompanied by an ice blue dial, which furnishes this timepiece with a visually pleasing aesthetic.
The Presage Sky Diving features a 40mm case with a black leather band. It also incorporates an automatic movement which further enhances its prestige. With 50-meter water resistance, though, it is best to refrain from wearing it near any body of water.
If you are looking for a flashy dress watch with a unique aesthetic, the icy blue design of this Presage timepiece certainly brings that extra coolness to your style.
Seiko Prospex 1968 Modern Re-Interpretation Watch (SPB079J1)

This particular Seiko Prospex 1968 is an excellent homage to Seiko's iconic 6159 diver watch from 1968. This re-iteration of the original throws some fantastic modern twists into the classic design while not taking away any of the original's charm.
Most of the tweaks found in this homage timepiece focus on convenience and comfort. The highly polished aesthetic of both bezel and case also adds a layer of elegance to the relatively rugged design.
This Seiko Prospex timepiece features a caliber 6R15 with analog dial movement. This automatic watch mechanism also comes with a 50-hour power reserve to ensure that it is always ticking.
If you love heritage watches, then this fantastic call-back from one of Seiko's most iconic dive watches is a definite must-have.

Seiko Men's SUP880 Analog Display Japanese Quartz Black Watch

Moving on to a much simpler analog timepiece. If you want a clean, simple, and classic design, this one is for you.
The Seiko SUP880 is an analog solar-powered watch that has a classic rectangle shape, which looks very much like the timeless Cartier Tank Watch.
This one doesn't have any fancy features, just a simple leather band, and a stainless steel case. This watch is also smaller than the rest of the items we've reviewed so far—the case is 28.5 meters.  If you would like to get a more affordable alternative to the Cartier Tank, this is the one that you should check out. The watch is a simple yet stylish dress watch and will go well with different outfits.
Because of its size, it will also look excellent on both small and big wrists. Lastly, the price is very reasonable—you don't need to shell out much in order for you to enjoy such an elegant design.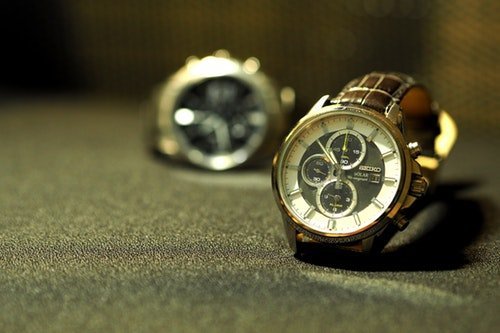 Seiko Presage Baby GS Snowflake Watch (SARX055)

Referred to as the Baby GS (Grand Seiko), the SARX055 Mechanical got this moniker due to having a considerably lower price tag than the Grand Seiko. However, as you can see, the Baby GS Snowflake still hits the thousand-dollar mark, making the word affordable highly relative.
With its 41mm diameter and 11.5mm thick stainless-steel case, there is no doubt in anyone's mind that this is a perfect dress watch. Underneath the luxurious polished case lies the Seiko 6R15 automatic movement. This watch movement delivers a 21,600VPH and up to 50-hour of power reserve.
If you are looking for an elegant dress watch check out the Presage Baby GS Snowflake. 
Seiko Men's Two-Tone Stainless Steel Solar Watch

The Seiko two-tone solar-powered watch is another model to consider if you're looking for a simple and elegant design. This one's smaller than most items on this list, having a 37mm stainless steel case.
The band is silver, the dial is gray, and there are accents of gold giving a sleek look that will look great as both a dress or everyday watch. Because this is solar-powered, you also don't have to worry about replacing the batteries.
Take note, however, that this is only water-resistant up to 30m, so while it can take some minor splashes, you shouldn't take it swimming with you.
Seiko Prospex Limited Edition Alpinist Watch (SPB123)

There are currently four available versions of the Seiko Prospex Alpinist, each with its charm. We chose to go with the more rugged and outdoor-style variation for this entry as it is pretty distinct.
One of the biggest draws of the Seiko Prospex Alpinist is its sleek and lightweight build. With a case that measures only 39mm, this Prospex watch is relatively compact. There is also an internal compass bezel, which makes this timepiece a handy tool for outdoor activities.
Other notable features include a date display with a cyclops magnifier. Underneath the sleek frame of the Alpinist is the Seiko caliber 6R35 automatic movement that packs a power reserve of up to 70-hours. The watch movement also clocks in at 28,800VPH, making it highly accurate.
Seiko Prospex Special Edition Samurai Wave Blue Dial Watch (SRPC93K1)

The Seiko Prospex has always been one of the finest dive watches in the market, thanks to its impeccable build and affordable price tag. As such, the Prospex comes with a wide variety of models, one of which is the special edition Samurai from the Save the Ocean series.
With its 'Seiko Samurai' moniker, this Prospex watch emanates a precise and robust design. The blue dial features a soft wave pattern that emulates that of a blue whale. This Prospex timepiece captures the serene beauty of the ocean with its design.
The dial also features bold hour markers and arrow-shaped hands coated with Lumibrite for enhanced luminosity in low-light environments. The case itself has a pretty solid build with its 43mm diameter, which is a pretty standard size for a dive watch.
We would also like to highlight the bezel, which features a smooth rotation giving it a slick feel. Within the Seiko Prospex Samurai lies a caliber 4R35 automatic movement, which provides a power reserve of up to 41-hours.
This Seiko watch is just a well-rounded and refined timepiece with a striking and attention-grabbing aesthetic.
Seiko Prospex Special Edition Manta Ray Dive Watch (SRPE39)

We have another visually impressive entry from Seiko's Prospex watch line with the Special Edition Manta-Ray model.
You will notice that the Manta Ray appears to blend several fantastic designs into one outstanding model from the get-go.
The most distinct feature of this timepiece is the intricate blue dial that features manta ray designs. This unique aesthetic on the dial gives the Prospex Manta-Ray an edge for its visual flair.
Fortunately, the Prospex Mantra Ray is no slouch when it comes to performance as it is incredibly accurate as a timepiece. It also features a 45mm tonneau-shaped case which adds a vintage appeal to its overall appearance.
The Seiko Prospex Manta-Ray comes equipped with an automatic movement and analog dial display. This watch movement also comes with a 41-hour power reserve. Additionally, the Manta Ray delivers a solid 200-meter water resistance rating making it suitable for swimming, snorkeling, and scuba diving.
Seiko Premier Novak Djokovic Special Edition

If you want something that's extremely unique and stunning, you can also consider getting a watch off the Seiko Premier collection of limited edition models. The brand's partnership with tennis star Novak Djokovic resulted in this Limited Edition Premiere watch.
This is not Djokovic and Seiko's first partnership. Since 2014, the brand has released watches in partnership with the tennis champion—"for the different aspects of Novak's busy life," said the company on its website, and the pieces have received excellent reviews by both tennis and watch enthusiasts.
The rose gold tones with the black dial and leather strap, as well as the bold Roman numerals form an elegant dress watch. This also boasts of a perpetual calendar up to the year 2100. Clearly, you don't need to be a tennis/Djokovic fan to appreciate this watch (although it does come with the player's signature on the back), it's an exquisitely well-made timepiece that delivers in both design and functionality.
Grand Seiko 9R Spring Drive Chronograph Limited Edition (SBGC017)

We'll end the article with a watch with a class of its own: The Grand Seiko 9R Spring Drive watch. This watch is clearly not cheap—in fact, it's not under Seiko per se, but under a special specialty parent company that's popular among collectors.
Grand Seiko produced its first watch in 1960.
The company said that "the idea was to build a watch that would be as precise, durable, easy to wear and beautiful as humanly possible."
It was also brought about by the challenge of matching Swiss watches.
This chronograph is big, having a 46.4mm case. Some of the features that stand out include a ceramic case, a date, and a power reserve indicator, as well as a GMT hand. It also has a green crocodile strap, and it's also worth pointing out that the ceramic cases are polished by hand.
If you're willing to shell out thousands of dollars for a watch, this limited edition model will, no doubt, will give you instant status symbol. The company only produced 600 pieces of this watch (which is why the models you will find on sites like Amazon are pre-owned ones), so if you're looking for something extremely unique, this is something that you can consider getting.
The impeccable Japanese craftsmanship is reflected in the Spring Drive movement, which is defined by Grand Seiko as a unique technology that "generates energy like every other luxury mechanical watch but combines this with an electronic regulator to deliver a level of precision that no mechanical watch can match." (You can read more about it here).